I kinda feel like I'm setting the tone with my first mani of the year so even though I already have some nail art to post, I threw this mani together because it's just me. I first played the Untitled Goose Game last year and it was so fun (except for the soccer ball *hiss*). I stole people's shit and picked on that little boy so hard. Did you like that toy, kid, cause now you're going to have to buy it back. So I thought it would make a great mani because: 1, the stamping plate it's on was unused; 2, I did like the game; 3, it's International Bird Day. And what bird is more universally feared than the goose?
Seriously wanting to know. Is there a scarier bird out there? Because I have seen the inside of their beaks and that's a horror show all on its own.
The area I live in has geese all over the place. Both the lake by me and the nearby park are places where they stop to migrate and some of them stay and raise their babies. Such cute bebbes (from a distance). I don't start anything with the geese, but my path often passes them as I go on my walks and they just slowly drift away from me while keeping a wary eye out. Canadian geese. So polite. 💖
Nail art products used
Base Polishes:

Stamping Polishes:

Advanced Stamping Polishes:

Stamping Plates:
Items in italics are debuting on the blog for the first time.
I'm a little sad that the shimmery properties of the polish weren't as easy to capture in photos. I'll have to try this polish with a different undie next time and see if that helps. Or…y'know…finally improve my lighting setup. 😅 At least I remembered to stop and take a photo of just the background. Nails stamped with a bunch of snowflakes are a look people wear all the time, but of course I prefer the version with a wicked goose.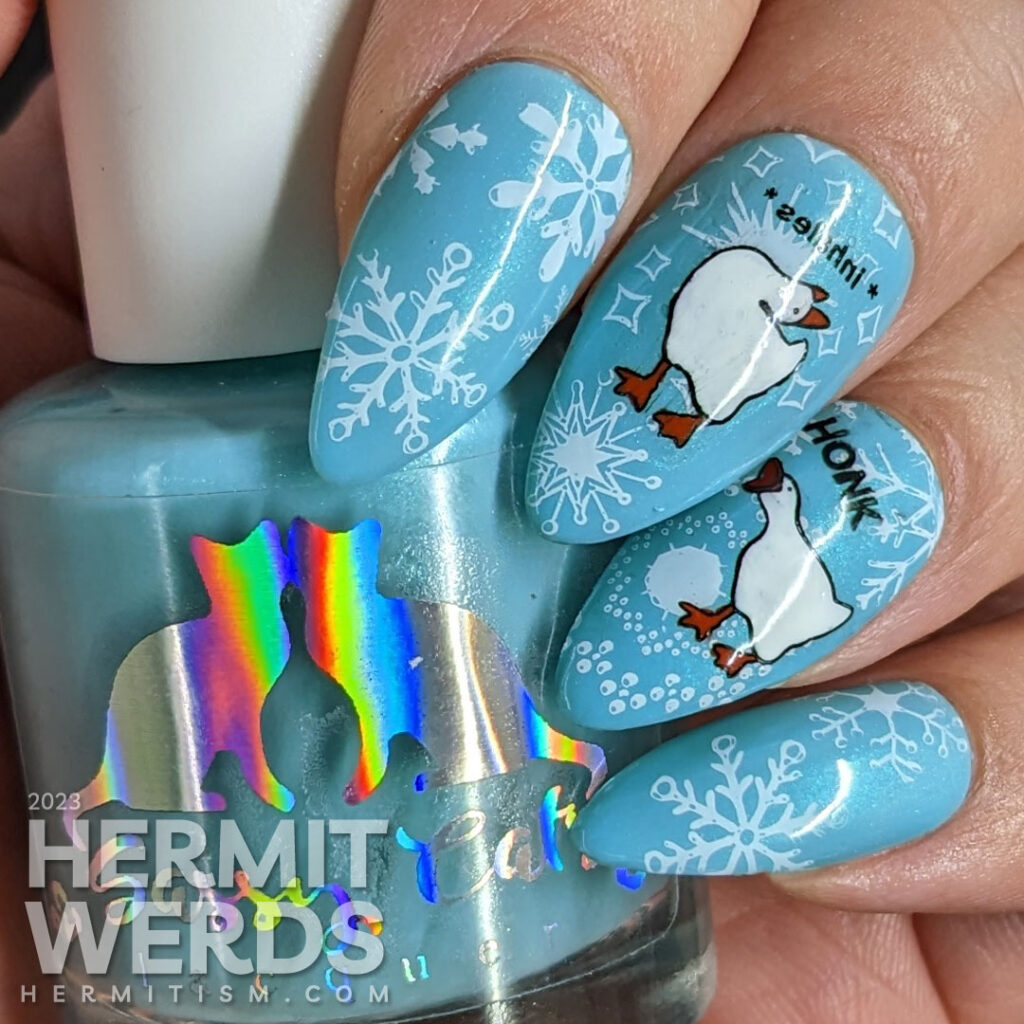 Featured bird nail art
I showcased some older bird manis in 2021 when I celebrated International Bird Day so I thought I'd do the same today. I even have some swans, the other terror birds. 😂 Let's start with 2021's mani…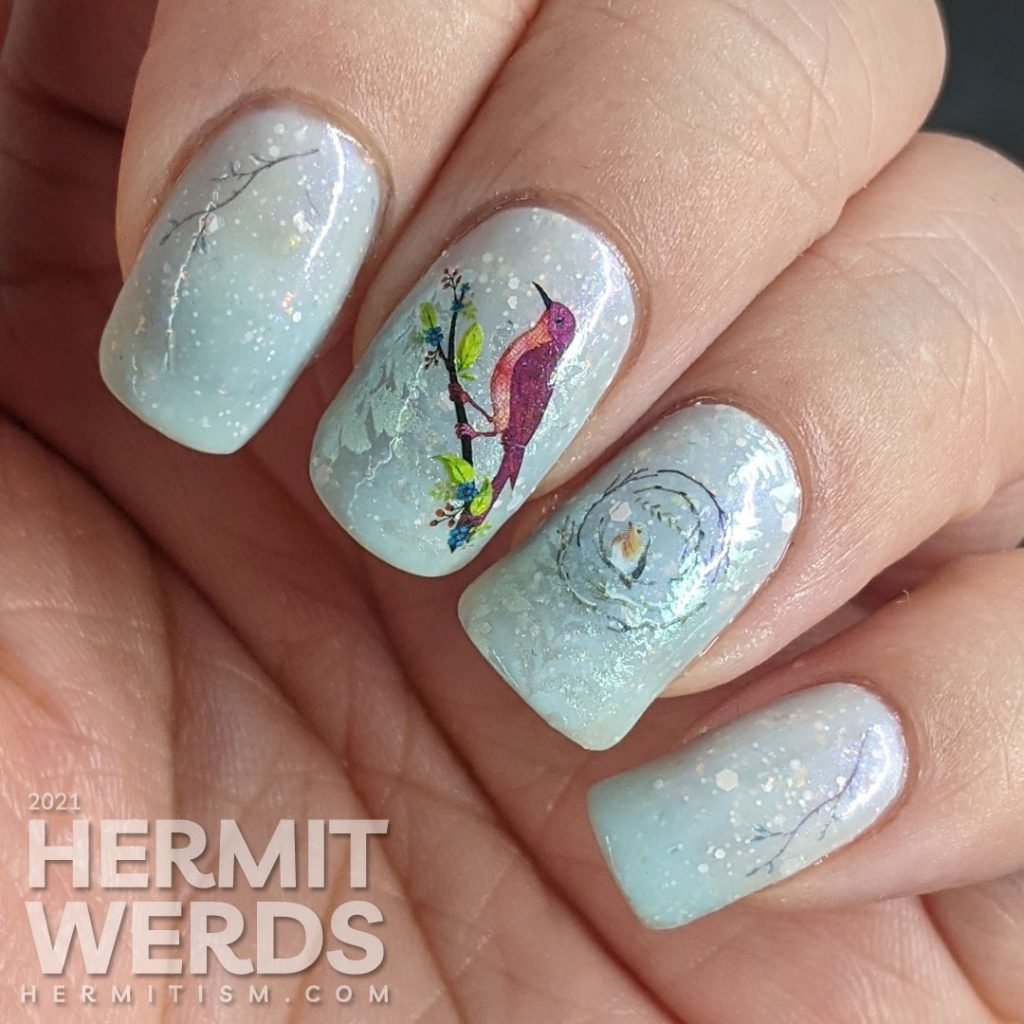 What a stroll down memory lane. It's makes me want to paint more bird manis. I clearly need to get some flamingo, toucan, and hummingbird designs done this year. And this is why my poor cat manis are always getting outnumbered by the birds. Maybe if I start counting nail art with stray cat hairs…
Final Untitled Goose Game nail art photos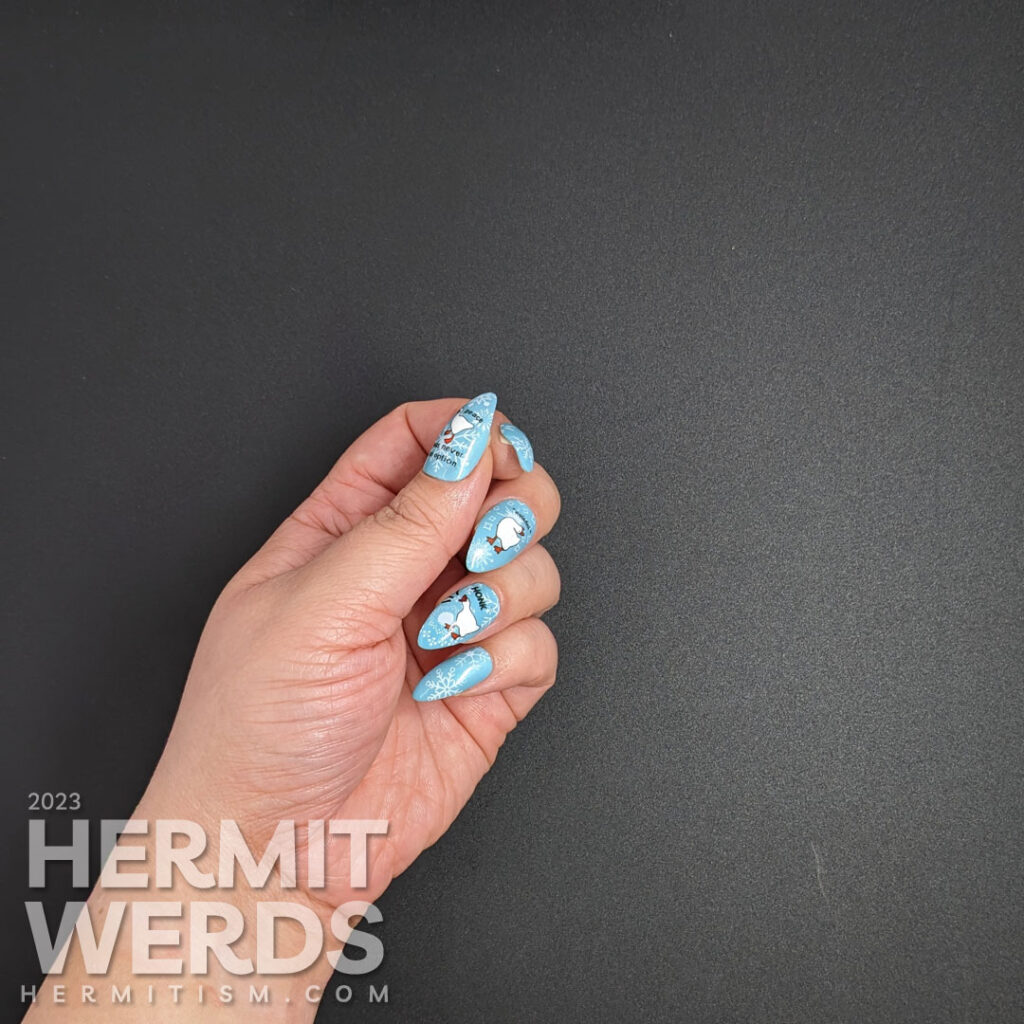 Until next time, friends! Keep those townsfolk on their toes! 🙋‍♀️