#GlamNailsChallenge and #FireDazedChallenge's last prompt of the month is First Frost. Three designs immediately came to mind: blue/white/silver snowflake mani (a classic design that I painted on my mom's nails last year), a freehand fall landscape with a teeny bit of snow, and a more abstract design with fall and winter nails. I decided to go with the latter because I had a super cute fox image on the big acrylic circle plates from Aliexpress (very excited: I ordered a few more during the Singles Day sales) that I thought I could use with it. I stamped one red fox and flipped over the decal for the arctic fox. Leaves on the fall nails, snowflakes on the winter nails, and one snowflake on the fall nail to represent the first frost.
I painted all this on my cindy hand with the intention of throwing a gel top coat on top and leaving it for a while, but I waited too long and destroyed them cleaning up after Thanksgiving. Boo 🙁
Before we say good-bye today I'd like to talk about the Ms. Sparkle polishes I used for this mani. Now the formula for both is a bit grainy because they are so chock-full of goodies and I think once I adjusted to that I could maaaybe get away with two coats, but I had to paint three for both (Simone recommends a black base for Scheherazade that I didn't use so I suspect I'd just need two if I had followed that recommendation). The goodies also mean you're going to want to be generous with top coat to smooth everything out. Each layer dried very quickly but not so quickly that you couldn't work with it a little for an even coat on the nail. And, again, no problems dripping down the stem of the brush, pooling in cuticles or self leveling. You do have to work a bit for an even layer because of the flakies and use a light hand or you'll start to create bald spots on the nail (again: flakies). It also would have been easier if I were painting with my dominant hand, as in I might not have even mentioned the bit about a light hand. 🙂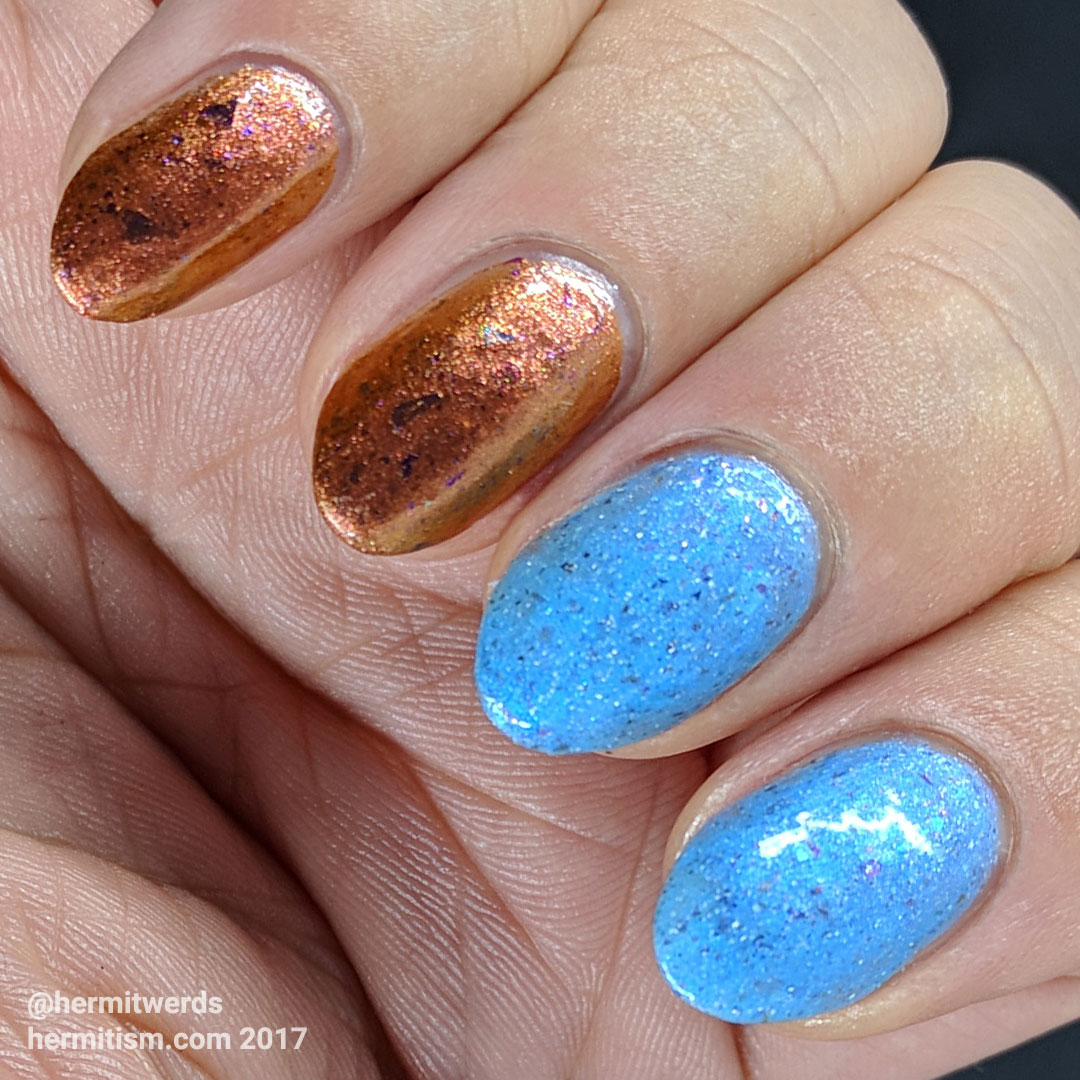 Scheherazade has a super metallic finish which I was not expecting from the photos. The yellow-orange to orange color shift shows quite well in natural light and I suspect the pink would show more if I had the black base. But, yeah, the colors I am seeing are a little less varied than the product photos. It's still quite stunning and I want to play with it more and see how much of a difference the black base makes since sunlight alone makes a huge difference and all of my photos were taken under an led light. There are five bottles left in her etsy store if you wants it.
Rainbow Dash is pretty much the only My Little Pony inspired polish that I really loved out of anyone's collection. I think it's partially because I wanted more literal translations (I still can't find a polish that matches Applejack's body color) and Simone is the only one who did that. Ex: Her Fluttershy polish is yellow with pink butterflies, etc. I almost bought Twilight Sparkle too, but I'm trying to be really careful about much I buy. I mean, I can only paint my nails so many times. I may cave in and get it anyway, but I already bought two more Ms. Sparkle polishes and I still have one left that I haven't used yet (Dutch Tulip) so I'm already being bad. 😀 Rainbow Dash looks exactly like the product photos to me. Seriously. If you love Rainbow Dash or just rainbows, this is the polish to buy because all the lovely microglitters, hexes, and flakies in this are soooo rainbow! Simone held nothing back. Currently there are three polishes left in her store.