It's International Bird Day today, so of course it's time for some bird nail art! Now I don't have a bird feeder because I don't want additional bird poop around my house, but I do love little song birds. Particularly in art. They're just cute little pops of nature and I lubs them.
Today's nail art features some water decals that I specifically bought because I loved the song birds on them. And, in my typical way, I chose to pair them with blue and white since the red bird is the most prominent and I am nothing if not predictable with my color schemes. 😁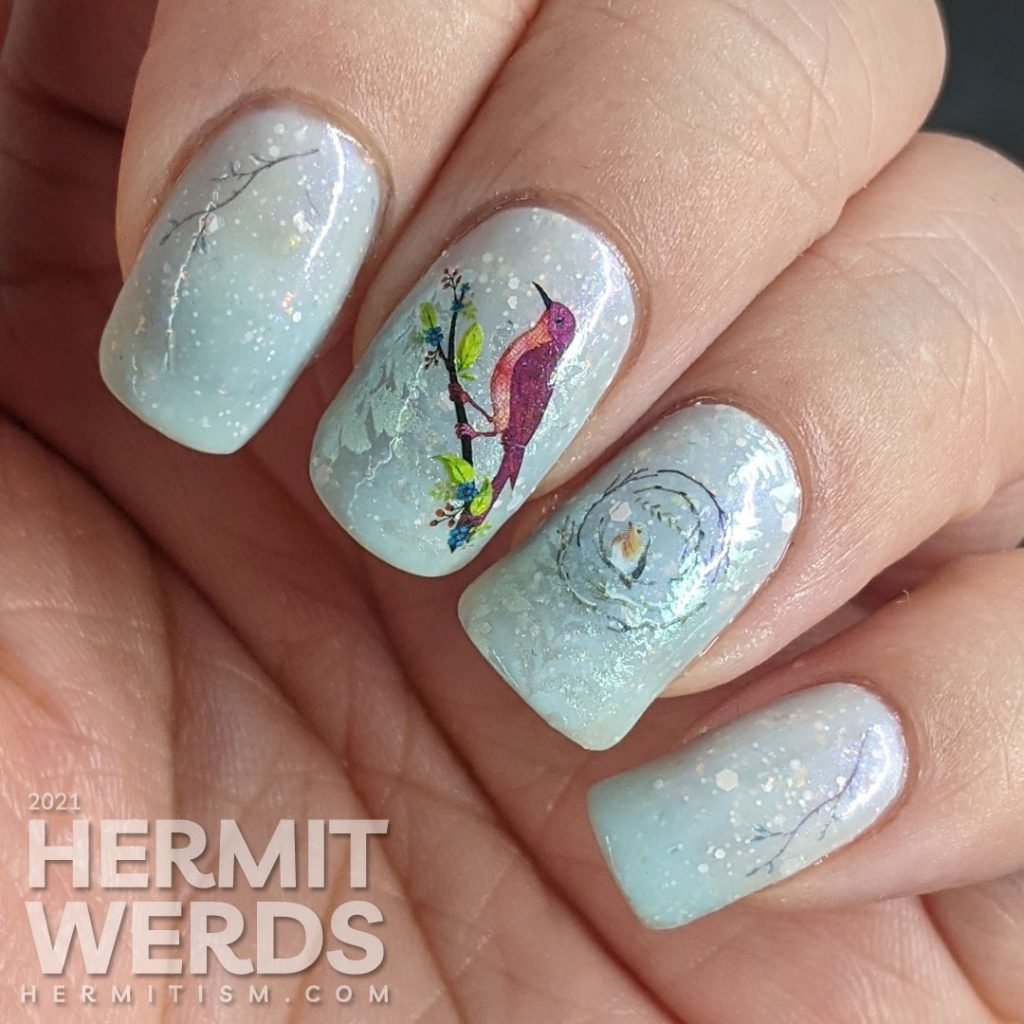 And even though my base polish (Swamp Gloss' "No Doy") is no longer available for sale, I found myself putting together a comparison image. I love how the glitters almost look like snow.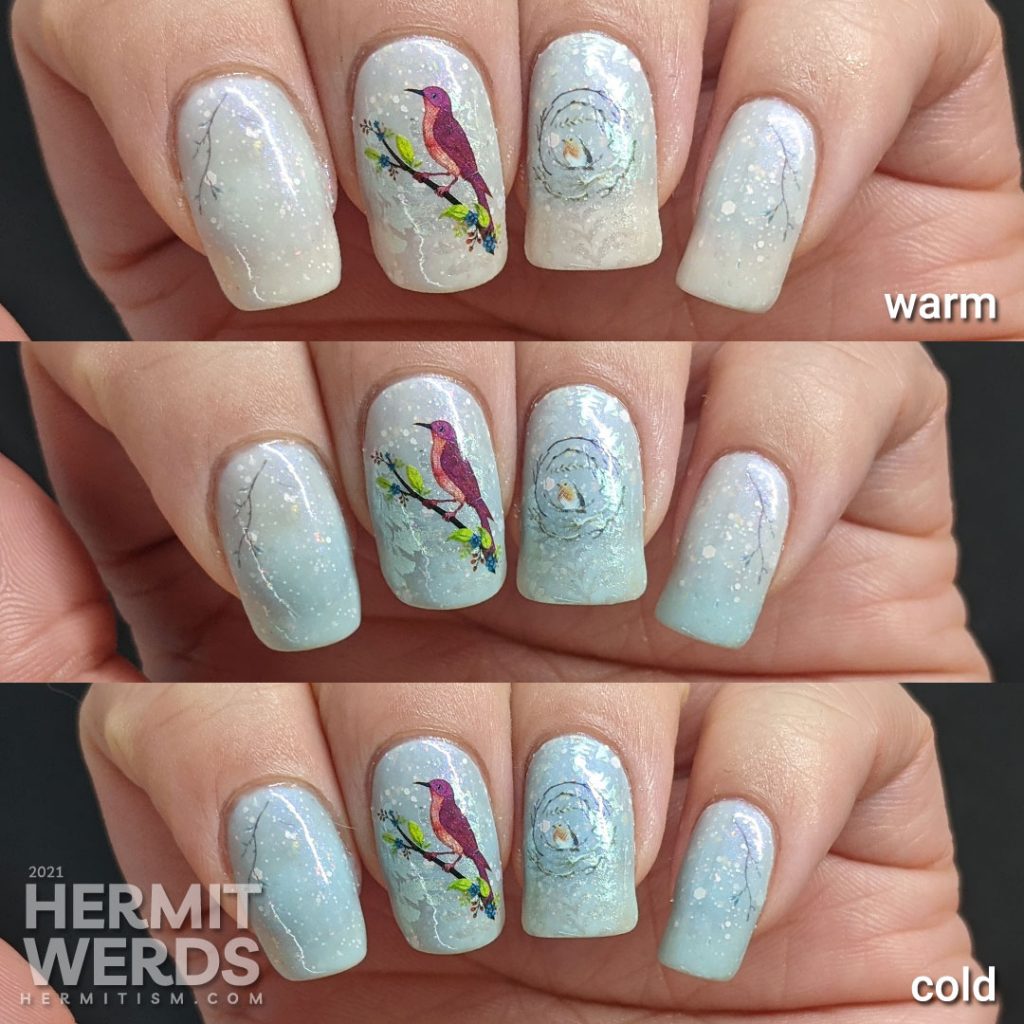 Nail art products used
Base Polish:

Swamp Gloss' "No Doy"

Stamping Polish:

KADS' "Pearly Nude Gray"
YZW-3199 from Aliexpress

Stamping Plate:

Maniology BM-S181 (ferns)
I'd initially only planned to use the water decals and the base polish, but my nails are pretty wide. It felt like I needed to add just that little bit more so the decals did not look like they were floating in space. So I stamped images of ferns arranged into a circular frame on a few of my nails using a pearly white polish so you could just see tiny flashes of it. The birds are the focus, afterall.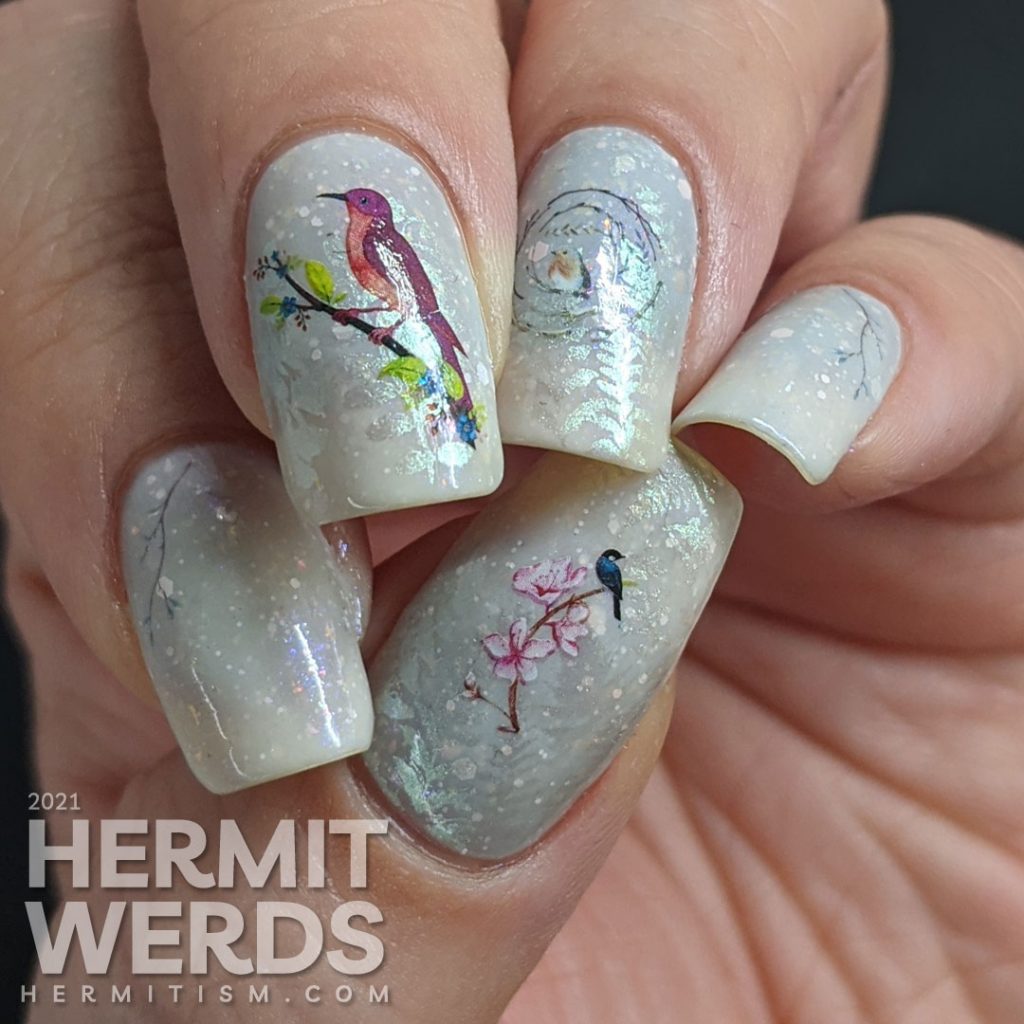 There, but not. 😮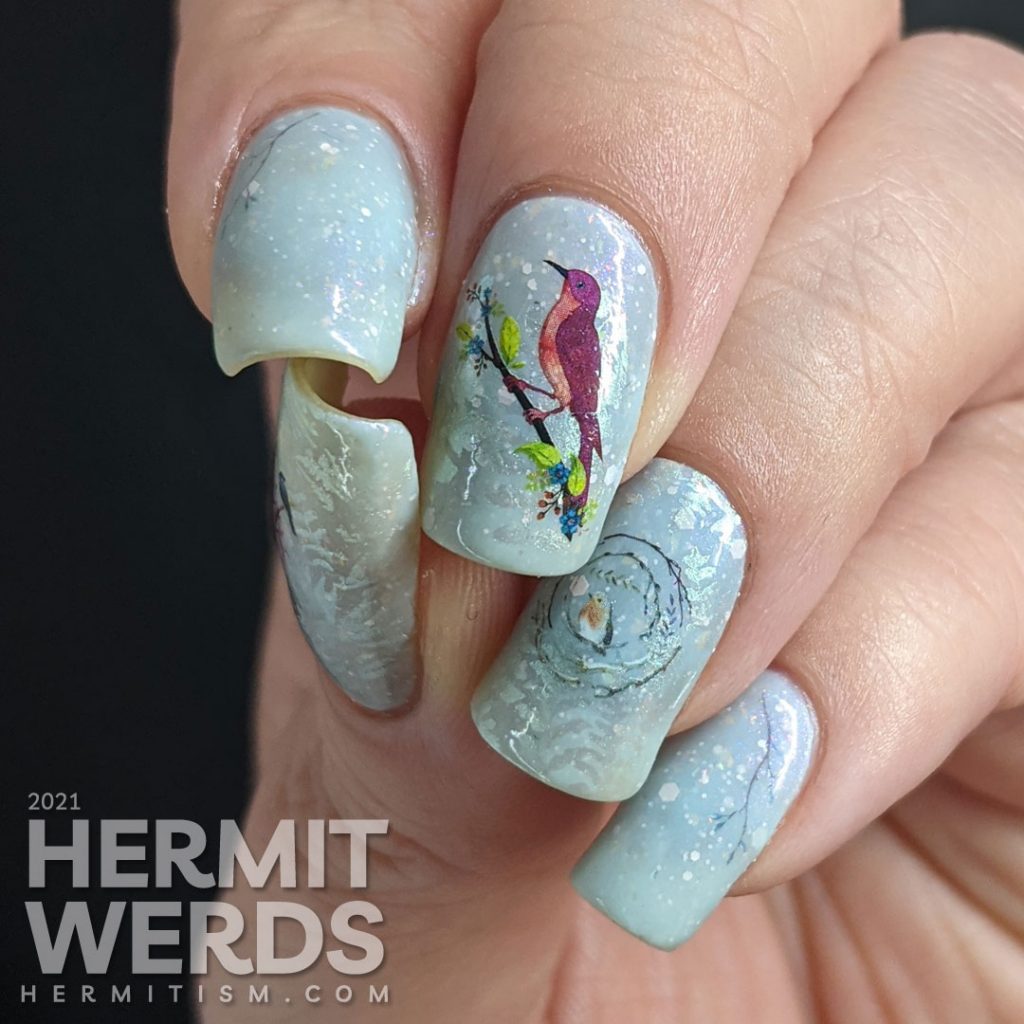 Some favorite bird nail designs…
Since it's International Bird Day, it seemed like a good time to look back on some of my favorite bird nail art designs. However, there are 52 different posts associated with the bird tag if you'd like to check it out. That's more tags for birds than cats! And I'm owned by one! 😆
Back to today's birdie nails…
Meanwhile, here's a better look at our little bluebird friend…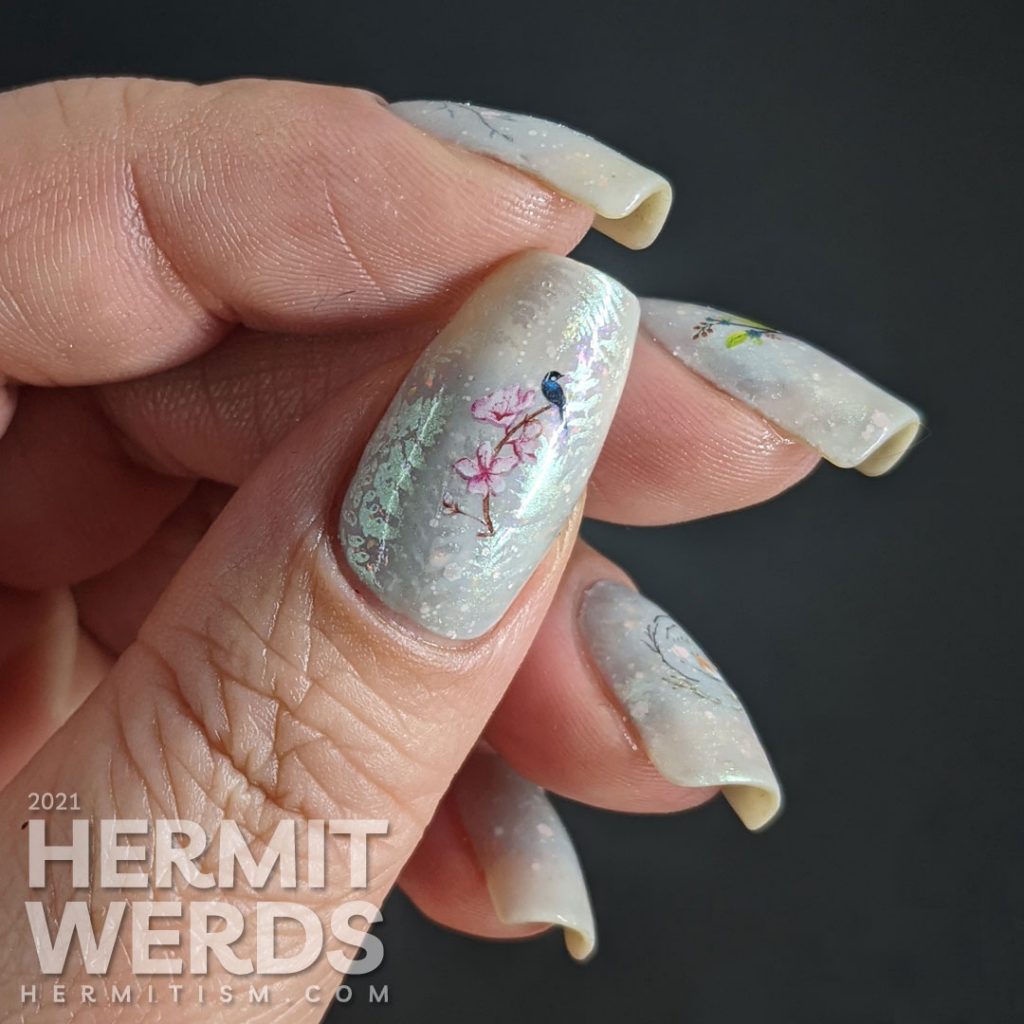 And alas, our far away photo marks the end of the post. Really only the red bird stands out here. The water decals were mostly small images.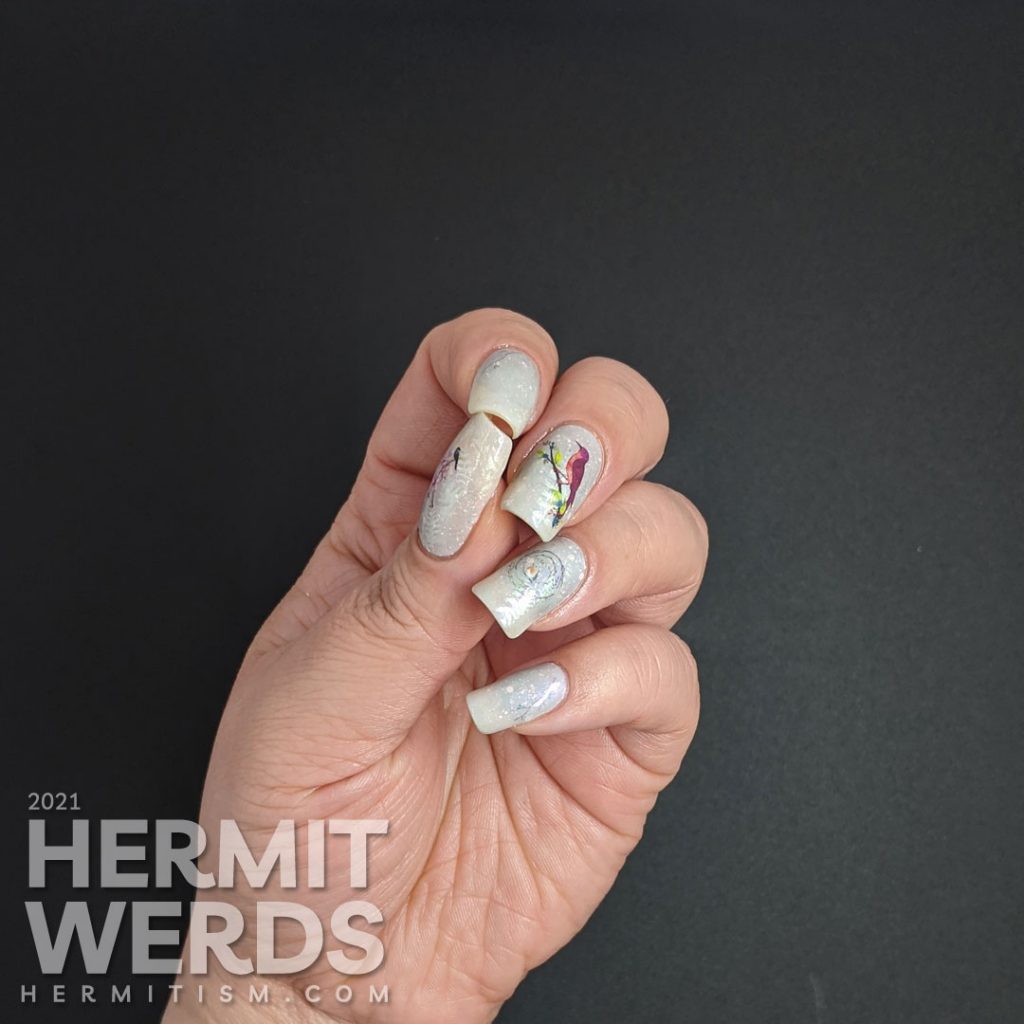 Until next time, friends! Enjoy the little birds where ever you are (even if most of them migrated away for the winter). 🙋‍♀️🐦