I paint a lot on these really small canvases called fingernails. I posted my first real nail art online on July 27, 2014 and started this blog on June 23, 2016. Prior to that I was hauling around about 30 bottles of polish and just painting each nail a different color or kind of dabbing multiple colors on one nail. I had no idea what I was doing. I still don't some days, but I have a lot more than 30 bottles of polish to do it with!

The Nail Art
You can expect a lot of nail stamping (and advanced/reverse nail stamping) in my nail art, but I've started setting a personal goal of at least four freehand painted designs a month. Mostly I keep it. Sometimes I pass it. Watercolor-like looks also pop up quite a bit. I'm also trying to be conscious about using what I have and buying less. My collection is pretty large already, which you can tell because the links in the "Products Used" list will show every design I've used them in and they tend to be…short. 😱
You can follow me on Instagram, Twitter, Facebook, and Pinterest. I do keep meaning to finally create and post some Youtube videos. We'll see what 2019 holds. Right now my setup is lean: I use my cellphone (Samsung Galaxy X5, Nexus 6P) to take all my photos with a simple clamp macro lens for closeups. I have a ShotBox light box for lighting, but the Ott lamp comes out for capturing effects that need natural light to shine.
The Personal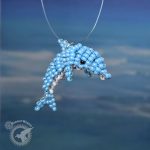 I'm a cat person (dogs are wonderful, just…for other people). I love toys, steampunk, and the color rainbow. This site used to be an art gallery instead of a blog and a lot of people pinned my bead animals and spiders. I am slowly working on bringing that information back to the site.
I cannot promise that I will be all about nail art forever (crafting does happen), but I have had this domain for over a decade. I'm not going anywhere. 😘
Last Updated: December 30, 2018