Late post today because I adult-ed and did some yardwork. I'm in the process of ripping out some of the invasive (but lovely) ivy growing in my yard. It's super fun because I'm in terrible shape right now. 😆Today is the start of the Pisces astrological sign and so the collab I'm participating in (run by the lovely @nailsoflizmo) is posting all their Pisces looks. I'm already digging into non-zodiac specific stamping plates because we're only on the second one and the temptation to buy new stamping plates is eating at me.
Back, capitalism! I'm only doing this once! There's no need for more stamping plates! (Unless it's Halloween or kitties or jellyfish or food…)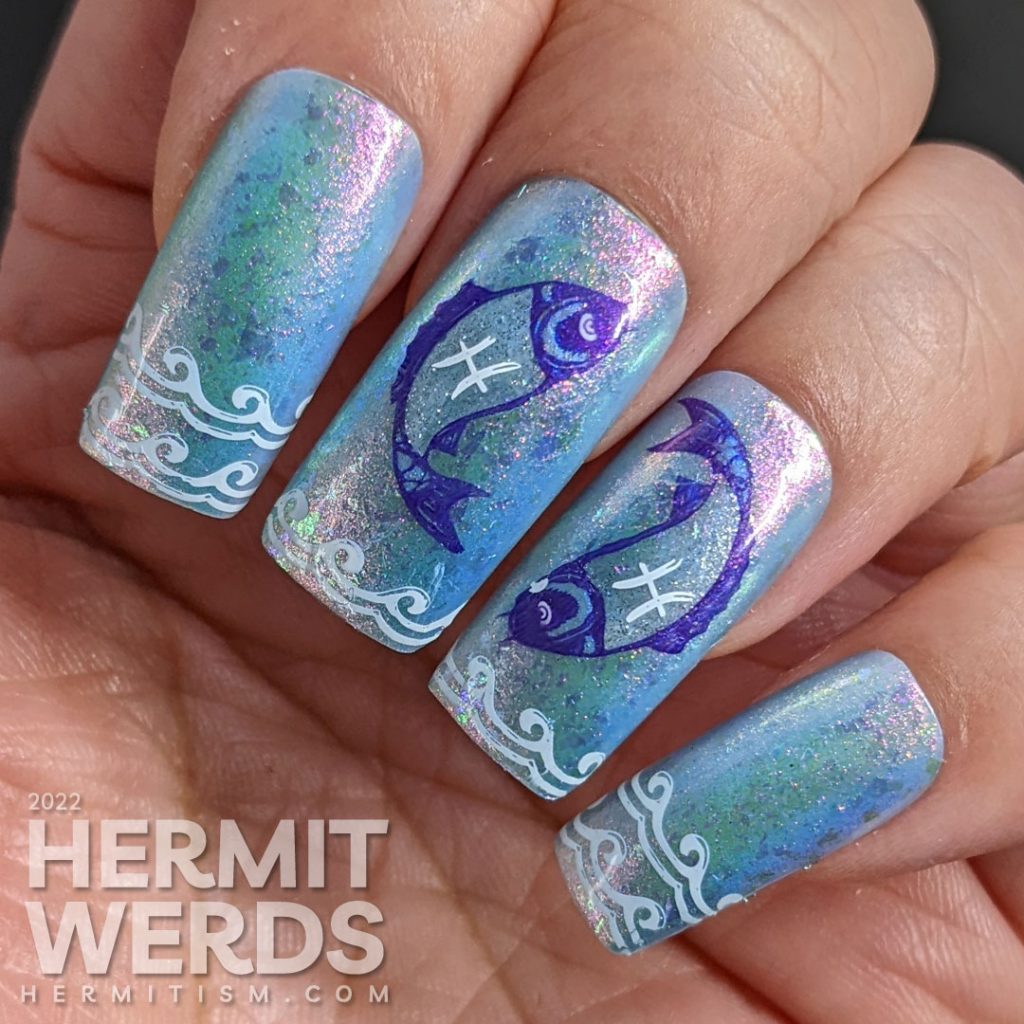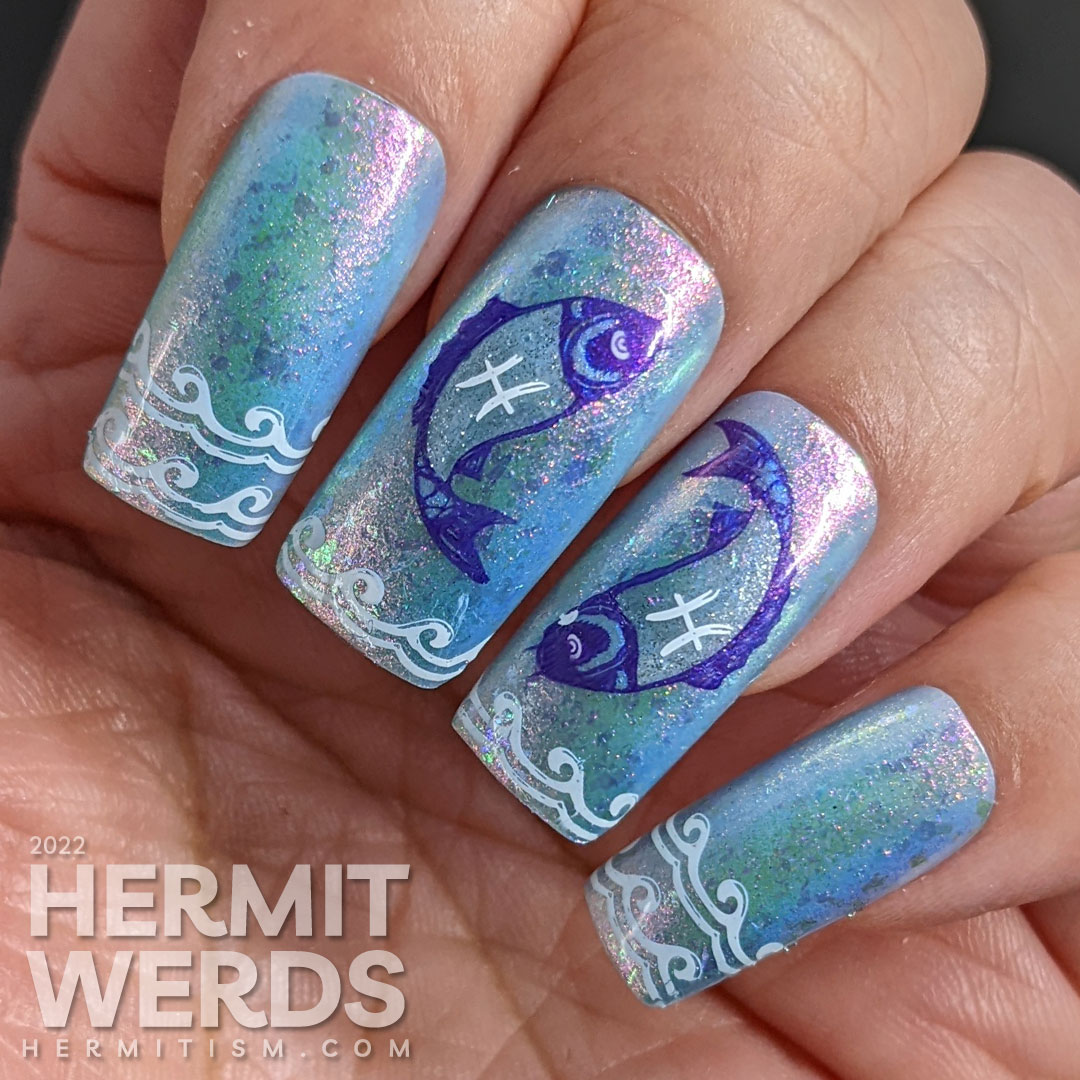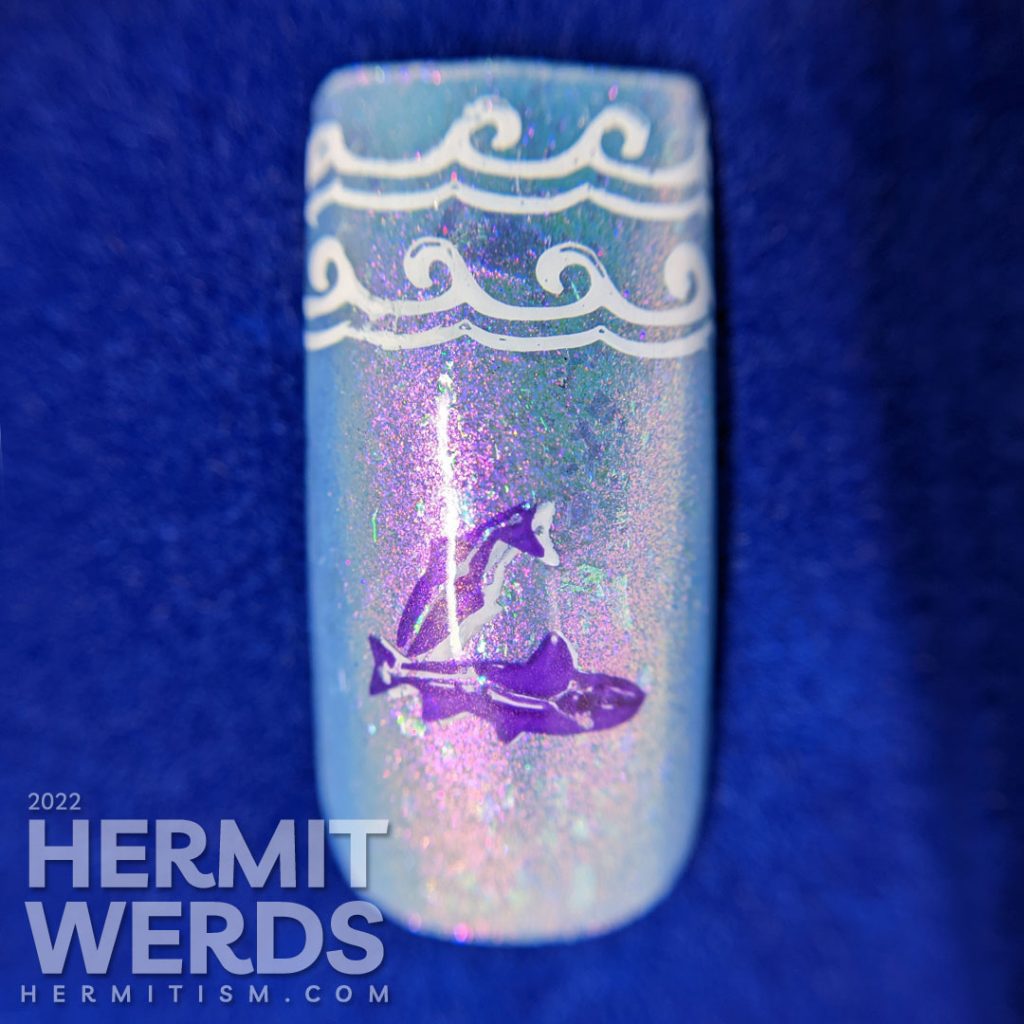 Nail art products used
Base Polish:

Esmaltes da Kelly's "Baby"

Stamping Polishes:

Maniology's "Gloom" and UberChic's "Essential White"

Advanced Stamping Polishes:

Maniology's "Retrograde", Sinful Colors' "Snow Me White", and Zoya's "Seraphina"

Stamping Plates:
I feel like this whole look centered around EDK's (now re-branded to Phoenix) "Baby". It just glows with the aurora shimmer and flakies and everything! Perfection in a bottle. Although it is a jelly so it took me four layers to make sure my nails wouldn't show behind the falsies.
I wanted to break from that shimmery goodness as little as possible so I filled in my fish stamping decal with other shimmery polishes. I'm not sure anyone will even notice that the fish shifts to blue and white shimmer inside the decal, but it does! And then I added a quick Pisces symbol stamp inside each fish because I felt like I needed a li'l bit more white in there. Much like the thumb got a double stamp when I realized it didn't have any purple. Just going with the flow…
#LizmosZodiacCollab – Pisces
A beautiful mix of looks for the Pisces nail art out there. Definitely check out the group tag if you're looking for some Pisces inspiration. I think we did better than most of the search engine results I got when I was looking around for inspiration. Really, general search engine image results seem to favor five year plus old nail art and don't include much from Instagram where the community moved. I should stop looking there.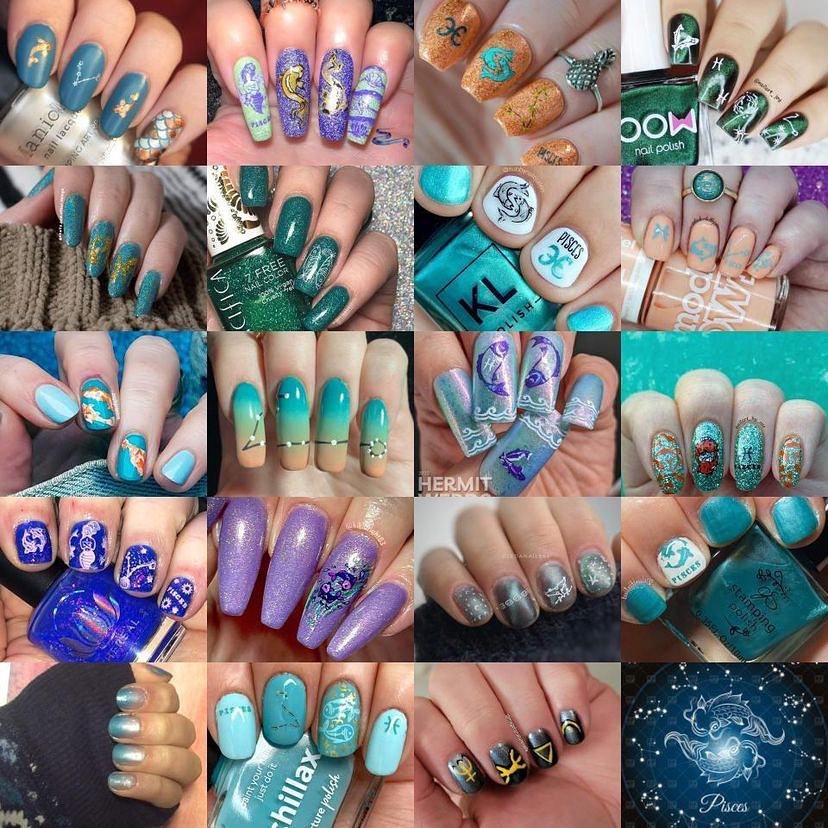 Photo dump! Go!
Since I'm apparently going to use falsies for all of these, I'm blocked from some of my usual hand poses. But then I get to post a photo of only the nails so that's nice. Still not sure I've found the perfect background for me, but maybe I'll just keep doing something new each time.
Also wanted to note the wave lines that I used to create a kind of french tip are actually a full nail pattern. I just used as much wave as I wanted and then moved to the next nail so I only had to pick up the pattern three times.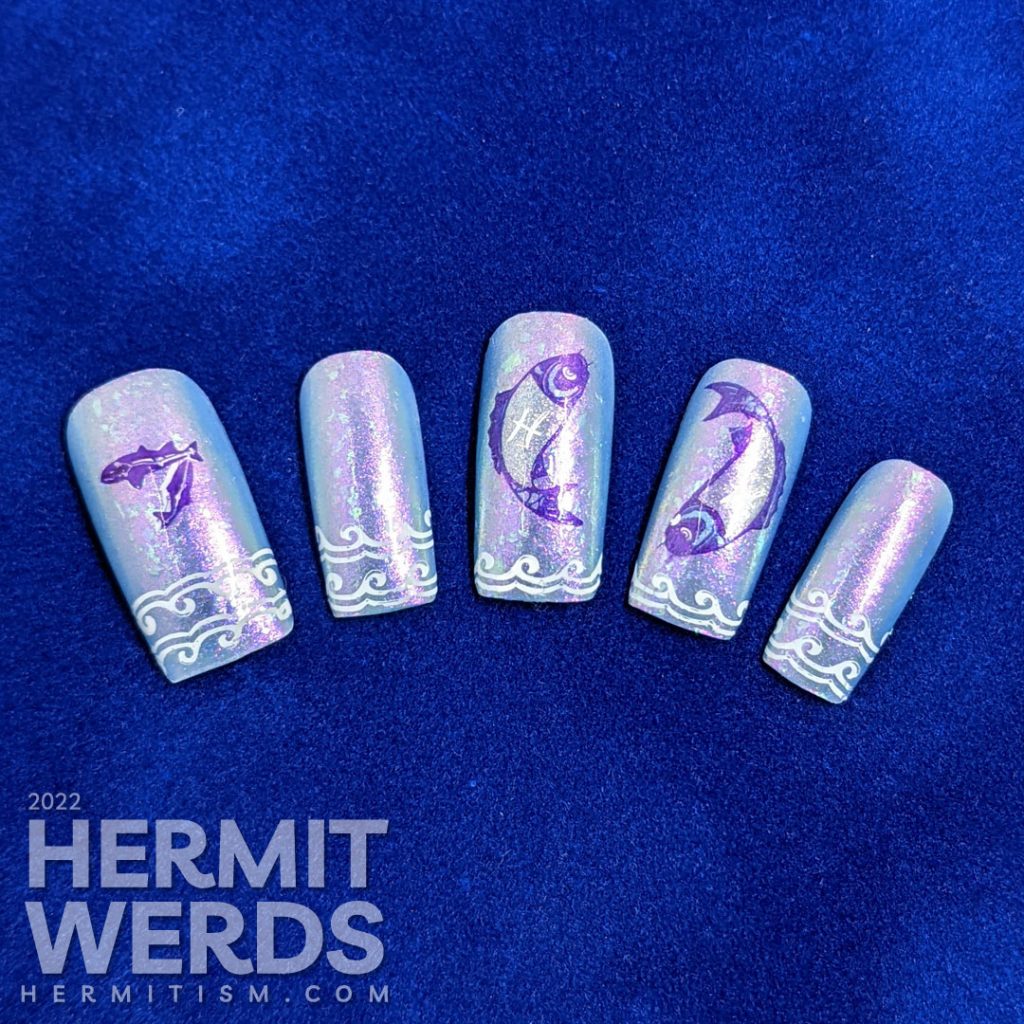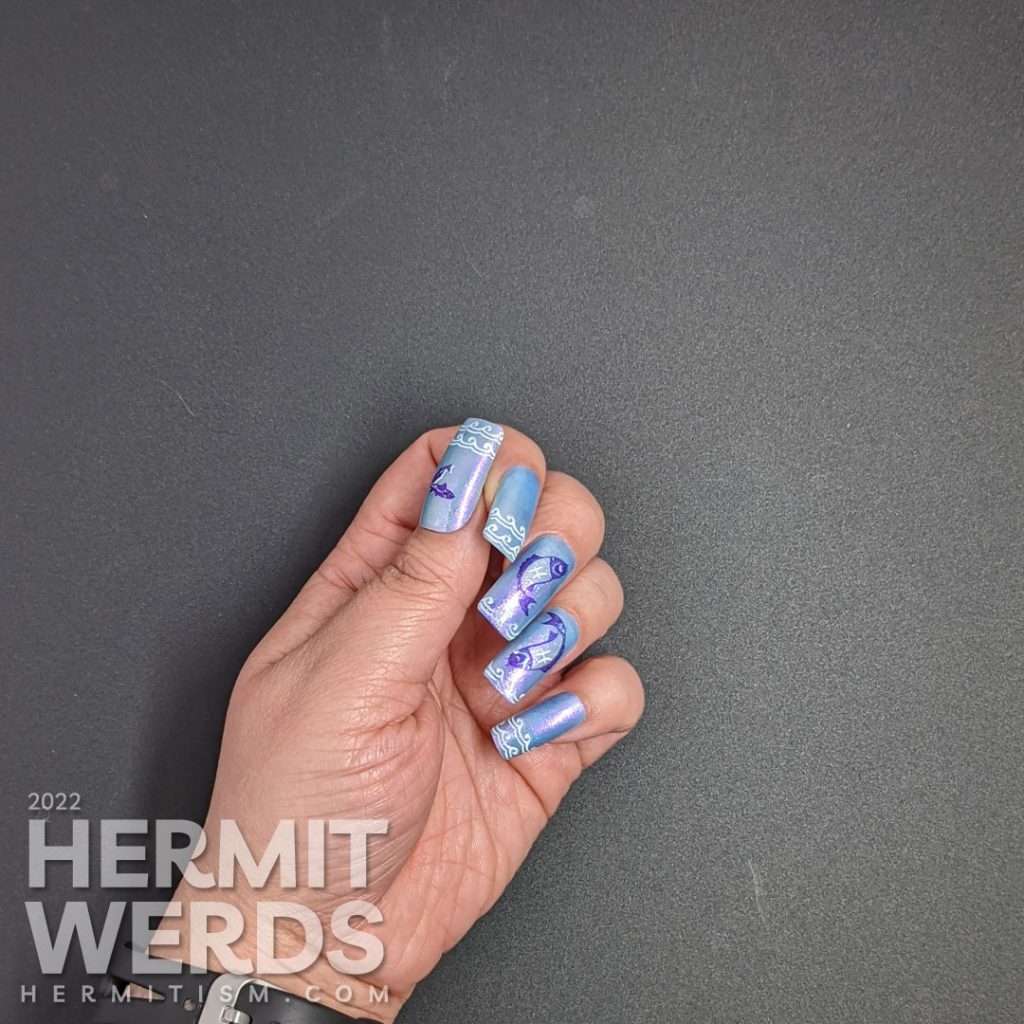 Until next time, friends! 🙋‍♀️
---
Here's the complete set of the (western) zodiac. Click the photos for more information on the design.