It's been a month since my last post. I kept thinking I should write an I'm still alive post that I could delete later or even a compilation of previous Halloween mani favs with a note and it just didn't happen. Instead, here I am sharing my nail art for Libras on the last day it's possible to be born as one. Two of my favorite people in the world are Libras so imo you are in good company if you are one. I hope you had a wonderful birthday!
Nail art products used
Base Polishes:

By Dany Vianna's "H.R.H." and "Sashes and Bows"

Stamping Polishes:

Maniology's "Buttercup", "Shangri-la, and "Storm Cloud""

Advanced Stamping Polishes:

KADS' "35 Bean Green", "44 Light Gray Blue" + "46 Peach"; Maniology's "Renaissance"; Sally Hansen's Triple Shine "Bait Me"; and Sinful Colors' "Snow Me White"

Stamping Plates:

Born Pretty "BP-L083" (scales), "BP-L088" (faces pattern), and "Outer Space-L002" (clouds); Maniology "MXM046"( "Libra"); "MASH-34" (libra symbol), and Nicole Diary "Tattoo ND-002" (lady with head in the clouds)
I got lucky with today's look because I was looking through my stamping plates for another design and the lady with a head in the clouds hit my radar. I knew I'd have to paint a Libra nail art soon and that it was the last air element of the set so that became the image I built my design around. Already having such a strong picture led to more confidence in adding seemingly unrelated elements and I found myself stamping a pattern of faces in the background. Normally I'd pick clouds or at least something with wings, but the faces really work. Astrology is all about people after all.
While most viewers may not even notice what's in the background (I did deliberately used low-contrast colors), it's one of those details that makes me very happy.
Meanwhile the base polish combo is sooo pretty. I'm a sucker for a pink shimmer and both polishes had some in it. They were sold as a set By Dany Vianna and they really do pair so well together. Between the yellow background, pink shimmer, and blue flakes, I was already at a primary color scheme so I decided to make the lady's skin blue and her hair pink. Extra dimension was made possible by mixing the color with white. I love it.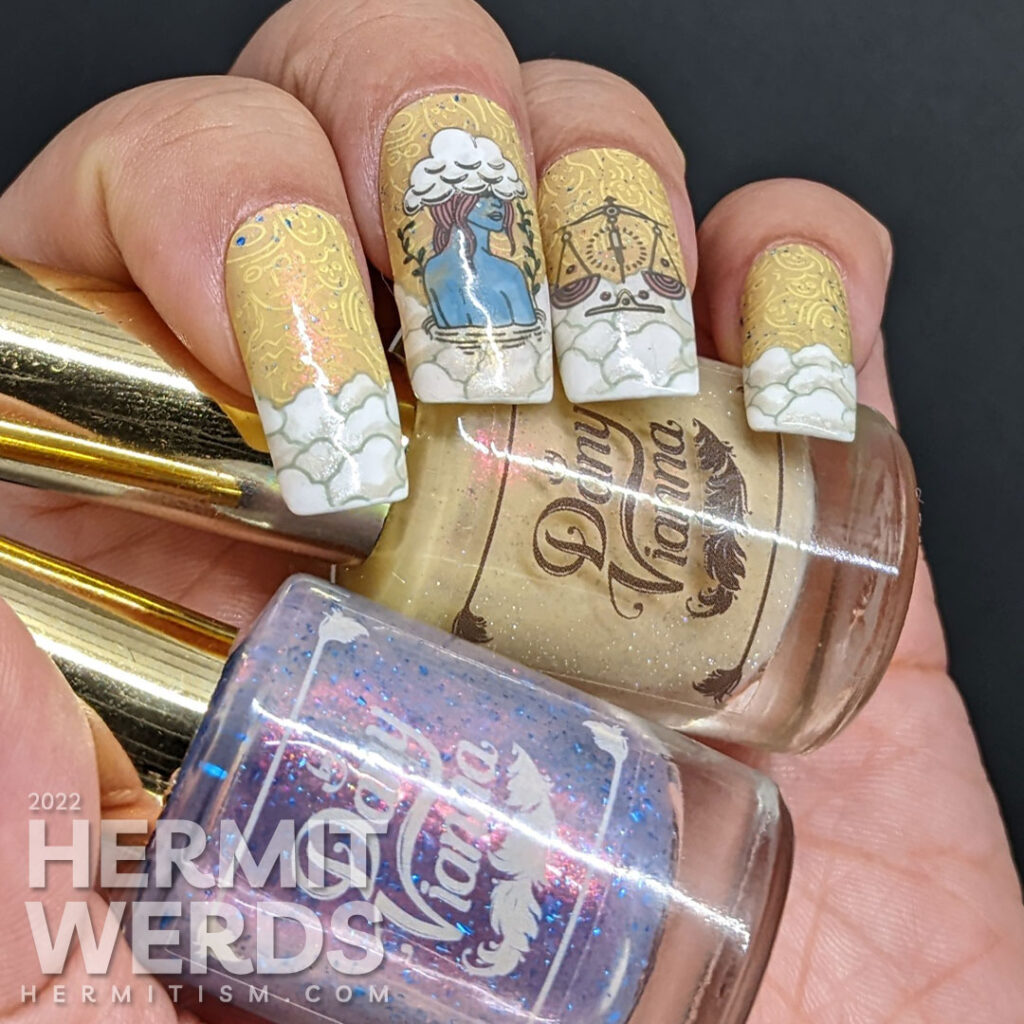 #LizmosZodiacCollab – Libra
Final Libra nail art photos
I am so over trying to take my photos against colorful backgrounds. You can see that the photo with just the false nails ended up with completely different colors. Poor confused camera. I decided to keep it instead of trying to re-take the photo I turned in for the collage since the last thing I need right now is another barrier to posting. 😅 I promise the look is yellow and not beige.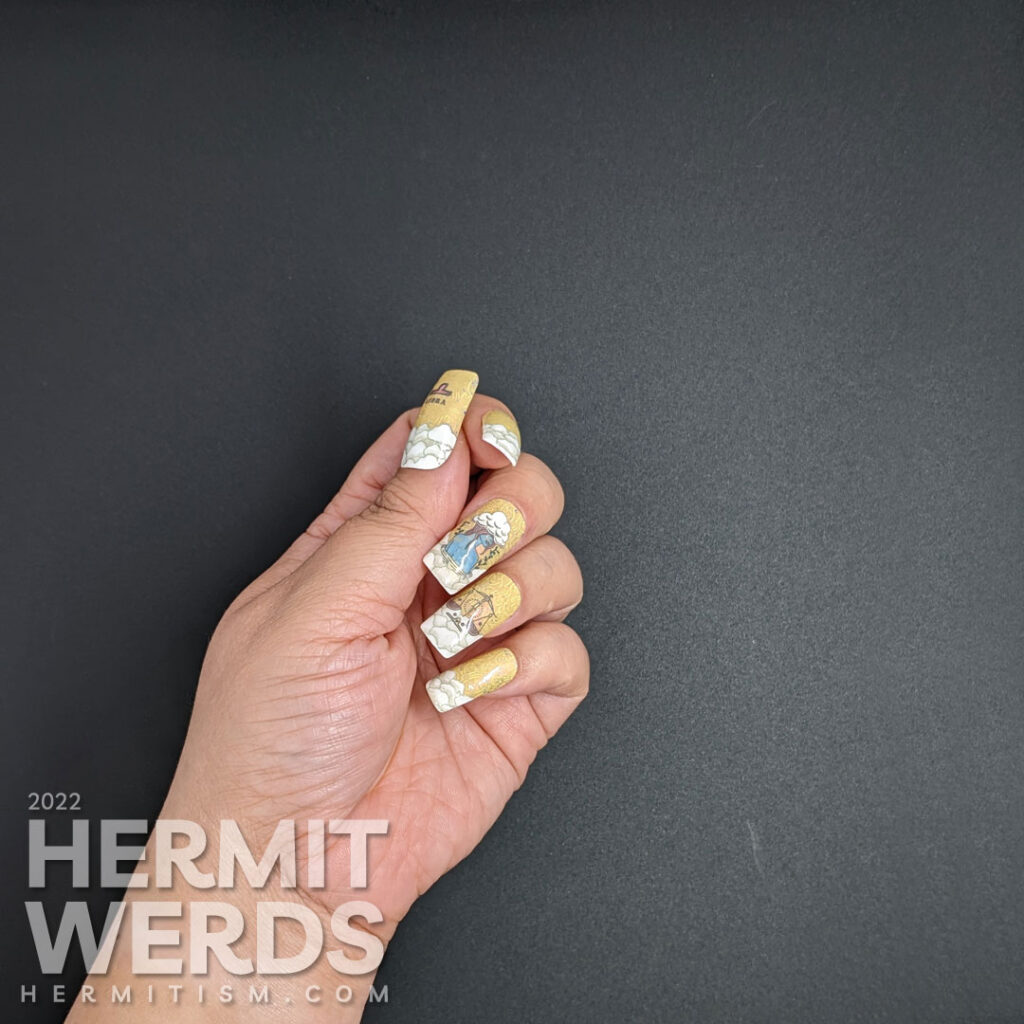 Until next time, friends! I guess we'll be wishing Scorpios happy birthday shortly! 🙋‍♀️
---
---
Here's the complete set of the (western) zodiac. Click the photos for more information on the design.