It was really hard for me to not make this a red/blue nail art, because crabs = red and water sign = blue. But. But! Supposedly the colors for the cancer astrological sign are grey, white, and blue with a goal for the colors being soft. So I went with silver as my main color and threw in lilac shades for the crabs with the intention of adding a little blue watercolor on top to give the crabs depth, but then I got lazy. Which feels appropriate for cancers because I am one. Hah!
Anyway, happy birthday to all my fellow cancers out there! 😘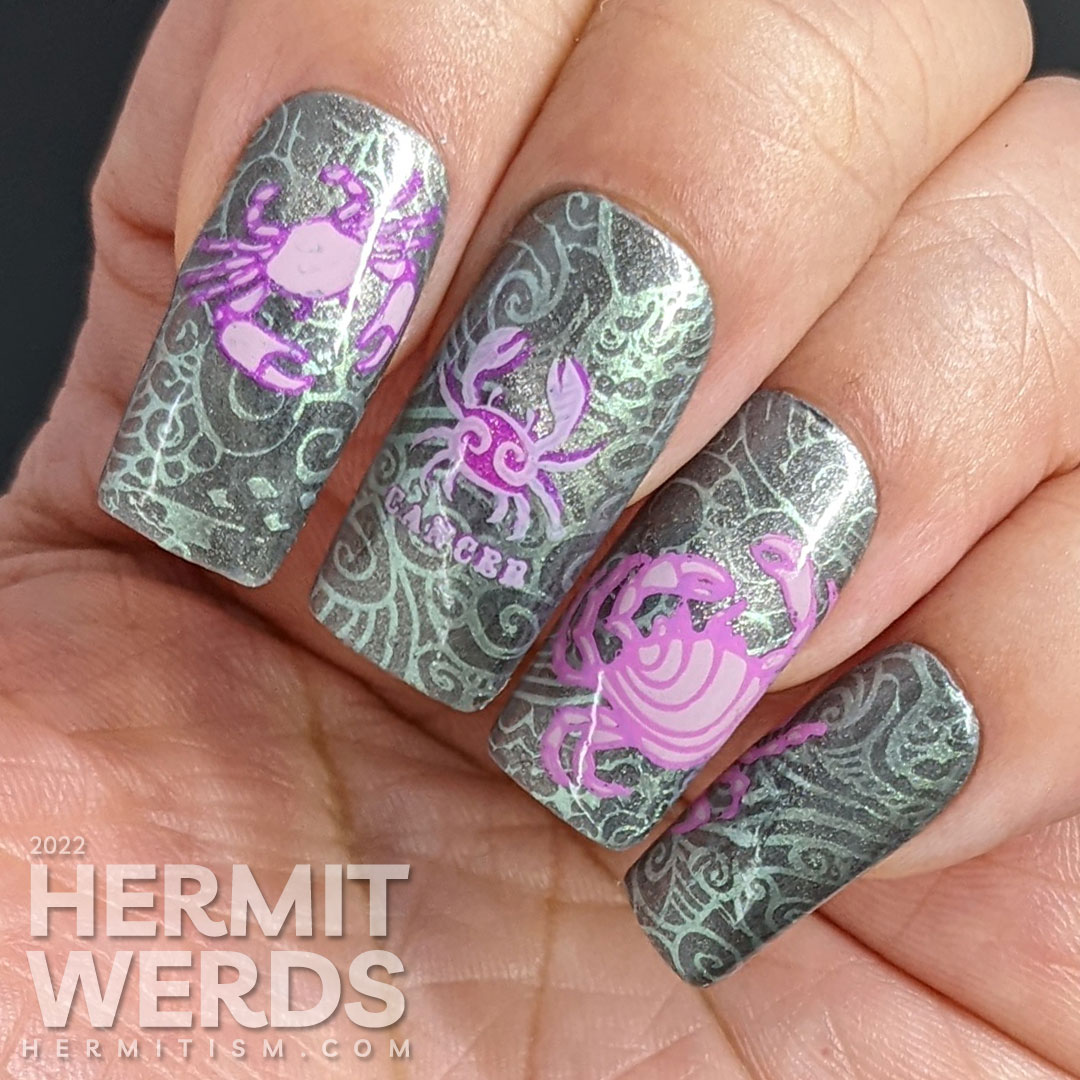 Nail art products used
Base Polishes:

Stamping Polishes:

Advanced Stamping Polishes:

Stamping Plates:
Items in italics are debuting on the blog for the first time.
This marks my triumphant completion of using all the Magna Nails polishes I own for the blog. (I had used all of them pre-blog.) If you're counting them and feel a disturbance in the force, yes, one is missing. I de-stashed the "aqua" one b/c it wasn't colorful enough. Do I recommend this brand? Nope! They tend to chip easily, which fortunately doesn't matter very much on false nails. I have them so I'll use them and won't buy nicer dupes until they're gone. In other words, my coffin is going to be very full of nail polish bottles. 😂
I also stamped my background pattern with a pearly gray stamping polish that has a blue-leaning green shimmer in it. I like how the shimmer subtly throws off the pure silver-ness of the background even though it tends to be more hidden against light colors.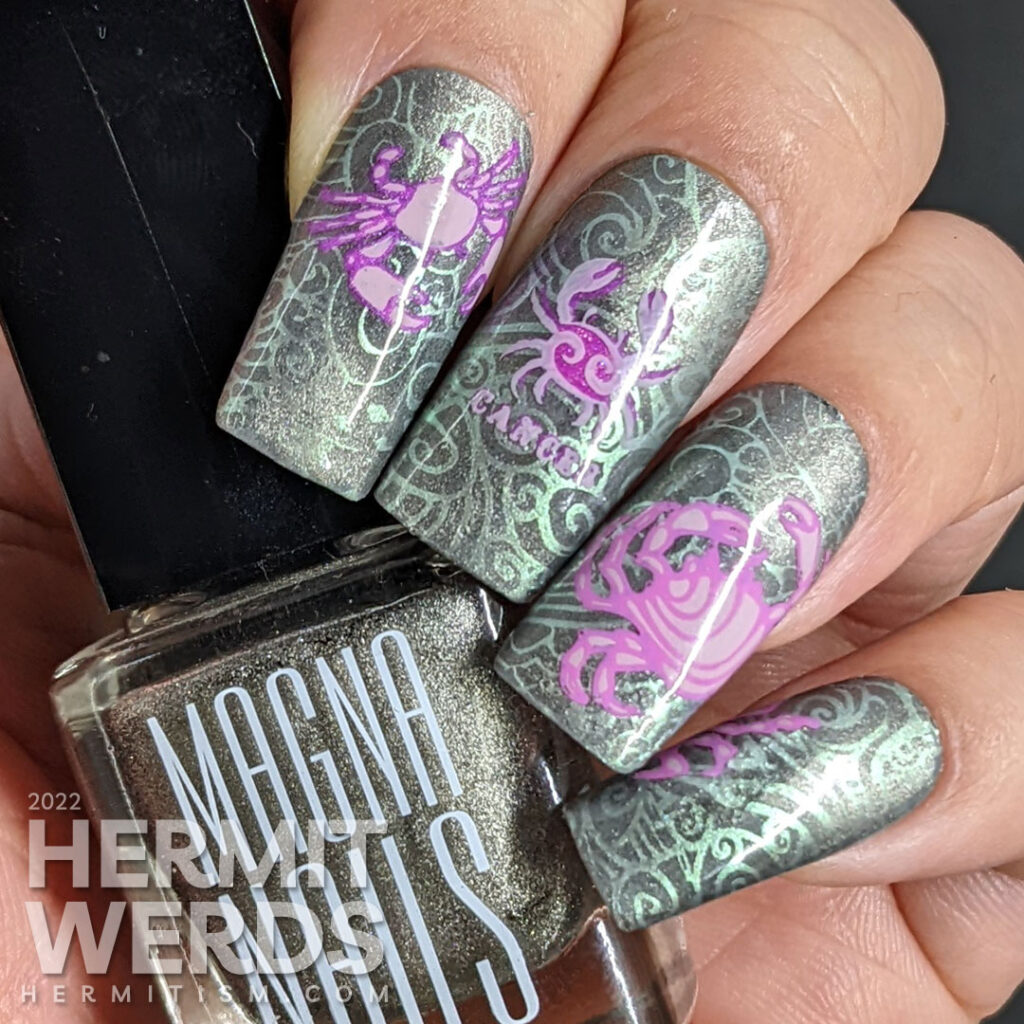 #LizMosZodiacCollab – Cancer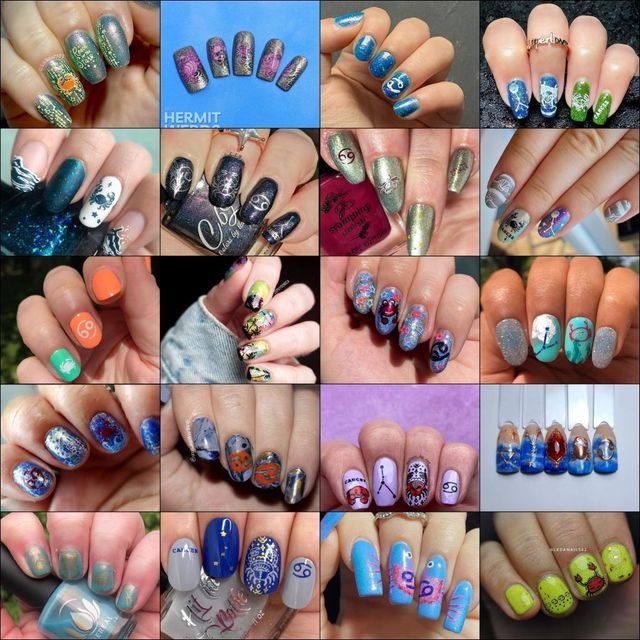 Final Cancer (astrology) photos
That's all I have to say about today's look. And, hey, unlike the other eastern zodiac signs, I might one day paint that blue/red version. Crabs make for great nail art after all. 😜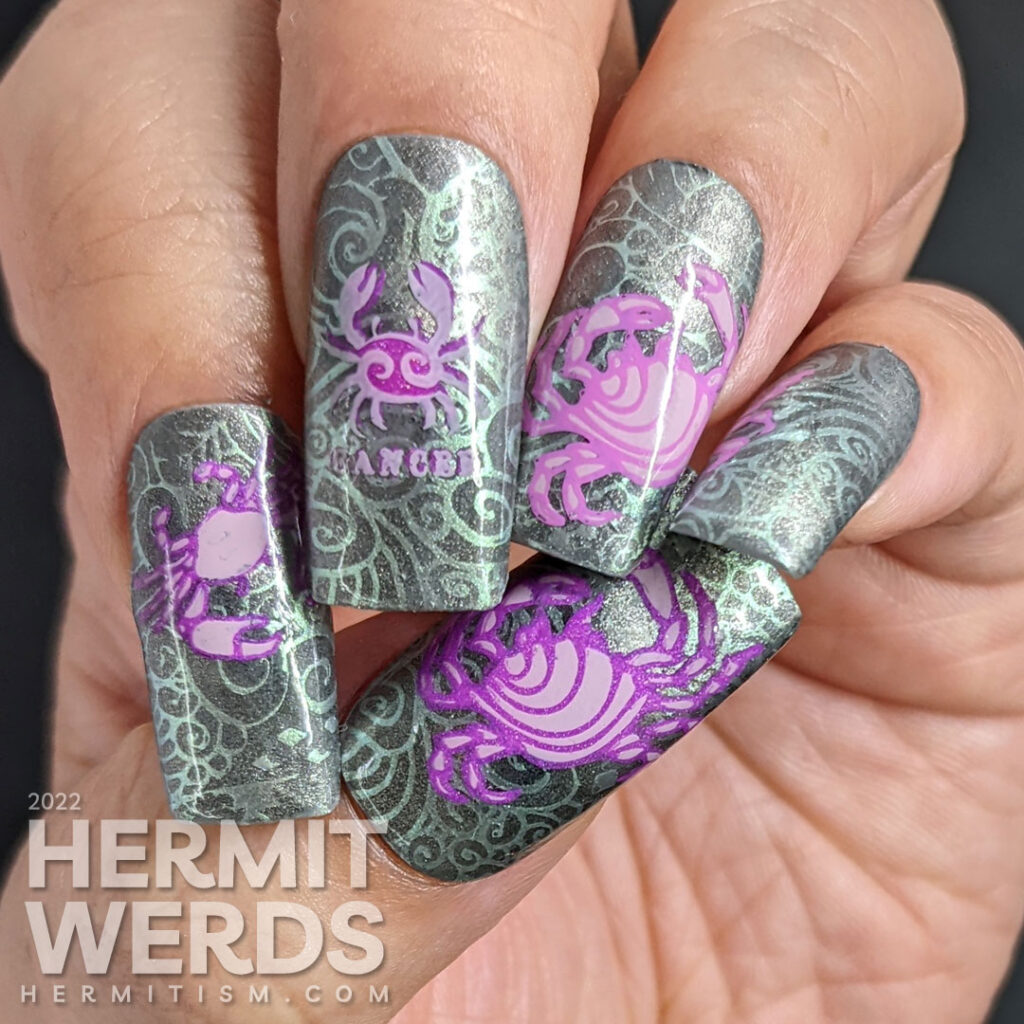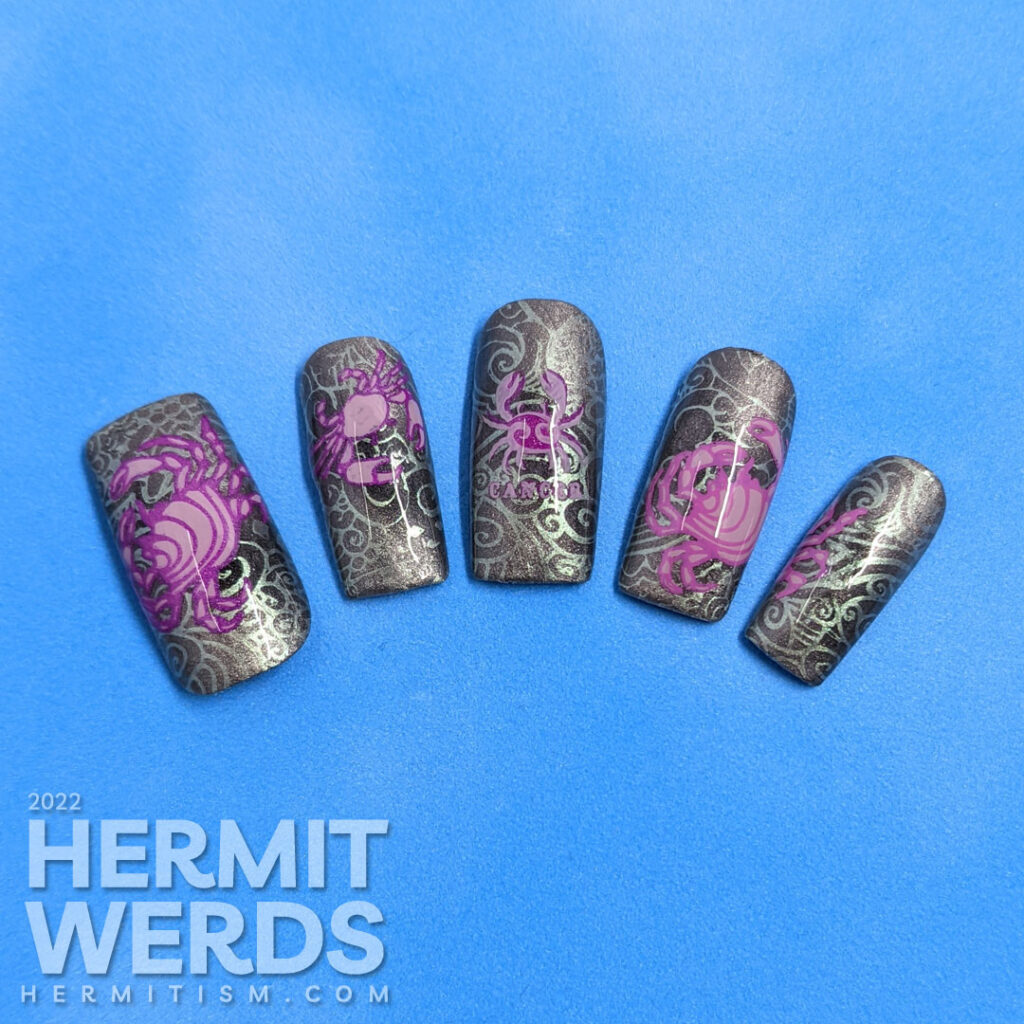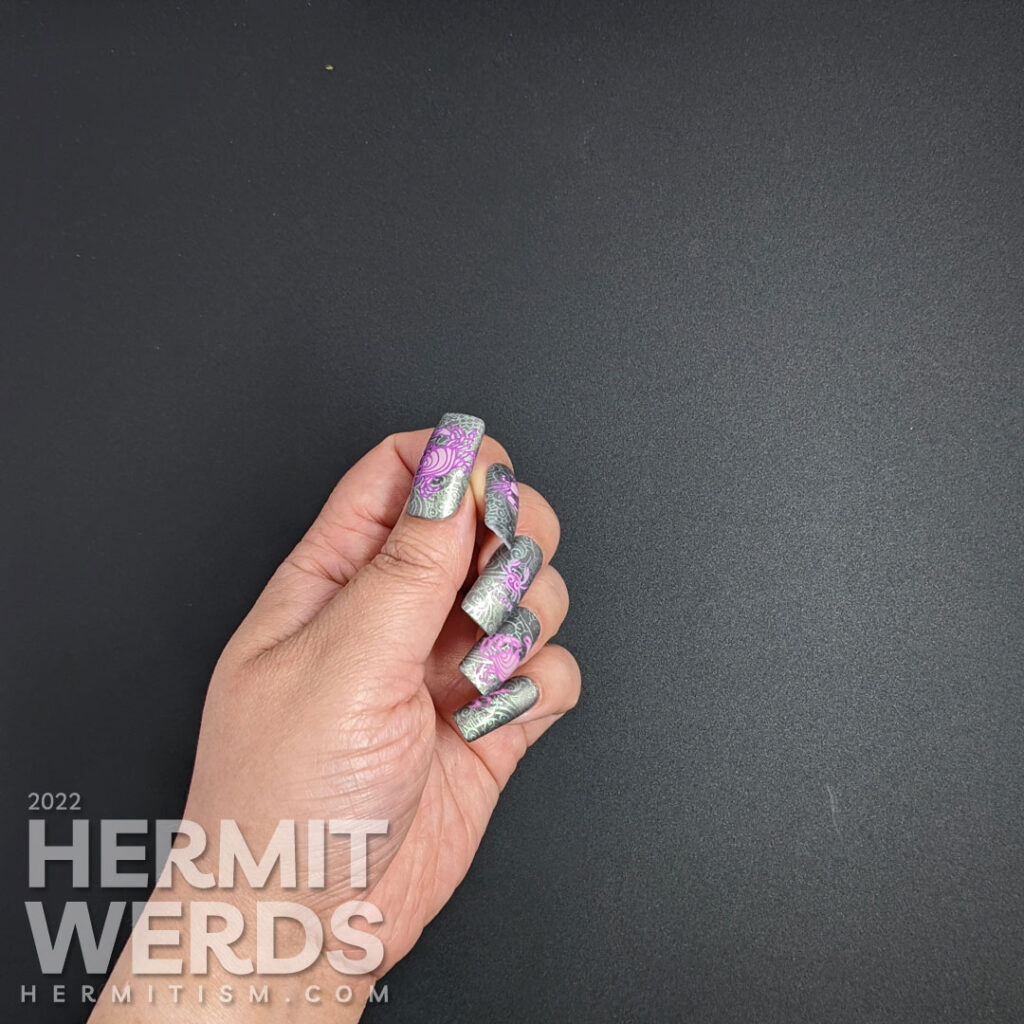 Until next time, friends! 🙋‍♀️
---
Here's the complete set of the (western) zodiac. Click the photos for more information on the design.