Happy birthday to all the lovely Capricorns out there! I can't believe it's been a (almost) a year since we started this zodiac challenge. And I managed to get in every one (although I do have a few I want to have a second go at…). I definitely got some great use out of the zodiac stamping plates I had. But I actually did purchase one new stamping plate for the Western zodiac, only I'm not using it yet. I want to go through every zodiac on it and create a matching set of them. After taking a break for a year. 😂 Meanwhile, I've got another stamping plate I'm trying to "complete" and I should get back to it…
Nail art products used
Base Polishes:

Harunouta's "Black Pantyhose" and Rban's RN002

Stamping Polishes:

Hit the Bottle's "Shore Thing" and Maniology's "Cloudburst", "Shangri-la" + "Winter's Kiss"

Advanced Stamping Polishes:

Colores de Carol's "Whitish Dust", Frankensteined "dark blue jelly", Poparazzi's "Surf n' Turf", and Wet n' Wild's "I Need a Refresh-Mint"

Stamping Plates:

Born Pretty "Fairy Tale-L004" (stars); "Creative Shop 114" (mermaid's Capricorn's tail); "Harunouta-13" (Capricorn symbol) + "Harunouta-L081" (Capricorn's goat head); Maniology "MXM046" ("Capricorn") + "MXM082"(saturn)
Items in italics are debuting on the blog for the first time.
I love magnetic polishes, but the non-gel ones can be a struggle to worth with. You gotta get that magnet on it and hope it works every time. So I decided to use a gel magnetic for this design. I had fallen in love with the results from a tutorial by @nail_design115. Now the magnetic polish she used was high quality and all I had to use that was unused was…verrrry cheap. So if you see her tutorial and compare it to my nail art, yeah, quality (or the amount of magnetic to filler) in the polish matters big time. I even tried adding a second layer on a test nail and it just muddied the design. That's okay. I was going to nail art on top of it anyway!
So instead I used two thin layers of a black jelly gel polish and then one layer of a (barely) green magnetic. This left me with a soft grey background with winks of green. Then I focused on using grey-ish blue to green shades for Saturn and all the stars and sea goat…parts (*cough*) you'd associate with a Capricorn.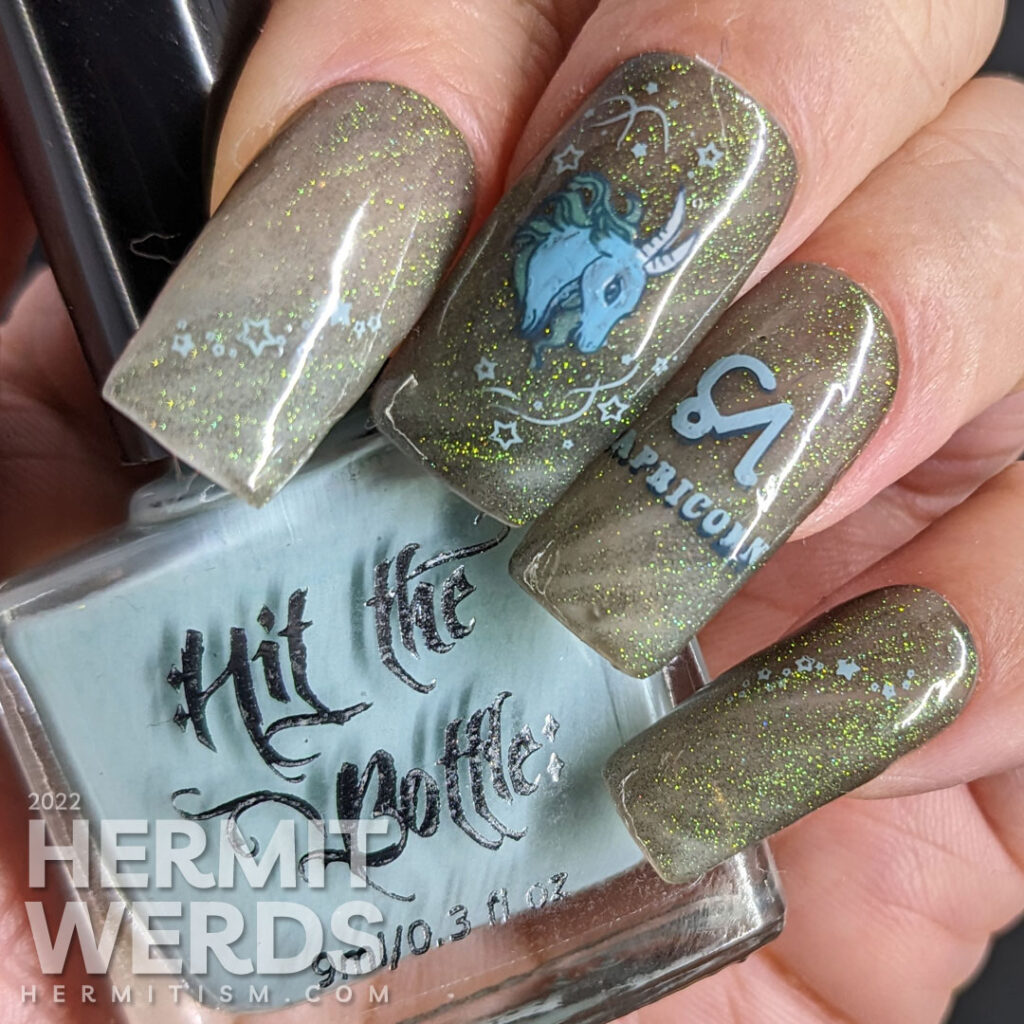 #lizmosZodiacCollab – Capricorn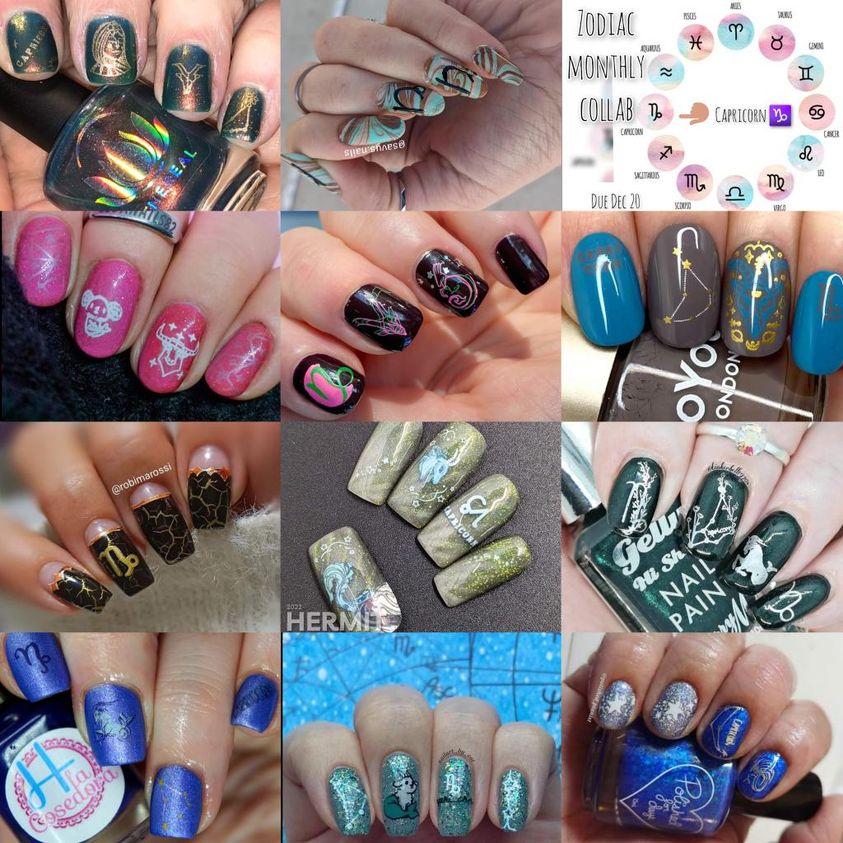 Final Capricorn nail art photos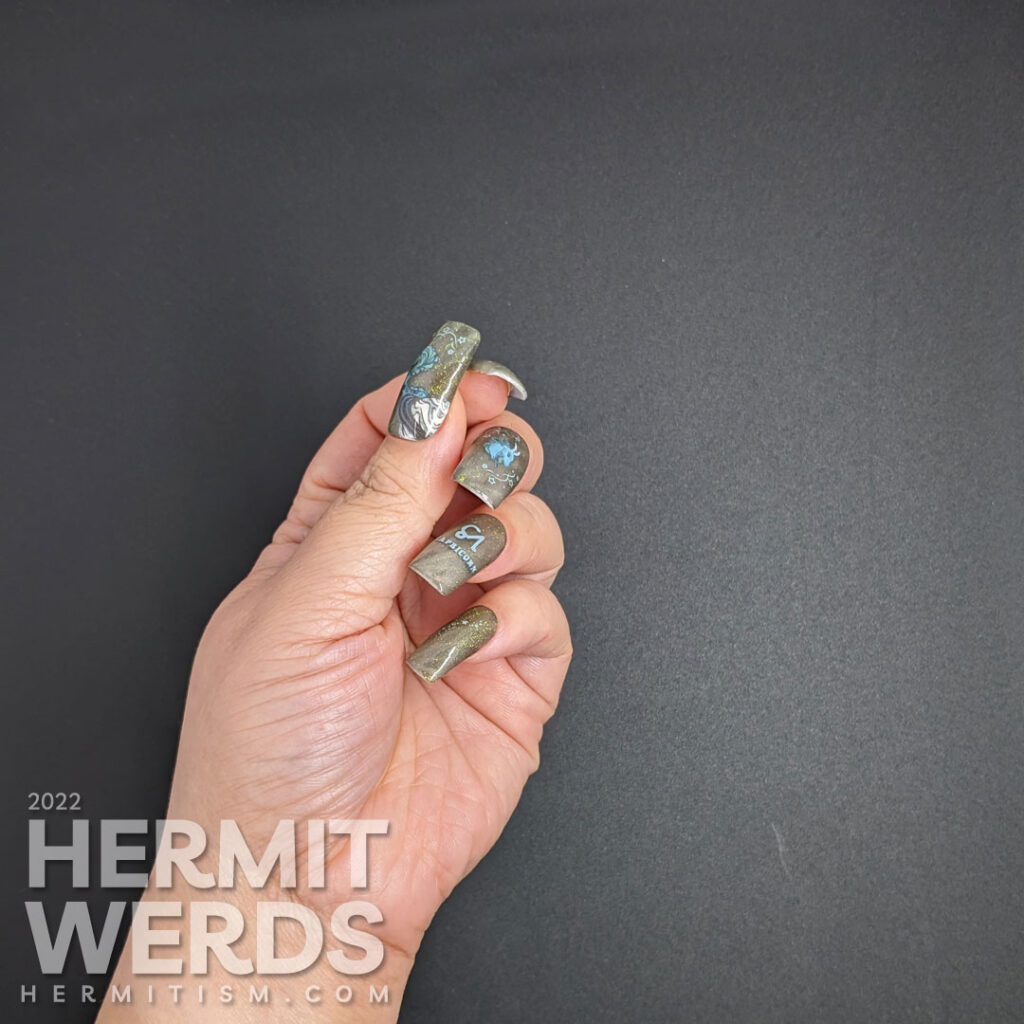 Until next time, friends! 🙋‍♀️
---
Here's the complete set of the (western) zodiac. Click the photos for more information on the design.