It's another year and somehow I'm still around and posting on the web. After I posted my Tree Rex nail art in December, I painted my nails with a dark green holographic polish, started some decals for it and neeeever finished anything else. 😆 Just busy with work so I could have my vacation and then seduced by sleep and books during vacation. It was nice.
But I had purchased tickets for my husband and I to see a comedian (whose standard was everyone in the audience is vaccinated) on New Years Eve and in the process of getting ready I threw two indie polishes on my nails. I enjoyed the show immensely and over the next few days I made some stamping decals, applied the decals, took some photos, edited the photos, and here we are today where I have full on New Years nail art to share.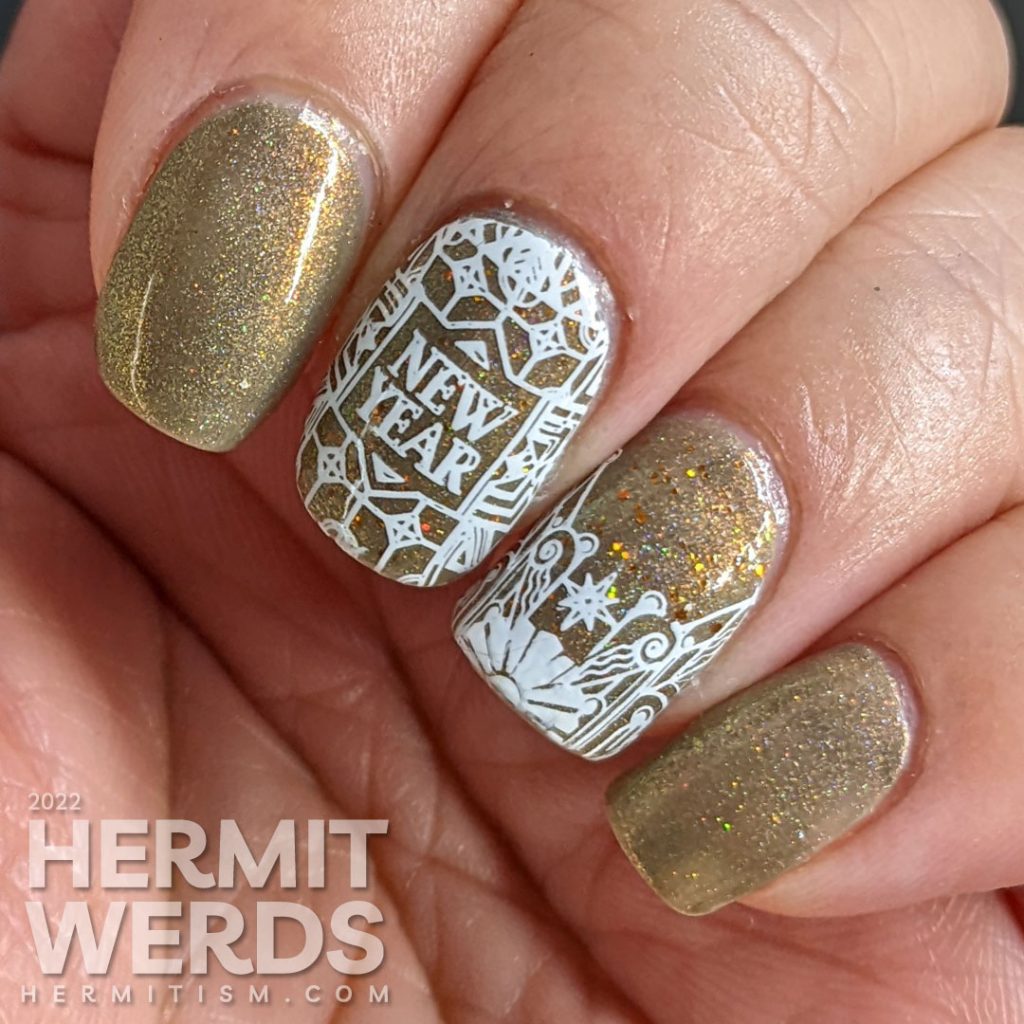 Nail art products used
Base Polishes:

Stamping Polishes:

UberChic's "Essential White"

Stamping Plates:

Maniology "M260" (art deco "New Year" and stamped french tips)
I'm sure most of the nail artists who used this stamping plate did something far more interesting than me (M260 is the new New Years stamping plate by Maniology), but I needed something simple. So I removed two-thirds of a full-nail image to create stamped french tips and slapped them on along with a very obvious "New Years" stamp. They are centered middling-terribly. It's fine. Just look at the glitter.
New Years Past
Here are my designs from previous New Years. Generally more elaborate, naturally…
Back to the photos
I really loved the combination of nail polishes I used as my base. Rogue Lacquer's "Big Ben" is one of those polishes that looks different depending on your lighting (so of course I only took photos in only one kind, sorry). It's got this smoky look in dim lighting that is so soft and lovely and then in brighter lights it's still soft but more golden and holographic. It's really lovely but subtle so I'm glad I added the glitter topper for some spice (which amusingly is this month's Polish Pickup theme). It was a perfect combo all by itself.
And I didn't take a photo before stamping. Woops again. More process photos is a goal for this year.
Meanwhile I need to not be afraid to photo dump. The search engines can just suck it. Eat the next 3K words, Google! 😝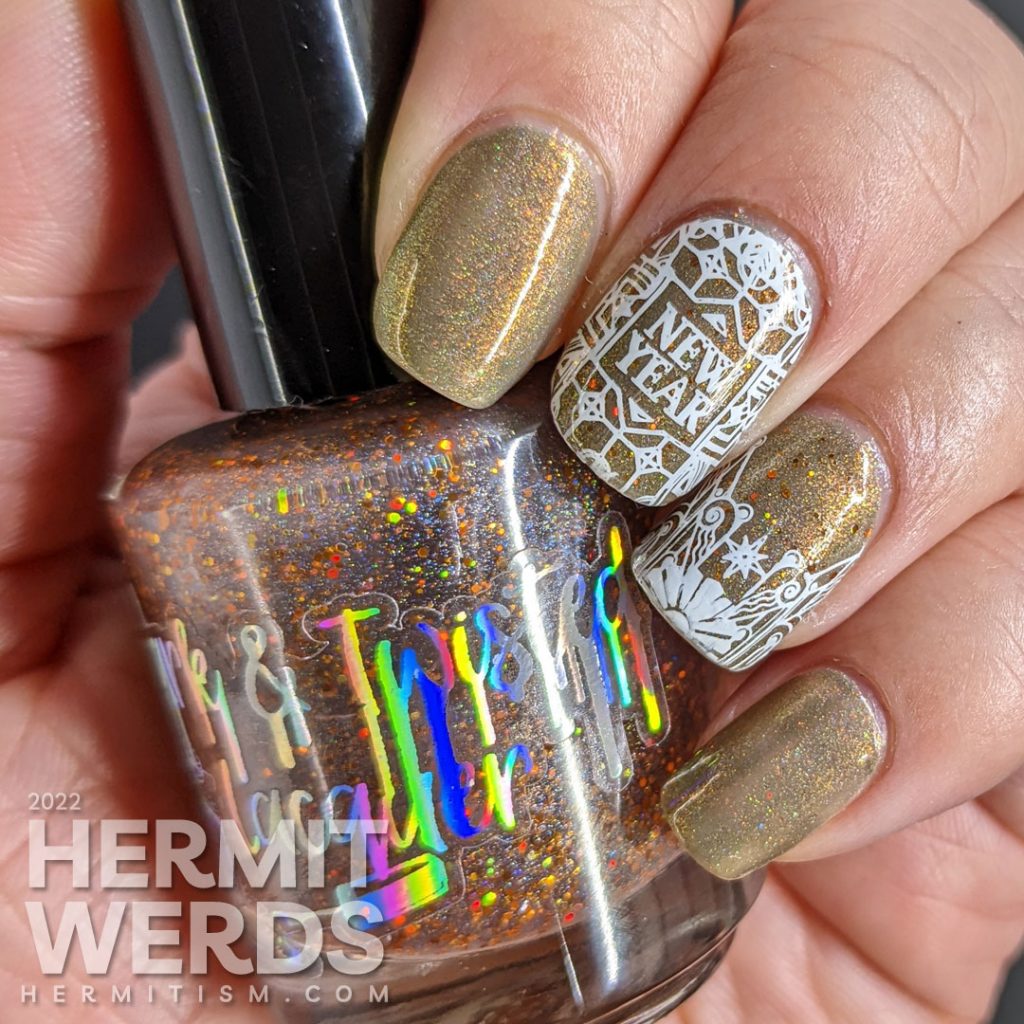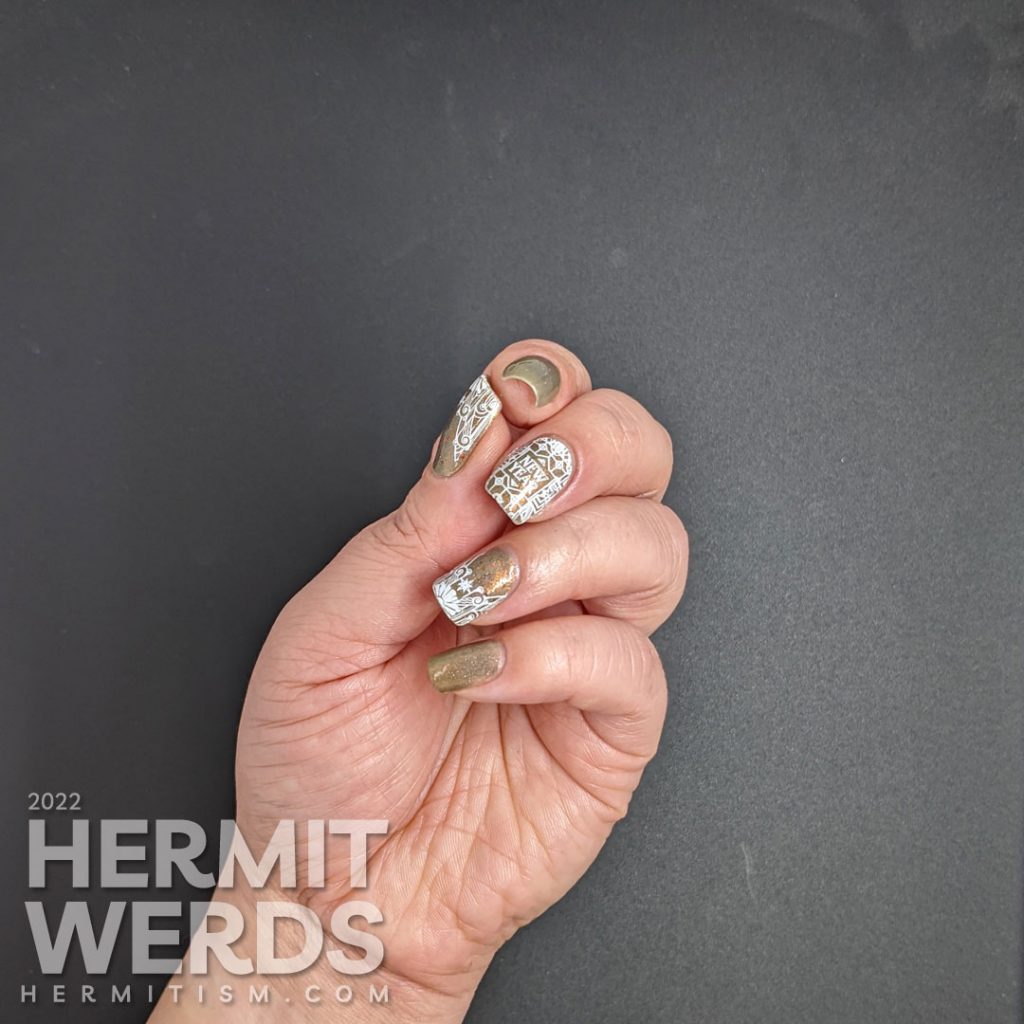 Until next time, friends! I hope your year has had a lovely start. 🙋‍♀️