Well, I guess I can say definitively now: unless everything is ready and all I have to do is hit "Post", the blog and social media do not get touched when I'm visiting family. That's probably for the best, but it's a little hard when you're trying not to keep falling behind on things. The end of the year was a slog through a deep exhaustion that left me with no energy to do anything. I kept trying to work through it and it only made me more tired. So I finally let myself take a few extra naps and I started to recover, but then it was time for family things again and I had only caught up to fall completely behind.
And that's okay. It would have been nice to end the year more cleanly, but life is messy and family is more important.
So here's my answer to #LigaNailistaChallenge's Fireworks vs Lights and #glamnailschallengedec's New Years and Reindeer prompts. After all the work on Christmas Eve, the reindeer have an afterparty that must last for days. Their stamina is amazing.
Products Used
I started with a teal gradient (only using the brightest teal on my middle and ring fingers), then added the fireworks stamp with nail foil glue for extra sticking power, and ended with the white stamping decals of dancing reindeer and booze. This could almost be a club scene with lasers instead of fireworks. heh
If I'd been planning on wearing this for long, I probably would have added a layer of top coat between the teal and white stamping decals to prevent staining. Teal polishes tend to stain your nails and that can leak into white polish just as easily.
Base Polishes:

Covergirls' "Teal On Fire", Essie's "Satin Sister", and Sally Hansen's Insta-dri "Re-teal Therapy"

Stamping Polishes:

Essie's "Penny Talk" and Mundo de Unas' "White"

Advanced Stamping Polishes:

Covergirl's "Emerald Blaze"

Stamping Plates:

BC-04 (reindeer trio), Born Pretty Celebration BPX-L013 (dancing deer & fireworks), and QJ-L43 (popping bottle)
I do like this design, but I think I should avoid using that particular firework image in the future. It's just too wispy and makes me think of it as more noise than anything else. Fortunately, I not only have other stamping plates with full-nail firework patterns, but Born Pretty Celebration BPX-L013 has one other full-nail design and an entire open corner of fireworks. I'm not giving up much.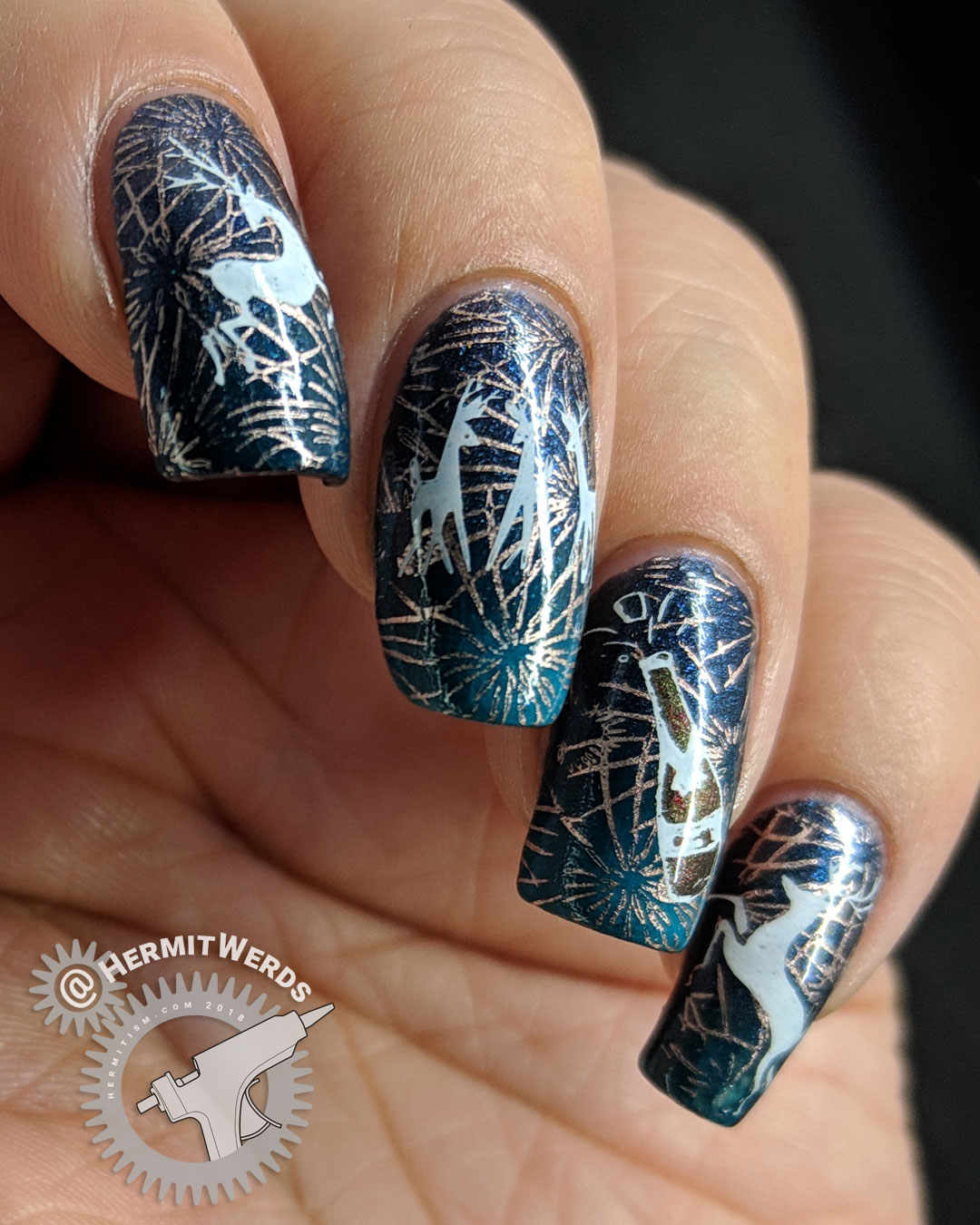 More nail art coming soon and an end of the year post as well. It seems a bit early for it, but I've decided not to make you wait until May this time. LOL