Yesterday certainly felt like a shit show and I'm clear across the country from the attack on the Capitol building. Shall we call it a riot or an attempted coup or both? Either way it's gross and people are dead who shouldn't be and a lot of other people need to go to jail for it. But the Democrats now have the Senate and I, for one, am glad. Thank you, Georgian voters who voted Democrat!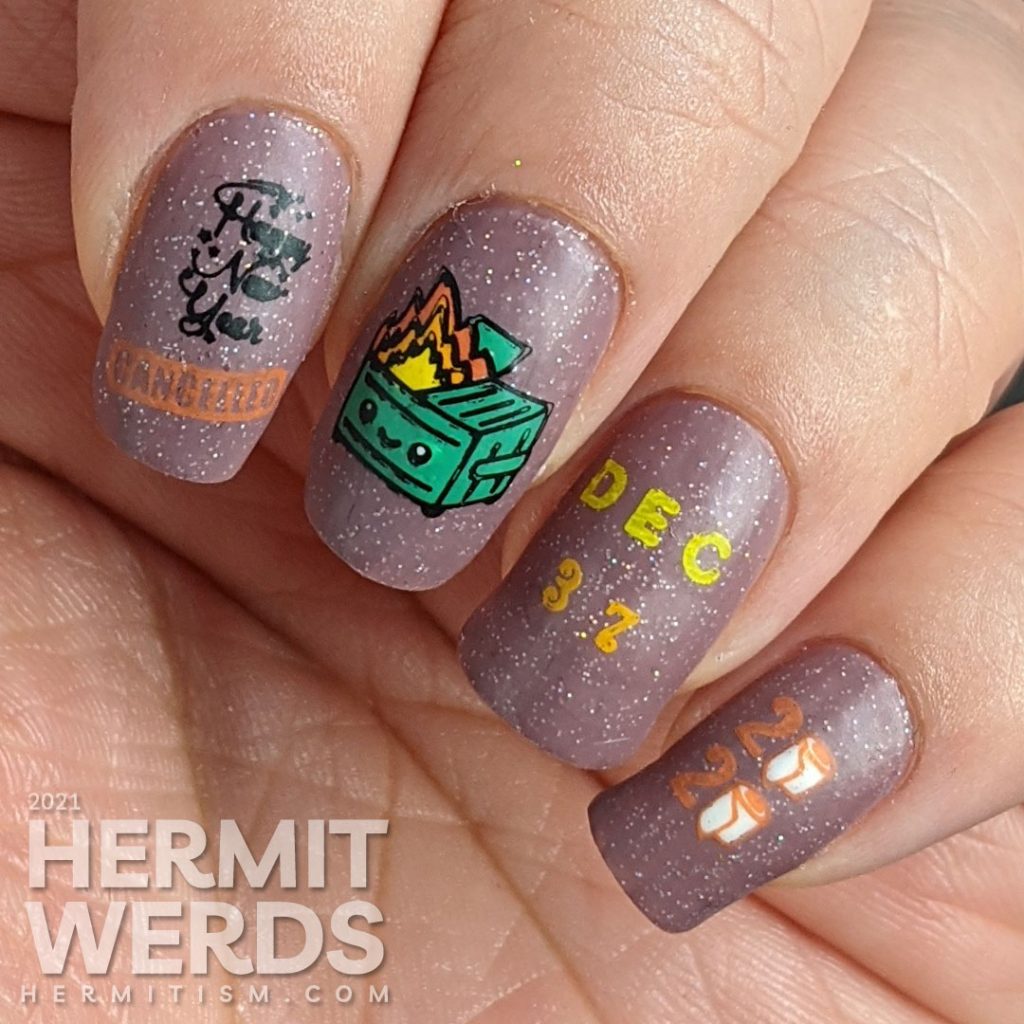 I'd had a different plan for my last New Years nail art (at least until Chinese New Year comes around), but with all this going on and a very amusing tweet that referred to yesterday as December 37th, well, I changed my plans. And now my nail art, at least, should make sense. Hah!

I don't even follow Deontée Gordon, but they are brilliant and I'm glad someone shared their tweet where I could see it.
Nail art products used
Base Polish:

Nee Jolie "NJ-012"

Stamping Polishes:

KADS' "08 Dark Yellow" and "09 Yellow"; Maniology's "Pumpkin Head"; and UberChic's "Pure Black"

Advanced Stamping Polishes:

China Glaze's "Emerald Bae" mixed w/white polish; KADS' "Dark Yellow" and "09 Yellow"; Maniology's "Pumpkin Head"; and Smackers' "Wickedly Stylish"

Stamping Plates:

Maniology "M042" ("Happy New Year"), The Stamping Shop Collab "F*ck You 2020" (kawaii dumpster fire, toilet paper 2020, "cancelled"), "XJ4" ("Dec 37")
I was pleased to have an excuse to use my F*ck You 2020 stamping plate. It comes from this Facebook group and generally the plates are not available if you miss the initial sale (a lot of people have shown interest so there may be an exception for this plate).
Basically, Dawn is putting these together as an individual, not a business. If you miss the quarterly plate, ya miss it. Quality-wise the edges are still a bit sharp and the images themselves are rather sharp and rip up the felt I use to clean up the plate more than any other plate I own. But pickup was good. Again, Dawn is not looking to make this her business and her herculean efforts to get the stamping plates into our greedy hands asap were amazing. I will buy again if the next plate appeals.
As far as the composition of my design goes, I planned it to be semi-terrible design-wise because that's how yesterday made me feel. Five different fonts in one nail art? Yes, please! They match the kawaii dumpster fire.
My pin prop felt very appropriate too.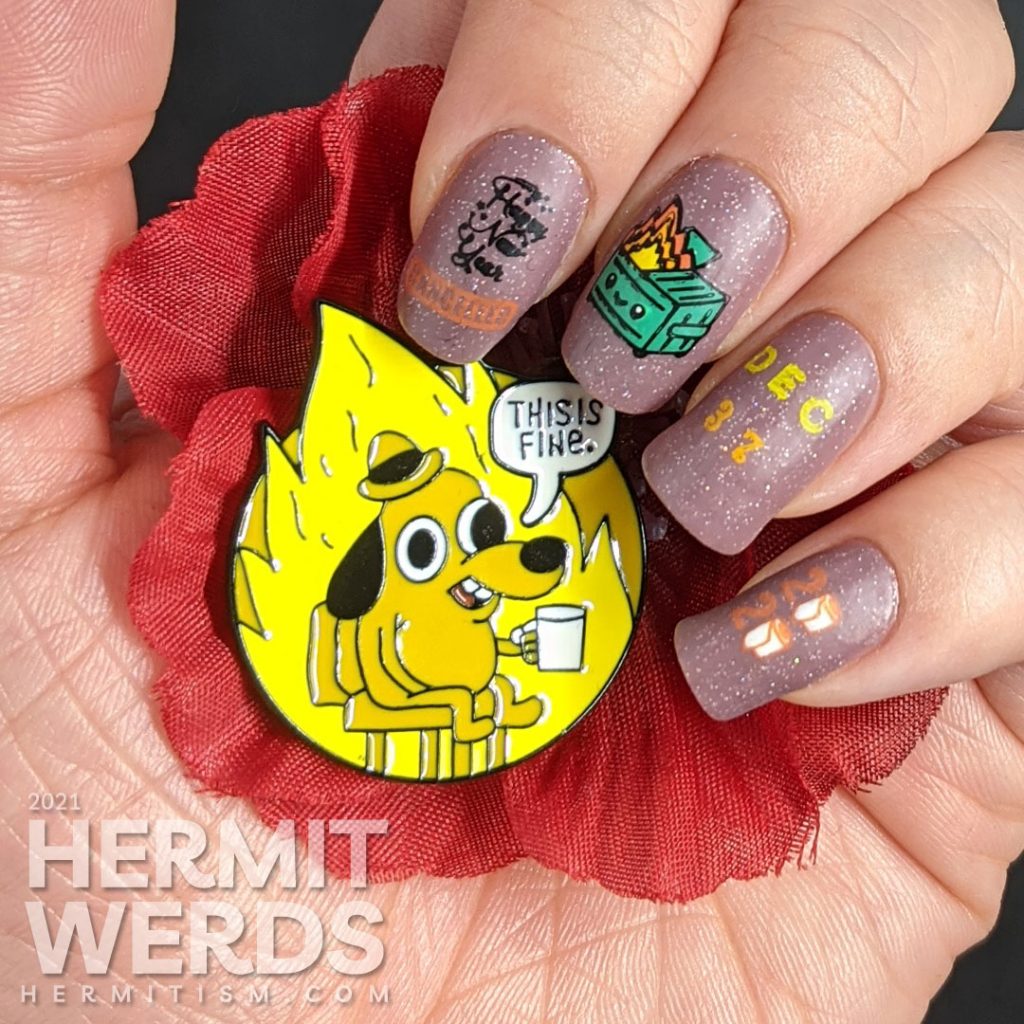 I didn't even paint my thumb. The energy to do so was not there. So I'll leave it with one final photo and let's hope things start getting better instead of worse. Realistically, though, I expect more awfulness for the next bit. 😝
Until next time, friends! Don't spend too much time watching the news (is advice I should take)! 😝