I try to at least paint two designs for #NailChallengeCollaborative's month long themes, but this month was especially challenging because…pink/blue instead of food. You guys know how I feel about food. 😢 So I was sad and I wasn't sure what to paint. I managed to get out a Pink Pineapple mani (still food! I am unstoppable!), but what else? Luckily, I had a whole bunch of recreations left to do from last year's #NailFails and one of them was pink and blue. Thinking just got simpler. Woo!
My problems with the original nail art were three:
No focal point due to lack of contrast.
The combination of holographic and grainy metallic stamping just looked like noise.
The KleanColor polish I used to stamp with bled into the pink.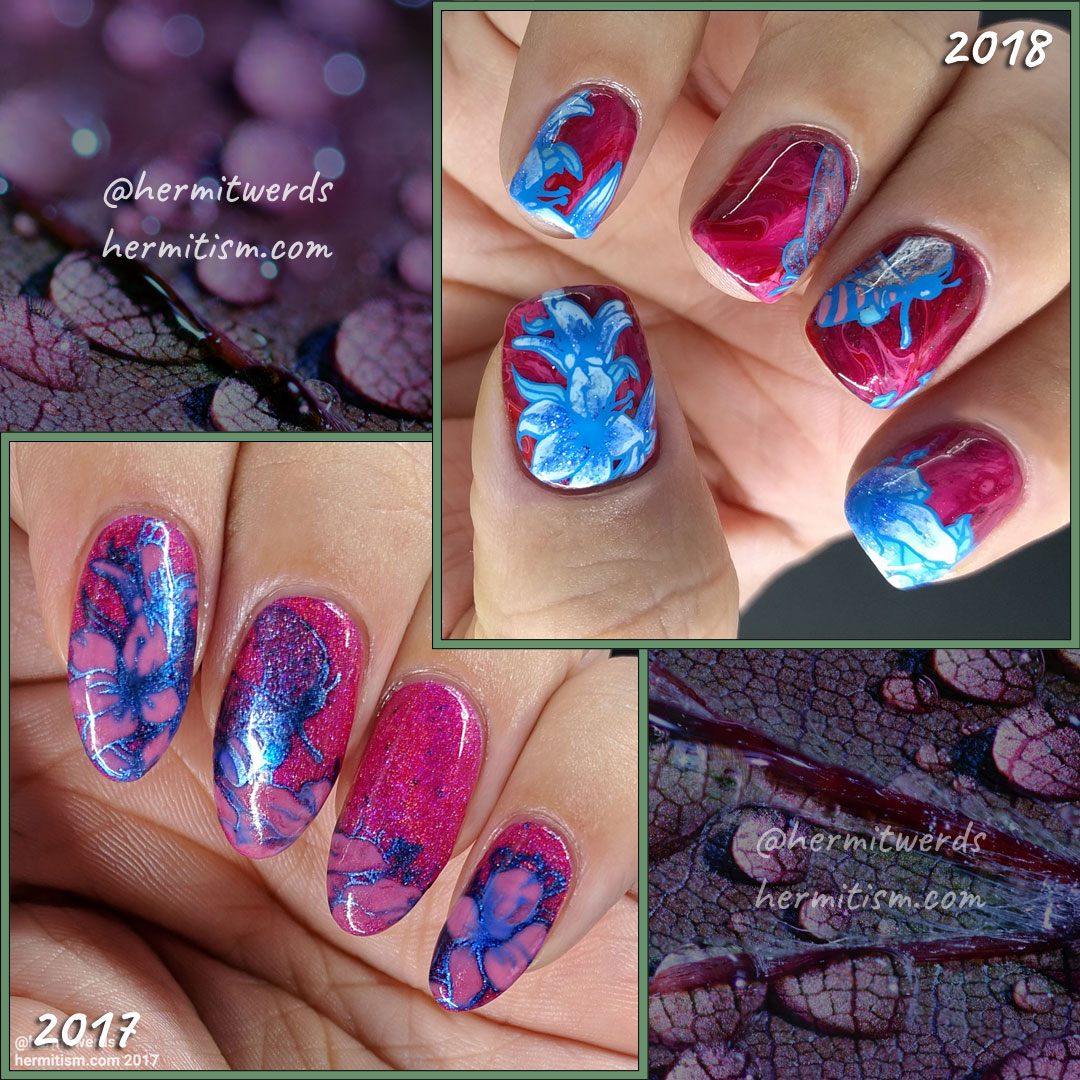 Strategy for Improvement
Making the bee fairy the focal point was pretty easy. By separating her from the flowers and using creme polishes and light colors she can be clearly seen. Although…the pale color of the lilies on my thumb does challenge her for attention when they are in the same photo. 🙂 I also used my favorite pearly white in a very translucent layer to fill in her wings and make her look bigger while still feeling delicate
I still wanted to use Colores de Carol's "Cupid's Vacation" for the background, but, since Eb (@swatchslayer) had a fluid nail art challenge going on, I decided to smooth out the background by using it with a lot of creme polishes. Sadly, the hypnotic transforming top coat didn't form many cells because it was waaay too hot in my room and the polish was very thick. Eb thinks that I might have gotten more if I'd added in some smoosh marbling so I'll be trying that next time. You can see the un-decal-ed fluid art and group collage at the bottom of this post.
Finally, I dropped the use of all the KleanColor polishes. They are absolutely fantastic to use sometimes, but not for this design. Instead, I threw in a little texture polish in the middle of my flowers to get some glitter on and filled in the rest with cremes. Definitely a more cohesive design now.
Also, did anyone else notice that I used the same blue/blue decal color scheme from the test sample on this review?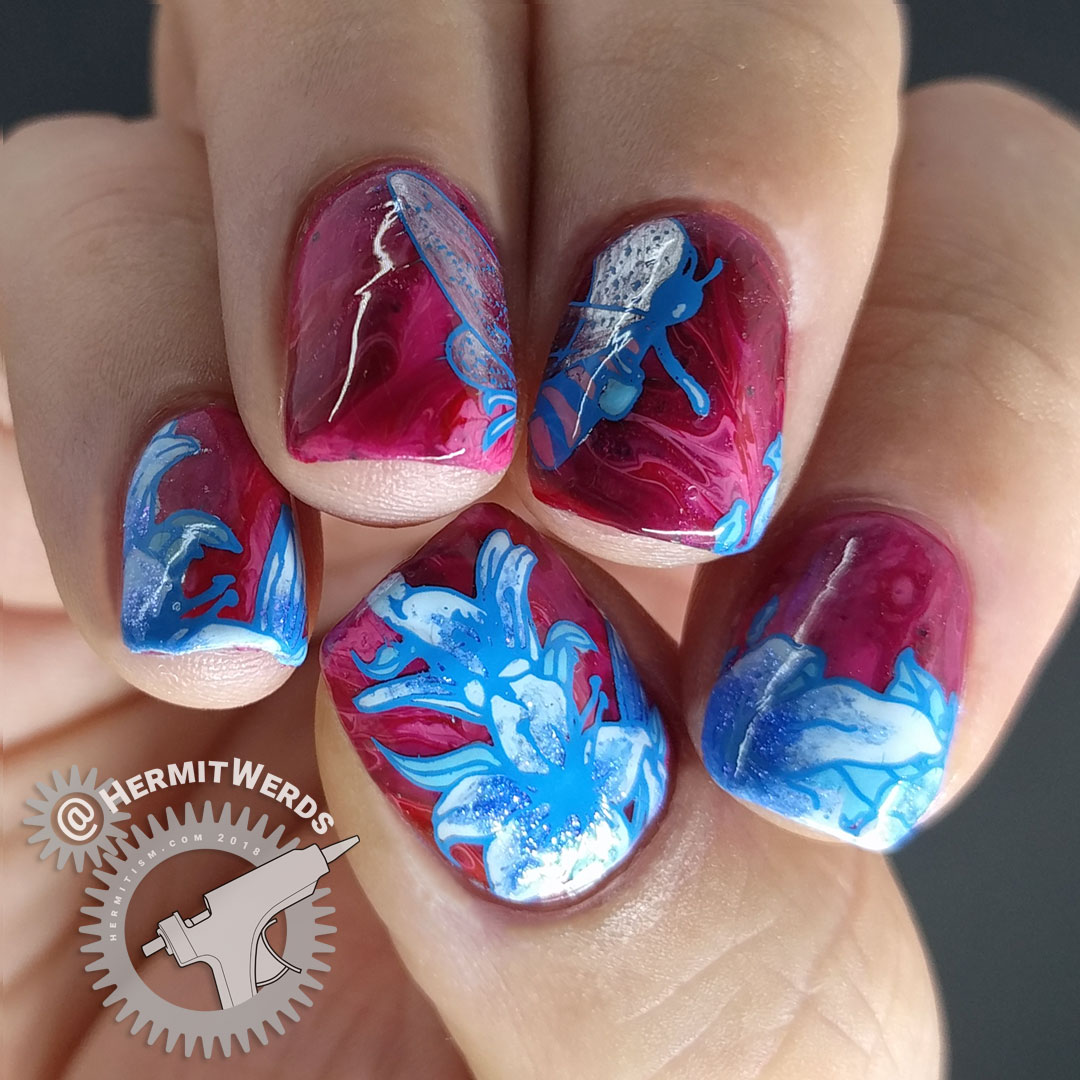 So here's where I make a little confession: I've been calling ZJoy 2Joy for…ever. And as soon as I realized I was doing it, well, it was more than a little embarassing that I had made the mistake because it was so obvious that it was a 'z' instead of a '2'! So, yeah…going to be fixing those links after this goes live. Heh.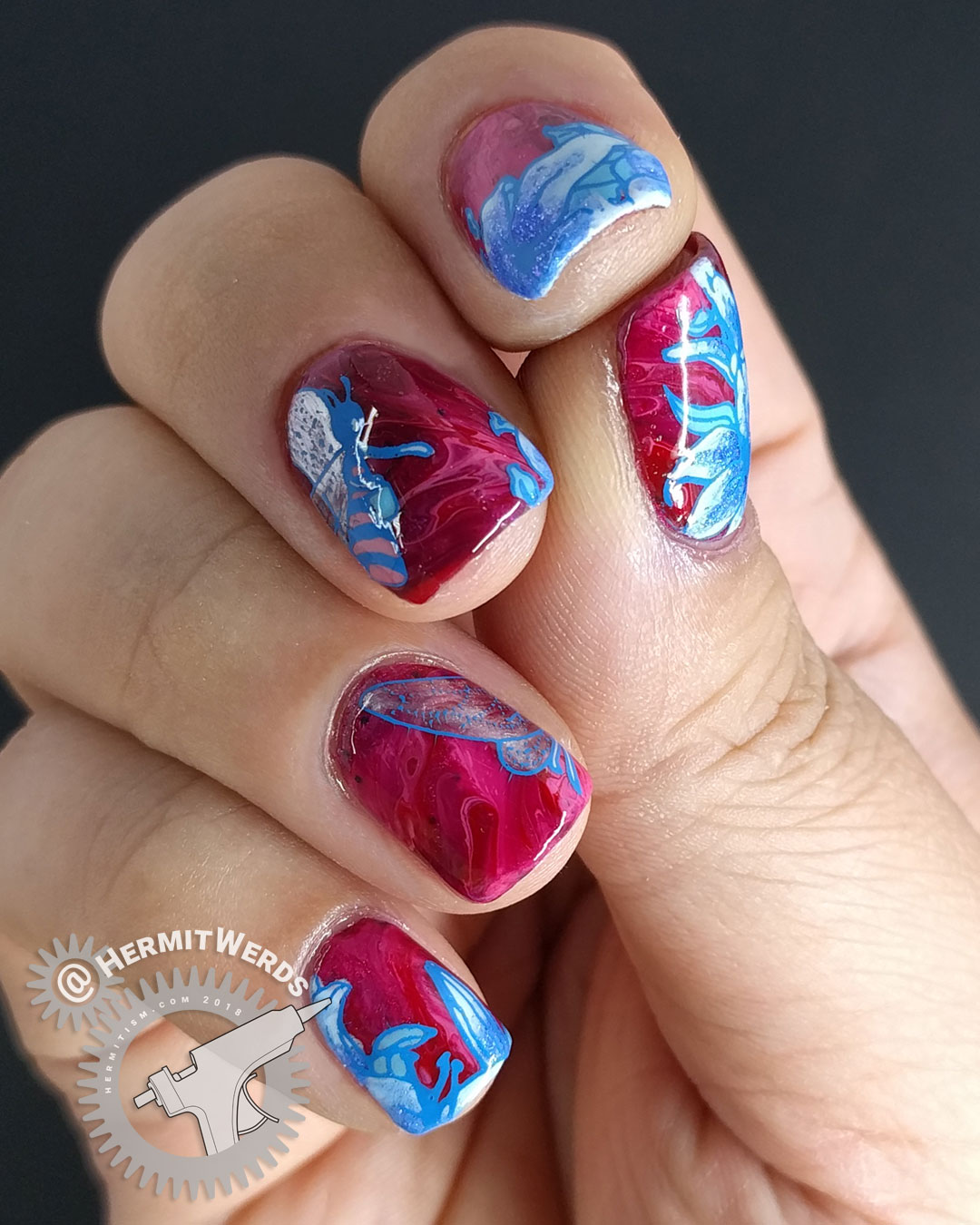 Across-nail Placement
Now I probably would have kept the placement of all the stamping, but having shorter nails meant I had to get creative. The images on the rectangle plate were already quite large so, to fit everything on my nail, I originally overlapped her over the flowers even though she isn't touching them on the plate. This time I shifted the flowers over onto another nail and placed her across two nails. I've gotten better at splitting things across multiple nails. I used to try to do it more 1:1 (example) and usually that just cuts off the most important part of the image. Generally, 1:3 works best.
Here's the fluid art all by itself. I do love how it's more red-leaning because of the hypnotic transforming top coat (still hoping Sinful Colors releases more shades). I really need to paint more of these in the future. I bought all of the set (twice) and I've only used two so far!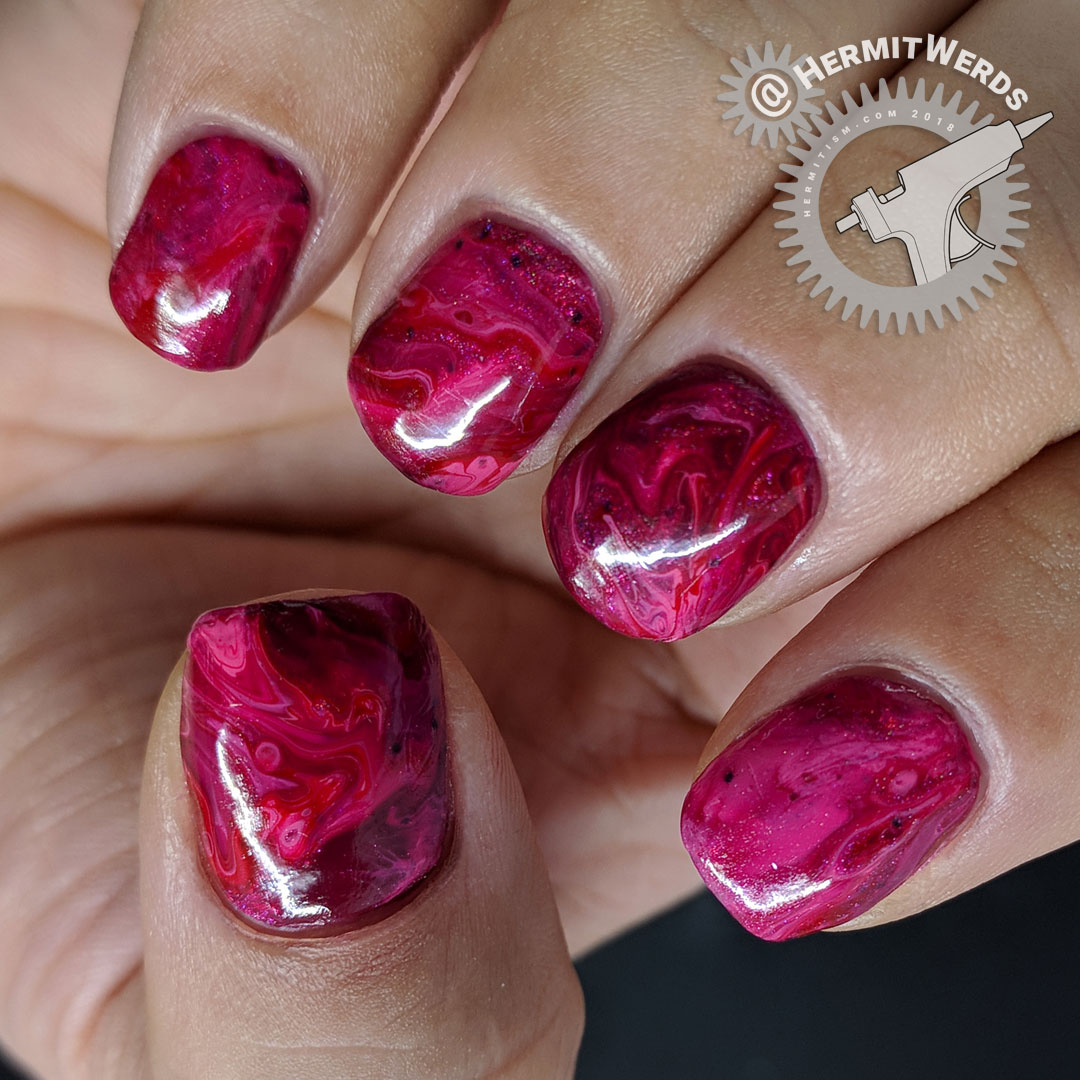 And a macro shot. Because it's near impossible not to offer one when I marble:
Check out the group collage for #Challenge2Slay and then visit the group tag to see everyone's entries close up: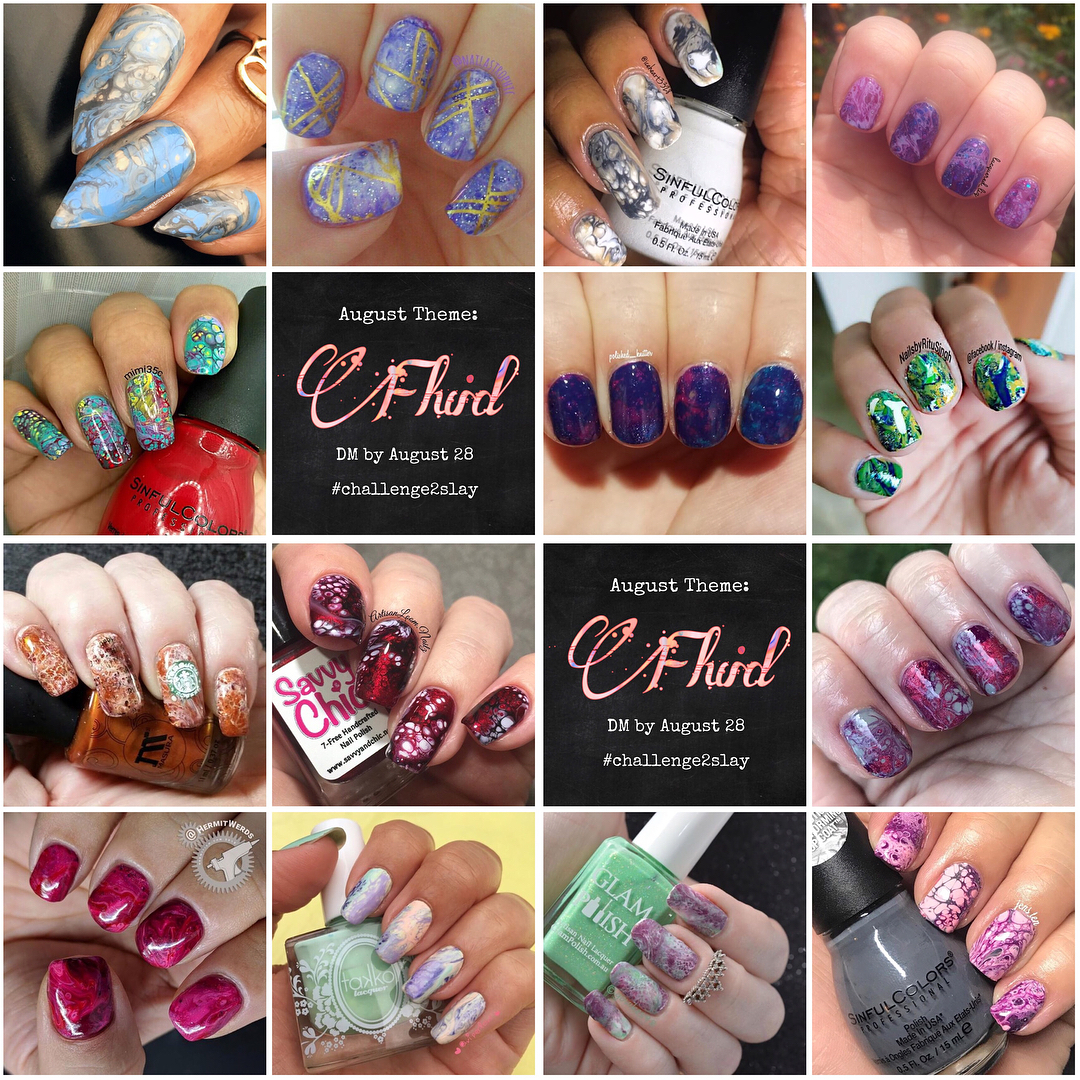 Finally, here is all of the blue/pink nail art from #NailChallengeCollaborative's bloggers. Also, it looks like next month's theme is going to be Autumn which shall be a lot easier for me to think of designs for. I mean: Halloween, Halloween, and Halloween. Am I right? 🤣