Okay, I'm being a bit dramatic, but it sure feels like the end of the month just raced up and sucker punched me. It is, of course, my own fault for choosing so many challenges that are at the end of the month. Aside from the two heart nail art designs I'm sharing today, I have two other designs that were turned in for collages. A blog is never done (until it is).
I love both of the designs I'm sharing today for different reasons. The first because it's such a wonderful meld of green and purple-pink. Really, the beautiful base polish by Polished for Days did all the heavy lifting and all I had to do was not mess it up. The second heart nail art is a lovely pond mani with florescent heart glitter. So not truly glow in the dark, but tons of fun when you break the black light out. Yesss!
Delivered with Love (dove?)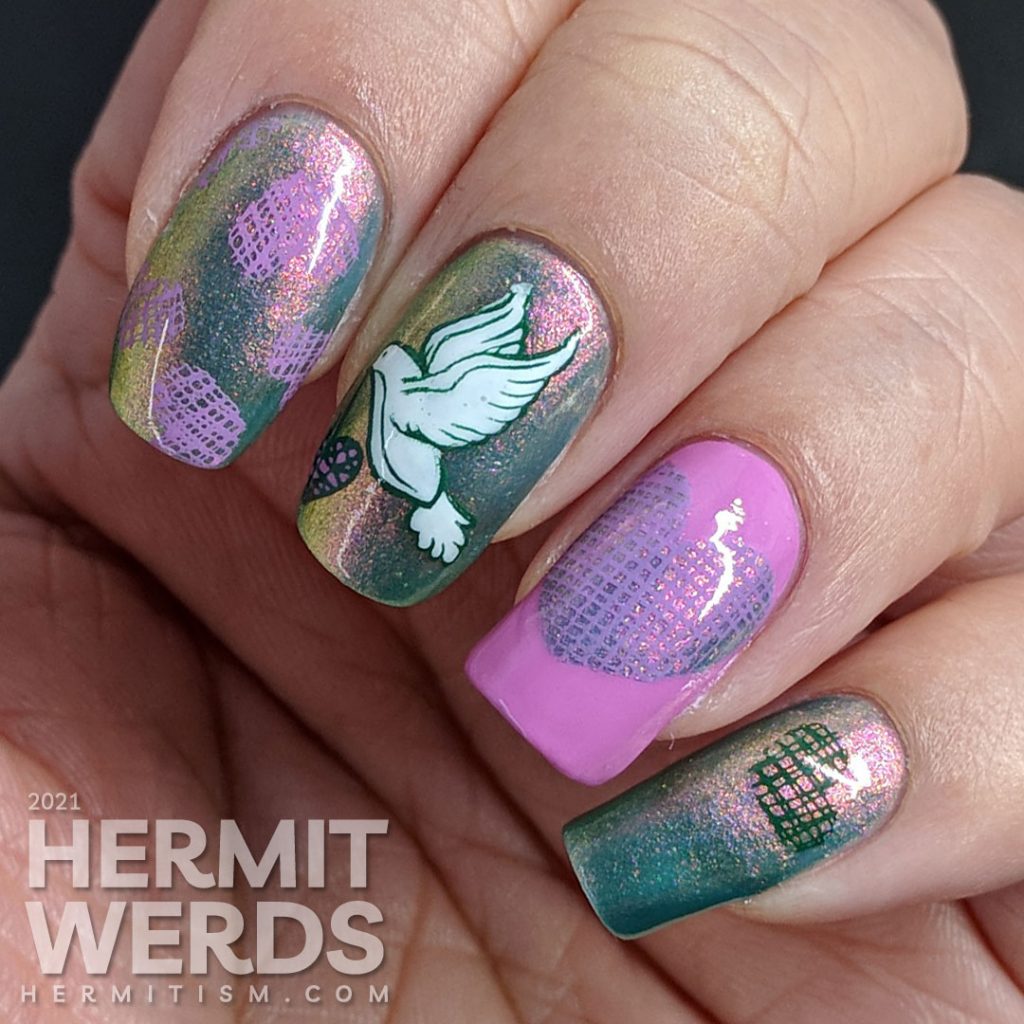 I had to double down on my birds by posing with one. I have gotten lazy about posing with a prop lately. Mostly because I've run out of objects that make sense. A tape measure only adds to the look under very specific circumstances and yet another random My Little Pony (because I have a looot of them) doesn't make sense either.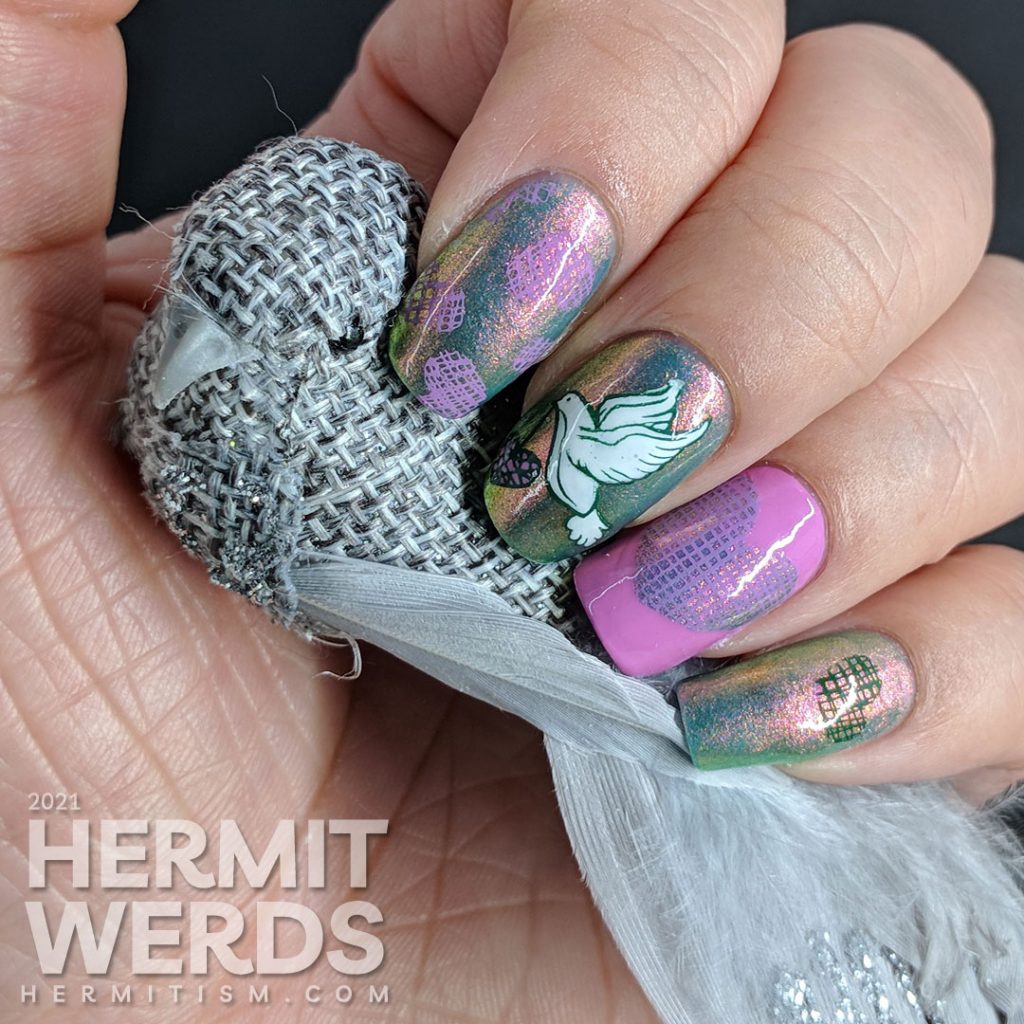 Nails with [Instagram] Friends
I actually painted this design last year just in time to miss February. I wanted it to be for something rather than just a random post so I kept trying to shove it in somewhere. World Peace Day? Woops, missed it. International Bird Day? Had something else I wanted to post. Came around to February again and it felt best to turn it in for #NailsWithIGFriends so that I wouldn't have to worry about painting something last minute. Home at last. 🕊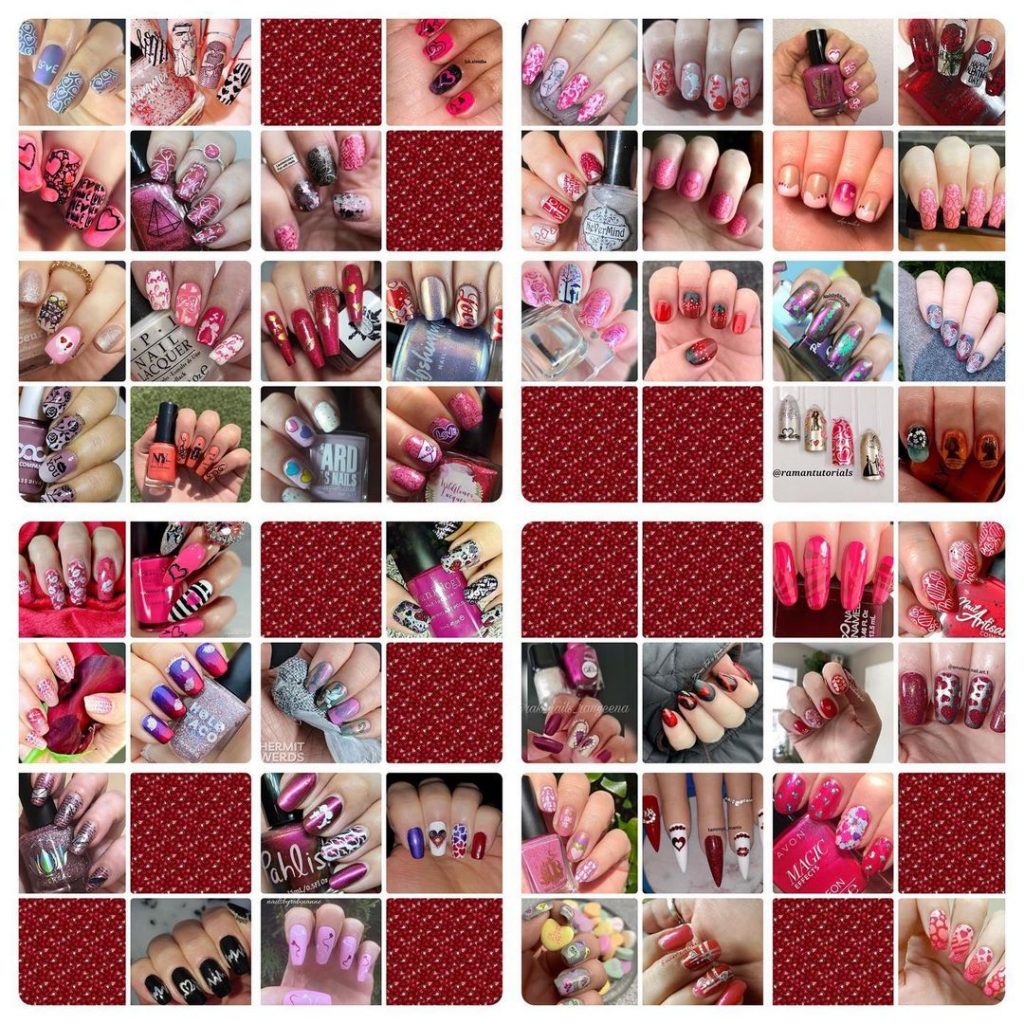 Nail art products used
Base Polishes:

KADS' "Pink Purplish Red" and Polished for Days' "That's How You Know"

Stamping Polishes:

KADS' "Pink Purplish Red" and Mundo de Unas' "Dark Green"

Advanced Stamping Polishes:

KADS' "Pink Purplish Red", Polished for Days' "That's How You Know", and Smacker's "Wickedly Stylish"

Stamping Plates:

Heart (dove w/heart), Hit the Bottle To Love or Not To Love-01 (full-nail heart patterns & pinkie heart), and XY-Z15 (large heart)
Polished for Days' "That's How You Know" came out in November 2019's Polish Pickup. I snagged it along with the maker's topper, which I haven't used yet. I…really need to. Especially together. Honestly if I hadn't seen them applied live, I probably wouldn't have bought them, but I'm glad I did. (Although I really need to curb my polish buying since I already have enough polish for a lifetime. 😂)
Some macros to celebrate this absolute beauty…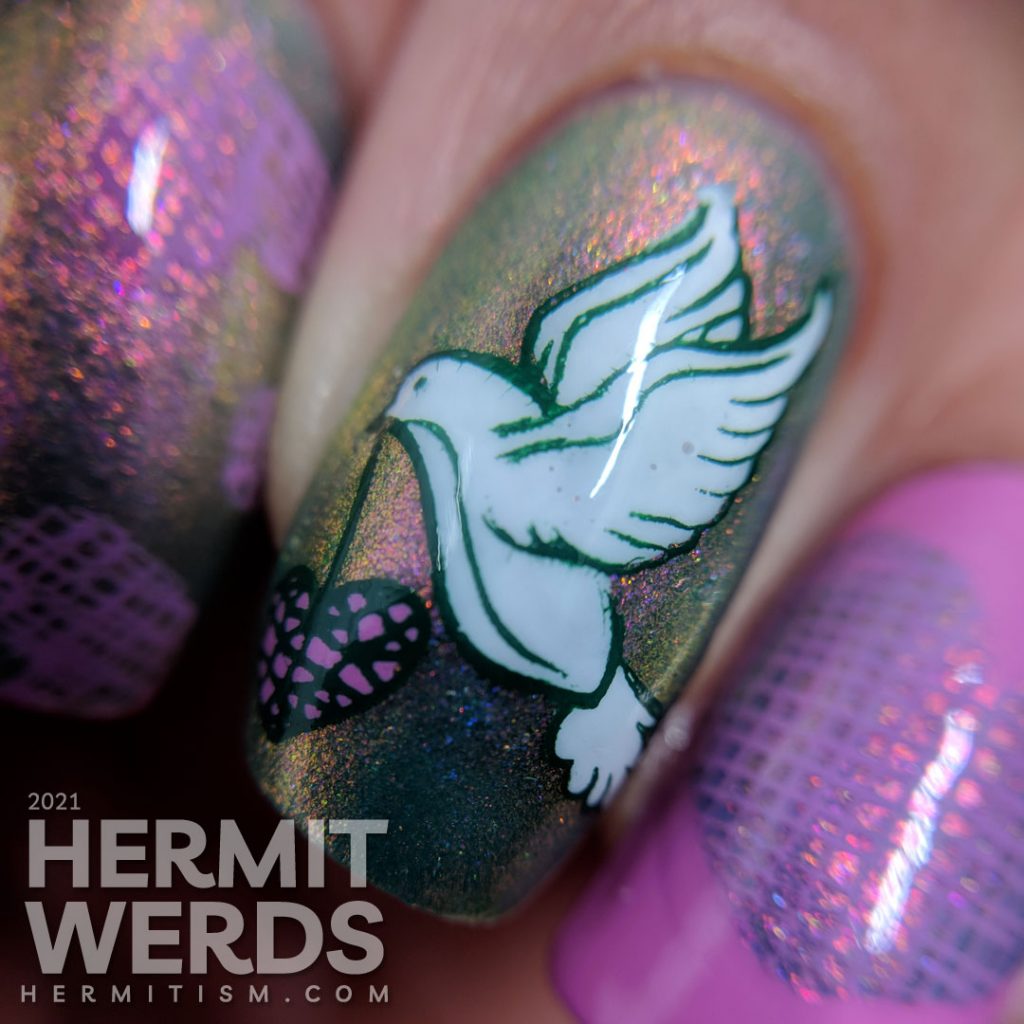 And I feel like this shot just brings out all the shiftiness of the polish. Really, I just had to be lucky enough to find two stamping polishes that matched its vibe well and I could have stamped anything on top with them.
Still beautiful from far away. Some of the hearts blend away, but the dove remains quite bold.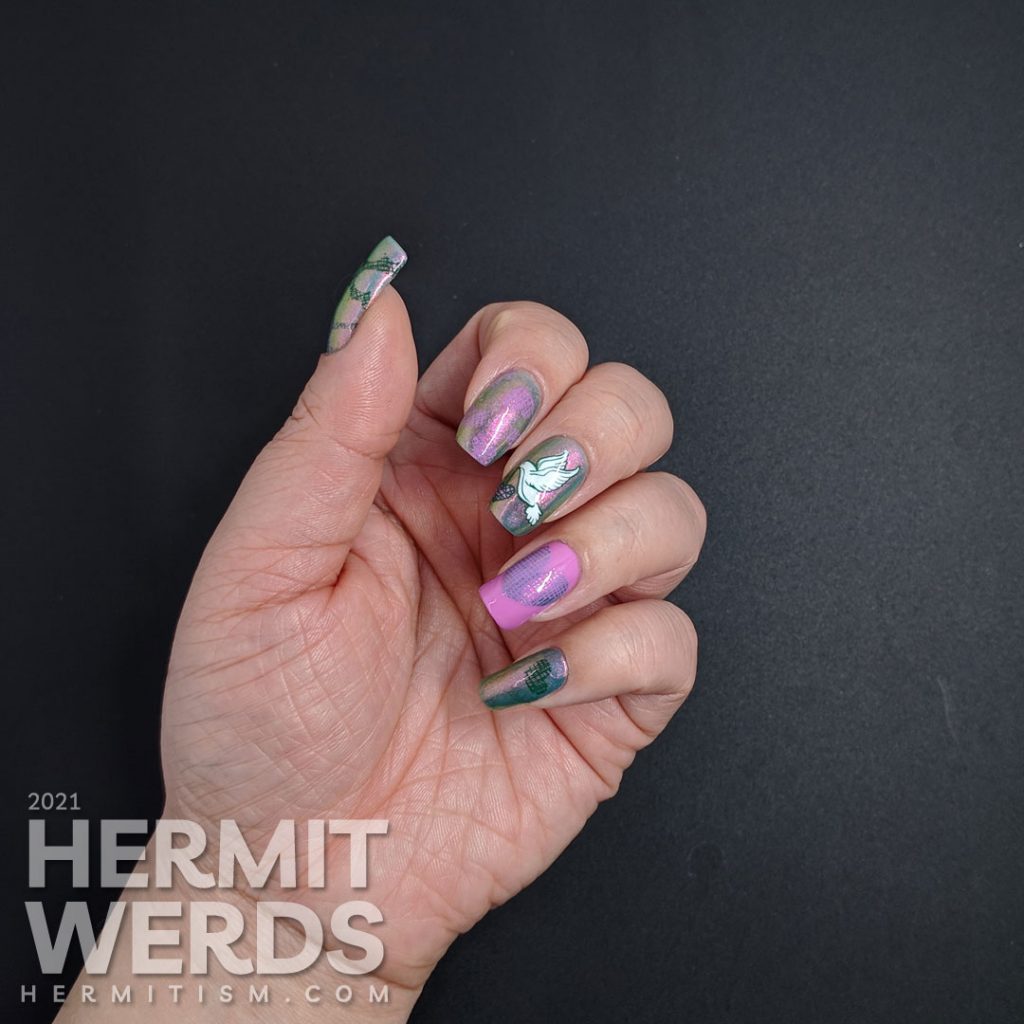 Like It
And now for our second heart nail design. Instagram is so much about gathering hearts or "likes" from people. The algorithms reward you for it. And liking things is addictive. I find myself wanting to hit "like" on streaming services and other platforms that aren't built that way just because…I want the makers to know their work was loved or it helped. So a heart theme with a "like" button being hit felt like the perfect mani for my last @liganailista prompt for the month: social media.
And what do you know? I had these florescent heart glitters in neon rainbow colors that I had to justify buying. So I decided to really use KADS' "Cloud Dancer" a white jelly polish in a pond mani that would help the neons pop. Naturaly because of the size of the glitter and the curve of my nails, they really don't sit very flat. I honestly think such things are better suited for embedding in an artificial nail that's going to be thick enough to truly absorb the shapes, but I piled on the glitter filling top coat and made it mostly not lumpy. And then I turned on my black light and it glowed…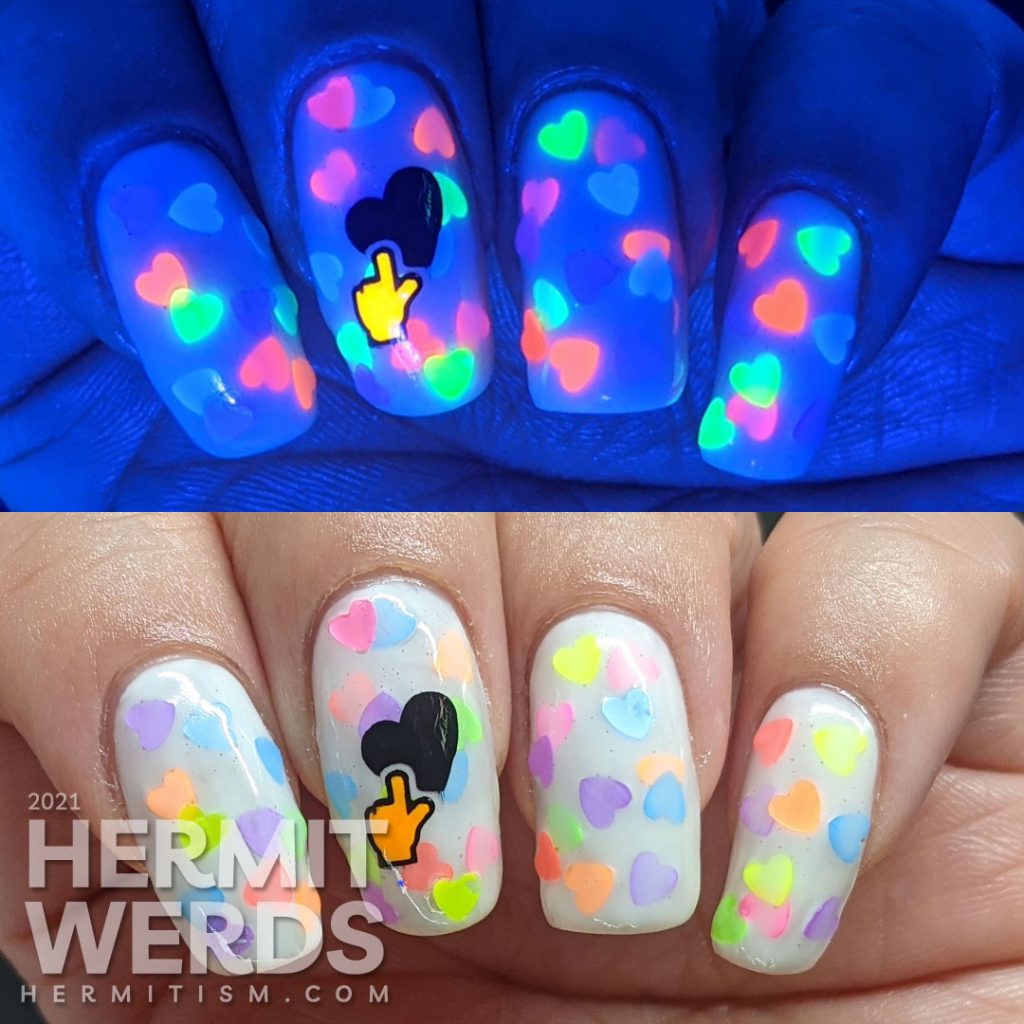 Satisfying, though not as nice as truly glow in the dark sequins. I actually have some heart ones that I reviewed for Beauty BigBang and I know there are more shapes like stars out in the world, but they don't come in rainbow unless they're only florescent. I will most likely buy the stars in a few sizes at some point. Or maybe even buy the glow in the dark stamping polish that Clear Jelly Stamper has… (or both to be more realistic 🤑)
Nail art products used
Pond Polish:

KADS' "Cloud Dancer"

Stamping Polish:

UberChic's "Pure Black"

Advanced Stamping Polish:

ORLY's "Have Courage"
Flourescent/neon heart glitter

Stamping Plates: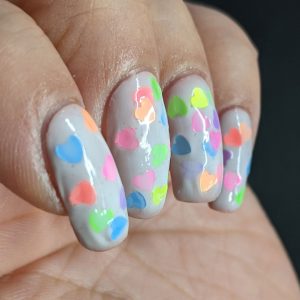 All did not go well with this mani. Especially because of my impatience to paint the next layer which left a lot of bubbles in the mani I settled on. Here's my nail fail where I was not only very impatient, but also got my hands wet looong before things were dry enough for that to be safe. Wrinkle. City. 😭
Still, I learned from doing this failure first. You'll note there isn't much overlap of the heart sequins in the nail fail. That came from placing each glitter individually and trying to keep them off each other, but the overlap is what adds the charm! A simple fix in the do-over.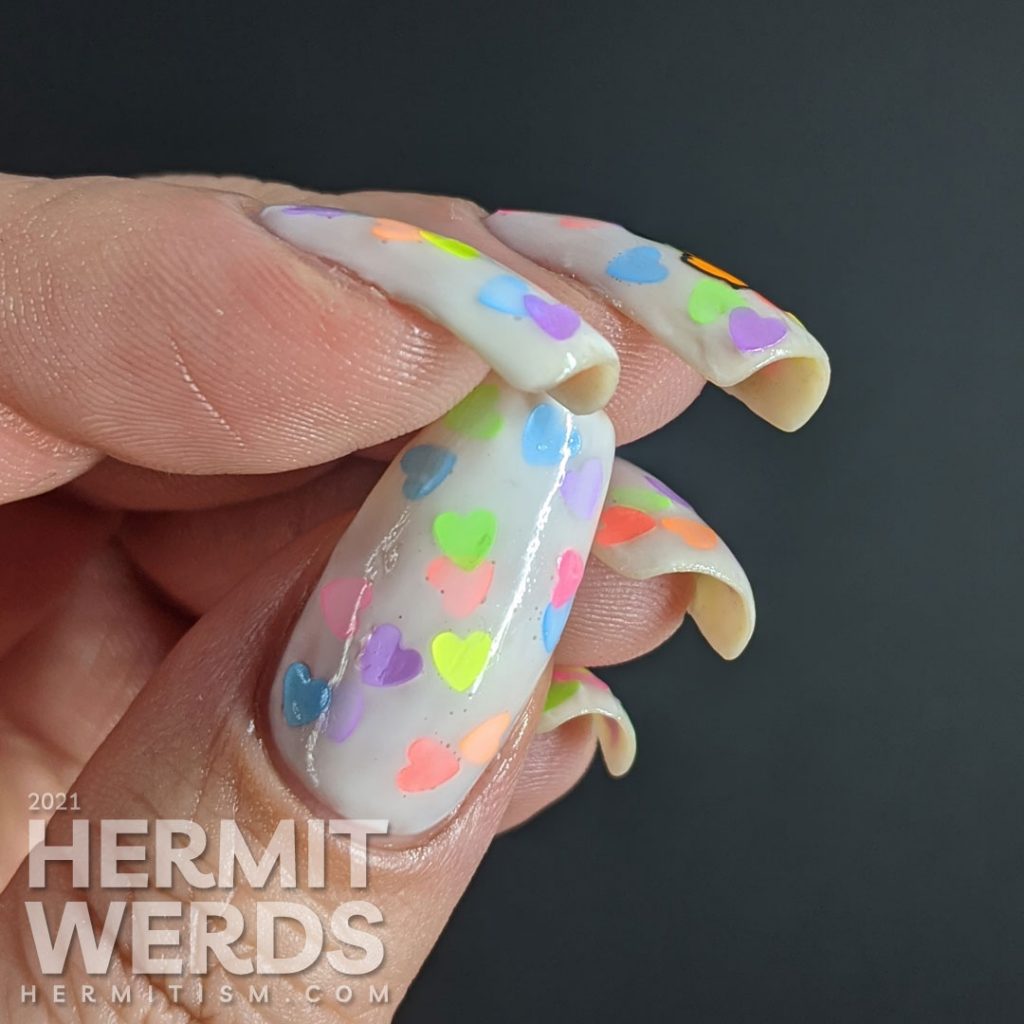 And now for one last photo: the far away. The heart sequins do look more like polka dots the farther you move away, but neon still find a way to stand out.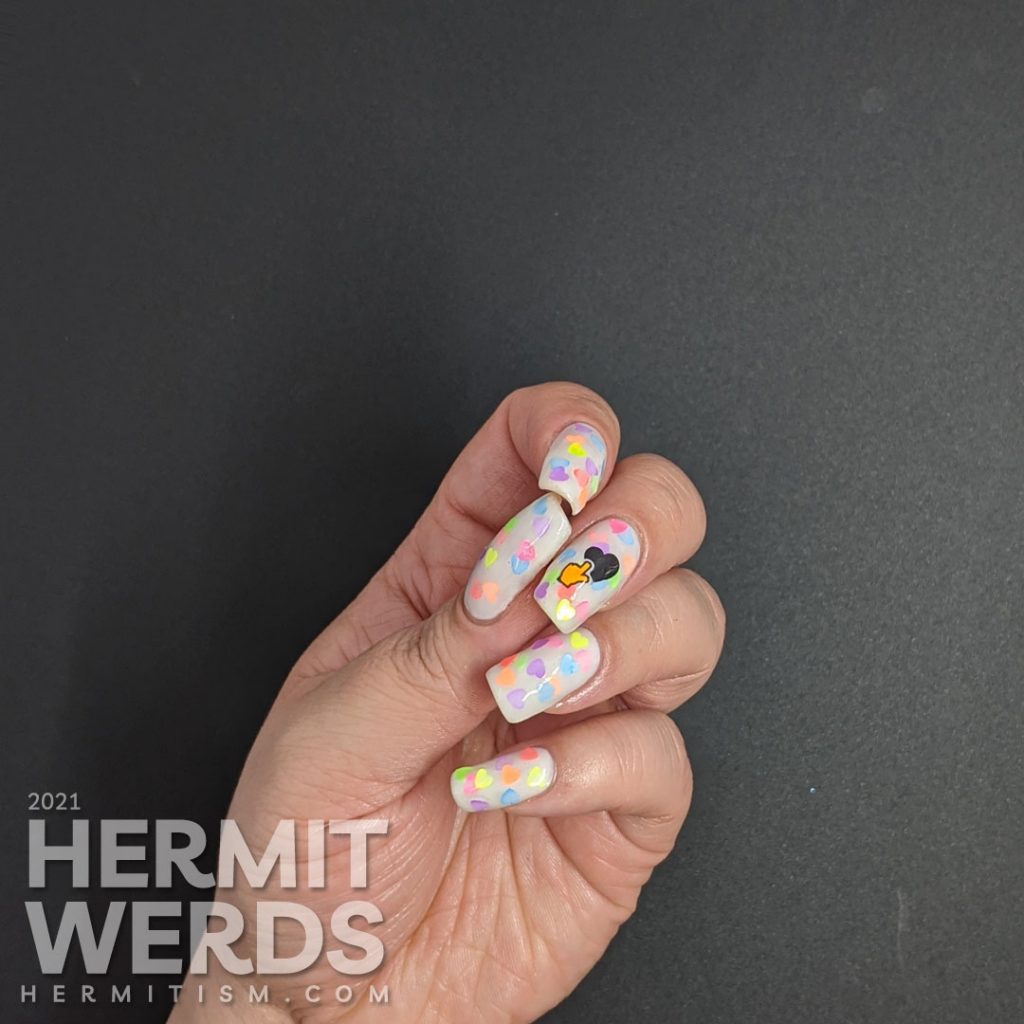 Until next time, friends! Although I think I shall at least take one day off before I post again. 😂