[Press Sample]
Hello, again! We are on the second and final day of my review of three Dimension Nails polishes that the company founder sent to me. Yesterday we focused on formula, color comparisons, and the question of water marbling. Today we're just focusing on the fun of using them and answering the question of stamping usability.
Mustard Bird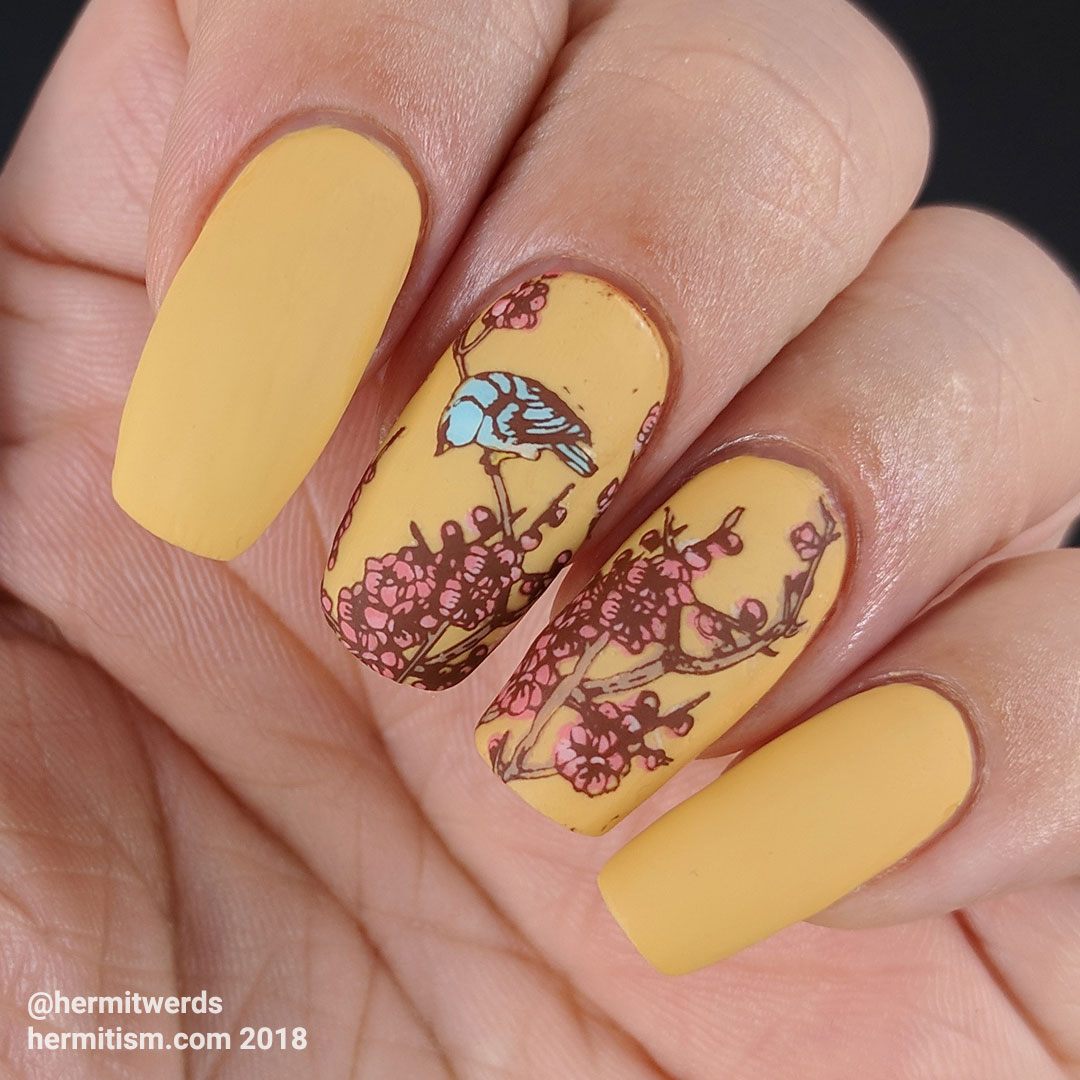 My first nail art was a matter of the weakness of the heart. Once I had my nails covered with such a looovely mustard color I just couldn't resist adding decals on top. During the winter I'd been falling more and more in love with nail art featuring little non-tropical birds and I had a stamping plate full of them. I used the same image and just framed it differently on the nail to only feature one bird. Naturally I used the other two colors I received to fill in the decals and then only needed a few neutral colors to fill out the color palette. And just to be clear, there is a little bit of thinned down white in the center of most of the flowers.
A mustard-colored background just begs to be matte, but I took some pictures while it was still glossy as well: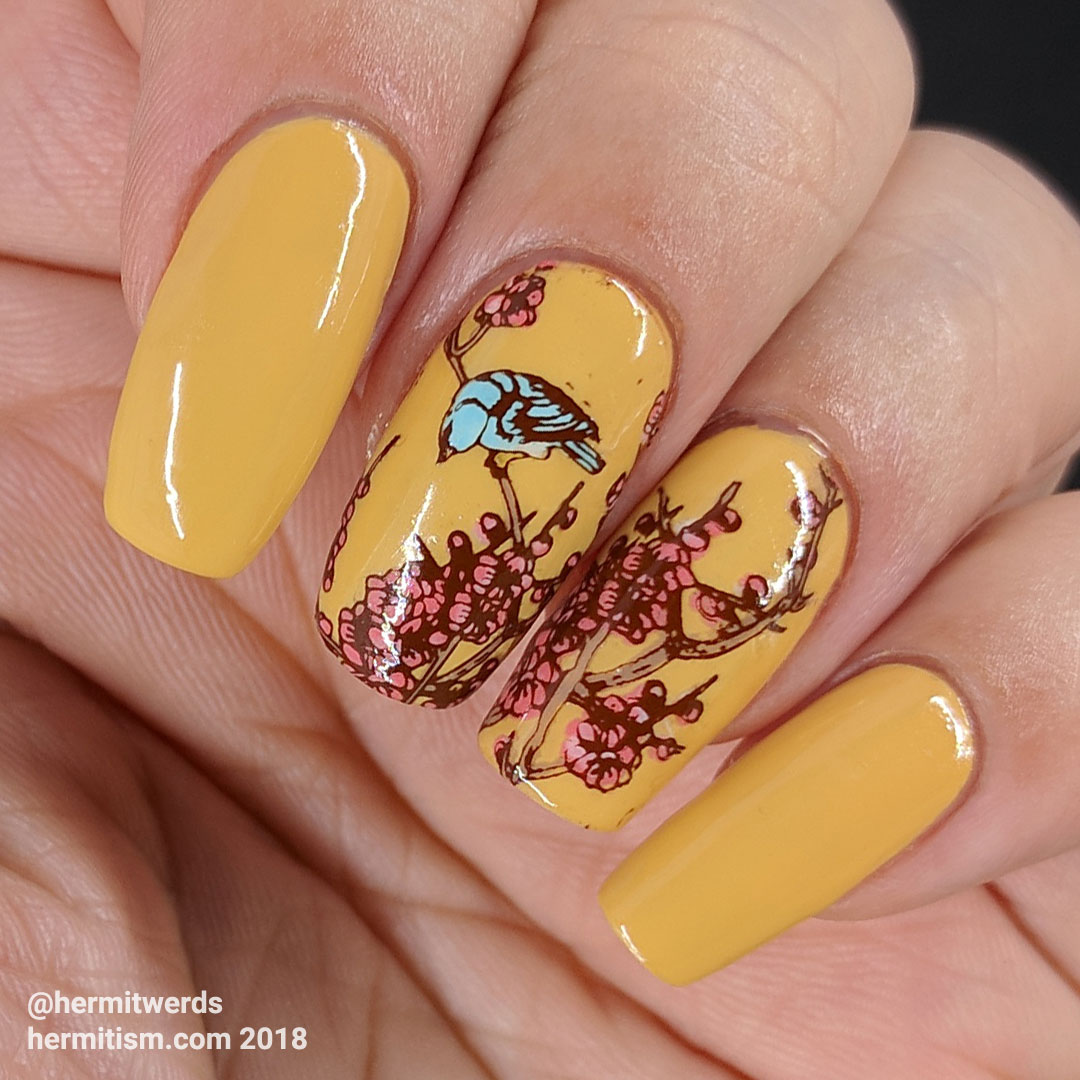 Spring Kimono Print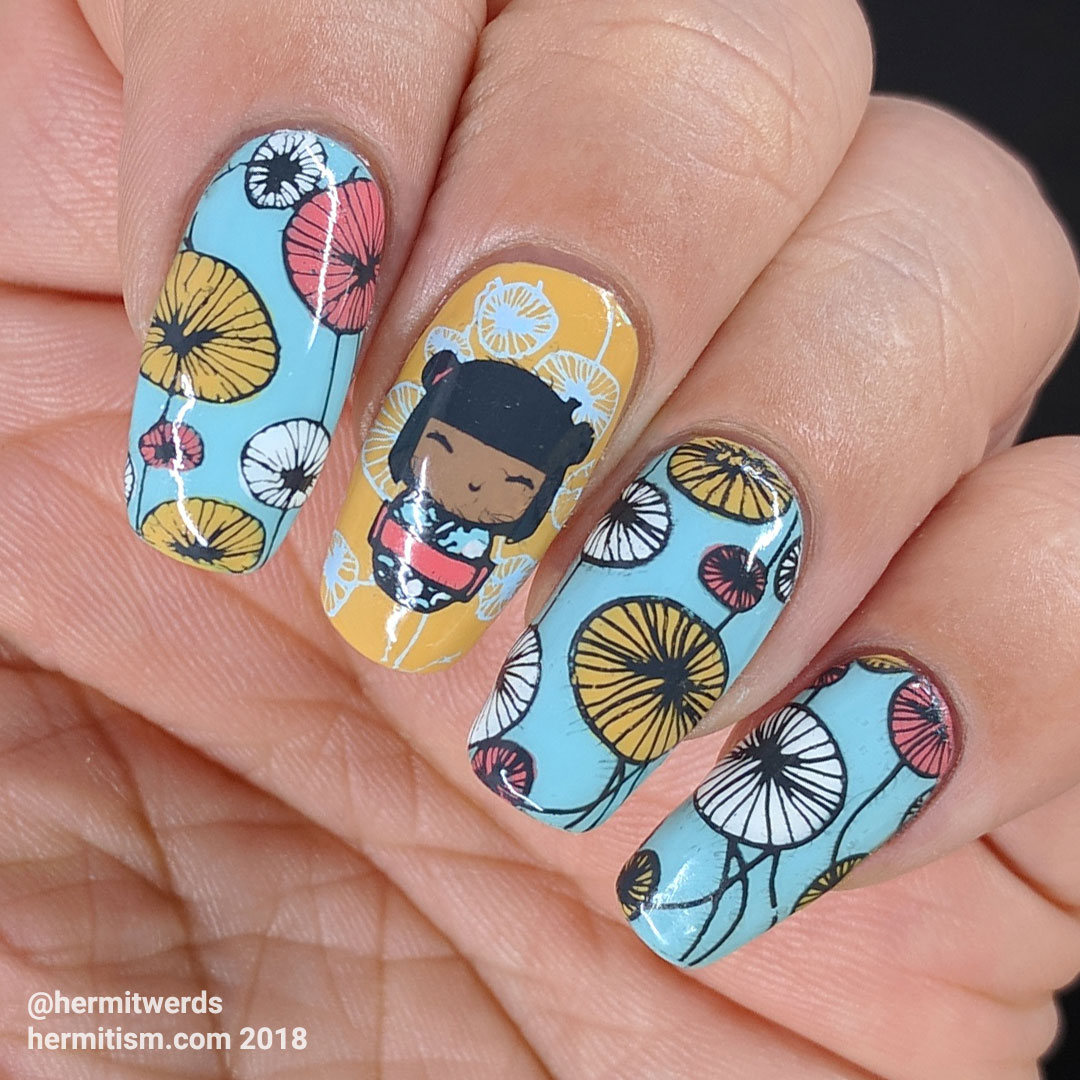 This is the nail art I'd originally planned to paint from the start. Did I not say I have a tendency to favor light blue backgrounds? LOL I have so many stamping plates with these cute chibi figures wearing kimonos and so far I've only done one design with them. This is my first design in a while to make up for that neglect. Hopefully I will have many more to post as time passes.
Some of my Mundo de Unas stamping polishes have gotten really stringy of late with certain stamping plates. I wish now that I'd experimented with different stampers more to see if that would have helped cut back on them. I do love the print look on the other nails though.
Ah! I am so happy that the colors I picked went so well together. I almost picked "Mako Shark" instead, but that would have led to less spring-like designs. Dimension Nails doesn't have too big of a collection of colors yet, but I do think that if you had all of them, they'd remix really well together. Kind of like a mini capsule nail polish wardrobe. We can't all haul multiple hemlers of nail polish around with us. :p
Finally it is time for a question that I should have asked sooner…
…Do They Stamp?
I was about ready to post my swatch review post yesterday when I realized something: I am a nail artist and I haven't yet tested if these polishes can stamp well. I'd already painted one more design than I'd planned so making up a third one was a possibility but not one I wanted do right away. Instead, I decided to work a little harder now so I can be lazier later and painted six swatch sticks black and white with gel polishes. Now whenever I want to test a polish's stamping opacity, I can just use them without having to repaint anything!

I stamped these with the same pattern from Ejiubas +3240 baby girl using the oblong side of Pueen's double stamper. The image has a nice variety of thick and thin lines plus tiny dots inside the flowers which were either missed entirely or not picked up at all during stamping. Possibly my konad stamper would have picked up the dots but then I couldn't have been able to stamp them directly onto the swatch stacks.
Ejiubas plates are etched fairly deeply so keep this in mind if you have a lot of shallowly etched stamping plates. The color will be less opaque and might not work at all. Because these polishes have a thin formula you do have to paint over most of the design to fill the entire image. "Hawaiian Blueberry" is the most opaque with "Mustard Bird" being the least.
I'm a little sad I didn't do this first since I would have just stamped with "Hawaiian Blueberry" in my last design if I'd only known. Next time!
I hope you enjoyed my two-day review of Dimension Nails polish. Thanks again for sending them to me, Stephanie! And if anyone has any questions I did not answer feel free to ask me in the comments.