[press sample]
Today I have a new favorite nail art to share with you using Beauty BigBang's XL-019 stamping plate. I've always been a fan of baby boomer french tips, but this time I added a glitter topper on top with some witches and spiders and, oh, my…
Somehow I've managed to keep this on my nails for three days, which is terrible because I'm going to fall behind my nail art-ing schedule if I'm not careful. Luckily I have only one stamping plate left to review and some glow in the dark powder!
Quality and Value
I did have a little trouble with pickup this time, but it ended up being because I was using too flexible of a scraper on an image with a wide expanse of open space. Once I switched to a stiffer scraper, I had no problems. Yay, user error?
I'd say this is among one of the most scattered stylistically of all the Halloween stamping plates I asked for. You have the realistic gory ghoul's face and an extremely stylized grim reaper who doesn't at all match the chibi reaper-like image right next to him. Individually I love all of these images, but matching them up together isn't as easy as it is with some of the other plates. That can be a blessing because with one stamping plate you'll be able to create a variety of Halloween nail art. But your choices are severely limited in what you can combine if you care about matching styles.
Beauty BigBang showed good sense with the two text images. "Boo" and "Trick or Treat" are both lined up to fit on one nail. They should have made them a little smaller though. Without a shrink stamper, you're going to lose part of the image on any but the widest nails. And even then white space is pleasing so you wouldn't want them to fill the whole nail anyway.
I was really happy to get a wall-o-pumpkin full-nail image. It was on the list of things I wanted to acquire this year. And the full-nail eyeball image is really putting pressure on me because I want to use it sooo bad, but I have nothing in my schedule that it matches. Boo. :p
Test Samples
I kind of want to revisit the ghoul's face again because I feel like I could have picked a better color combo, but that's why these are tests, right?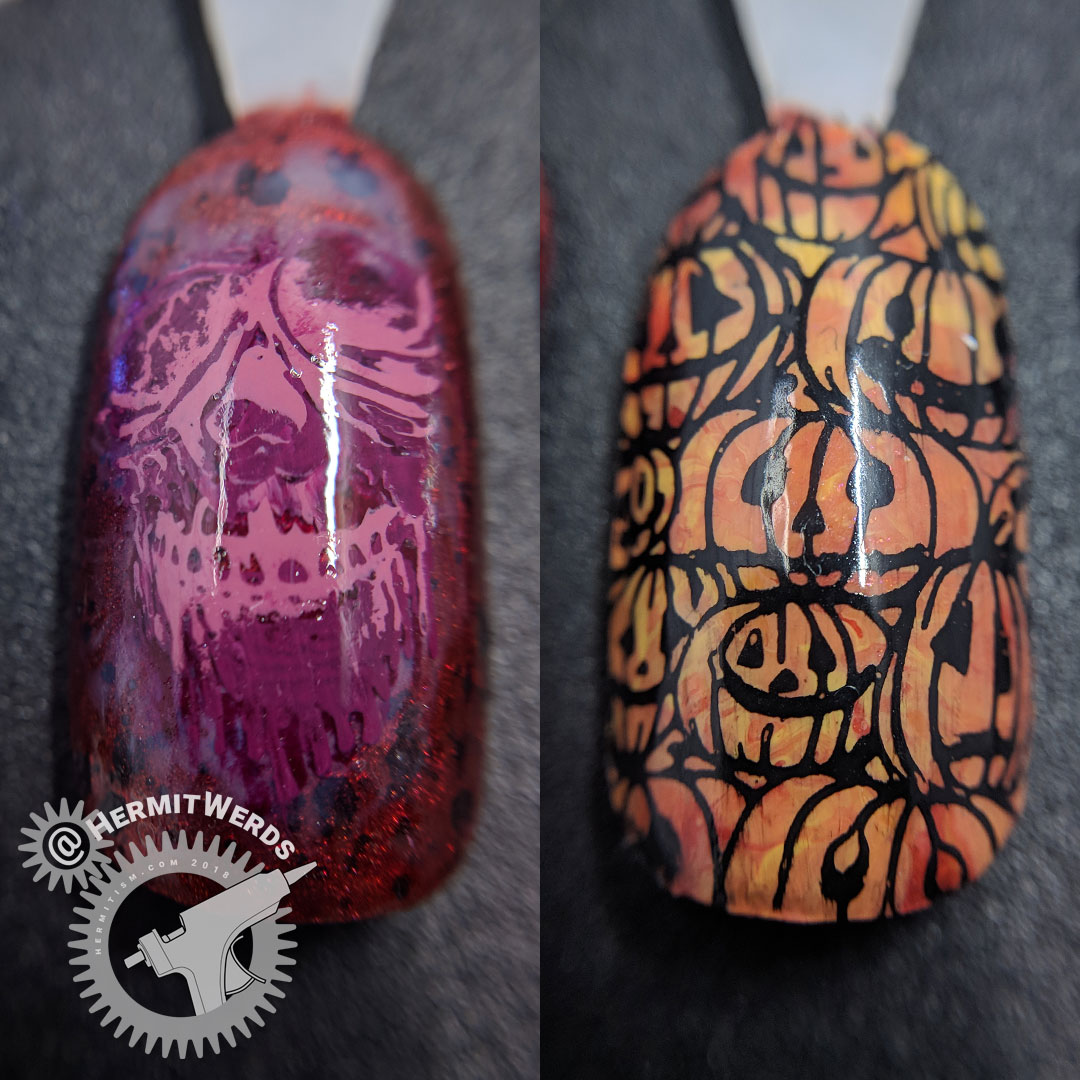 Only a Flesh Wound. Background is Celestial Cosmetic's "The Blood is Life" and Sinful Colors' "Bite Me". Triple stamping done with Mundo de Unas' "Merry" and Sephora X's "Control Freak" and filled in with Wet 'n' Wild's "2% Milk".
Wall of Pumpkins. Background is a smoosh of Essie's "Taj-ma-haul", KBShimmer's "Oh My Gourd", OPI's "Never a Dulles Moment", and Sinful Colors' "Maroon Fine". Stamping done with Mundo de Unas' "Black".
Witch of Spiders
And now the magic begins! (Literally because she's a witch.) I chose to combine spiders with the witch for @GlamNailsChallenge's Spider Webs prompt. It also helps that she has a wee spider dangling off the tip of her hat. Perhaps its her familiar. 🙂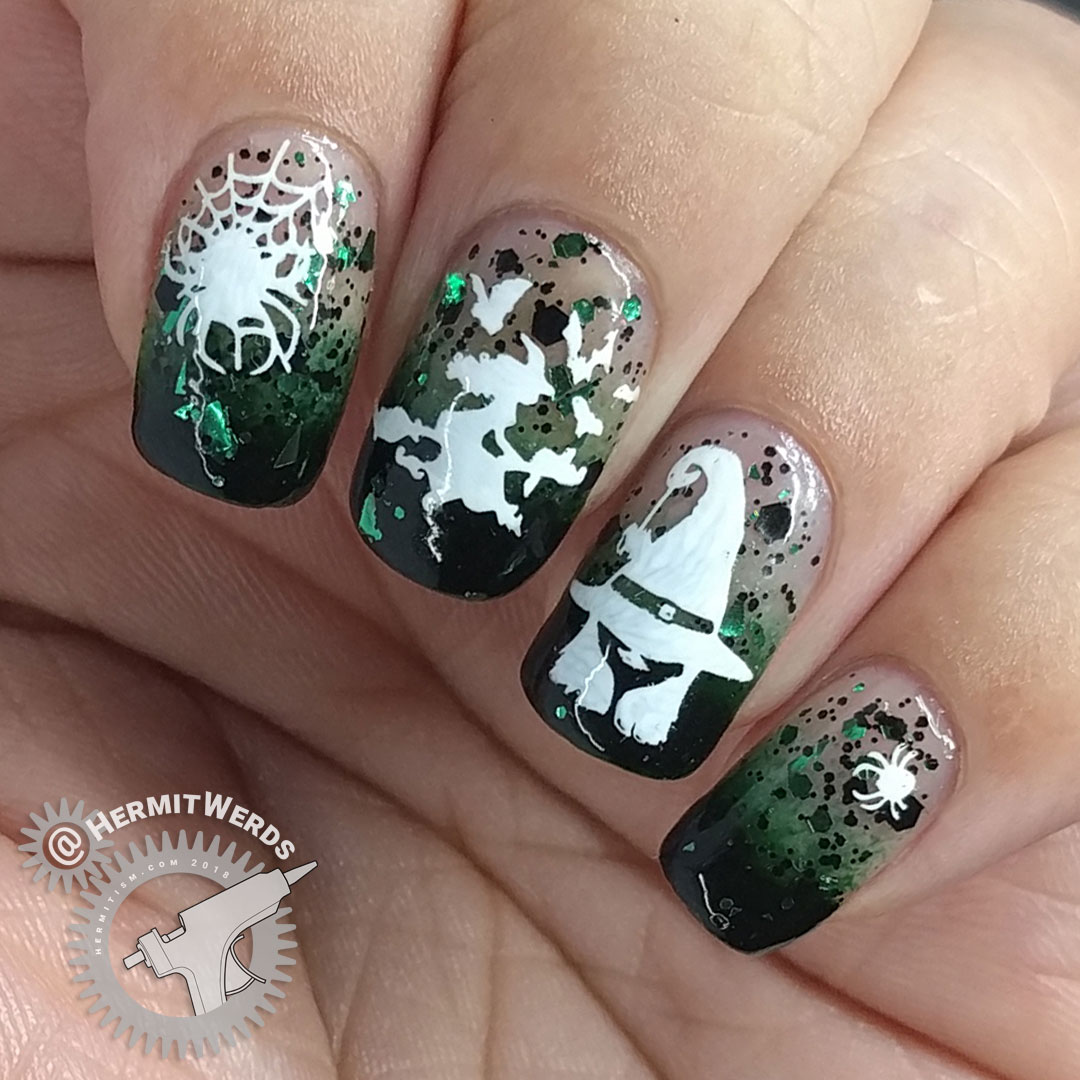 I used shrink stamping for the flying witch so she'd fit easily on my nail. Otherwise she's a bit wide to be stamped in the middle of a fingernail.
My mixture of a baby boomer french tip and glitter mix worked really well, something I shall have to revisit again. I've noticed there's been a trend in thermal polishes where the lighter "warm" color is next to transparent. It's lovely, though it's difficult to paint a solid layer when you can't see what you're doing. If you don't want to invest in thermal polishes (they do stop transitioning after a while), this mix of polish types will get you the same look. And if you're as bad as I am about using your glitter toppers, this will make you doubly happy because now you have an excuse to keep them. 😉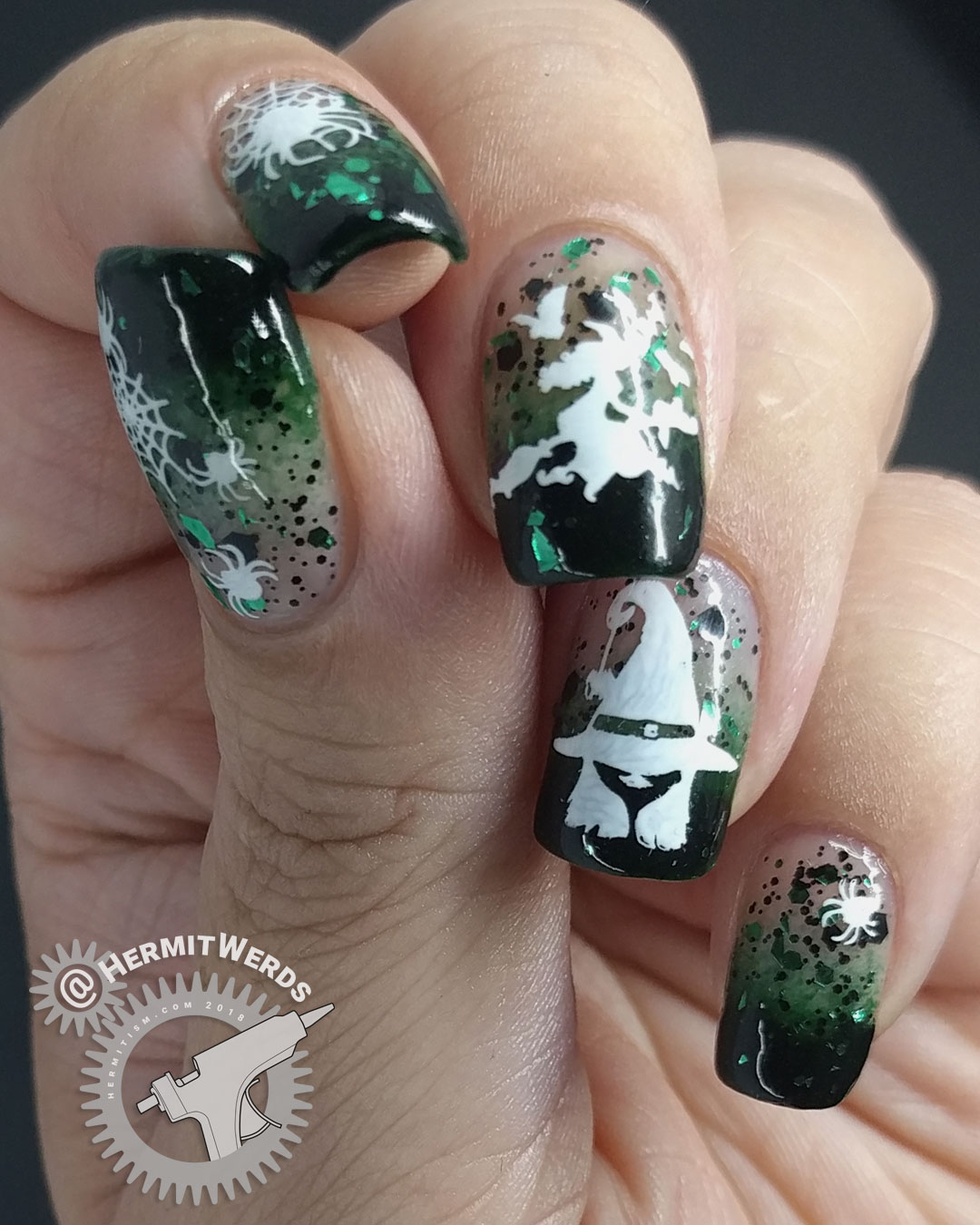 The stamping on top was lovely, but baby boomer french tips do stand up well on their own so I thought I'd include a photo without any stamping…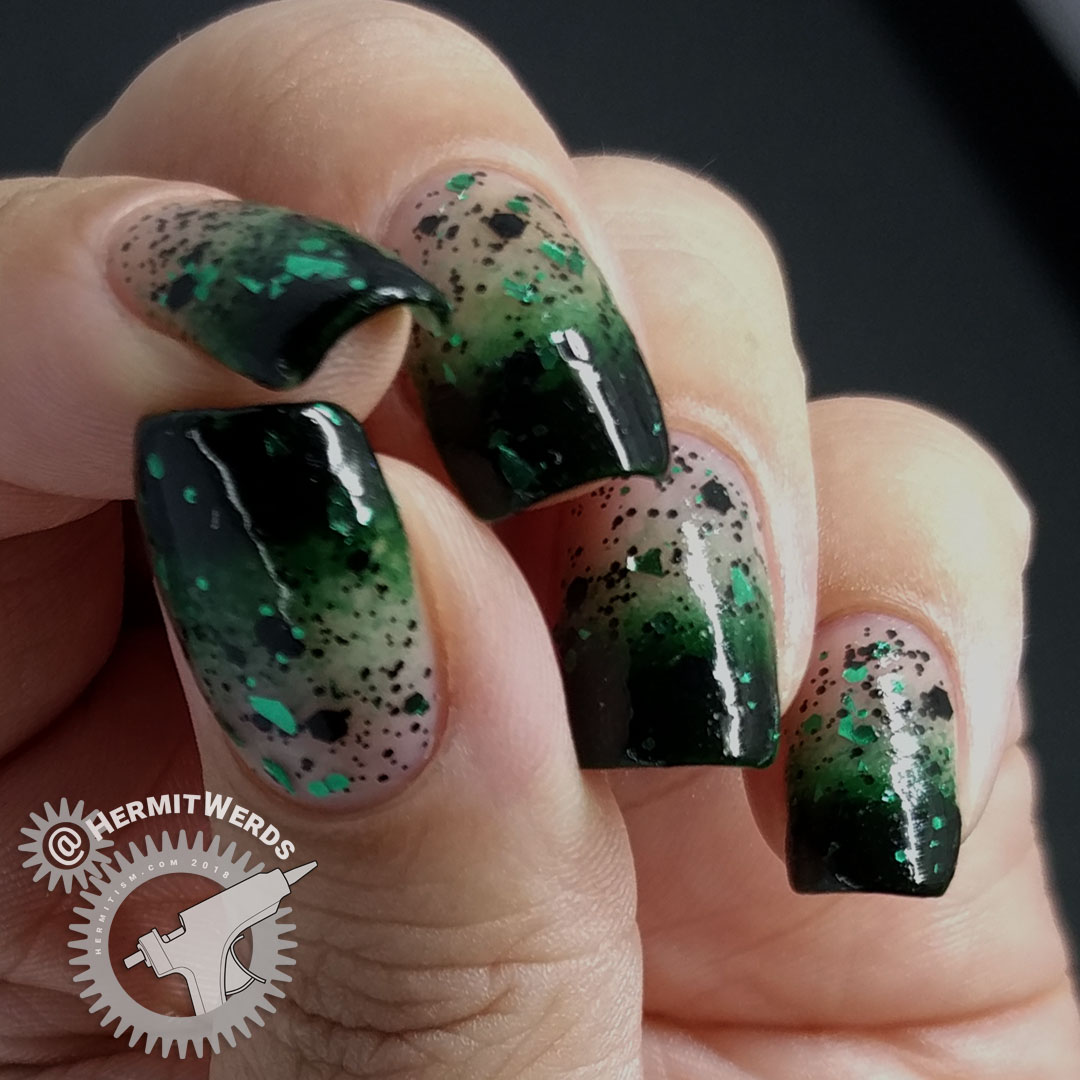 Final Thoughts
This is a great stamping plate and I will have a lot of fun with it in the years to come. It does, I think, fit best into a larger collection of stamping plates if you want to follow a theme. For example, I would have happily used more spider webs in this design, but the biggest web had a ghost on it, which didn't fit my theme. And I looove that chibi reaper-type, but nothing on the plate matches his particular style except the words. The monster tree image is really cool, but there isn't enough on this plate to create a full graveyard or a full spooky forest across your nails to go with it. With more stamping plates, the gaps are filled and the possibilities make me wish we had Halloween several times a year.
If you're interested in the stamping plate (BBB XL-019) feel free to use my discount code (hermi) for 10% off your order. (Non-affiliate code). Thanks again, Maggie!
This ended up being the first in a series…
Witches of 'S' Past
Here's a gallery of every single Witches of 'S' mani I have painted to the current day, oldest to newest. This does not include every witch-y nail art that I've painted. For that check out the witch tag.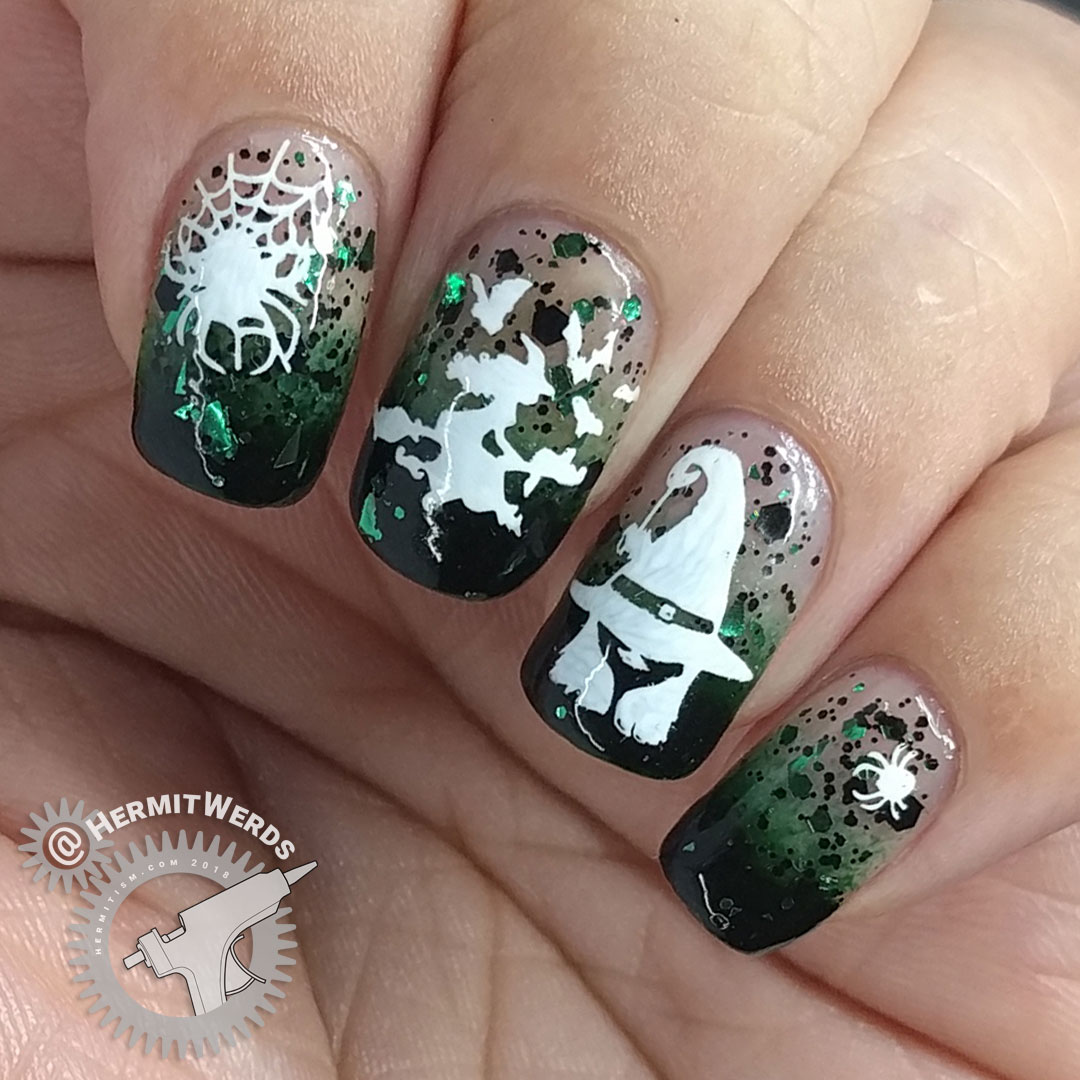 And now…back to the rest of the post…
Normally I try not to mix reviews and group inLinkz, but I really love this one and it fits the Halloween theme perfectly. I can only post three more designs and it's only the 8th. How am I going to choose? 😱