Today's look was brought to you by learning to stop before you ruin something. See, my initial plan was to have the vertical gradient and then stamp a whole landscape of haunted houses as a kind of French tip that then fades into the black. But then I thought I should have something looming over the village looking all evil so I picked this super vampy and wicked lookin' lady from EDK's All Hallow's Eve plate. And then I thought I should add some stuff in her background to show her power…
So I got the power in the background and I added my witch stamp and I was already starting to pick up house stamping decals and I stopped and looked at what I had and realized that I didn't need to put more effort into this mani for it to look good.
Wait. That made me sound lazy instead of wise. I need an editor. 🤣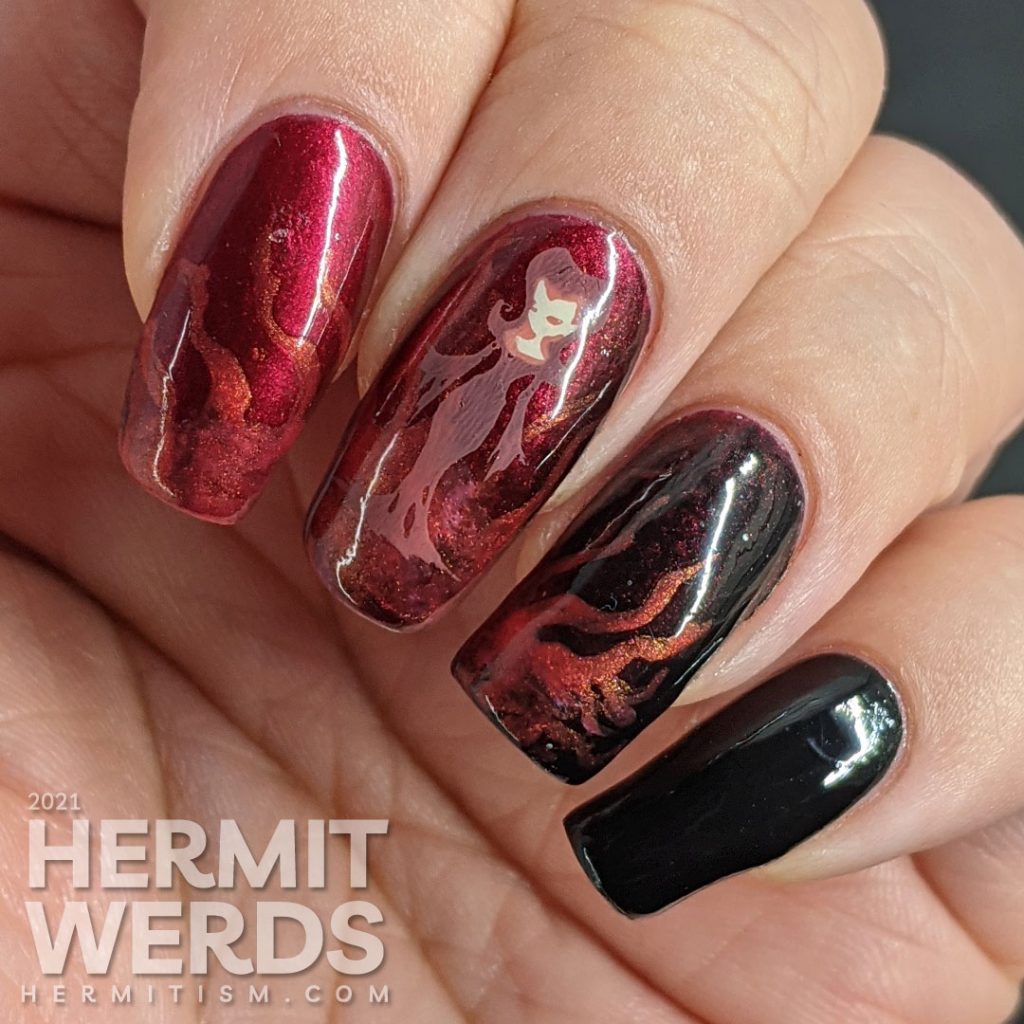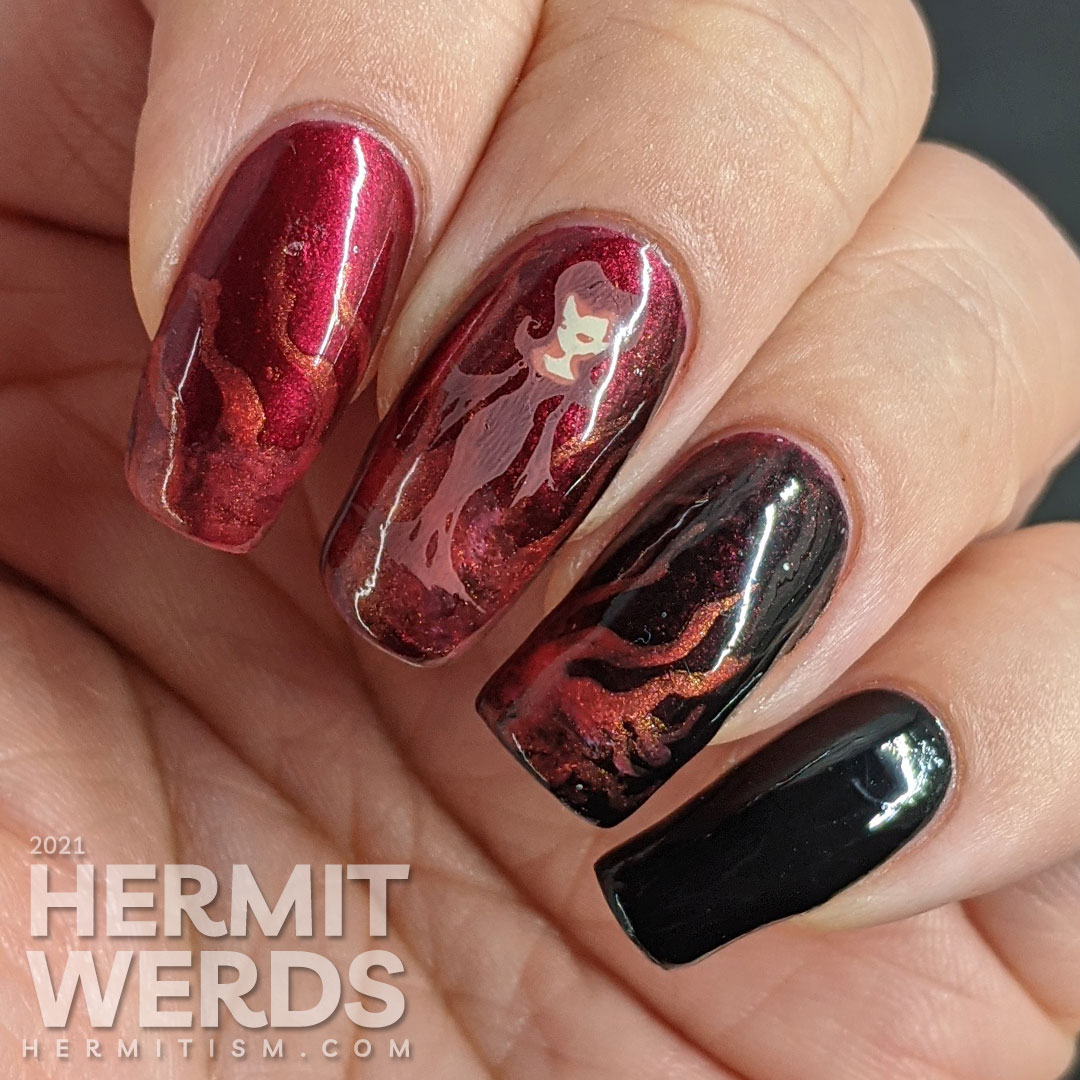 I still kept one haunted house! It's probably her home where she is performing the summoning now that I don't have a village for her to loom over.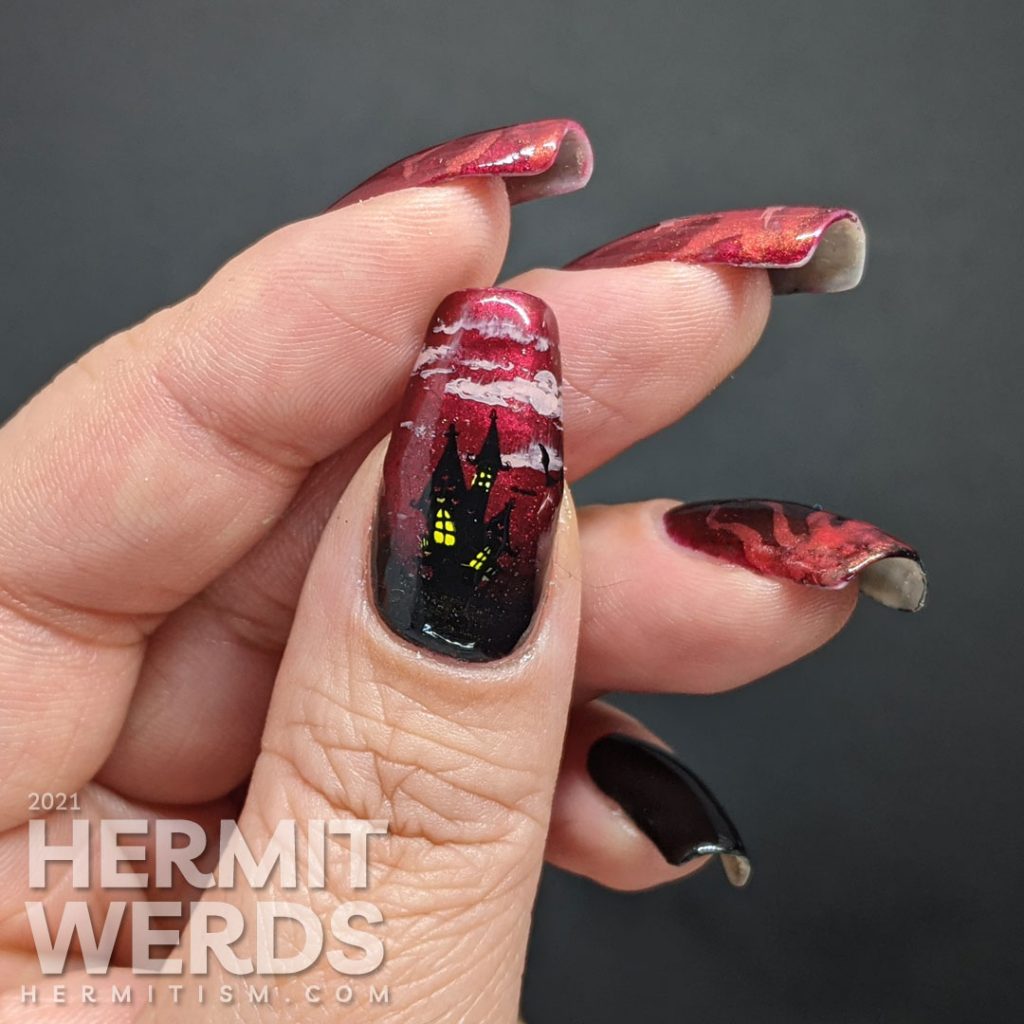 Halloween Forever Collab
Continued participation in this challenge is definitely a goal of mine. @delis_nails and @viperlovr threw us an easy one this time with a red/black gradient prompt. In some ways it rounded the bend back to hard because you could pair anything with that gradient. You only have to check out the group tag to see how creative everyone got.
The prompt for March is Creepy Circus. I already have several ideas I wish I could all paint…
Nail art products used
I've been wanting to use Zoya's "Isla" again for a while, but I do so love B. Loves Plates "B. a Cherry Lollipop" that "Isla" gets neglected. In fact, the first and (until now) last time I used it was…also for a black to red gradient clear back in 2016's 'C' is for Crane. 😂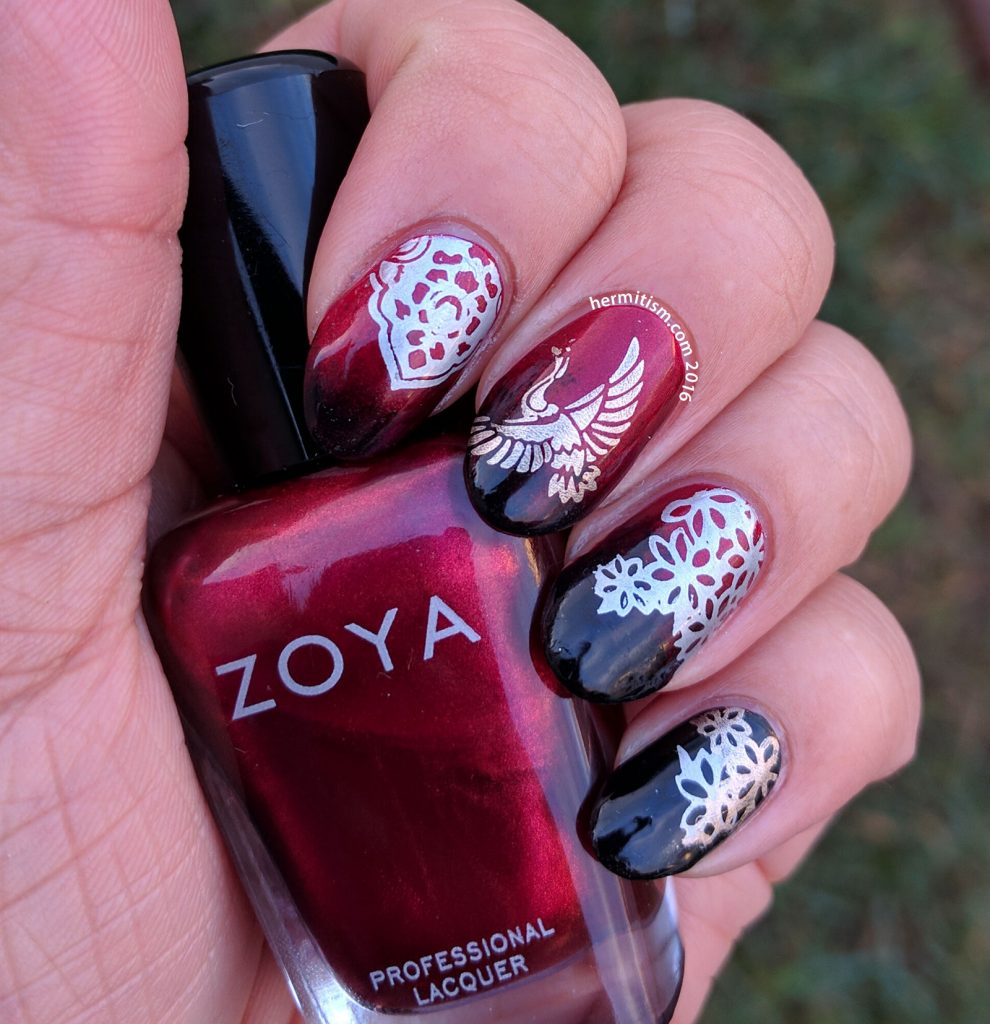 Base Polishes:

Stamping Polishes:

Advanced Stamping Polishes:

Freehand Painting:

Stamping Plates:
While the stamping decal of the witch wasn't very opaque, it actually kind of worked when you could see the "skin" color I painted into the decal through it. Gives her face a bit of a highlight. I'll take my happy accidents where I can get them.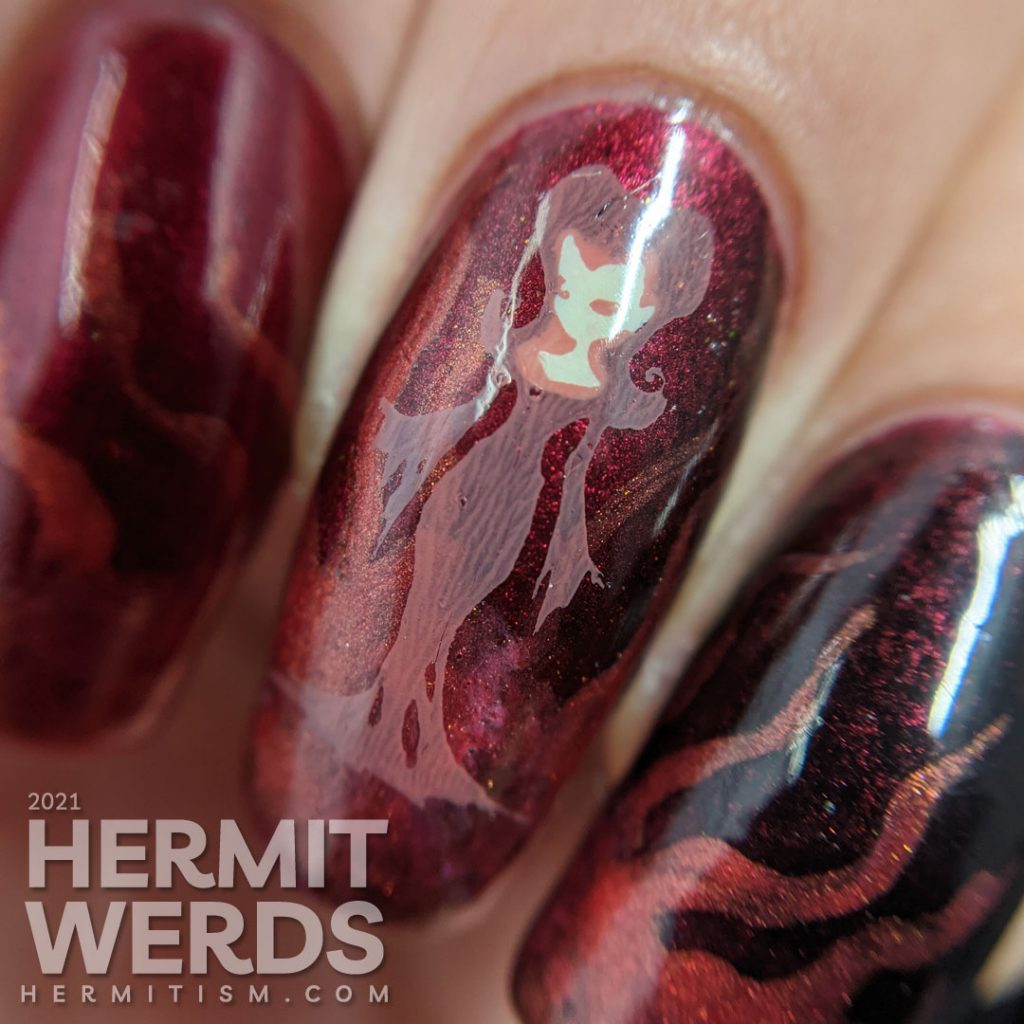 It has been a shameful two years since I last painted a mani for my Witches of 'S' series. Both 2019 and 2020 had several months where I didn't paint much nail art, so I guess that's my excuse. I was so pleased to walk my way backward into a new addition to this little collection. I have many ideas for it. Hopefully more will get painted this year.
Witches of 'S' Past
Here's a gallery of every single Witches of 'S' mani I have painted to the current day, oldest to newest. This does not include every witch-y nail art that I've painted. For that check out the witch tag.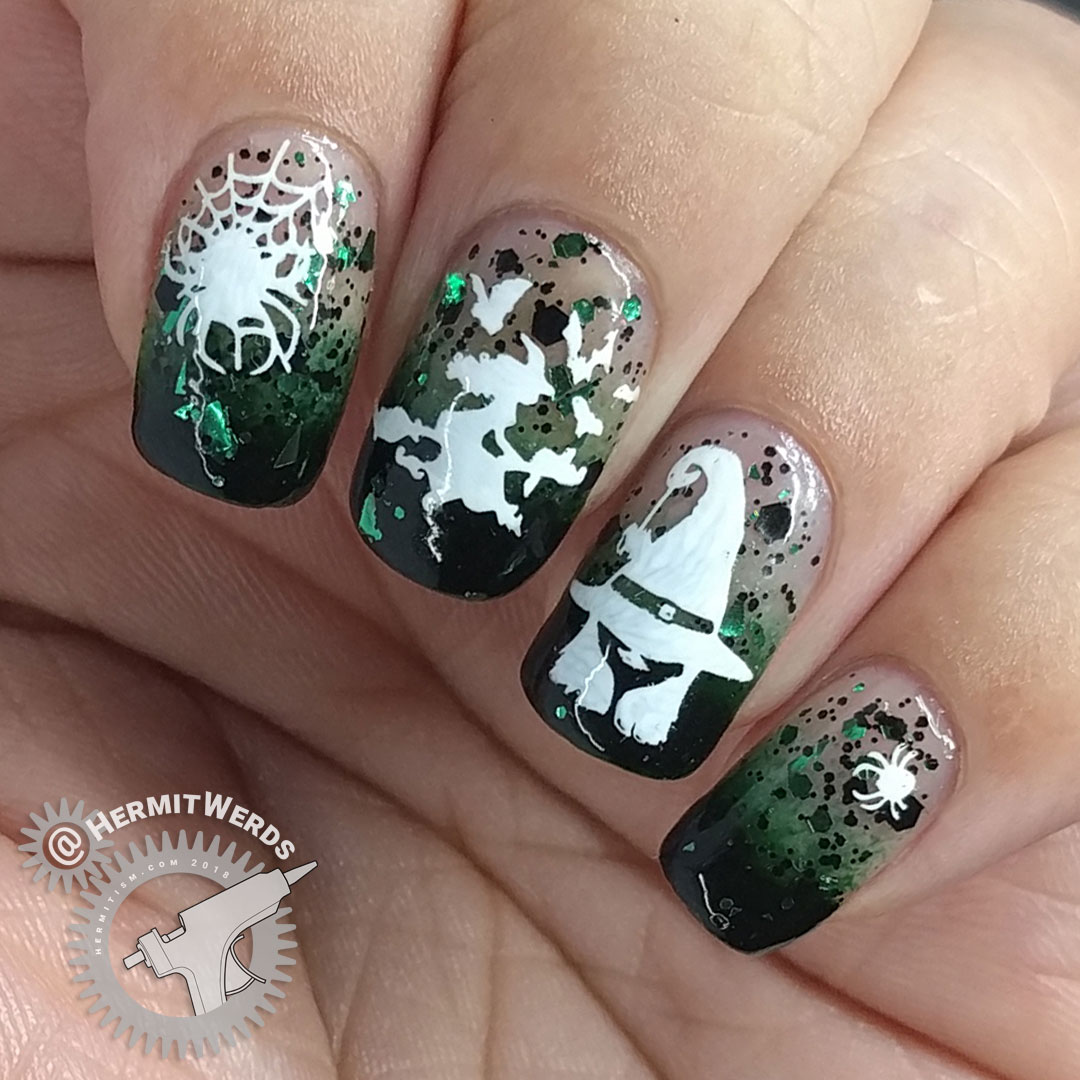 And now…back to the rest of the post…
We pause to bring you a witchy book recommendation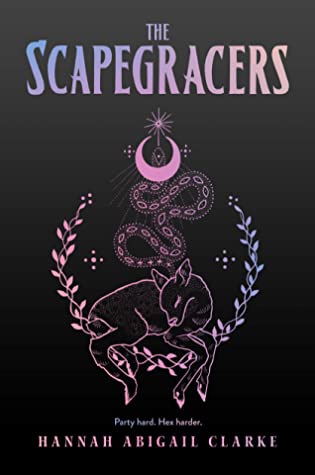 Yeah. Gotta love witches. All the way from The Craft to Roald Dahl's The Witches. Speaking of which, I just finished reading a great book that reminded me of The Craft only modern, less goth, and more just pure awesome teenage girl power. The latter which I don't think we celebrate enough.
It's called The Scapegracers by Hannah Abigail Clarke and it is not only fantastically (and dramatically written), it is interracial and the main character is a lesbian, so lots of boxes ticked for inclusion. I was just about to say I hope the author writes a sequel b/c there was no information about it last time I looked. Looks like it will end up being a trilogy. I win. 😎
And now back to our irregularly scheduled witch nail art…
Alas, most of the detail is lost when you pull far away, but, hey, we're still living through a pandemic. Ain't no one seeing my nails in person anyway.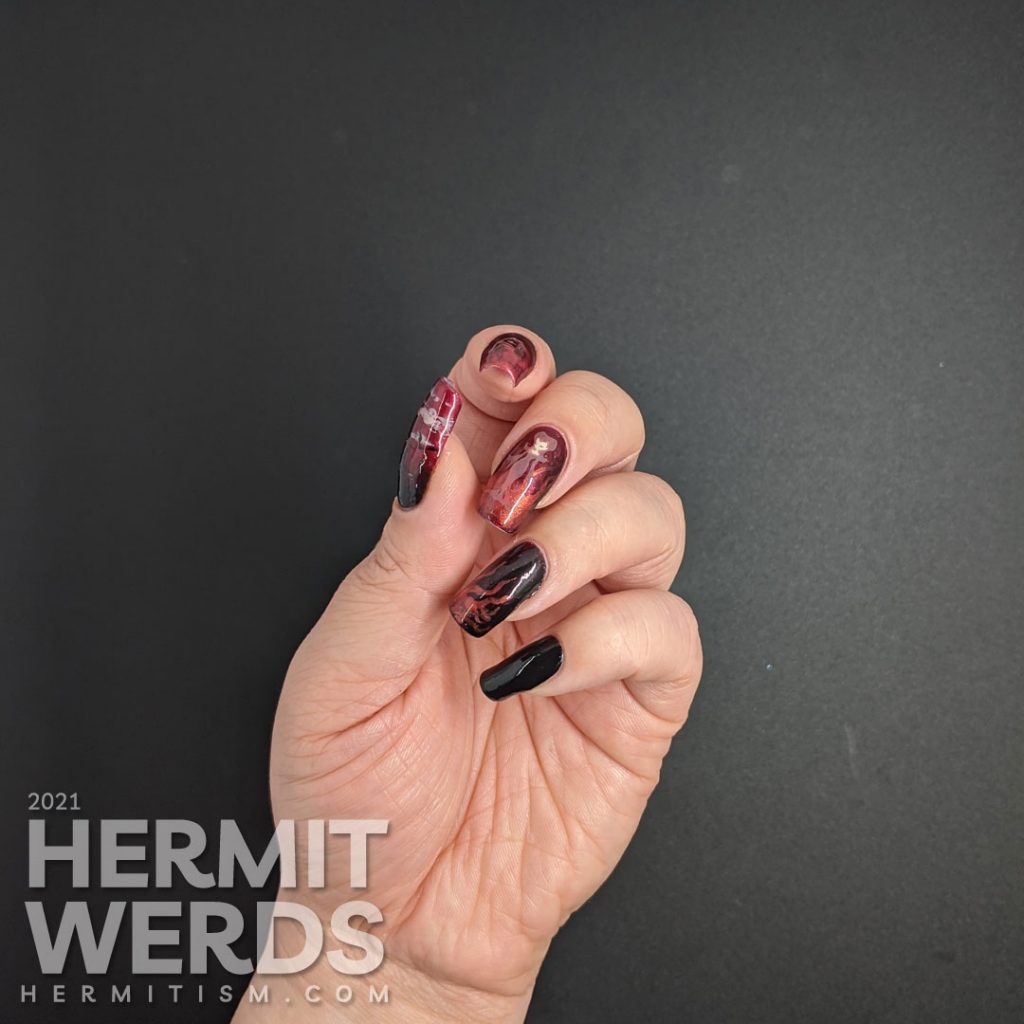 Until next time, friends! Witch on! 🔮