[Press Sample]
Ah, how the simplest of plans can go awry. I have another design that was supposed to go live before this one, but I turned it in for a challenge with a final collage and it's five days late with no word as to why. *sigh* So today I will also have a partial review of the BeautyBigBang XL-002 plate, but tomorrow the full review for it will go live whether or not there is a collage. I've offered to help them if they need help, so I hope things work out.
LGBTQ Positive
Today I have more LGBTQ pride nails using both BeautyBigBang XL-002 and BeautyBigBang017, a pride-specific plate. Beauty BigBang released this plate when they had only 24 stamping plates out for sale. To me, that's huge. Born Pretty has released several hundred stamping plates and I don't think a single one is for LGBTQ pride. So that tells you a little bit about where Beauty BigBang is coming from and I'm liking it.
However, whoever put together the "sample" looks for their store image…
…
Samples show you what you can do with the stamping plate. A design that is too hard to recreate like both the faces and the rainbow is a misrepresentation of how people would use it. Take the faces and the rainbow: you'd either be using sharpies and hoping your hand didn't shake or slowly picking up one line at a time and hoping you got your placement right. Terrible. And even "Love is love" with the black text replaced with white…that's not a fun technique even if it makes your design pop. I've noticed Nicole Diary is also going crazy with their samples and I just want to take the graphic artist doing it and make them try to implement their design in the real world because they clearly have no idea how the product works.
Please stop.
Or do the work and design your plates ClearJellyStamper-style so things are meant to be stamped in different colors and put together to make the image. That would have made the plate larger and more expensive, but I think it would have been worth it.
Quality and Usage
I'm going to keep sounding like a broken record with the stamping plates so I'm going to not today since you'll be reading my spiel again tomorrow. I'll just add that since BeautyBigBang017 is a square plate the full nail designs will be a little bit wider. Also, this is a great plate even if you are not planning on LGBTQ-specific nail designs since a lot of the images are actually quite generic. Even the rainbow could be separated from the text and used on St. Patrick's Day or something.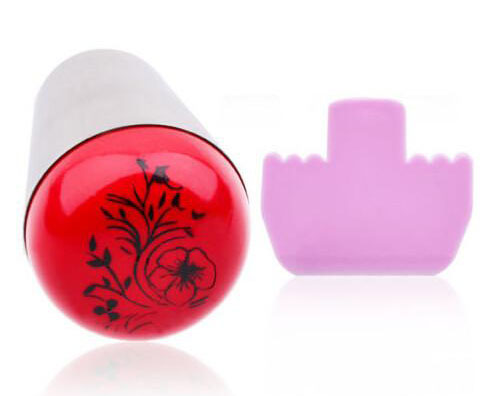 The silicone stamper is now the stickiest stamper I own and about as squishy as my favorite Pueen stamper (perfect for nails with a high c-curve). The full head is 4cm across, but the flat part you actually use is about 3cm across. I really needed something this big that can actually pick up in a non-humid environment (I have big clear stampers, but they do not work well where I live). It took a bit for me to get used to it since my other stampers require a heavier hand, but a light hand and a rolling motion across the image made for great results.
The con for this stamper is that it is so sticky that you have to use something like nail foil glue or just decal things if you want to ensure a clean transfer to your nail. Meanwhile, just sitting on my desk it collects dust and lint and it's so sticky that I can't just clean it with tape. So I have to wash it before I can use it, but the stamper head also feels pretty delicate so I want to mess with it as little as possible. I am pretty sure I'm going to end up cobbling together a case for it and after that it will get a lot more use.
And before I forget, I have scraper cards that I prefer to use with my stamping plates so I didn't even try using the scraper that came with the stamper. Personally, I think it's a bit small, especially considering the size of the stamper.
Love is Love 2
And now to the featured mani for this review: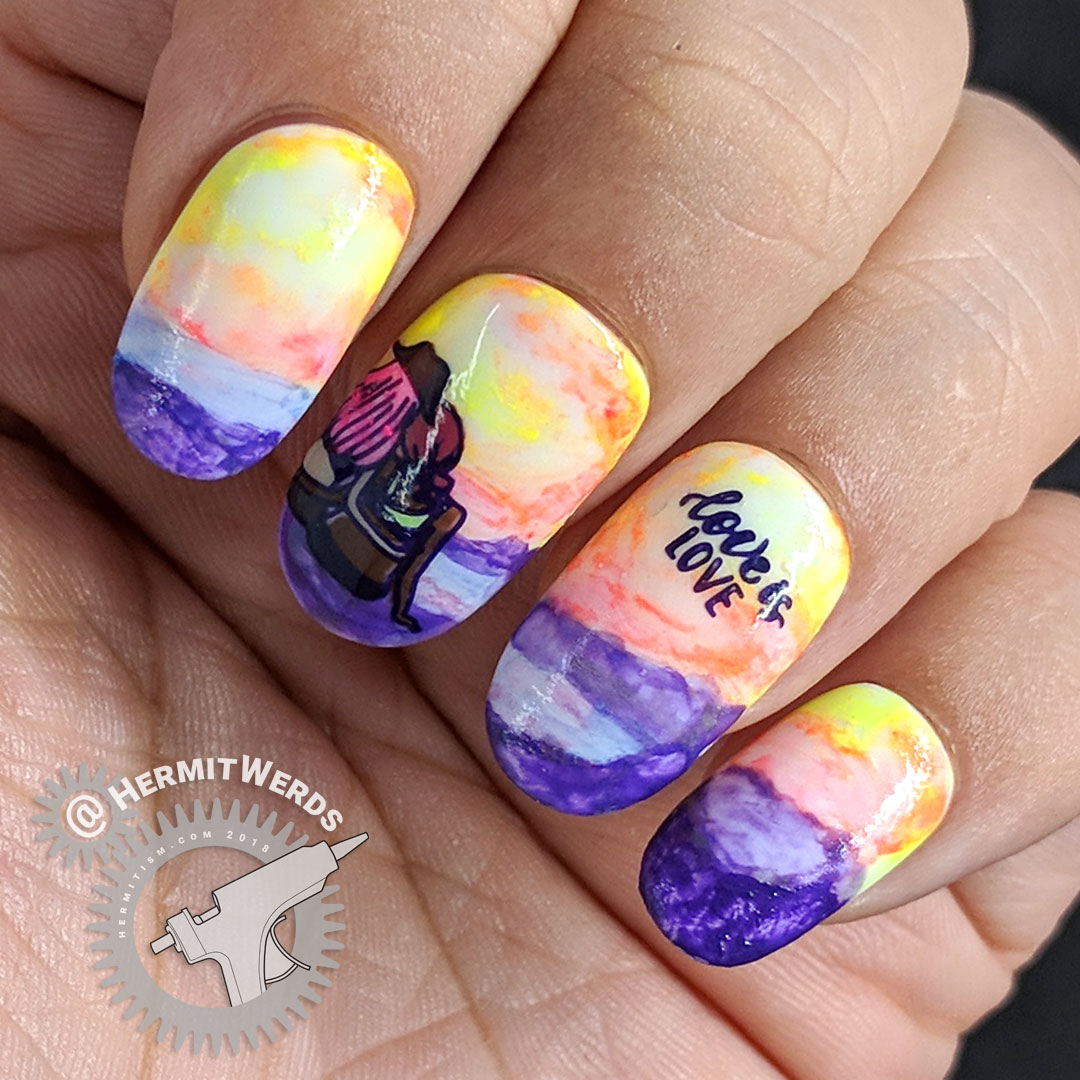 I freehand painted a sunset beach setting using neon watercolors on a matte top coat and then added the stamping decals on top. This is the second time I used this particular watercolor palette and I'm leaning towards throwing it out. I wanted to get a more opaque and bright neon look than I had in Bremen Town Musicians and instead it just clumped up. I think neon alcohol inks or sharpies would be a better tool in the long run and meanwhile I have nail polish that works much better than this did.
Well, I at least tried to make neon happen for #AZNailArtChallenge's neon prompt. 🙂
I love the image of the two girls on BeautyBigBang XL-002. They could just be best friends hugging on the beach, but today I decided they were a couple. 🙂
Final Thoughts
I love how versatile and LGBTQ-positive BeautyBigBang017 is. It's a great addition to any collection because it can be used for general holidays as well as LGBTQ pride. The stamper is fantastic and I think I will reach for it with increasing frequency once I have a case made so it's not dusty and lint-covered all the time. Poor thing. It's not its fault that I have a cat and sew.
If you're interested in the stamping plates (BeautyBigBang017 and BeautyBigBang XL-002) or the silicone stamper feel free to use my discount code (hermi) for 10% off your order. (Non-affiliate code)
#AZNailArtChallenge Collage
If you feel the need for more neon looks and I don't have enough on the site, go check out the group tag for #AZNailArtChallenge. 🙂