I am ending the month of October on a rather bloody note. Or am I? There's still daylight left, so I could potentially paint one last design. heh
I've returned to my Witches of S series with the Witch of Slaughter. You may notice she doesn't have any blood on her. Some people are neater than others. Certainly not me though. I rather enjoy her starkness in comparison to all the bloody stamping and China Glaze's infamous "Don't Let the Dead Bite", which looks like bloody flesh to a lot of people.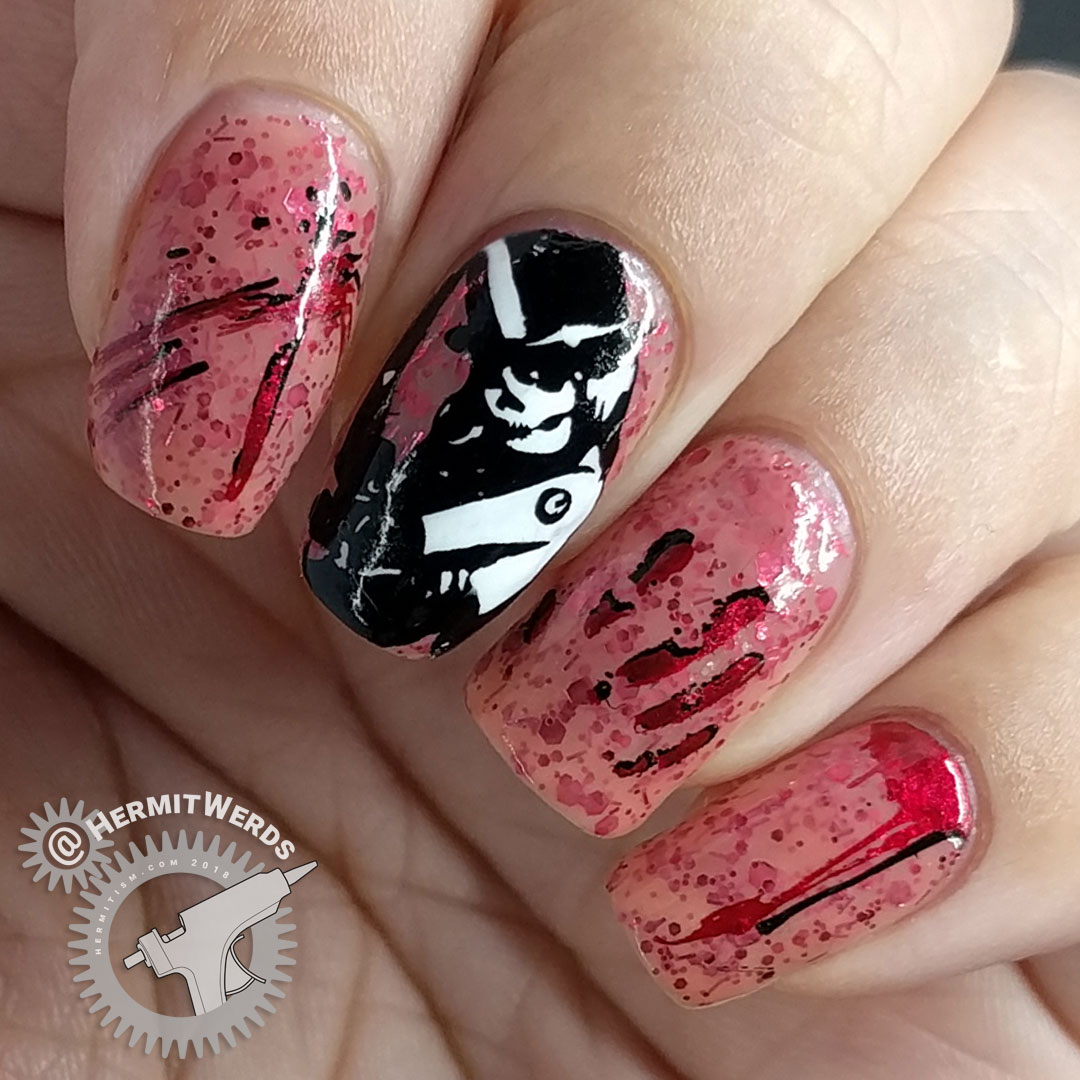 Products Used
It's really hard to find examples of people using "Don't Let the Dead Bite" with nail art. Probably because it's a statement all on its own. I know I liked it from the moment I saw it (and not just because of the name). I bought it a few months after I first heard about it and then it just sat around in my helmer unused until now. I hate when I do that. I should be using things soon after I buy them otherwise why did I spend the money right then? I did the same thing China Glaze's "Sin-derella". I coveted it hard, bought it, and it sat for two months before I finally used it in Creepy Carnival. So pretty though…
I'd say I should challenge myself to use them both again soon, but I have too much on my plate to make that commitment in a reasonable time frame. Alas.
Time for more photos!
The image on my thumb was both small and a negative space image. It didn't even begin to fill up my thumbnail. I painted my thumb white, stamped with black and freehanded the upper curve of the forehead and filled in the rest of the nail with more black. Hey, it worked! 😉
I also decided to leave in all the threads of stamping polish because I thought it made the image look creepier. I've been trying harder lately to remove them whenever possible. I'm pretty sure they're happening because the thicker stamping polish I use doesn't work as well with better etched plates. Sometimes if I scrape really aggressively I can eliminate them, but not every time. I should probably try to find another stamping polish brand with a good line of colors, but it's hard to convince myself to do so when I own three different black stamping polishes with no end of a bottle in sight…
How did this blog post turn into mostly anti-materialism? Maybe this witch murders people who buy more way more than they need. That…certainly will lead to my death. Eep!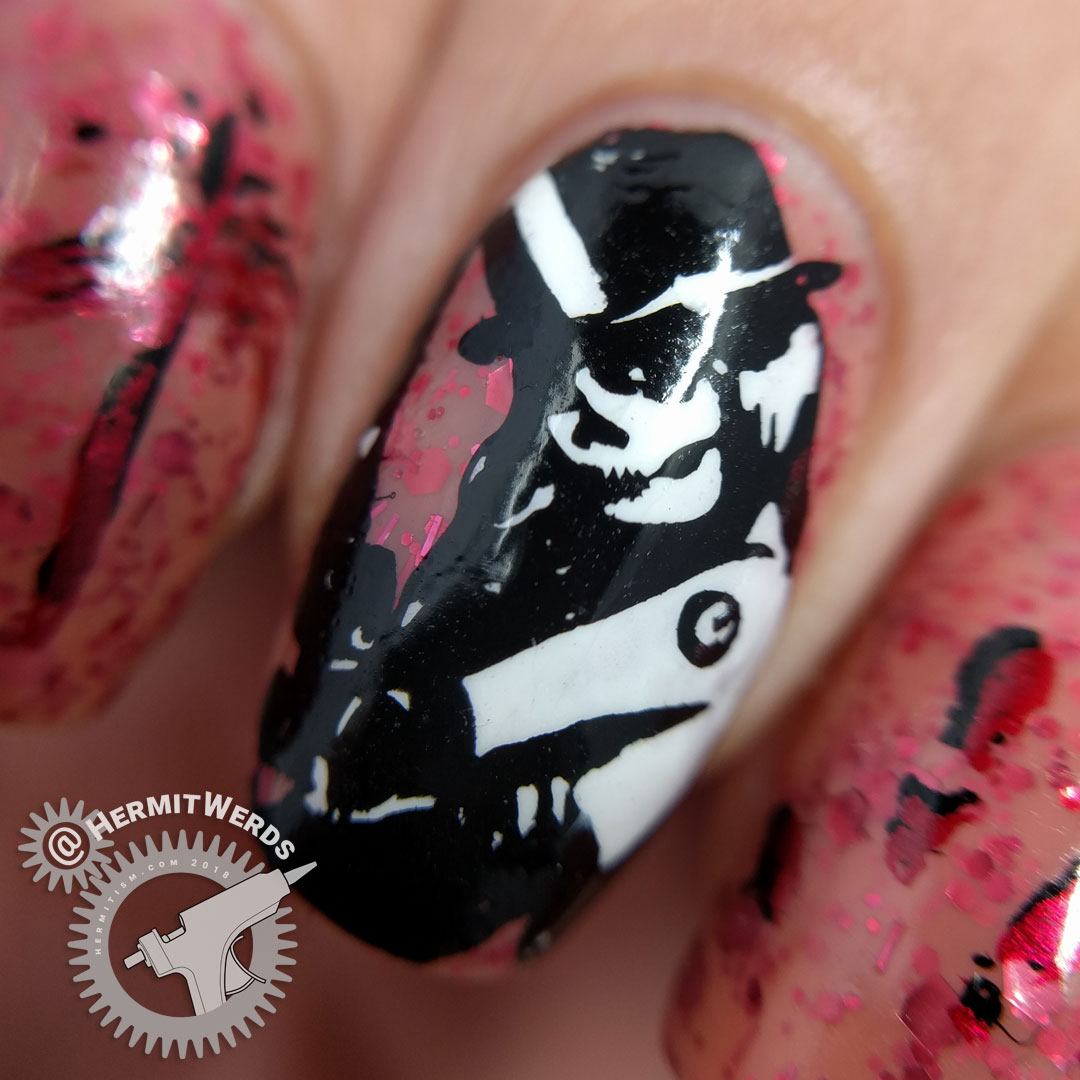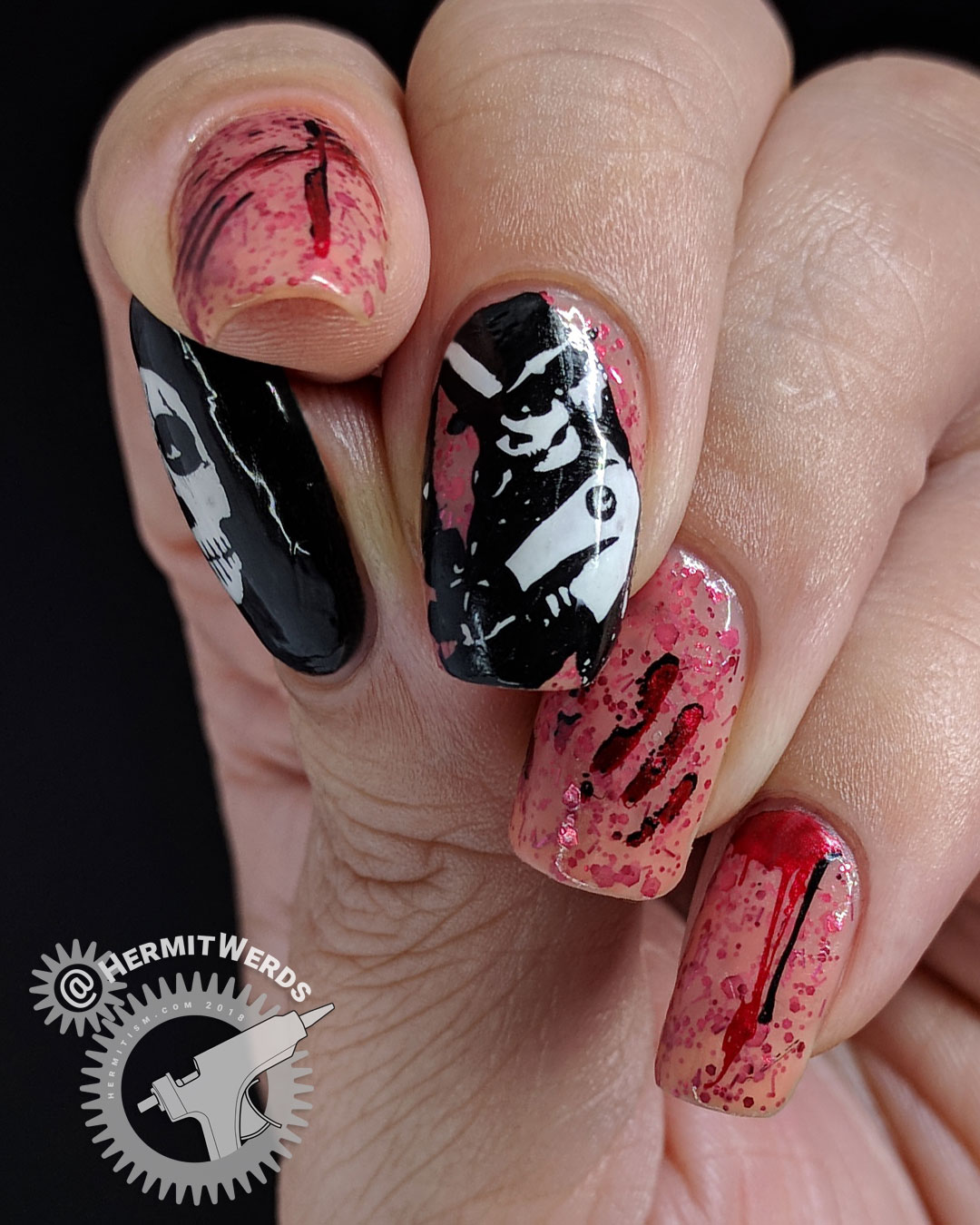 Witches of 'S' Past
Here's a gallery of every single Witches of 'S' mani I have painted to the current day, oldest to newest. This does not include every witch-y nail art that I've painted. For that check out the witch tag.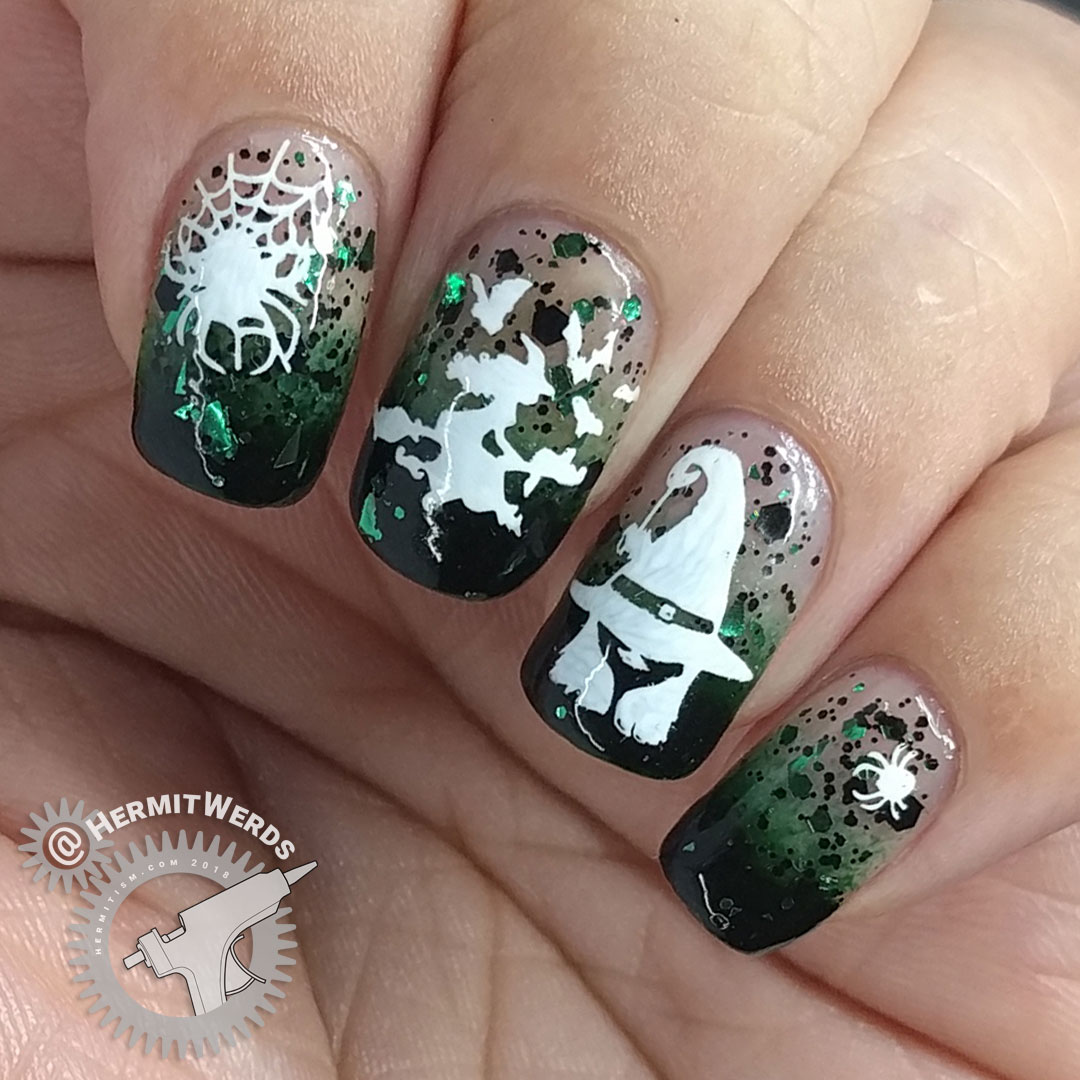 And now…back to the rest of the post…
Challenges
This nail art was painted for #GlamNailsChallengeOct's Bones and #ColoursWithinWomen's A Bloody Goth prompt. Pretty fun, right? And so are the designs in this collage…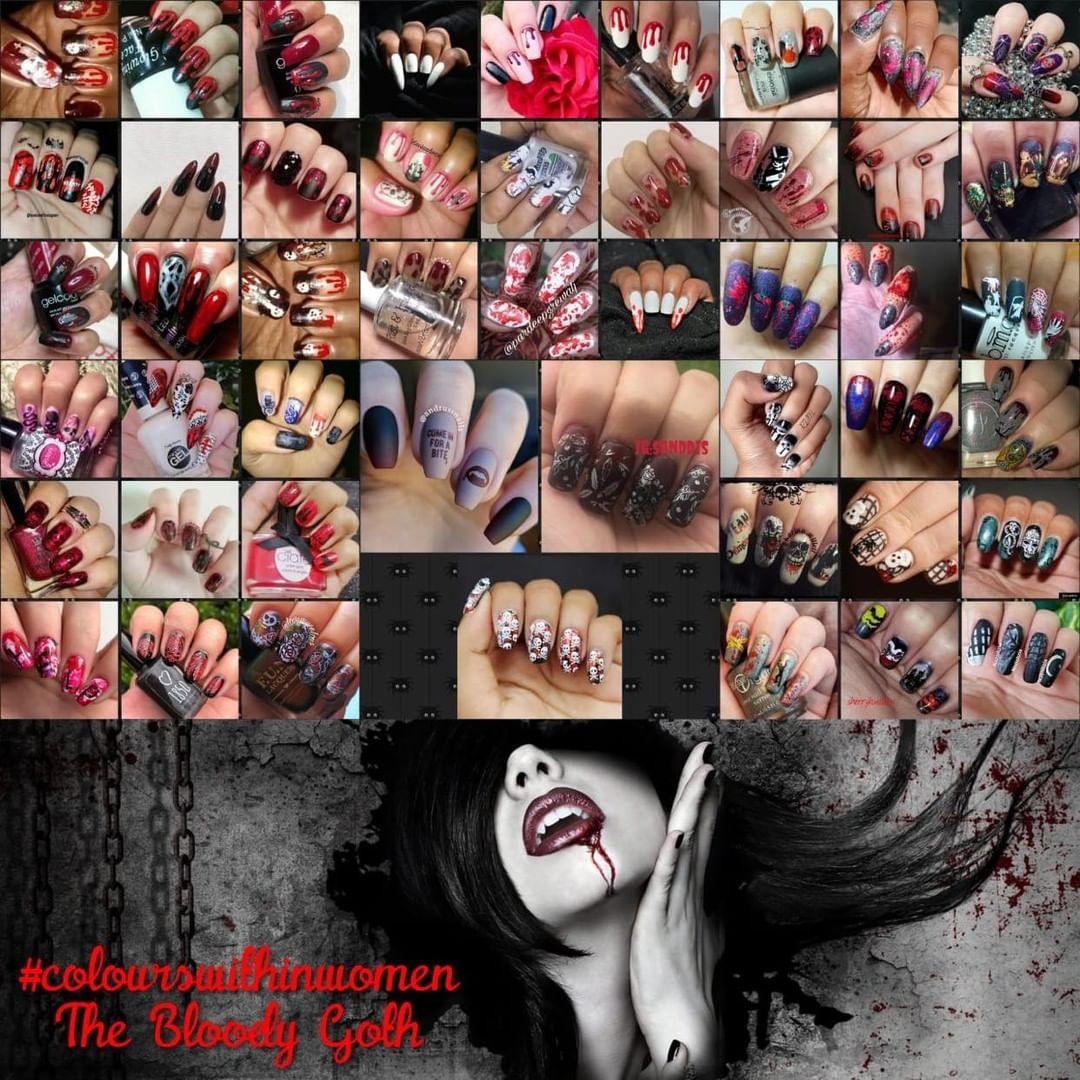 Also, here's the collage for all my #GlamNailsChallenge prompts. I made it! And I didn't combine any this time. 🙂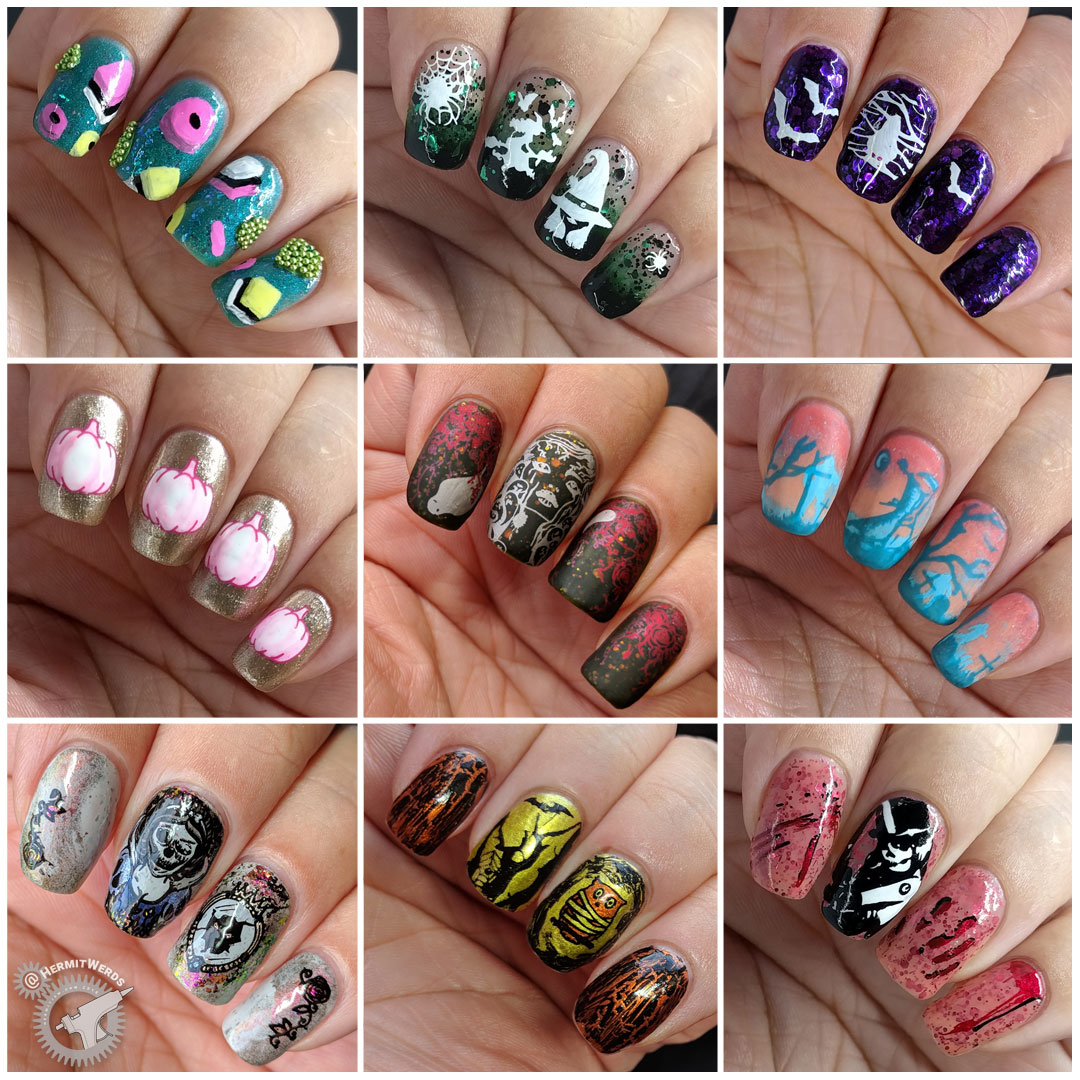 Candy – Gourmet Licorice
Spider Webs – Witch of Spiders
Spooky Night Sky – Going Batty
Pumpkins – Glam-kins
Ghosts – Witch of Spirits
Graveyard – The Graveminder
Skull – Snow White's Tomb
Mummy – Wisdom Under Wraps
Bones – Witch of Slaughter
And I'm going to call it and say this is my last design for #NailArtChallengeCollaborative's month-long Halloween theme. I haven't seen a vote go up for next month so I have no idea what's happening next.