I am here again today to gloat to you about how I had this nail art planned out several years ago and I got to it! I know it's a song I've been singing a lot lately, but it feels so good! I'm actually trying to put together a new booklet to draw my nail design ideas in because the old one has been full for a while and I've just been sketching on random scraps of paper. It's better to have everything together at once. (Plus it's an excuse to try my hand at a fancier book binding technique.)
Today's design is, of course, inspired by watching the cherry trees bloom. It's very much a Japanese tradition, but people all over the world enjoy watching the flowering trees in their area give it their all. I'm certainly enjoying them on my daily walks. (Except when I pass a gross-smelling one. Fewer trees that smell like farts, please!)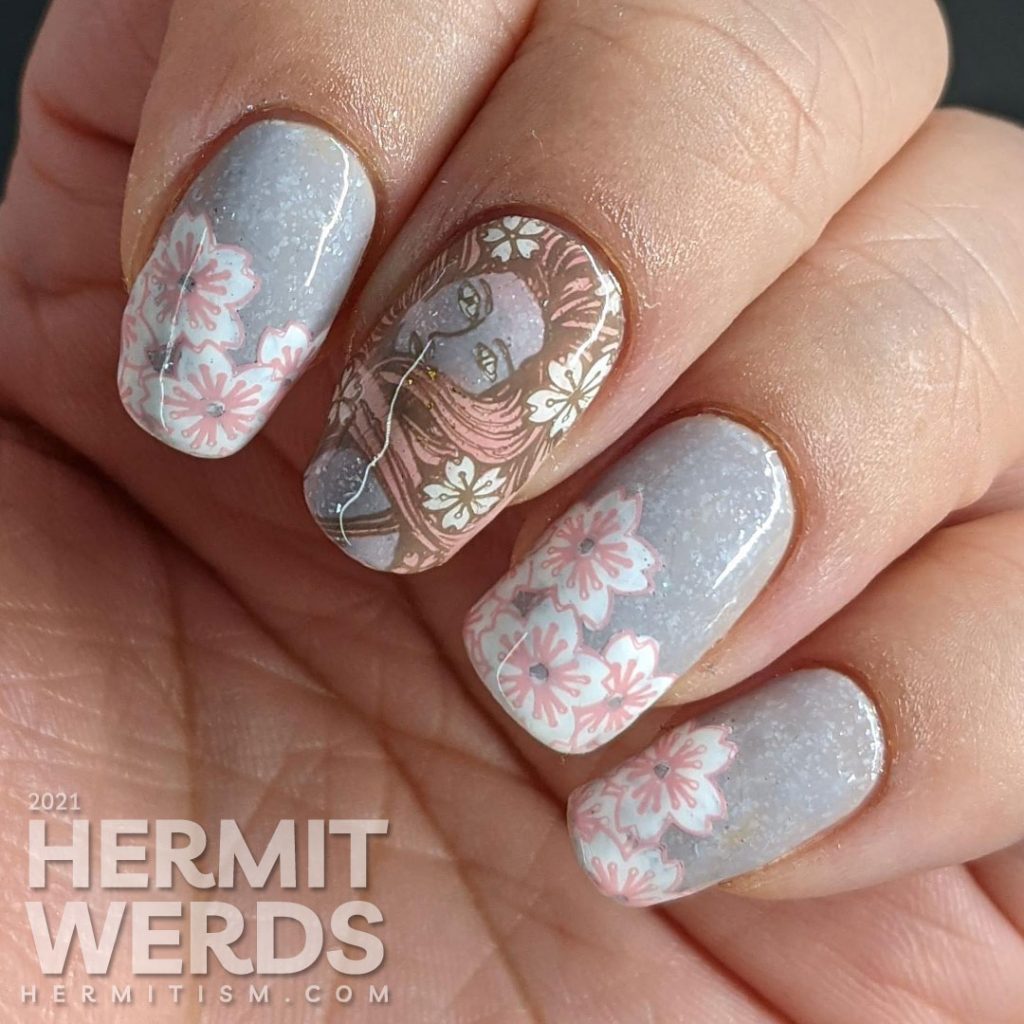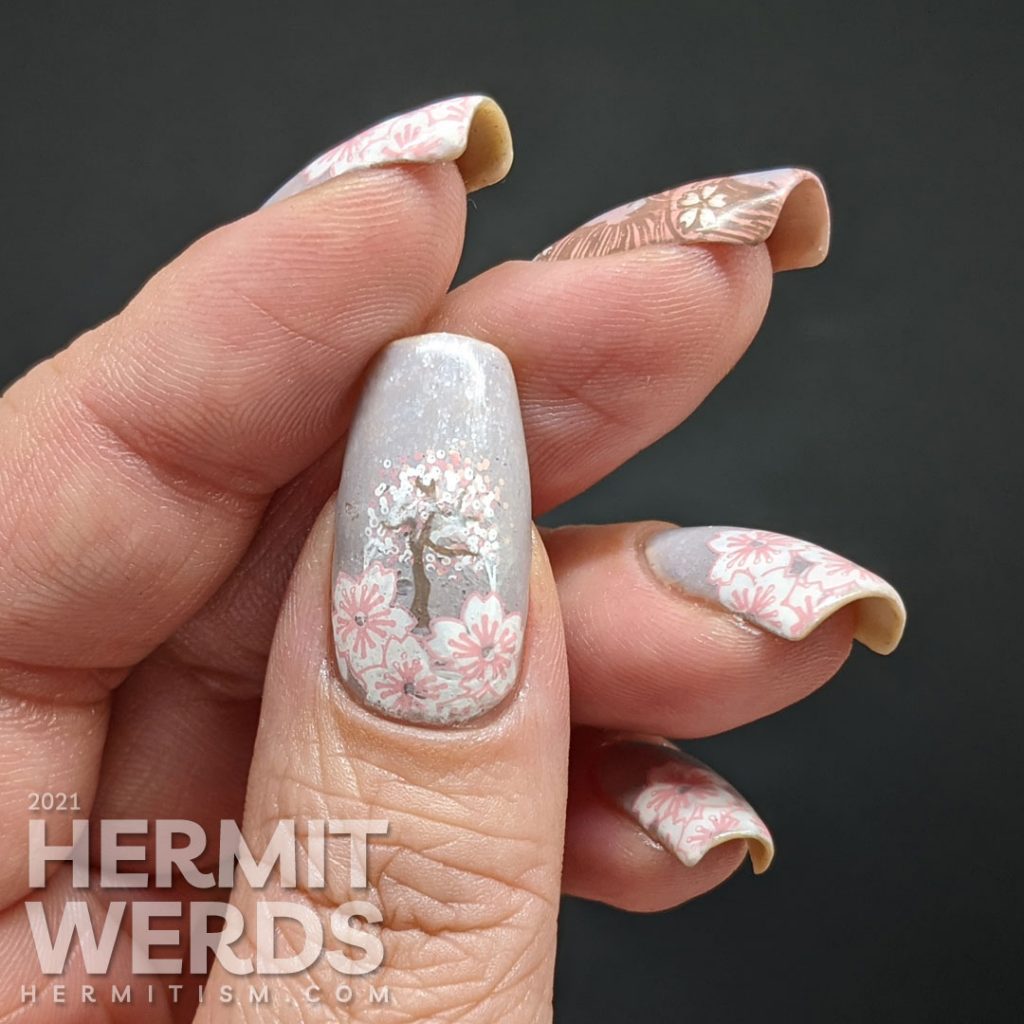 When Colours Collide
My initial design didn't really have much in the way of notes about colors beyond the blossoms being pink/white so I was happy to fit it into @WhenColoursCollide's white/pink/grey pastel prompt. I'd initially planned to go with a white background and use watercolor, but I think this was better. I love that the witch's skin ended up being grey. It made her instantly non-white, but also not necessarily any race at all.
Meanwhile there's lots of lovely spring nail art in this collage so don't forget to check out the group tag! Next prompt is dark blue, orange, and white. I like the color combo, but I've got a lot going on and don't want the end of the month to be crazy so I'm probably going to skip this one. 😥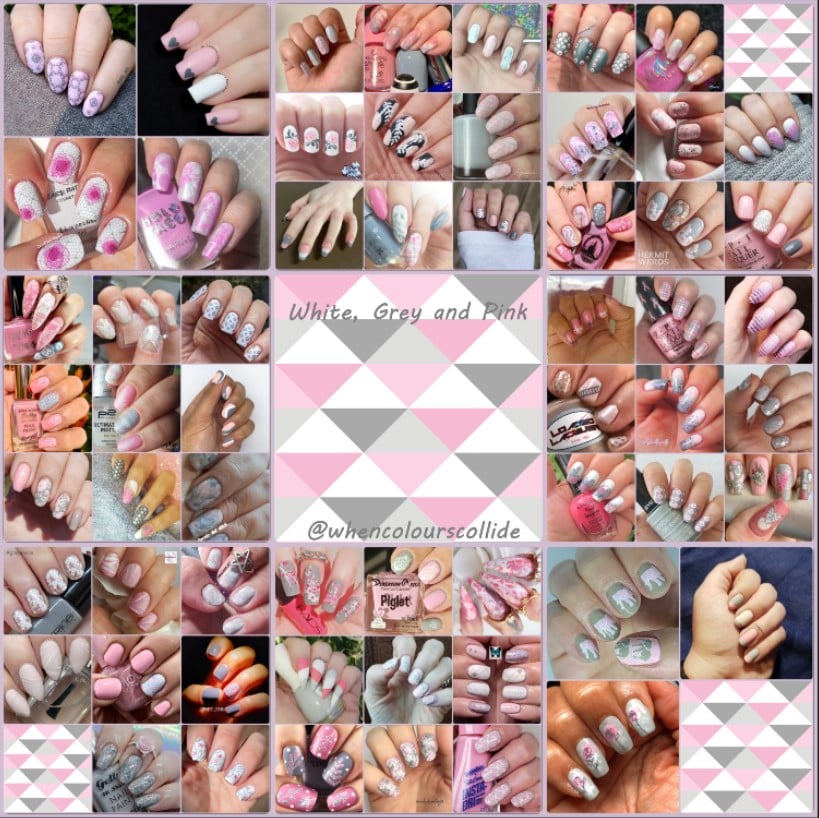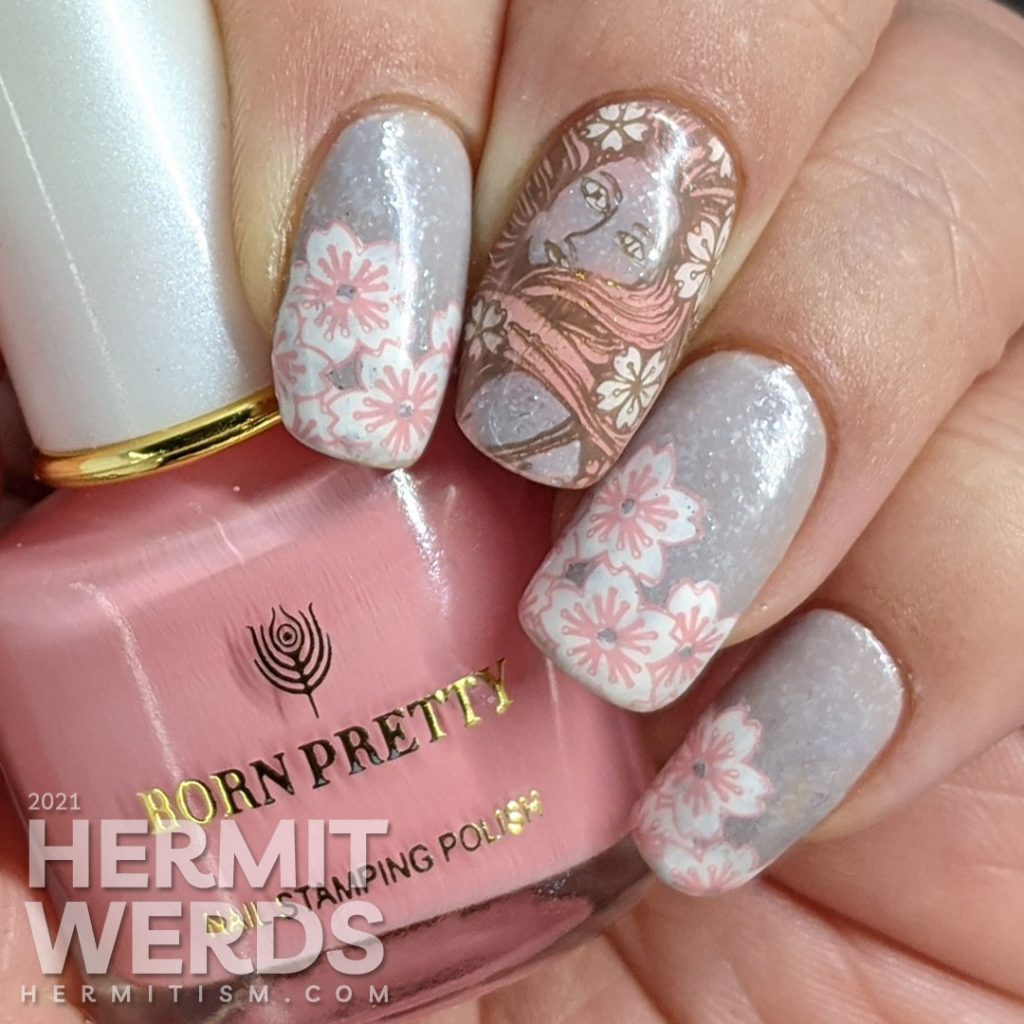 Nail art products used
Base Polishes:

Stamping Polishes:

Advanced Stamping Polishes:

Stamping Plates:
It's funny because I really love Born Pretty's other light pink "Coral Grapefruit" but I keep reaching for "Cherry Blossoms" all the time. I have used "Coral Grapefruit" five times, but this post puts "Cherry Blossoms" at 9 uses and I got it later. Granted for a sakura nail art, using a polish that's called "Cherry Blossoms" is the only right thing to do. 🤣
Un-fun (for me) fact: I actually ended up painting this twice. I got halfway done. I'd finished all my decals and had the sakura French tips and all my base polish down, but it was late so I went to bed. And then I just didn't put the other decals on my nails for two more days. By then what I had on had too much wear on it (yeah, I'm hard on my nails) so I had to take it off and re-do all the sakura nail decals again. That's five decals, btw, because I had to patch two together to get all the way across my thumb. 😱
It was worth it though…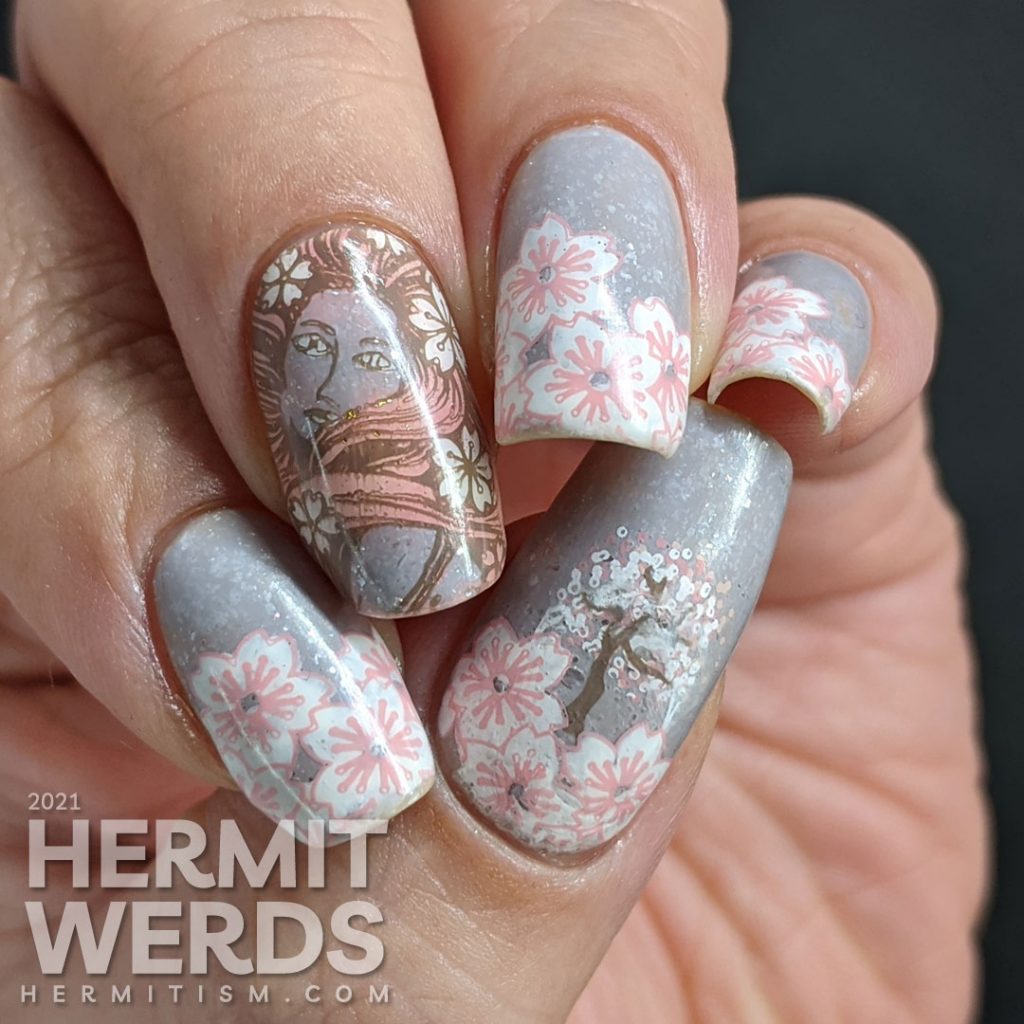 Witches of 'S' Past
Here's a gallery of every single Witches of 'S' mani I have painted to the current day, oldest to newest. This does not include every witch-y nail art that I've painted. For that check out the witch tag.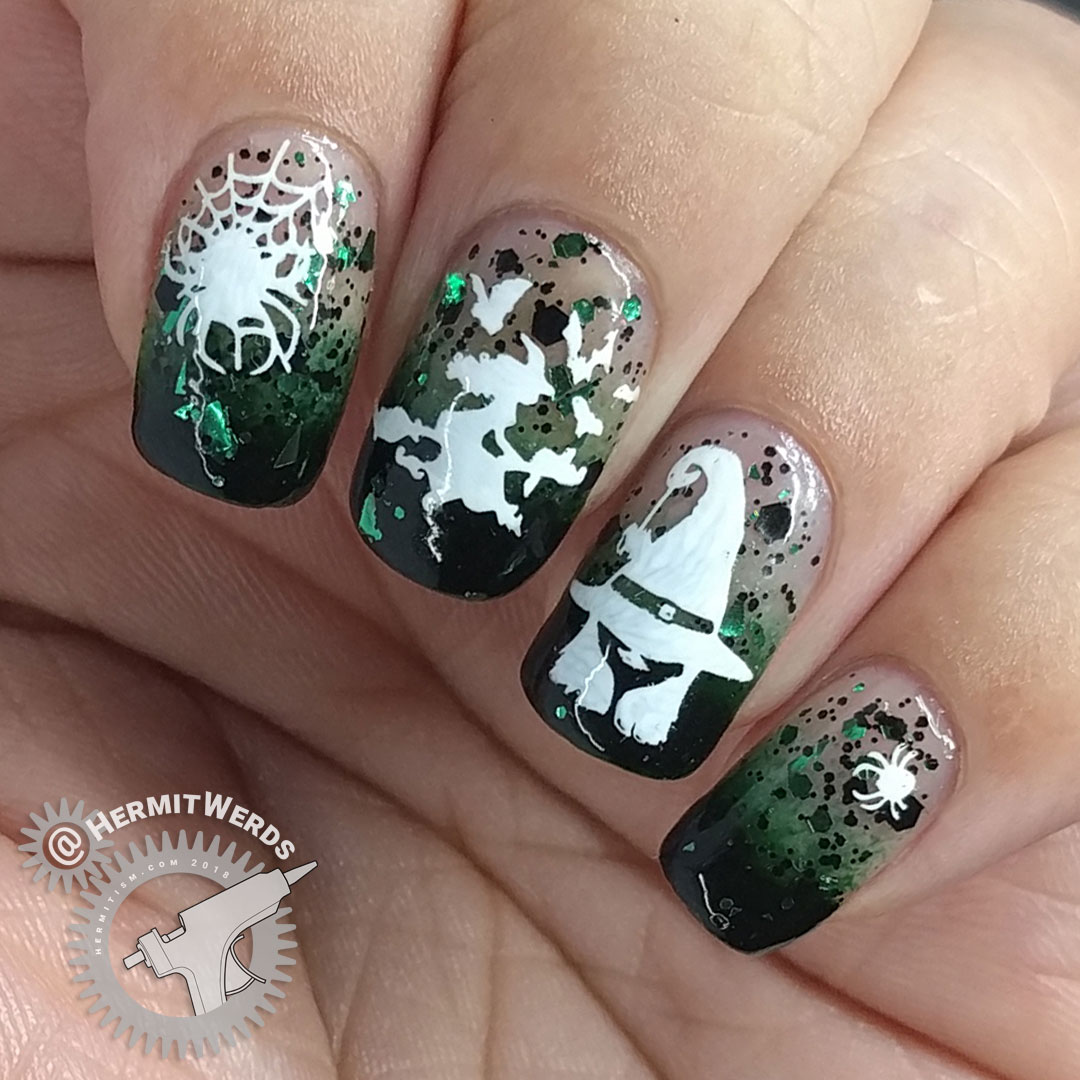 And now…back to the rest of the post…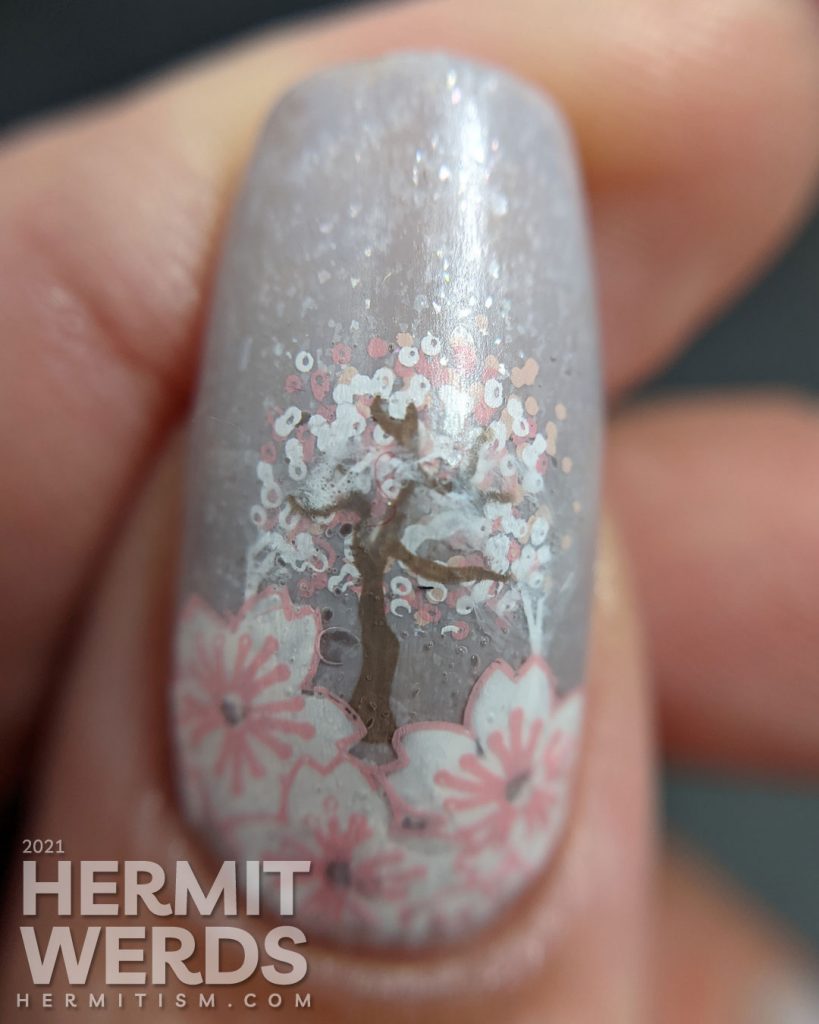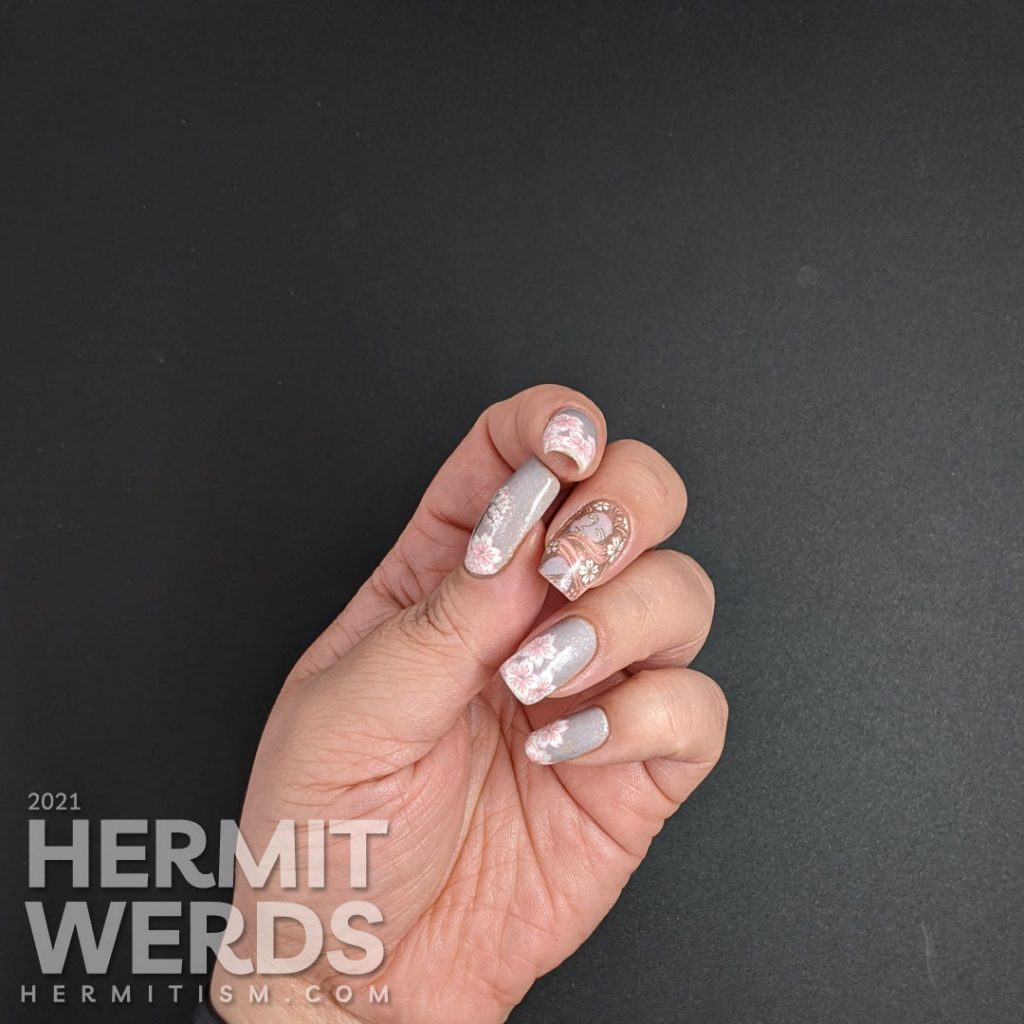 Until next time, friends! I hope you're enjoying the spring (if you're on the northern part of the globe)! 👋