Tag:
reverse nail stamping
A nail art technique where a stamping image is picked up from the stamping plate and then filled in with more nail polish before stamping it on the nail.
I typically make mine into a decal before I start adding additional colors by painting on a coat of clear polish (not quick-drying). As long as you let it dry properly, it helps keep the lines from getting distorted or plucked off the stamper if you paint too "hard". I use this technique a lot.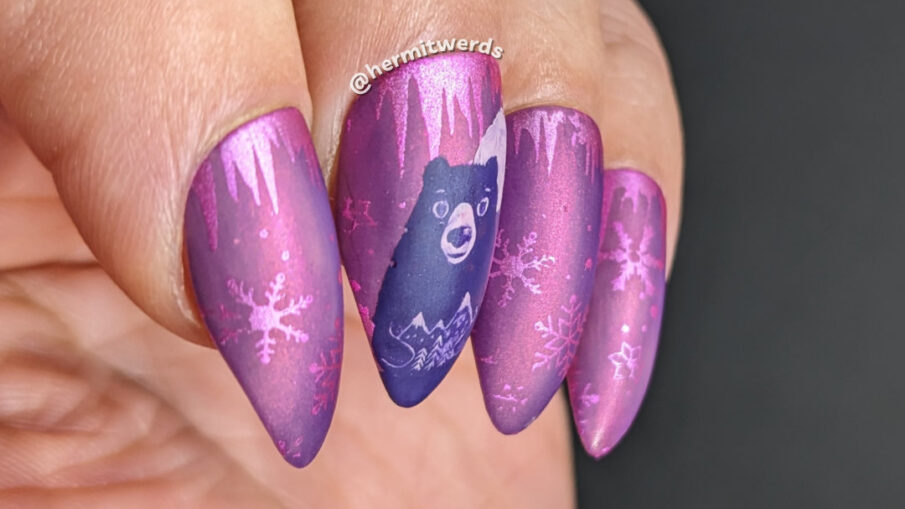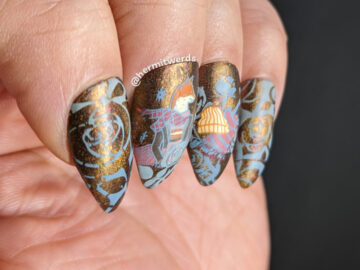 Am I going to jinx things if I say that I'm still trying to use every image on the Nicole Diary Fashion Trends ND-002 stamping plate? Because I am and today's look puts me at the halfway mark for the larger images. I even used my favorite image: the fox! Read More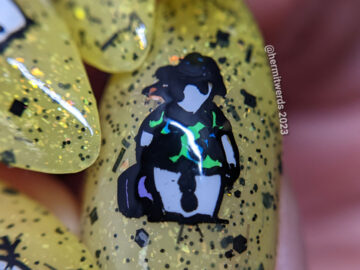 Today's look features snowmen on a yellow thermal background. So while I normally would have thought about adding banks of snow for them to exist in, I decided to just lean into the whole yellow thing with the post title. As happy as these snowmen look in their dubiously yellow Read More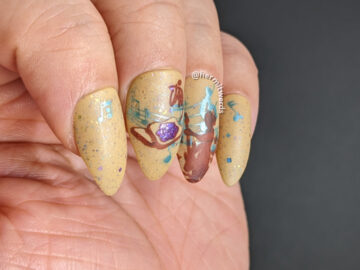 I do love alliteration and so does the host of the collab I painted this nail art for. And yet I'm such a literal person that I had to have both jam and a musician jamming in my design since they were both fair interpretations of the prompt. *sigh* I Read More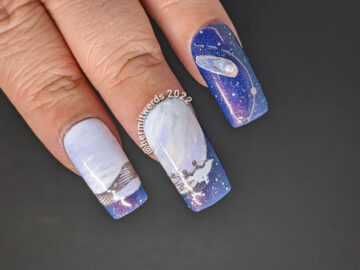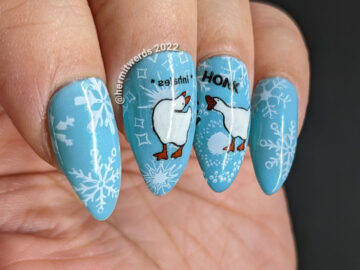 I kinda feel like I'm setting the tone with my first mani of the year so even though I already have some nail art to post, I threw this mani together because it's just me. I first played the Untitled Goose Game last year and it was so fun (except Read More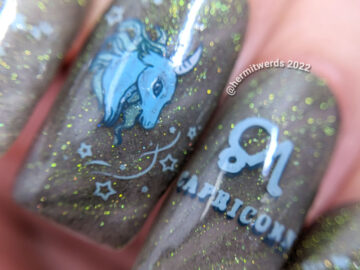 Happy birthday to all the lovely Capricorns out there! I can't believe it's been a (almost) a year since we started this zodiac challenge. And I managed to get in every one (although I do have a few I want to have a second go at…). I definitely got some Read More
I have been posting a lot and kinda crashed a little, but there's more Christmas nail art to post so it's time to dust myself off and share today's look: a nod to my favorite Christmas movie The Nightmare Before Christmas. I don't have a Christmas tradition that I perform Read More