We can't let the month end without some coffee nail art, can we? No, no we can't. Not even if we had done tea nails, which we should certainly do soon. Caffeine is the best drug ever. Even sugar isn't as close to my heart because sugar does not help when my allergies are bad. Since this was the month of looove (esp with the #NailChallengeCollaborative), I decided to go with a love theme. My way. 😉
And, yes, it was also Chinese New Year. China isn't really a country I would associate with coffee since it is more known for tea. Perhaps I should do a Tea with Dogs mani? They could have little mustaches and robes. I am not sure I'm good enough at painting to pull it off, but it's worth a thought since I try to do several Year of the ___ manis a year. I actually have already done a Year of the Dog mani, but it was a fail and I refuse to post it until I've re-done it correctly. Meanwhile I have a much better design for the Year of the Dog I want to do first, so…you get coffee instead!
Surely you can't regret that.
I tried to offset the "coffee" enough so it is still possible to read the text underneath. I also sneakily removed a heart somewhere and replaced it with something else. Have you already spotted it yet?
Today's glorious thermal polish was brought to the world by February's Sugar Rush themed Polish Pickup. Previously Turtle Tootsie came out with a Spring "Ice Cream Makes Everything Better" collection. I fell in love hard with "Chocolate Chip Mint" (sold out) and also snagged and adore "Vanilla" (product link). I kept eyeing "Strawberry" (product link), but it wasn't quite what I was looking for. My favorite strawberry ice creams have shreds of fresh strawberry in them so the circle glitters just didn't feel right for me. But the polish was so pretty I was tempted every time I ordered from her. And then she came out with "Pink Velvet" and I knew I had to have it. Heck, I would have wanted it even if weren't a thermal, that was just a bonus. Check out its gorgeousness without my stamping on top: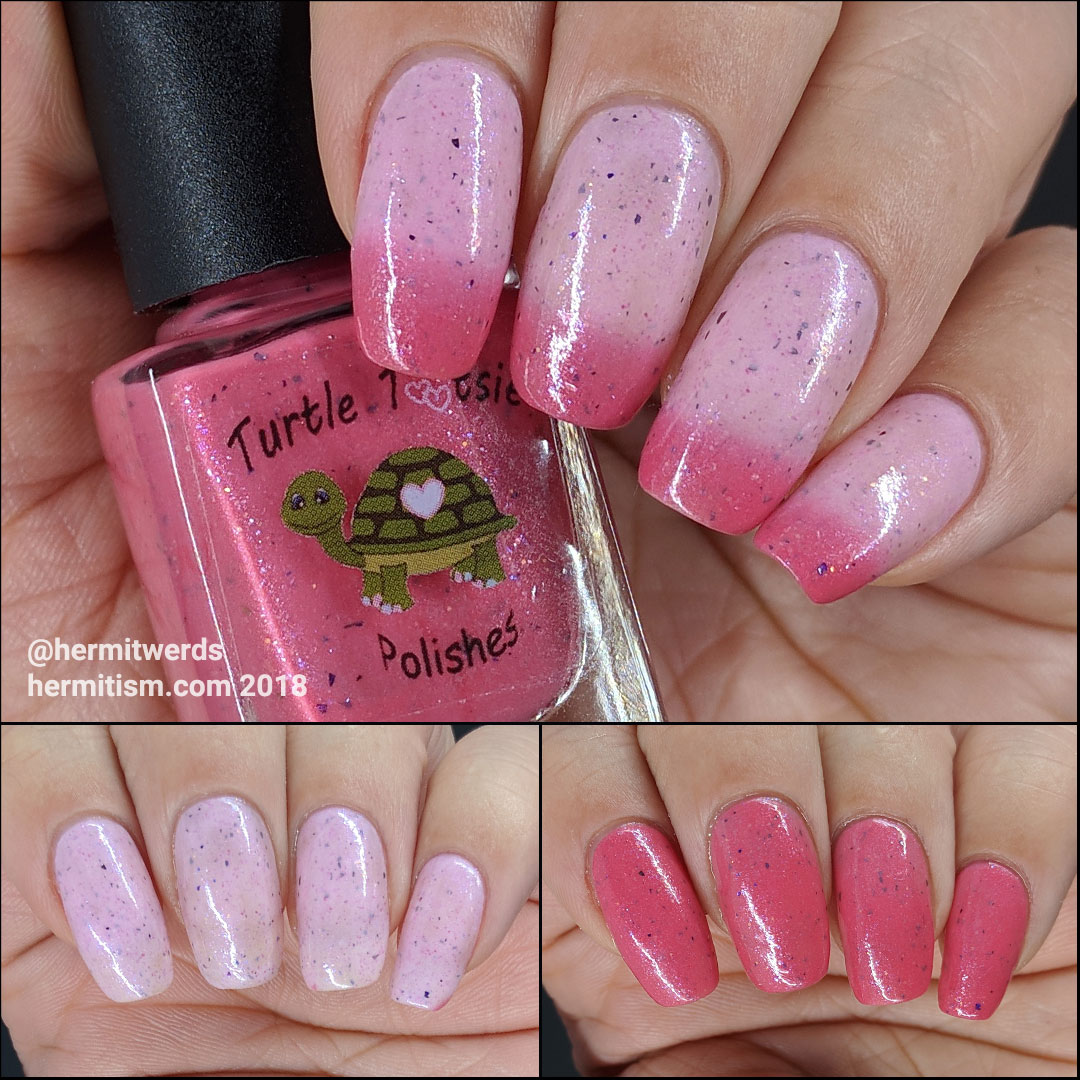 Check out the rest of the Collaborative's love manis if you haven't seen them all yet: