[press sample]
Today I'm bringing you my silliest Halloween mani yet in this review of BeautyBigBang XL-026. It has so many skeletons ranging from cute to seriously detailed. Dancing skeletons, fancy damask pattern skeletons, and even a skull with hearts popping out of its eyes. All bones, all the time. (BBB has two new skeleton stamping plates this year. I also really liked this one which draws more from Mexican culture with lots of roses, sugar skulls, and hats. Oh, the hats.)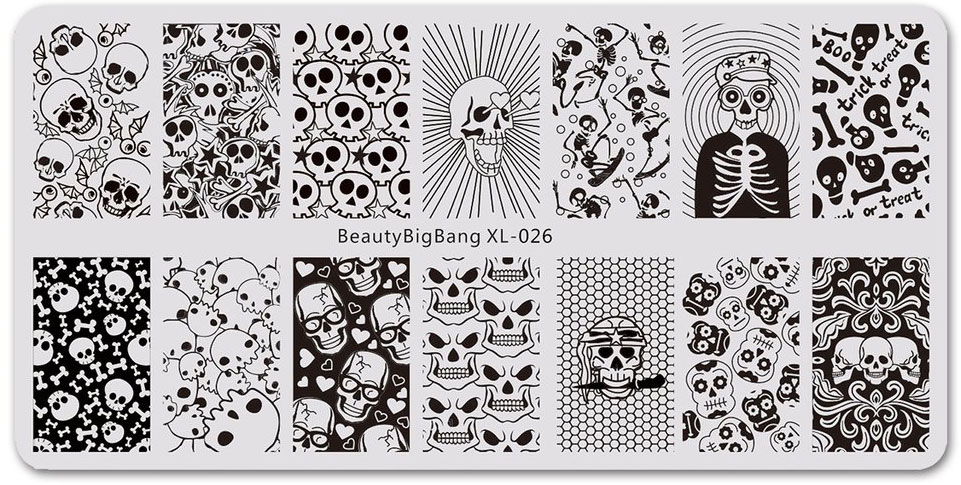 Quality and Value
Again, I had some pretty great pickup when stamping. My own shaky hands betrayed me with a few stray lines, but that is not the fault of the image unless you want to blame it for having straight lines. Heh. I love the silliness of this plate. Everything from geek skeleton to explorer skeleton and also a nice range of negative space full-nail images. When I first got into stamping, I did not understand how awesome a negative space image could be because I struggled to use them. Now that I have tools like Beauty BigBang's big silicone stamper and techniques like stamping over nail foil glue, they really appeal to me.
I do wish the designer had properly centered the damask skull pattern, but it was still fun to use.
Test Samples
Did I go neon? Oh, yes, I went full neon! Also, I am obsessed with those little winged eyeballs. Expect to see them again, (outside of the Halloween season if I don't get to it in time).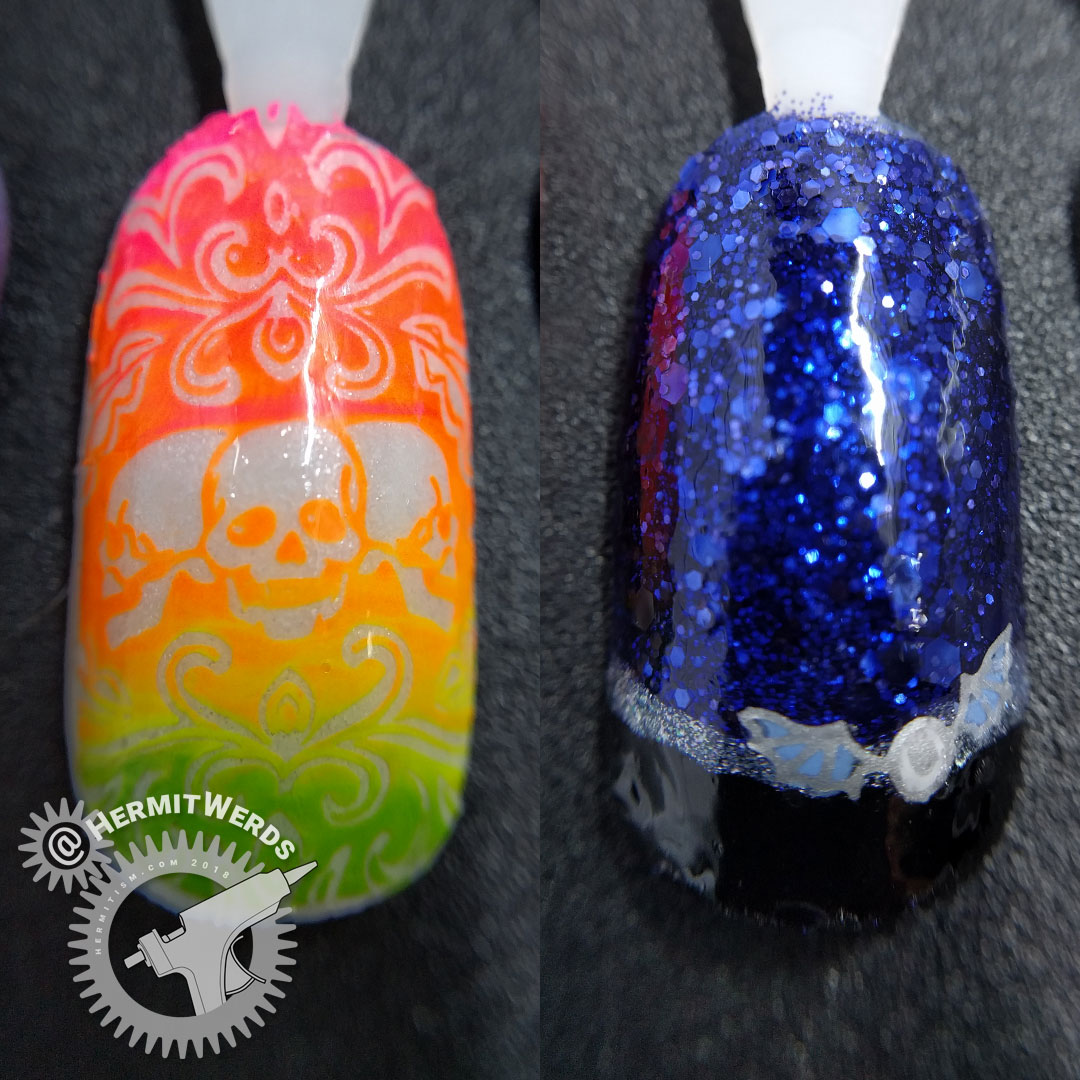 Raver Damask. Background is China Glaze's "Dandy Lyin' Around". Stamping done with Mundo de Unas' "Lemon Tree", "Neon Pink", "Neon Orange", and "Neon Yellow".
French Eye Bat. Background is China Glaze "All Wrapped Up" and Sephora's Formula X "Catalyst". Stamping done with Sinful Colors' "Casablanca" and filled in with "Sinful Colors' "Sail La Vie" and "Whiteboard". French tip created with Revlon's Parfumerie "Espresso" and outlined with Sinful Colors' Nail Art silver.
Hunka Hunka Skeleton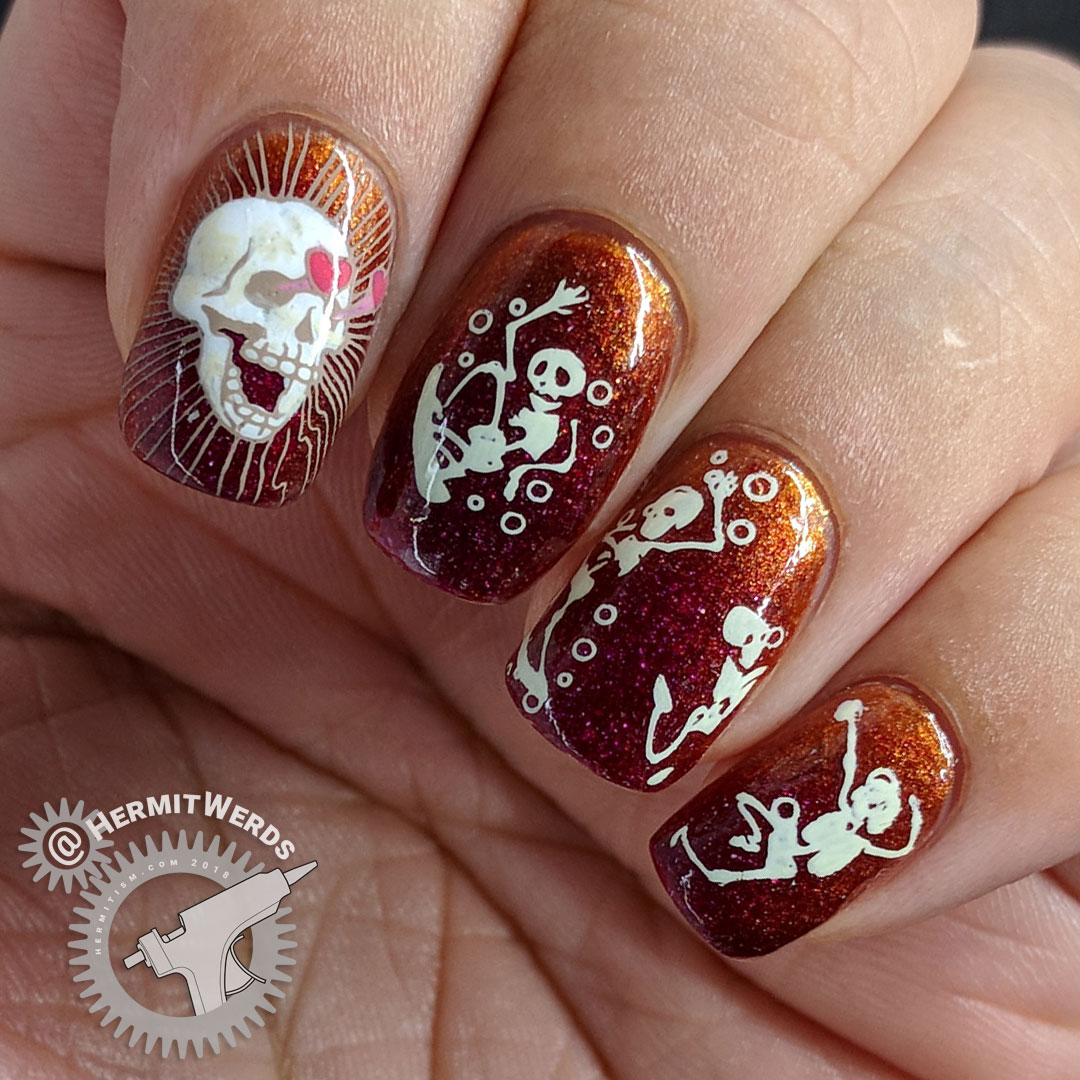 When I saw the skull with the hearts popping out of its eyes, I knew there was a story in there. And, happily, another image on the stamping plate seemed to answer it. The little skeletons dancing around and skateboarding looked like exactly the kind of thing the other skull would fall in love with. I leave it up to you to decide if it's four different skeletons or one skeleton showing off. Love is love, right? 😉
I really love how this half radial gradient ended up looking. You probably could get much the same effect with a duochrome. But! If you don't have one, layering a glittery jelly over a metallic seems to work well.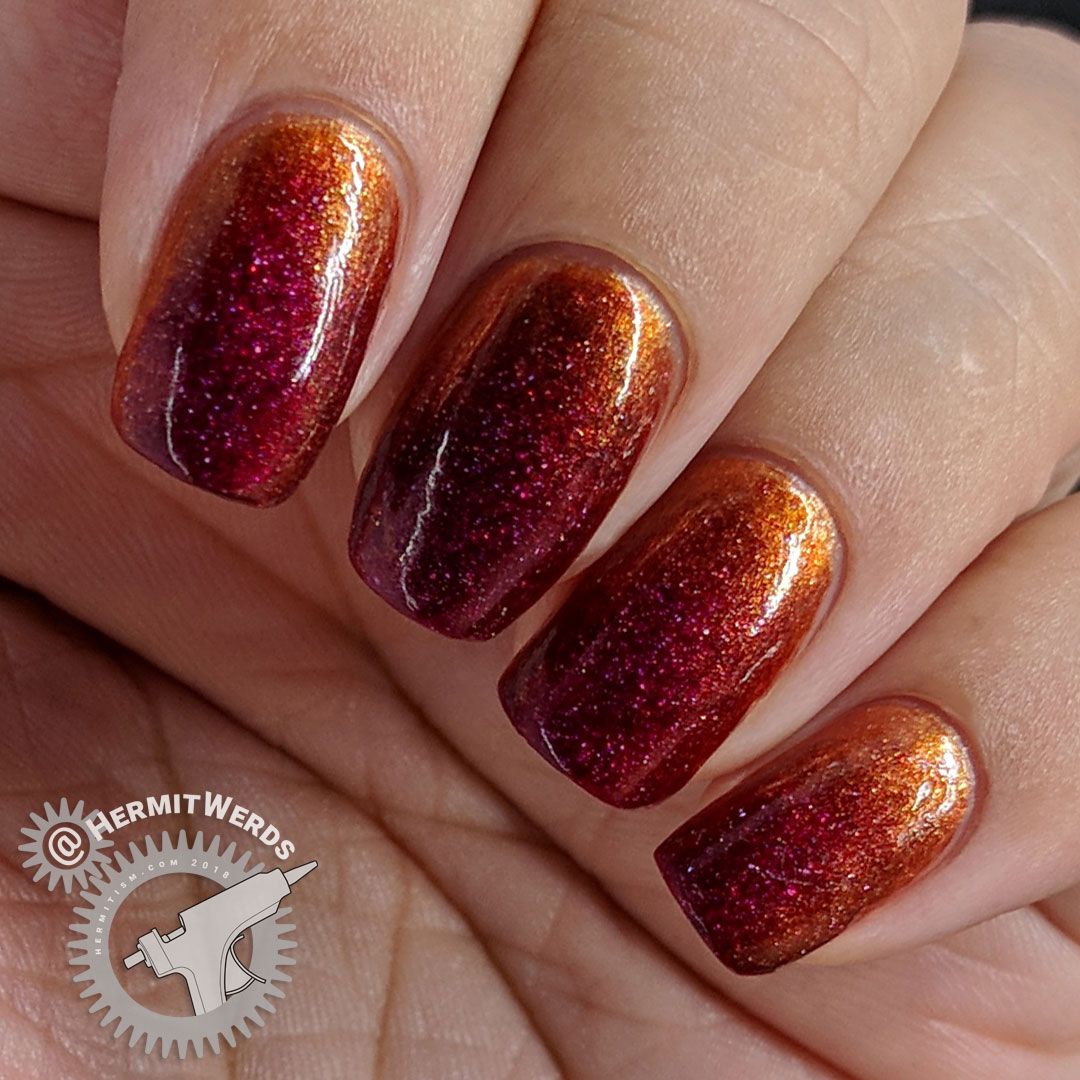 Final Thoughts
While I don't think the images are infinitely combine-able because they are stylistically different, I think this is a great plate if you like to have the same image on all your nails or if you like to highlight one part of a full nail image and have the rest blend into the background. Both are great looks. The negative space stamping images are also really great since they are harder to find on stamping plates. For example: out of the six stamping plates I'm reviewing there are only six full nail negative space images and three of them are on today's plate. 🙂
If you're interested in the stamping plate (BBBXL-028) feel free to use my discount code (hermi) for 10% off your order. (Non-affiliate code). Thanks again, Maggie!