Oh, I love this blue. It's bright and yet not absolutely saturated and obnoxious. It's dark but not so dark that it doesn't show up as blue in most lighting situations. It is probably one of the few polishes that I would get a backup bottle to. Most other polish colors, no matter how great, I can get over not having because there are so many other beautiful colors to wear. But not this Sinful Colors' Kylie Jenner "Kosmos". *shakes fist*
So this was definitely going to be the blue of choice for this round of #WhenColoursCollide's Blue/White prompt. And along with my favorite blue, I combo-ed in one of my favorite tricks: using the translucent qualities of a pearly white polish. I also indulged in a little pattern on pattern stamping for #26GreatNailArtIdeas.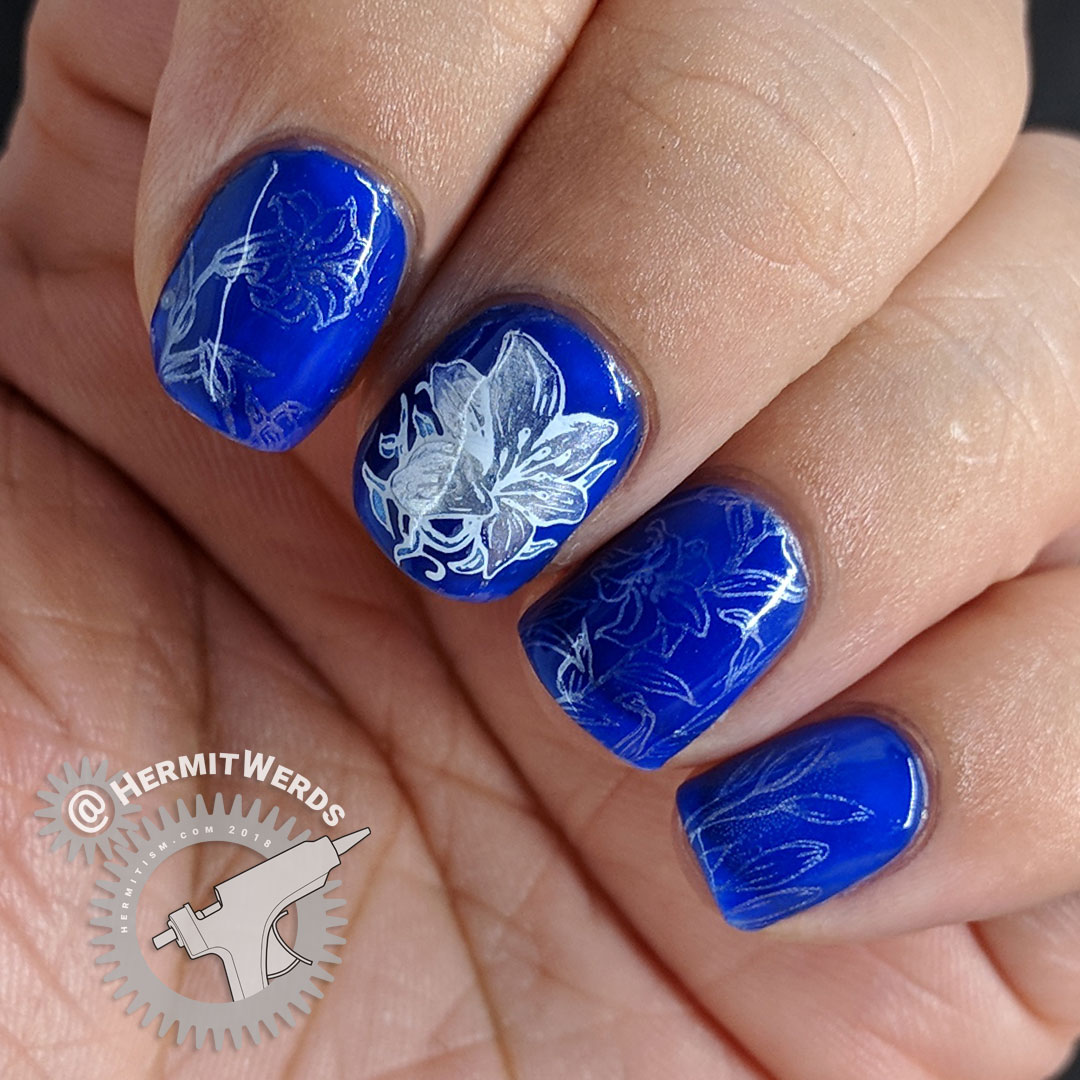 It's so sad. The stamping plates I used are from Bundle Monster's Maniology's Botanical set that came out earlier this year and I've barely touched them. Here I am using the same plates that I used before. Clearly, I have favorites already. *sigh* And I've turned into a liar about using some of the full nail patterns right away and now my nails are shorter so it's not as relevant now. I'm sorry. I do try to follow through, but sometimes it takes more time than I want to get to things. However, I have the mani/photos/post done for all the things I want to say about nail foil glue so I am going to be posting that tomorrow at long last.
Hurrah!
I still dream of other things like Bunnicula nails. Sounds very Halloween-appropriate, right? But we'll have to see how much time reviewing leaves me for extras. BeautyBigBang has released three (Three!) sets of Halloween plates (1, 2, and 3). There are definitely individual plates in there that will end up in my collection no matter what, but for now I will try to focus on painting ahead for the challenge prompts I don't want to miss and using more of the Stuff I haven't used yet.
That is one great thing about reviewing: I only ask for the stuff I'm very interested in and then I use it quickly. Statistically, I've gotten the best value out of reviewed items because reviewing means that my dream manicures for the products get priority. Only Ejiubas and UberChic plates have been used more often per plate. But I've had them longer, they are bigger with more optional images to use, and they are more expensive so I was pickier about what I bought…
Too far off topic, I suppose. Anyway, back to the mani!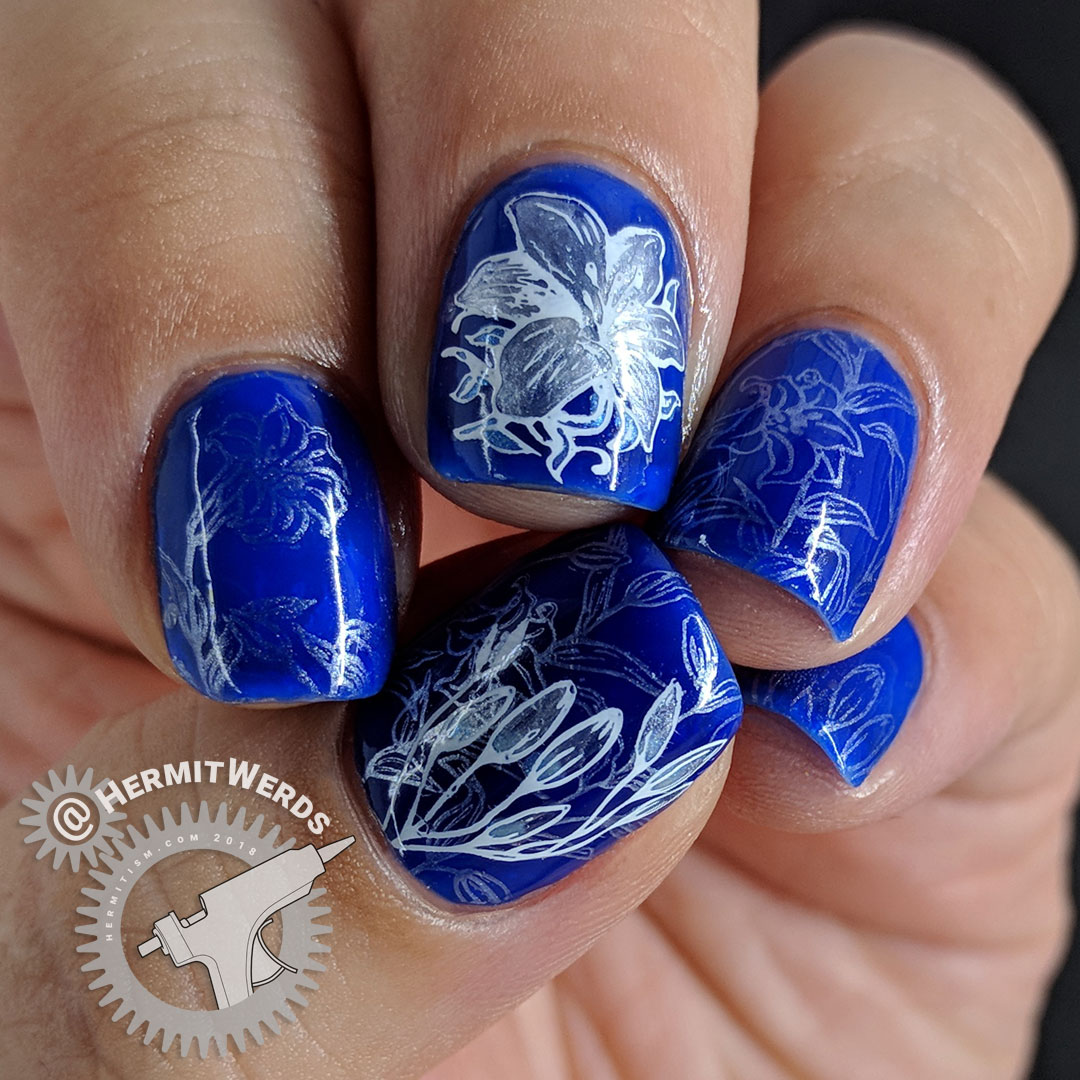 Now I was a little tempted to gradient out the blue with a darker blue and I think that would have looked fantastic as well, but really I'm quite happy with the way everything turned out. However, I was too generous with my UNT peel off base coat and these nails popped off in less than a day. It was very sad. Some days I am not so fond of peel off base coats…
But then there's the love for glitter… :p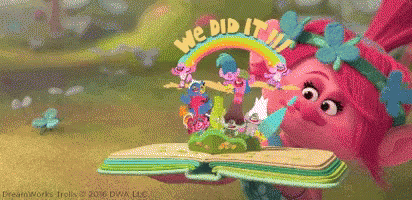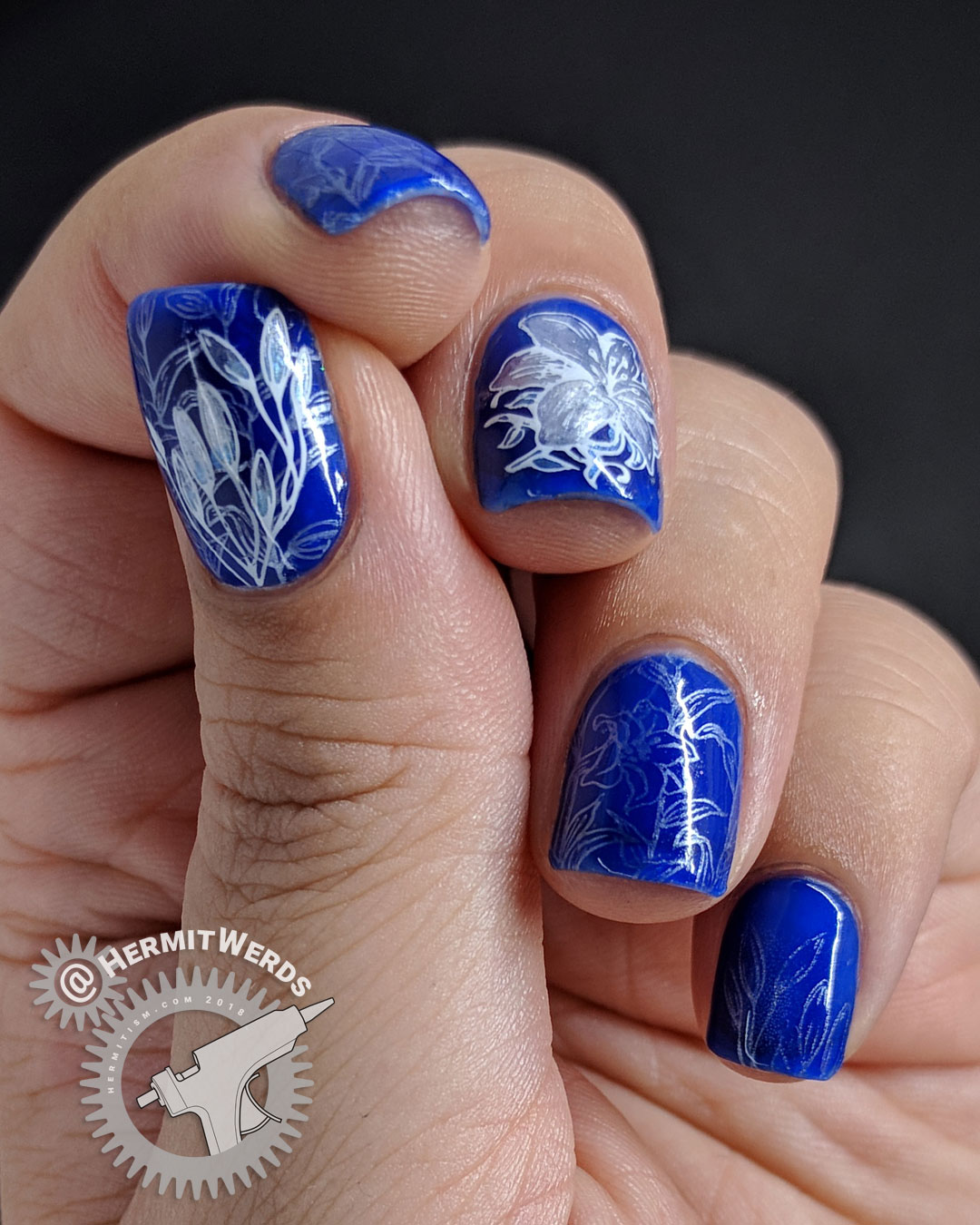 Check out the collage of blue and white and then visit the group tag on Instagram. It's always very interesting to see how dark or light people go with their nail art…
And here are the ladies who probably did more pattern on pattern stamping than I did. LOL I'm sorry! For all the I have this need to "fill up" every nail, I am averse to things that look cluttered and that's what I would have done to this design if I'd put any more Stuff into it.