My nails on both hands were covered with designs I couldn't bear to part with yet so, for the first time in months, we have a design on falsies. This is for #AZNailArtChallenge's 'F' is for Flowers prompt. I wanted to use more of the stamping plates from the Bundle Monster Botanical set (especially since I didn't use one of the full-nail patterns like I meant to when I first got it). I also wanted to burninate people's eyes and use Sinful Color's "Devil's Stare". So hurrah for achieving my goals!
I started with a glossy top coat…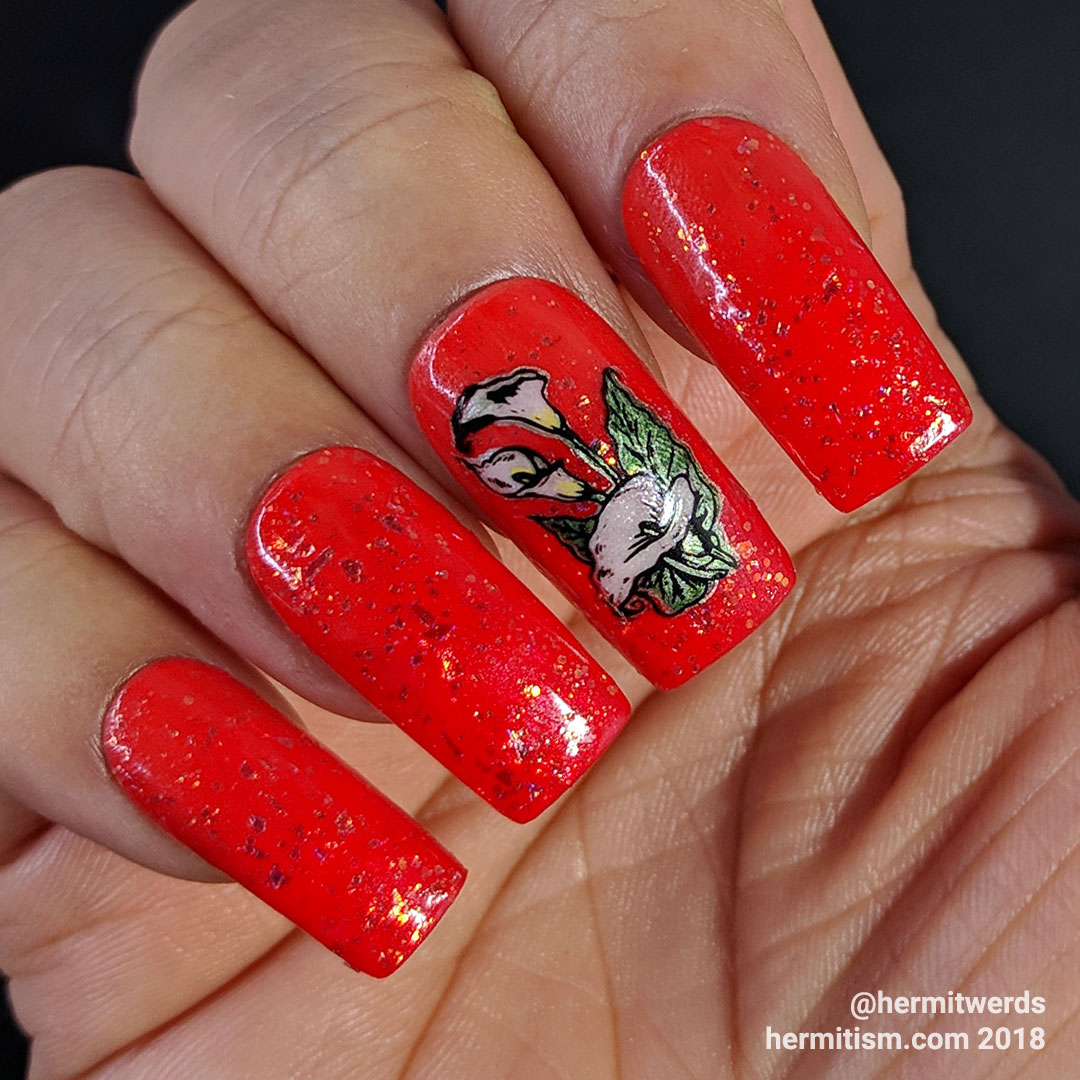 But when you start adding flakies in, a matte top coat can really show them off. So I'm loving the matte version more.
And, sigh, I must confess, I started with the wrong polish for stamping (Sinful Colors' "Moss Have"). Not enough contrast and everything was blending together into a vague flower blob. It was already on the nail so I ended up stamping over my finished decal with a black outline and just using black on my thumb's decal. Sadly, my placement was not perfect so you can still see some of the evidence of my miscalculation.
This is a bright design, but I did not use any neon polishes. Photographing oranges can be like that sometimes. And, while I wouldn't normally recommend anything approaching neon with Bundle Monster's Botanical set, I think this worked out well. I kept the super bright colors to the background and used soft desaturated colors for the stamping so there was no disconnect between the style of the images and the colors.
Finally, here is the group collage, individual posts will show up under the #AZNailArtChallenge tag on Instagram: