I just finished watching Justice League and–having watched Batman vs Superman previously–it was a little weird that Batman became the comic relief when Flash was also the comic relief and Affleck's Batman was super dark originally. I wish they'd be more consistent with their character development. I did enjoy the teamwork though.
Anyway, there was Wonder Woman for my heart and Aquaman for my eyes. And all signs point to Jason Momoa being as awesome of a human being as Gal Gadot so really I have Wonder Woman for my eyes and Aquaman for my heart. Especially when he feelings dumped right before the final battle. *snickers*
I'm still more a Marvel fan, but my heart is big enough to love them both. And since my stamping plates aligned, I ended up painting some Aquaman nails for #NailCraziesUnite's Superhero/Villain prompt.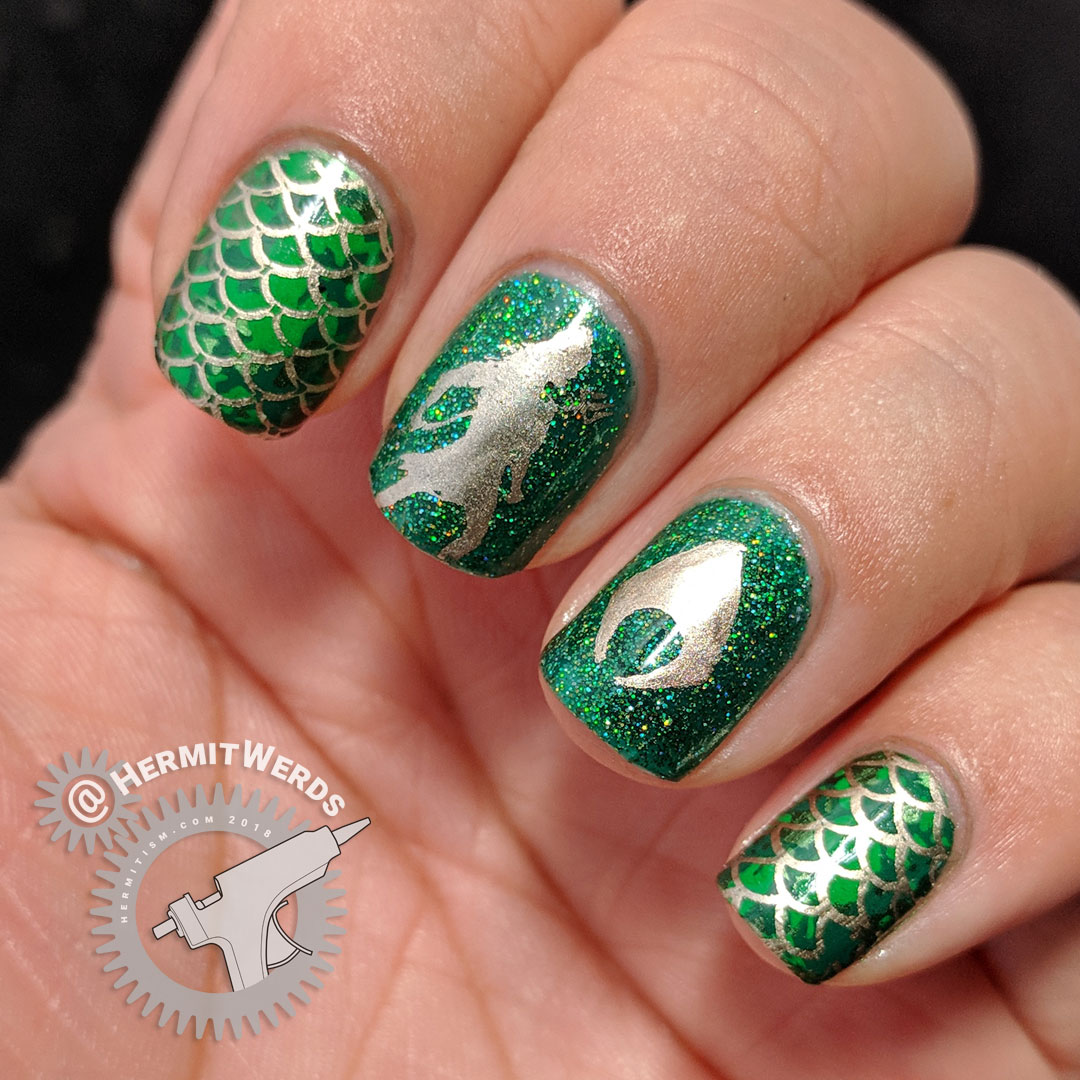 Freehanding with nail polish is so much harder than it is with acrylic paint, but I did the best I could for his symbol. And hopefully I will find the time to complete nail art for the whole set of the Justice League. Especially if they're smart and add Hawk Girl or Black Canary to the lineup next. Or, heck, Green Lantern's character has been pretty flexible: make them a woman who isn't white and I'll really start feeling good about things. Or, even better, make them a transgender woman. Yesssss!
Bring on the jokes about Ryan Reynolds! As long as they made in good spirit. 🙂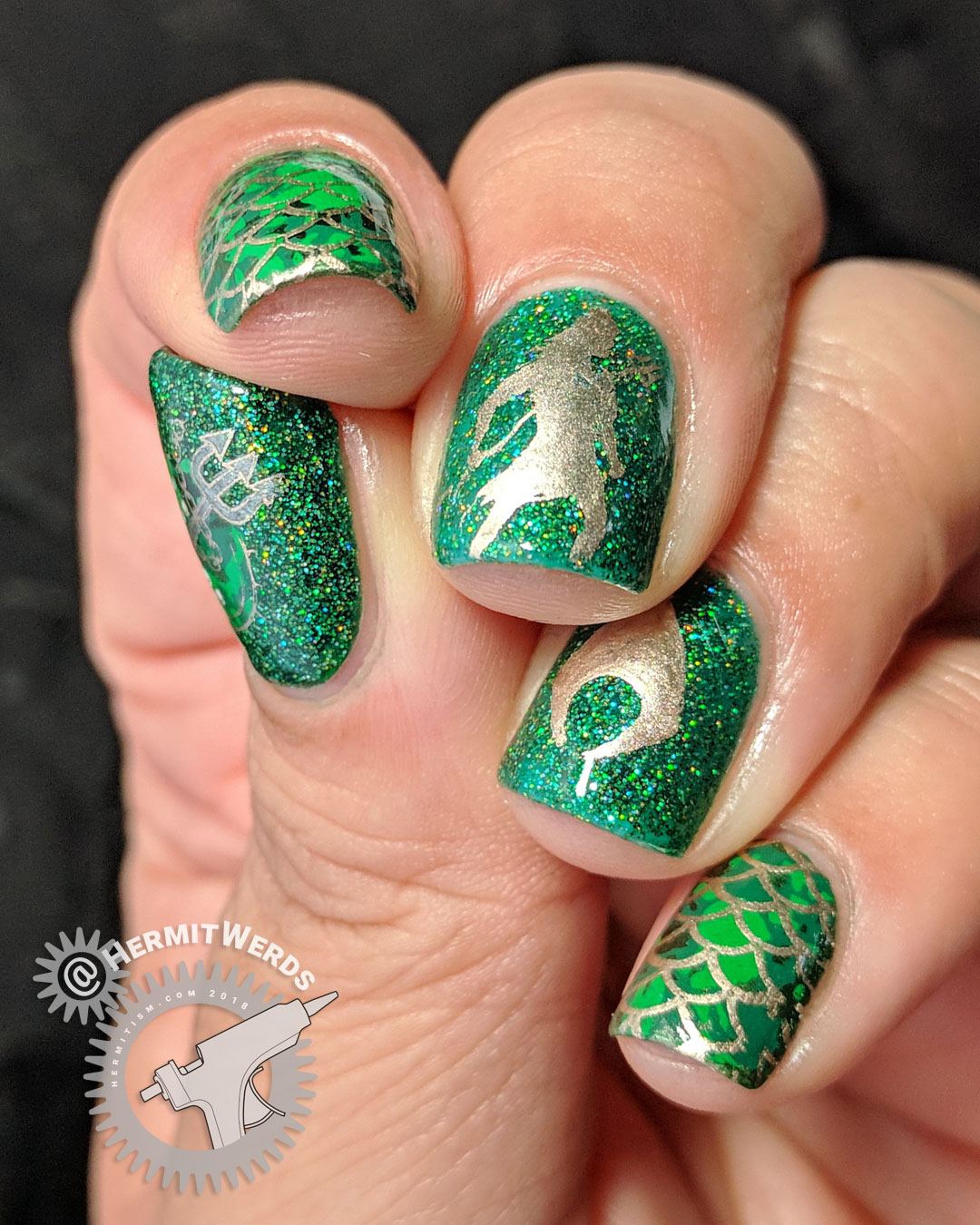 Before I threw down some scales on top of all that green polish, I took a quick photo so you can see how well the Esmaltes da Kelly stamping plate worked. It was a fun alternative to a smoosh marble and also meant I could easily use a magnetic polish underneath. I kinda wish I'd made a video of that because it looked neat flashing around under the stamping.
As for the scale pattern I stamped on top, I had an UberChic plate (Mermaid Life) that I could have used instead of BeautyBigBang XL-002 (press sample) and I went with BBB's because the scale pattern is smaller and my nails are short. If my nails were longer, I would have used UberChic's and I wouldn't have had to shrink stamp poor Aquaman so he'd (mostly) fit on my nail.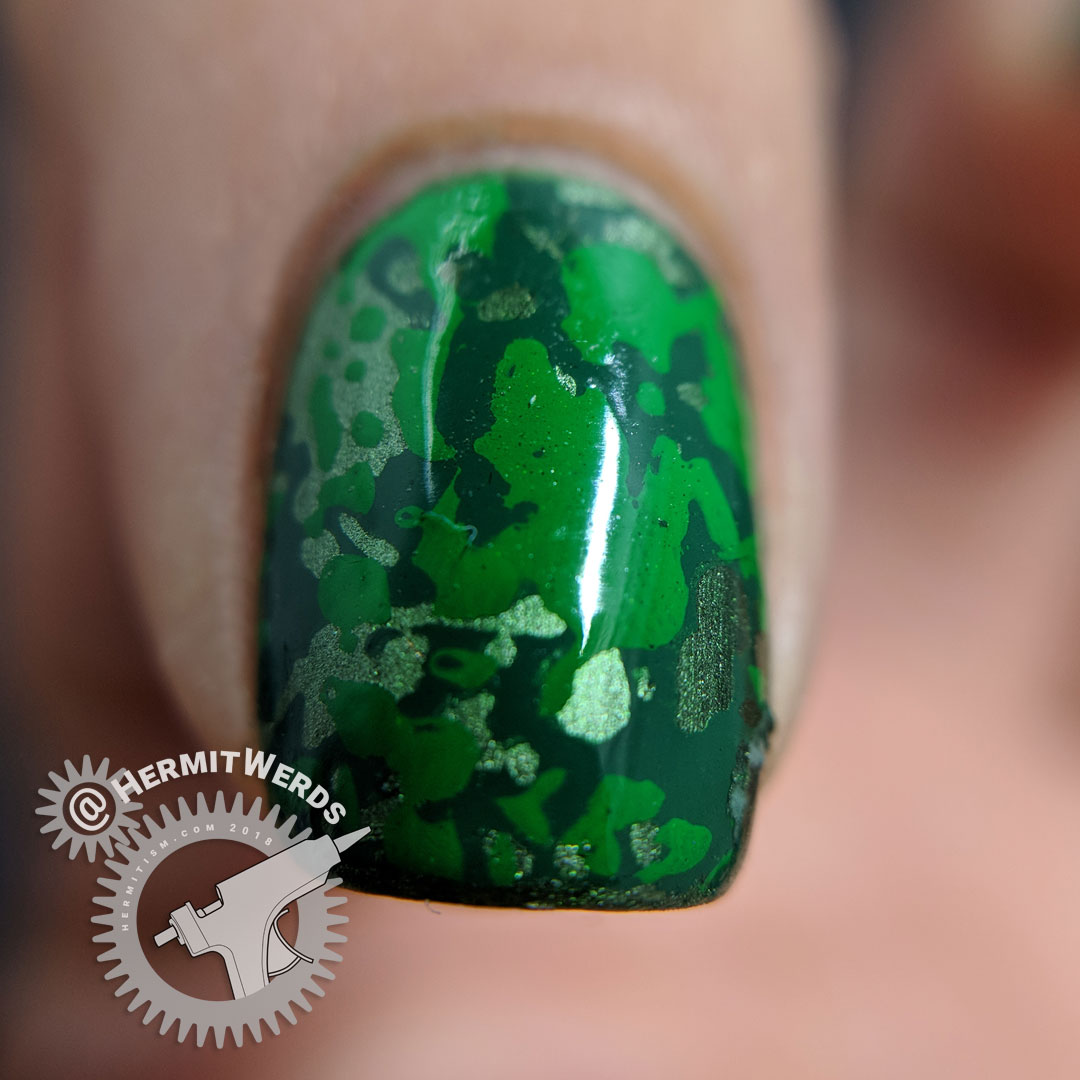 And before we go, I'd like to thank Beautometry for picking me as the winner of June's nail art challenge. They sent me both of the Esmaltes da Kelly products I used today ("Ariel" and KN 18). It was very amusing for me to use a polish named "Ariel" after Aquaman was called a merman in the movie. Beautometry sells all sorts of indie brand nail art products from around the world so you can combine all your heart's desires into one shipping charge. Thanks again, Nicole!
And in case you were curious, the manis I painted for Beautometry's challenge are from left to right & bottom to top: My Mermaid Has Crabs, Day at the Beach 2.0, Flying at Sunset, and The Robots Remain.
Finally, check out the other cool Superhero/Villain manis from Nail Crazies Unite's inLinkz: