It's time to compare those browns! For reference, colors are described as warm or cool depending on if they are yellow-leaning (warm) or blue-leaning (cool) or in the case of these browns orange and purple.
Also, I apologize for the lint. I am lint woman and I can only be what I am.
I am including links where you can buy the polishes. These are non-sponsored links that are only there for your convenience.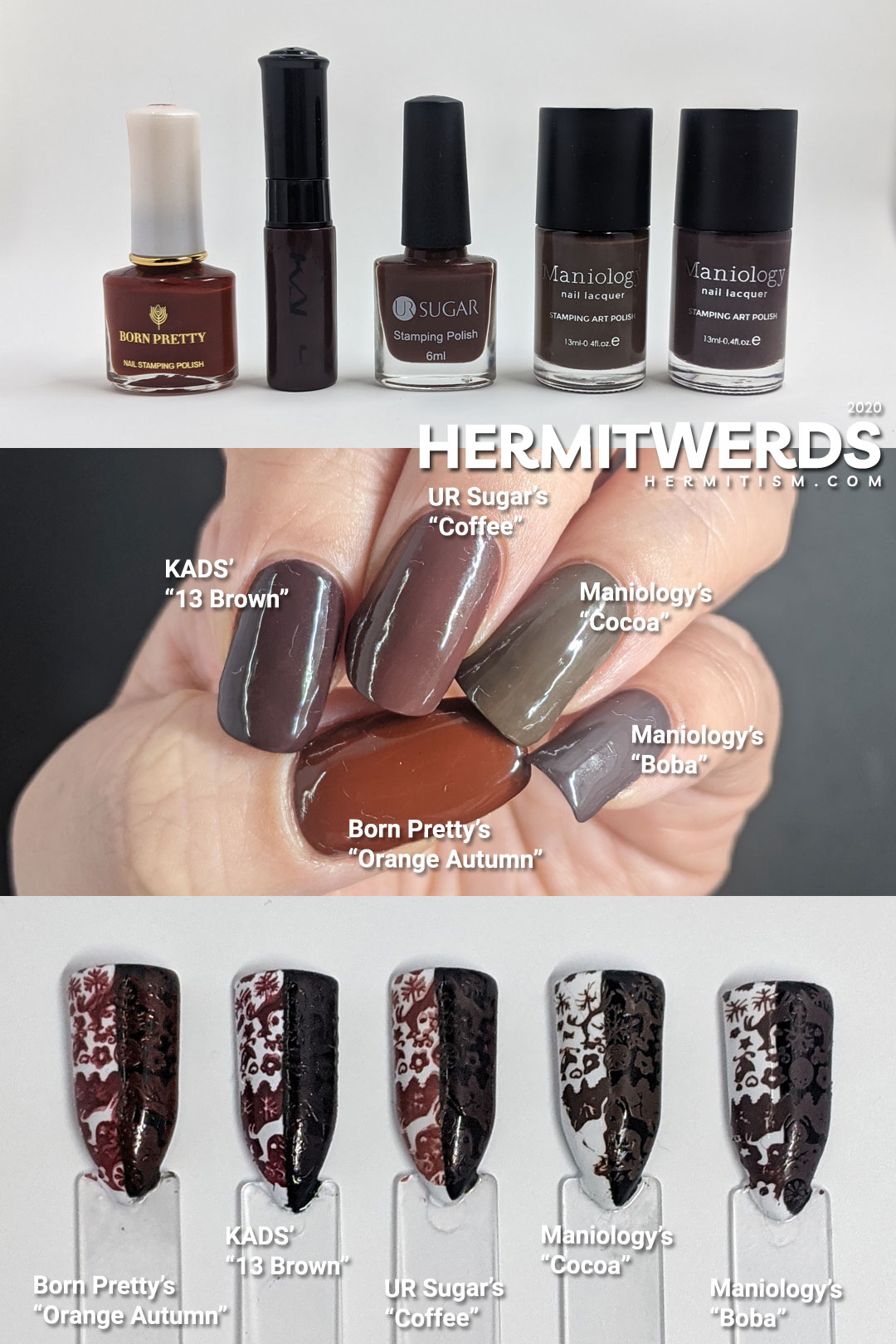 Born Pretty's "Orange Autumn"
I tried to arrange my colors from warmest browns to the coolest. So we start with an old press sample Born Pretty's "Orange Autumn". The polish stamps well and is quite opaque, but it could easily be called a dark orange or red instead of a brown.
If you'd prefer a color that is just that tiniest bit more red, Born Pretty's "Sunrise" (also an old press sample), is the polish for you.
Buy @ Born Pretty store on Aliexpress
KADS' "13 Brown"
Following that, my personal winner (because I look better in warm colors) is KADS' "13 brown". It is the darkest of the five and stamps well and opaquely. You can also see that it leans red as well, but is not so reddish that you could mistake it for a dark red.
Buy @ KADS store on Aliexpress
UR Sugar's "Coffee"
Next we have the most disappointing brown: UR Sugar's "Coffee". It's the lightest brown of the three and almost has a watery consistency considering it's a stamping polish. It is not as opaque as the others. You can actually see how poorly it stamps in my image to the right.
Buy @ UR Sugar store on Aliexpress
Maniology's "Cocoa"
I'll admit I bought this next brown because I wanted to have five to compare since I already had my favorite brown at the time. Maniology describes "Cocoa" as a hot chocolate brown. This amuses me because you can see that it's actually a slightly cool brown. It works well and is opaque. If I'd bought this before the KADS, I probably would have considered my quest over.
Maniology's "Boba"
The last brown polish came in April's Mani x Me box. It is Maniology's "Boba" and it is the coolest brown in the lot. Maniology accurately describes it as having a slight purple hue. I likely wouldn't have gotten this brown if it hadn't been in the box, but the formula is good and it's opaque. It is merely my preference for warm colors that would have made me pass on it.
And now I've got to figure out how to best use "Boba" so I have nice example for it too. [Edit 12/15/2020: mission accomplished!] Until next time, friends. I hope this helped you pick your brown poison if you're on the lookout for a dark brown stamping polish! 👋