Possibly today's nail art look will make up for missing Talk Like a Pirate Day last year. It's always a little frustrating when I miss a holiday that I want to cover, but selling my home so we could move took precedence. This year, though, you should be able to look forward to more pirate nail art. 😤 I have several stamping plates I haven't even used yet and plenty more images on the ones I have. Maybe I'll even find time to do something epic. And glow-y. 🤩
It's funny. I consider this nail art design to be more pirate than treasure even though there's not a single pirate pictured. In fact, the ship isn't flying a pirate flag so maybe this is just adventure nail art…
Nah. It's me. It's pirates. Hence the coconut tree with skulls instead of coconuts. 😉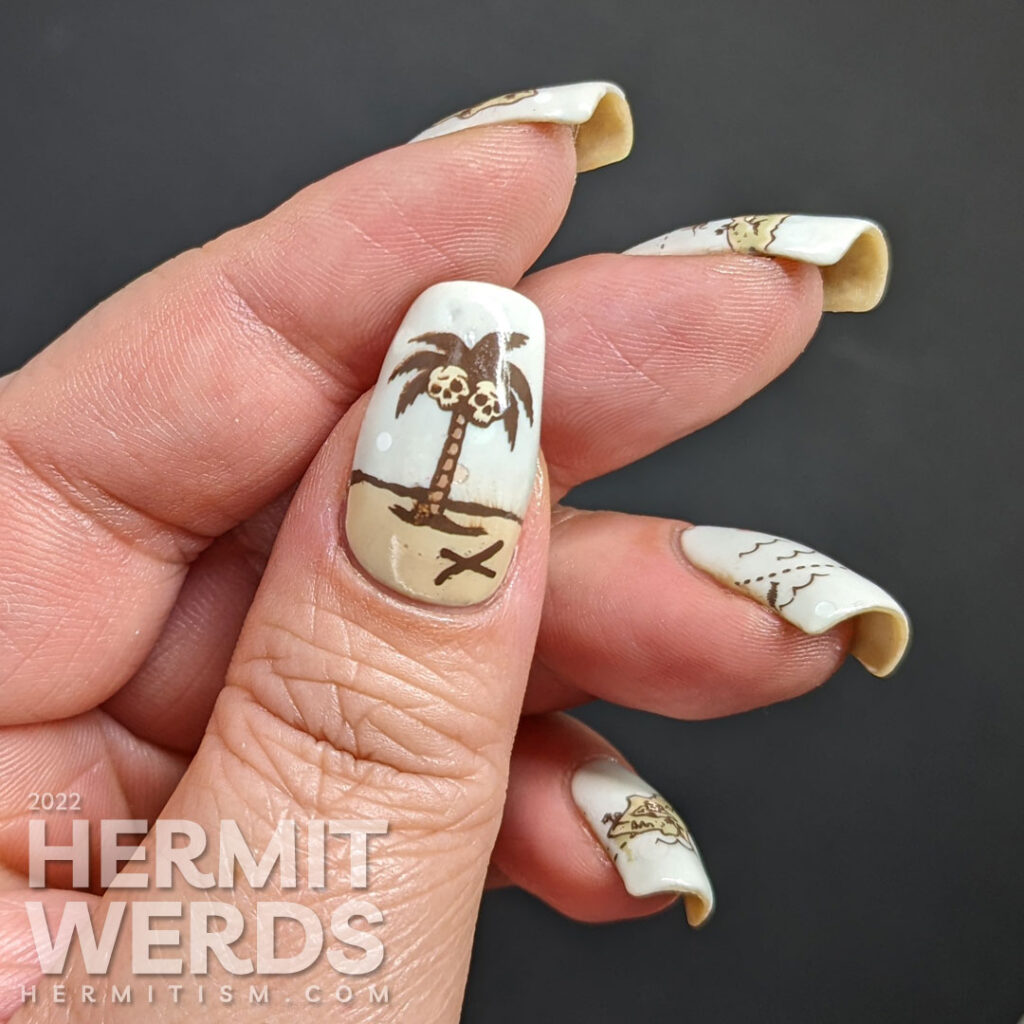 Nail art products used
Base Polish:

Familiar Polish's "Brass Goggles"

Stamping Polish:

Maniology's "Cocoa"

Advanced Stamping Polishes:

Stamping Plates:

Maniology "MXM058" (map) and "ShopAnts XL-036" (palm tree with coconut skulls and 'X')
Items in italics are debuting on the blog for the first time.
I'm really in love with Familiar Polishe's "Brass Goggles". It feels so steampunk even without the name. The cool color and slightly translucent crelly give it a beautiful finish. Almost like milk glass but with just a taste of color. I did paint my nails with a nude shade to avoid visible nail line because I haven't been feeling it lately, but it would have looked beautiful either way.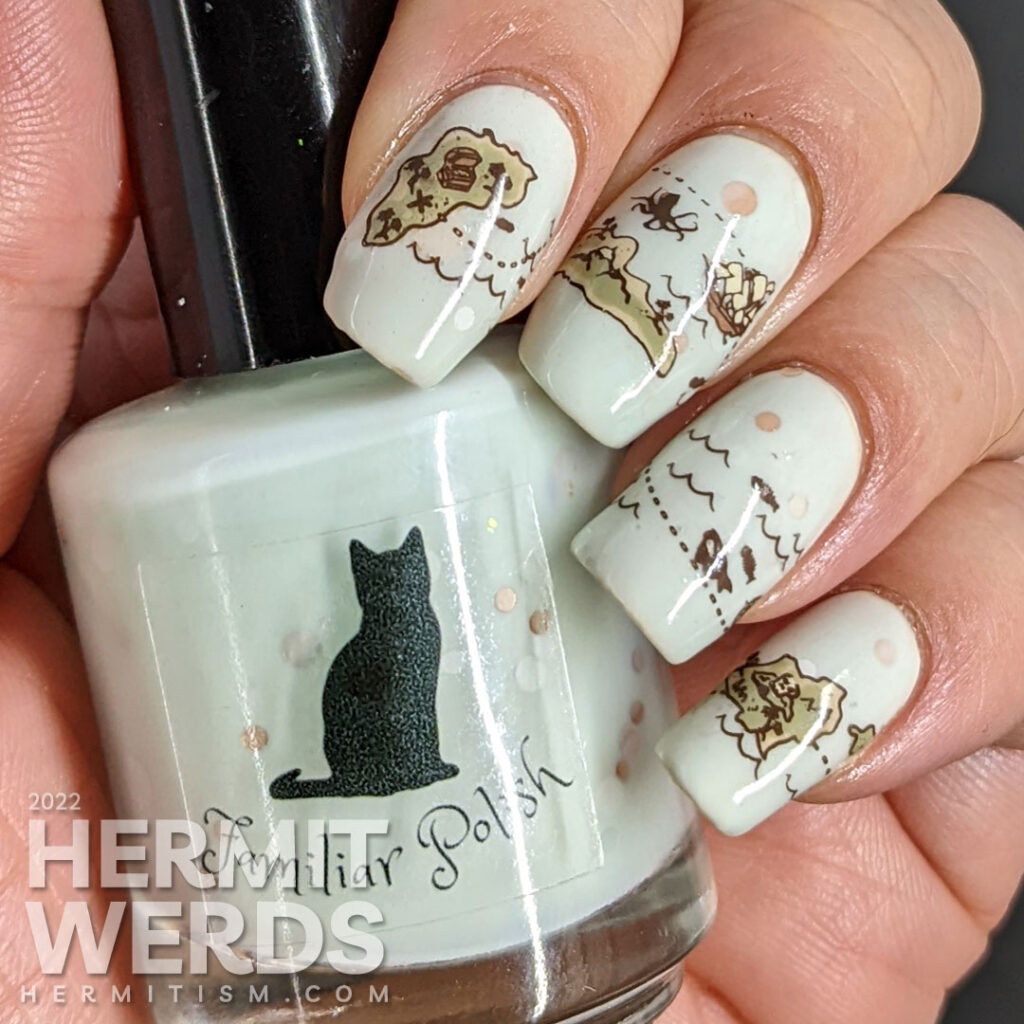 Nail art process
I started with a treasure map that stretches across all my fingernails and end on my thumb with an 'x' marks the spot for treasure on a sandy beach. The long map was created from two different pickups on large stampers. Before doing anything permanent, I tested out placing the decals on my nails to see how much space I had. After that I threw down some sticky base coat on the first nail, place the decal with a clear stamper, and trim off the excess. Then take that excess and position it on the next nail while comparing it several times with the other nail to ensure they somewhat lined up.
I started placement from index finger to middle finger, then pinkie finger to ring finger. This was because the space where I felt I had the most room to not quite match and no one would know was in the middle of the map. Mileage varies depending on the image. Generally I would have gone from left to right or right to left for the whole thing.
For the thumb, well, I'm not listing this as a freehand because it was a single swipe of nail polish, placing the skull tree, and two quick lines to separate beach from sky. Really simple. I actually snagged the 'x' from the same stamping plate as the punk palm tree even though I could have freehanded that too.
#AZNailArtChallenge – 'T' is for Treasure
I thought I'd try using a quick lists of stats for challenge collages instead of frying my brain trying to think of things to say. Regardless, I always have mad respect for long-running challenges since running one once made me realize just how organized you have to be to do it.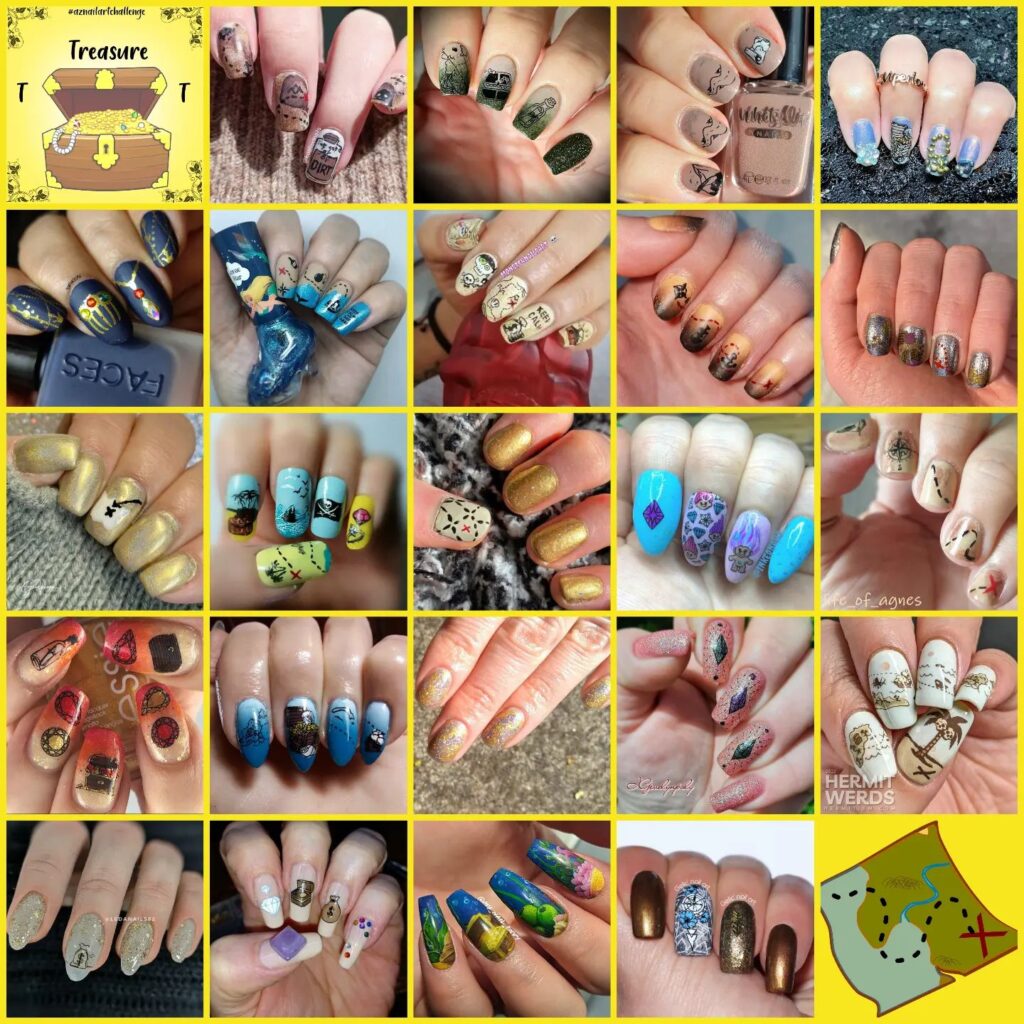 Final treasure-y photos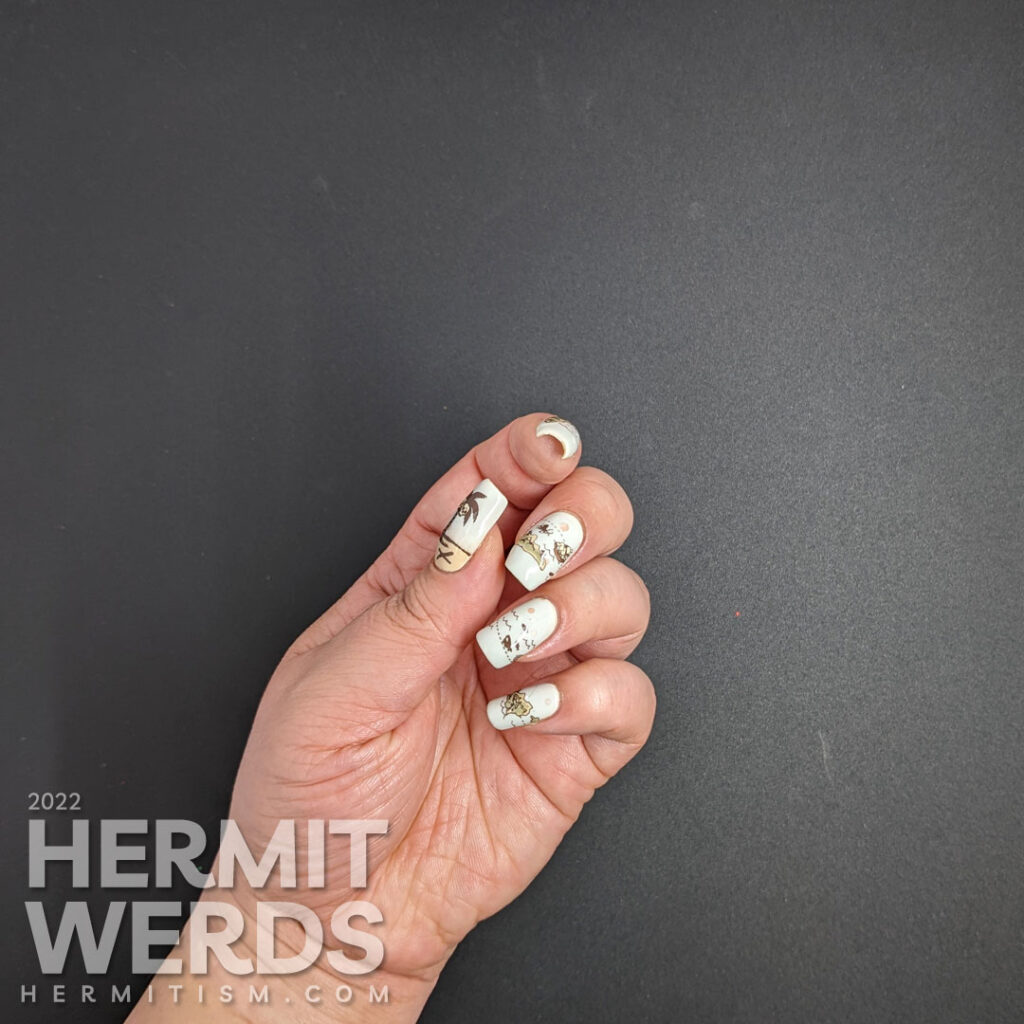 Until next time, friends! 🏴‍☠️