Today I have for you a nail art brought to you by the prompts from #GlamNailsChallenge (Travel) and #NailChallengeCollaborative (Inspired by a Book). I decided to go with a circus theme and based my design around a book I read a few months ago called Daughter of the Burning City by Amanda Foody. It is a fantasy stand-alone novel.
About the book…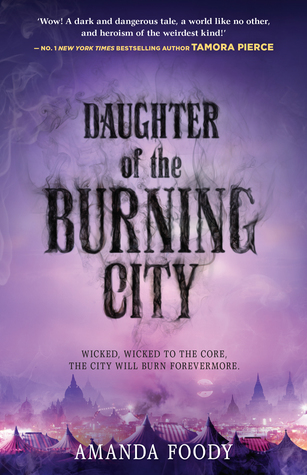 The book is set in a traveling circus which was once an entire city of people that went mobile many generations ago. The main character is sixteen-year old Sorina who was adopted by the ringmaster when she was little. She was born without eyes and wears masks without eye holes (so I filled them in for my design). In exchange for her eyes, however, she also has the power of illusion. A power so incredible that she can make sentient permanent illusions, each with their own disability/power combo, who work in the Freak Show with her and are members of her family. And they are being murdered one by one.
Daughter of the Burning City has a lot of things that I loved: an amazing and original setting, acknowledgement of different sexual preferences, and racial diversity (at least in the world, the characters were mainly white). Sorina also has an insect collection which I think is pretty neat. Now I don't think Foody was writing a book to give disabled people characters to identify with because the powers tend to balance things out. Sorina isn't blind. She can see; she just doesn't have eyes. All her family member's powers balance out their disability. For example, the girl born without a heart isn't dead; she just doesn't have a heartbeat. I would like to see more books with disabled characters going about their lives fiercely, but I'm not unhappy about Foody's choices. It's just part of how the magic in that world works.
The book was a fun blend of mystery, fantasy, multi-country politics, and (of course) romance. However, it's such a blend that it ends up not being terribly strong in any of them. I still found the book quite enjoyable, but someone searching for books with stronger elements, like a good murder mystery in a fantasy setting or an exploration on how a travelling circus could affect different countries politically, would likely be disappointed.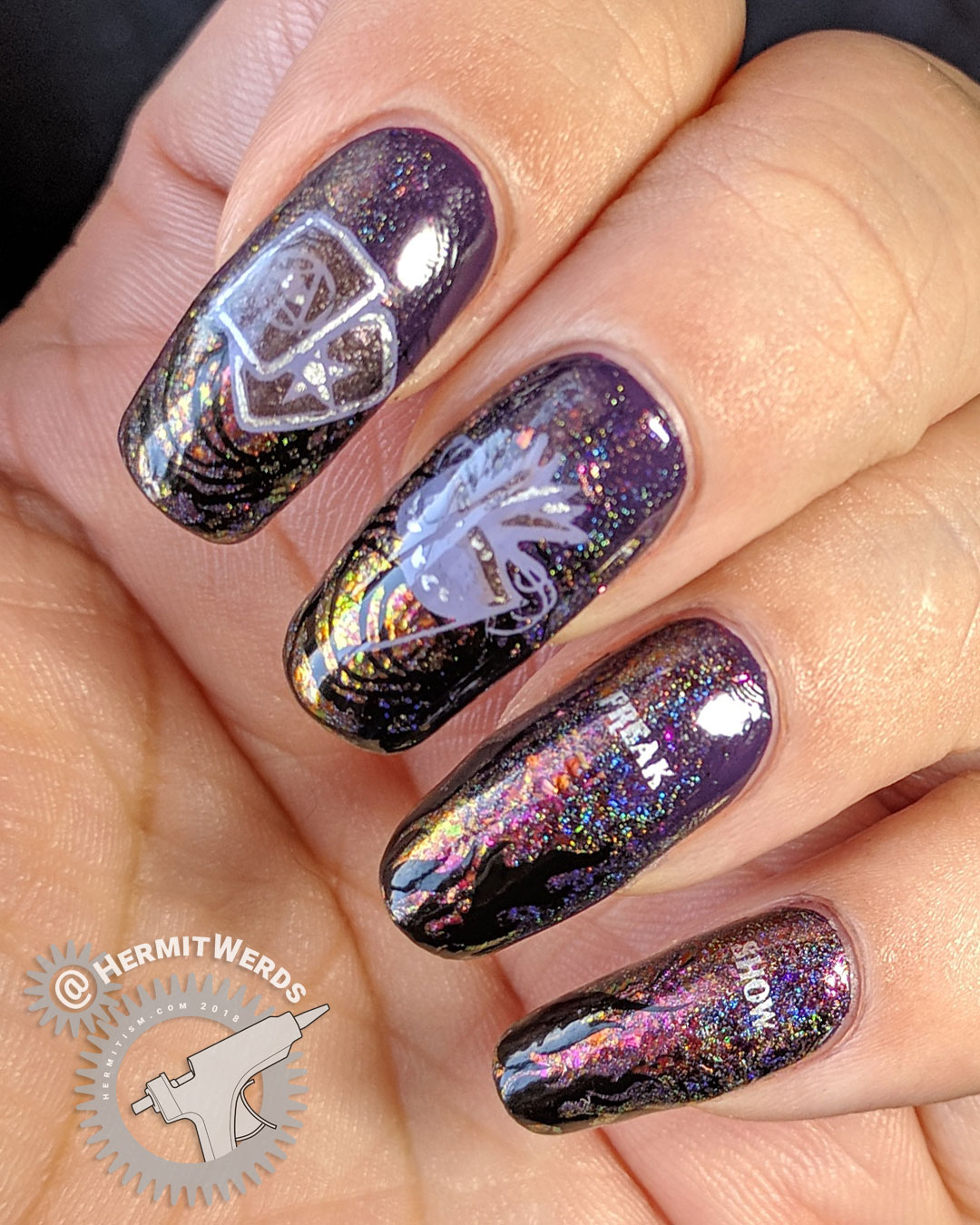 About the nail art…
I decided it was time to revisit my Born Pretty flakies and see how much nicer they looked on not Sally Hansen's terrible no-cure gel top coat. I'm happy to say it looks much nicer and, as I knew from a previous test with the #2 jar, applies better as well. Since I liked the flakiness of it, I patted it onto the top coat instead of buffing it, which would have broken up the flakes more and faded it out towards the top so the purple polish showed through more. After that, I tried to keep everything else simple since so much was going on in the background.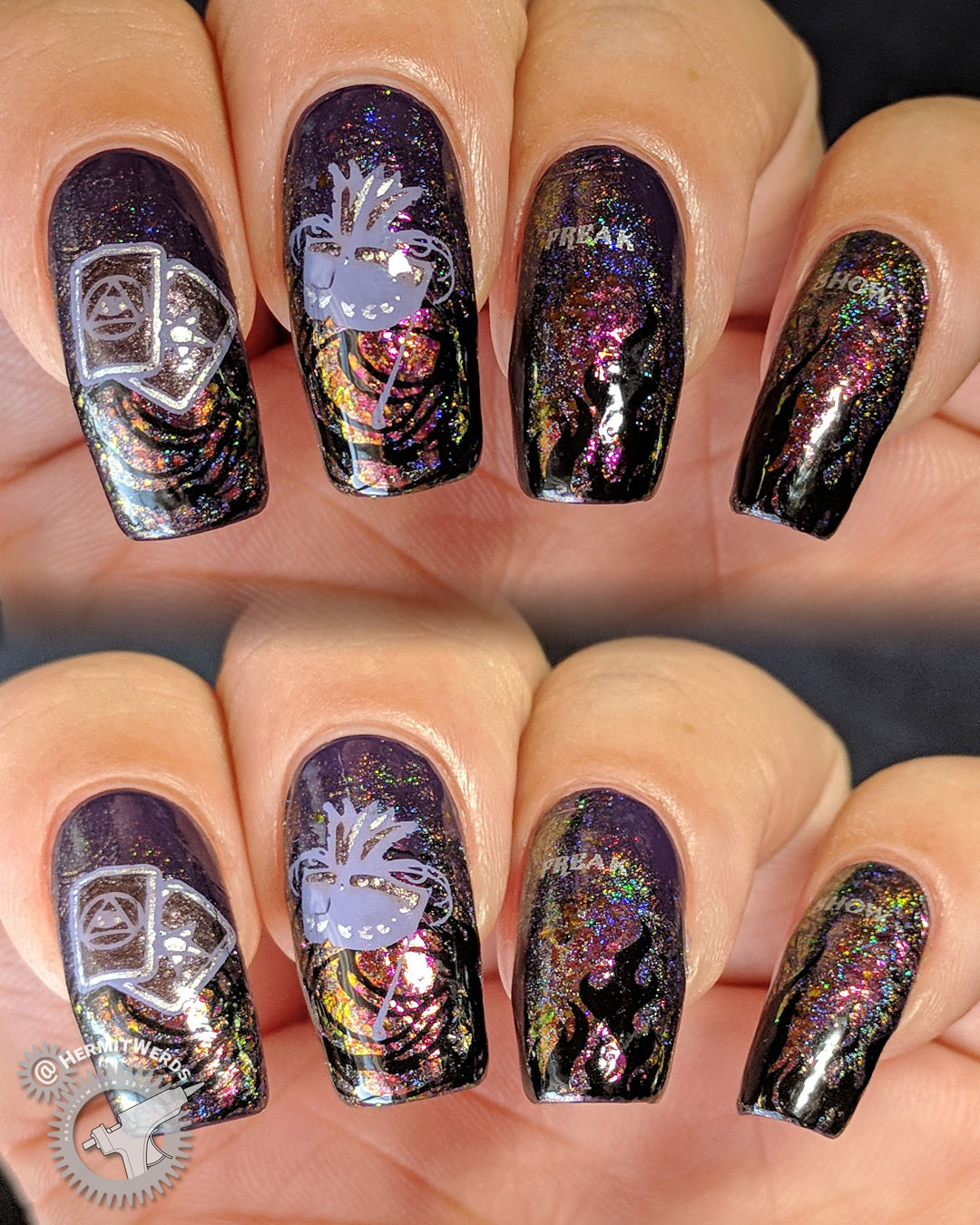 Unlike my usual mode of operation, all of the other photos in this post were taken in natural light with an LED back light, but I decided to show one photo from my ShotBox since humans don't typically spend all their time in natural lighting. Still pretty, just not as obviously bling.