Once again I get to crow that I'm finally getting to a design that I'd planned out ages ago. It is brought to you by four letter words that work really admirably across one hand. (In this case "punk".) My excuse came from the #WhenColoursCollide challenge that had a green, gold, and black prompt. I've pretty much decided to always go through my pre-planned nail art designs with these color combo challenges. It feels very productive.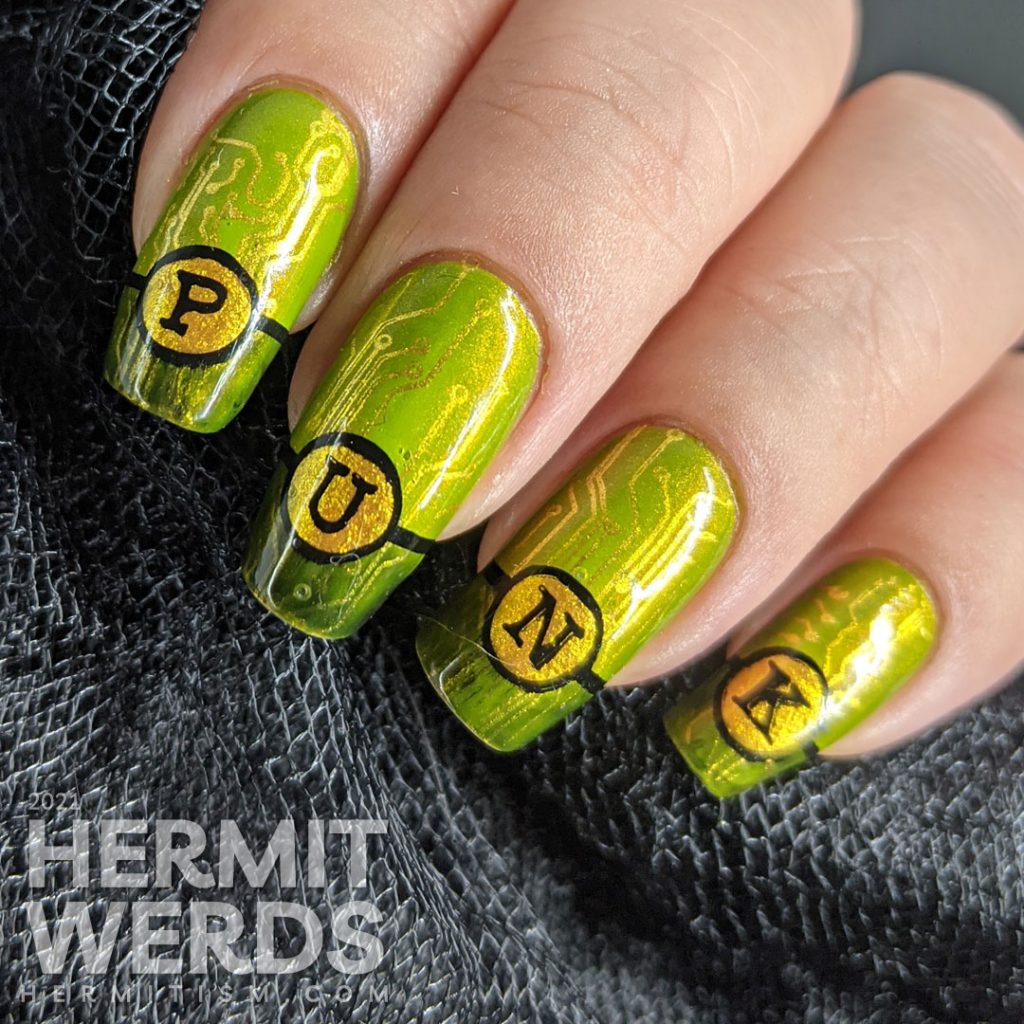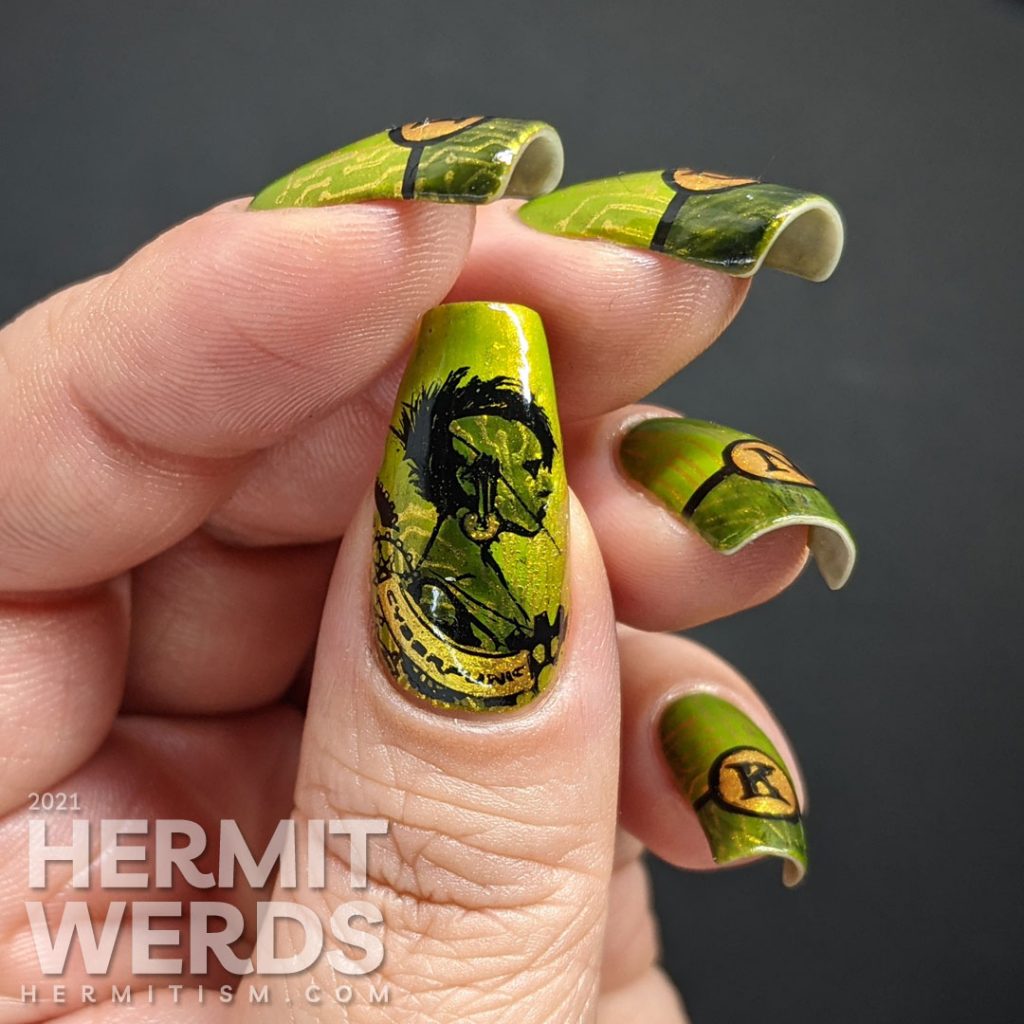 When Colours Collide
Since the challenge ended before St. Patrick's Day, there was a fair number of St. Patty's Day manis, but a lot of other nail artists went their own way. Obviously I did so not only because I'd already painted one holiday nail art and it's not my favorite holiday so that was it for me, but because I had a design I was much more excited about. Yay for cyberpunk nail art! Check out the group tag for closeups of all the awesome designs from this collage.
The next prompt, which is due at the end of the week, is for yellow, purple, and black creme polishes.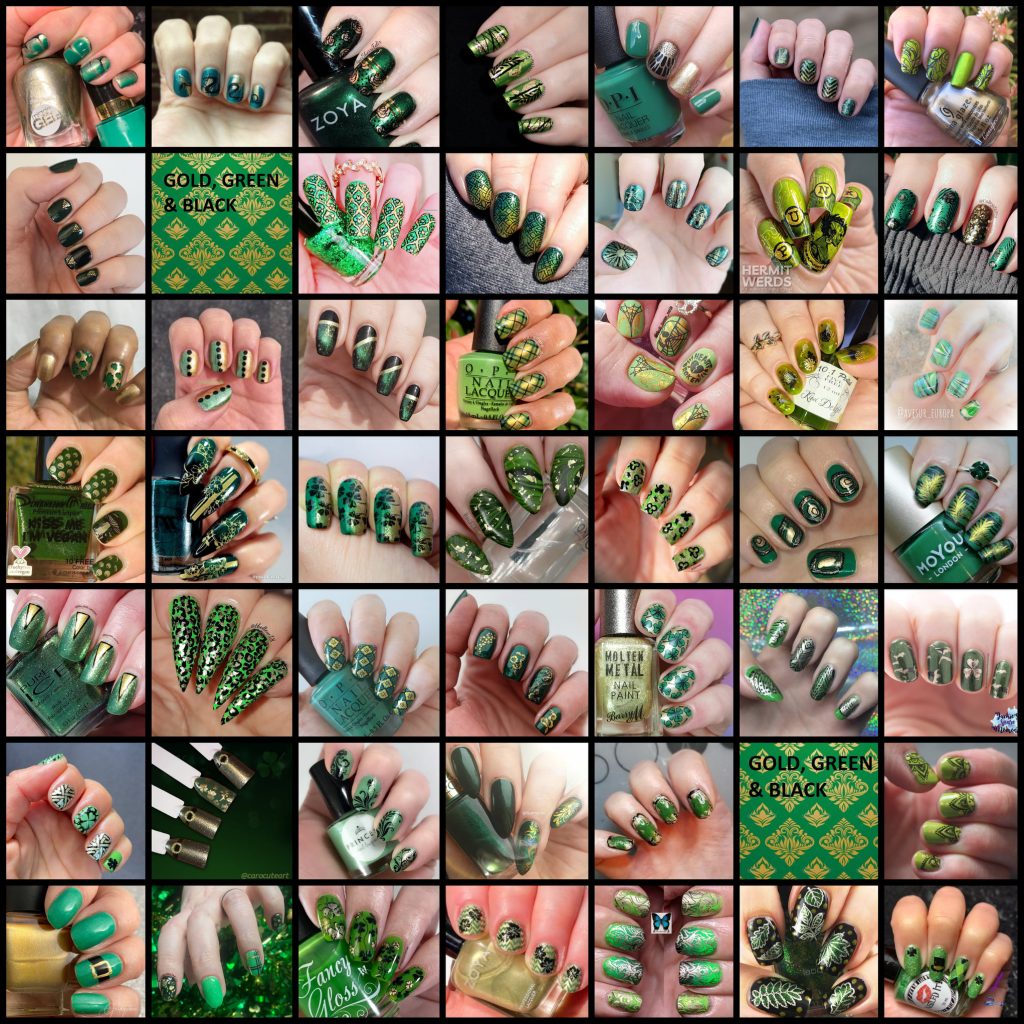 Nail art products used
Base Polish:

Stamping Polishes:

Advanced Stamping Polishes:

Stamping Plates:
To make the French tip, I ended up combining two different images: a simple line and the letters in circles that I used in a little bird, dog, and cat series. (They also used a black jelly because I am often predictable.) The line is from a stripe pattern because I clearly need more basic shape stamping plates. (Need…hah) With their powers combined, I used a clear stamper to position the decal on my nails.
I could have used nail tape, but they are thicker than a layer of polish and would have left a more noticeable "bump". Finally, I went back and filled in the tip of the nail with the black jelly. Really wish I'd taken a before photo because that li'l bit of black made such a huge difference.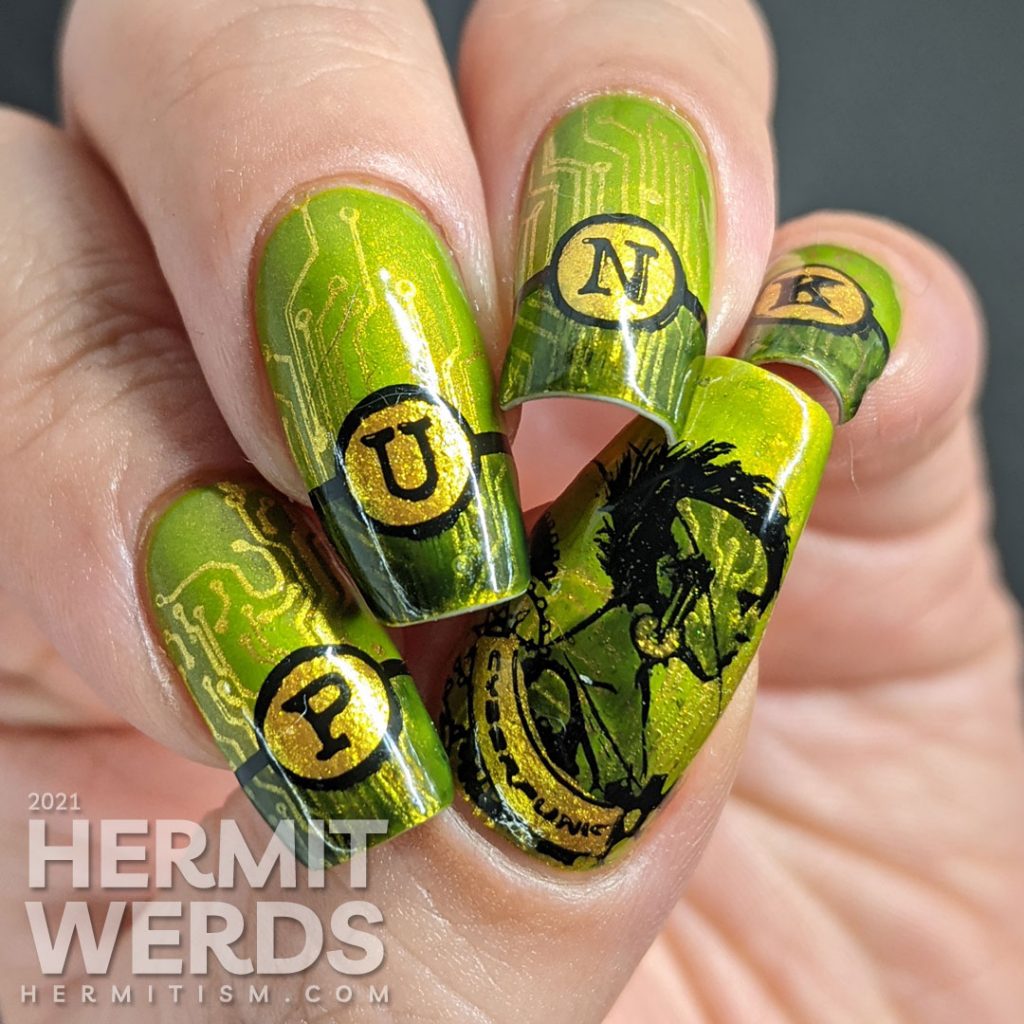 My favorite nail, of course, is the thumb. She looks even cooler with the circuit board pattern showing through her "skin". Black jelly polishes are so endlessly useful. 💕
Cyberpunk nail painting process
Curious about the process? I re-painted this one an a false nail a little bigger than my own thumbnail just so I could have a copy with me forever. (Will my husband remember to bury me with it? 😂)
The circuit board pattern peeping through her skin just looks so cool. Easily my favorite thing about all of this. And here's a macro of the original nail. You can see that it is a little more compact than the re-painted version.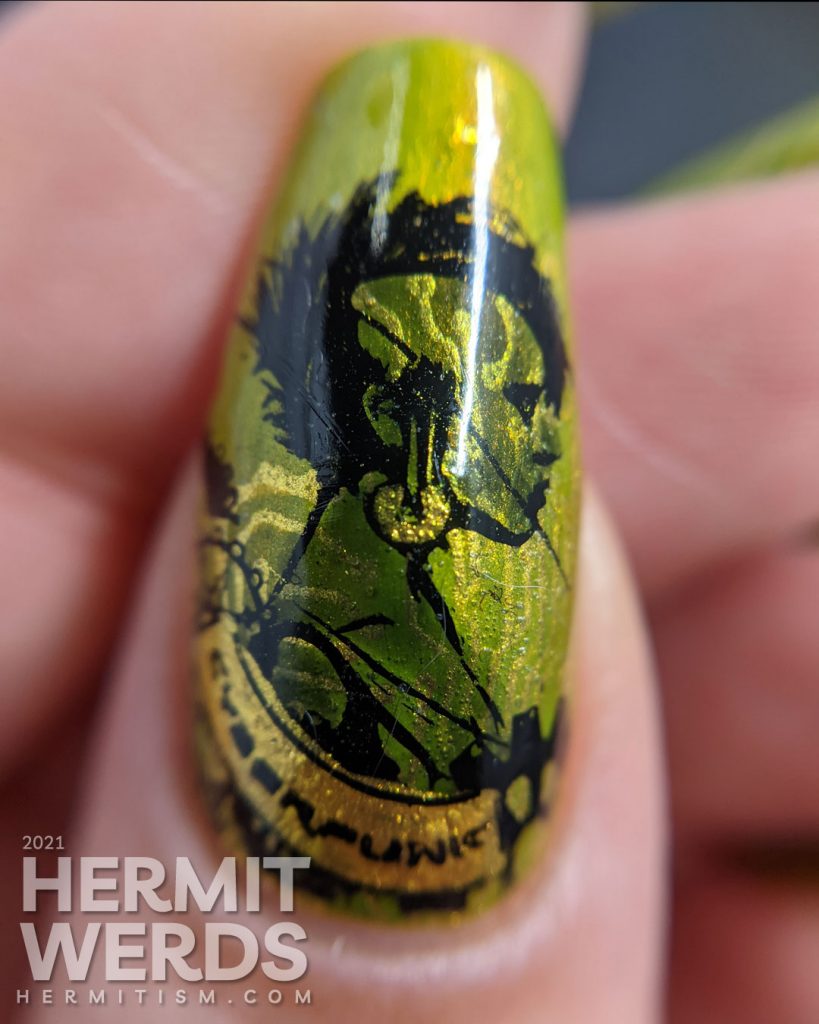 The bold look of this mani still shows quite well at a distance, but the circuit board pattern rather blends into the green/gold background. I'd love to paint more cyberpunk nail art in the future, but what I've learned from this one tells me that I'm going to need more stamping plates or just go full on freehand. Otherwise it's too easy to miss the mark and fall into a pure sci-fi category.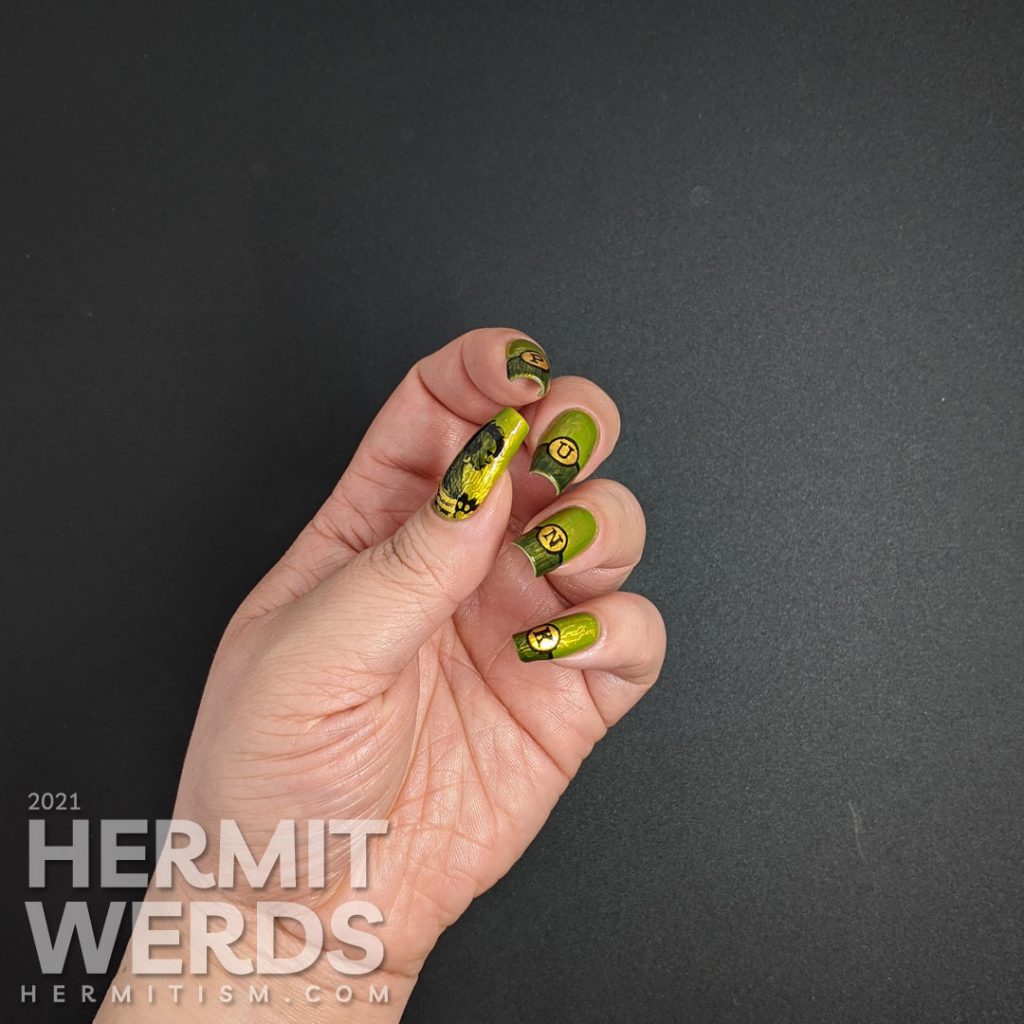 Until next time, friends! 🙋‍♀️