I have three different manicures to share today. I've already posted the first two to my Instagram but was too exhausted/busy to write about them more thoroughly. On the other hand, I de-stashed around twenty-five skirts from my closet. It…doesn't even look like I made a dent. Clearly I'm going to have to let more go. 😅
My allergies aren't killing me too bad right now (I kicked up a lot of dust), so let's start talking nails! The first nail art I posted was a birthday collage manicure I painted for my friend @Osmovaara (Elise) on Instagram. @Lunaaaaaatica didn't have a theme so I tried to pick things that I've seen Elise use. She seemed to favor magnetic polishes, Creative Shop plates, and metallic/blue colors. So I combined those elements to make this nail art. I should not be so surprised that the background worked so well since they look so good on Elise's nails, but I am a little mad at myself for combining two metallic blues because they just ended up blending together on the flowers. Should have used a creme. 🙁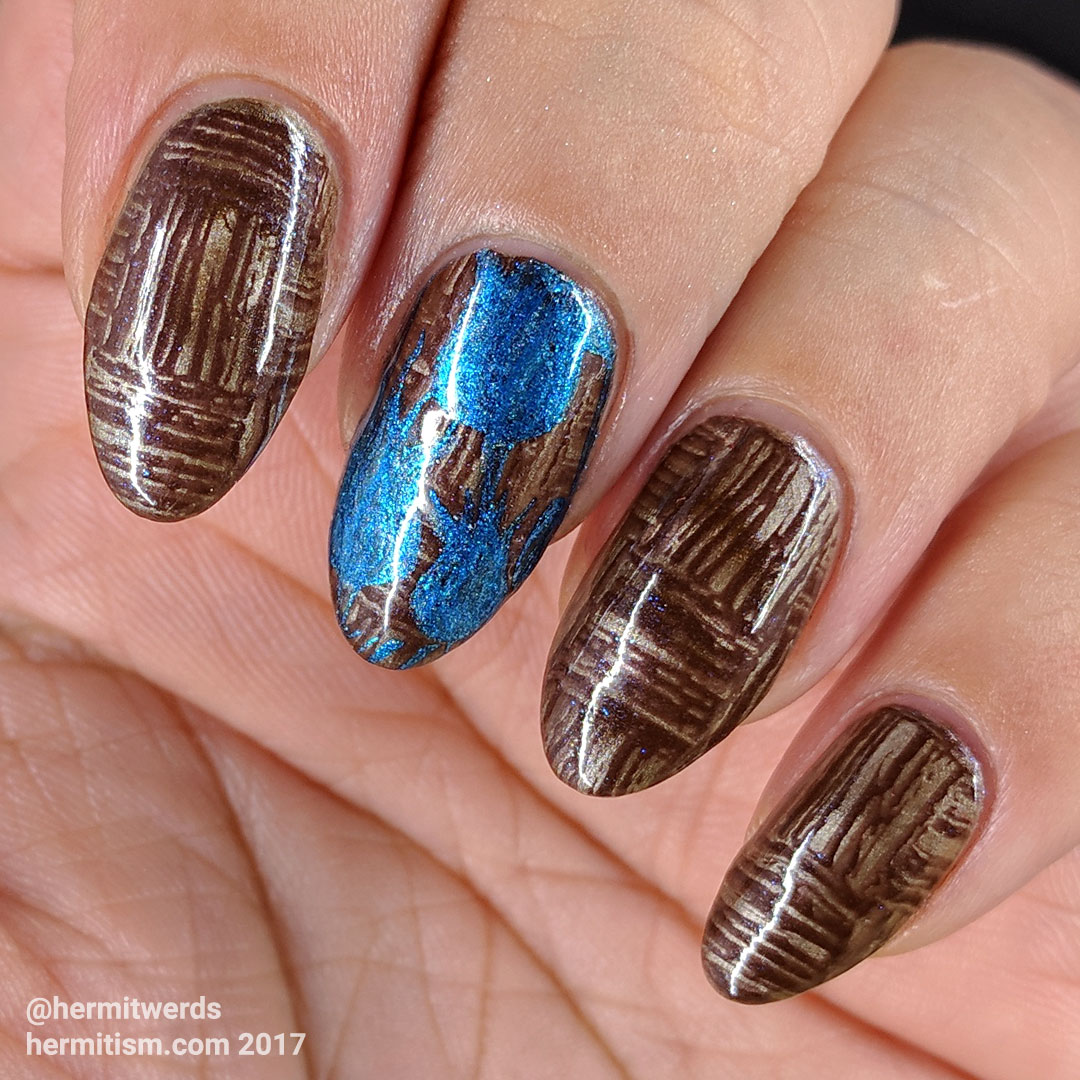 Base Polish:
Nails Inc's Magnetic Polish "London Town"
Stamping Polishes:
KleanColor's "Metallic Aqua", Revlon's "French Roast" (blue shimmer didn't show up much, sadly)
Advanced Stamping Polish:
Walmart'c Ice Cream Cone polish in blue (I'm de-stashing this since it's less opaque and so close to the KleanColor in color)
Seriously need to buy more Creative Shop plates, but I love them all. It's so hard to choose. :'(
Next I have nail art both following #firedazedoct2017's prompt of Black Cat and dedicated to my actual black cat! The day I finished it, she had caught and killed her first mouse in the yard. Our yard is not big so I'm pretty impressed that she managed to keep the mouse long enough to kill it. She dragged it indoors and tried to make it entertaining, but it had stopped moving for some reason. There were a lot of kitten pounces. It was so cute. ^^
I love the look of a black jelly with black stamping over it. I combined it with the distressed netting pattern on KAD's 017 stamping plate. It's the whole reason why I bought the plate and I will no doubt be using that again. Maybe I'll use the other images too someday. 😉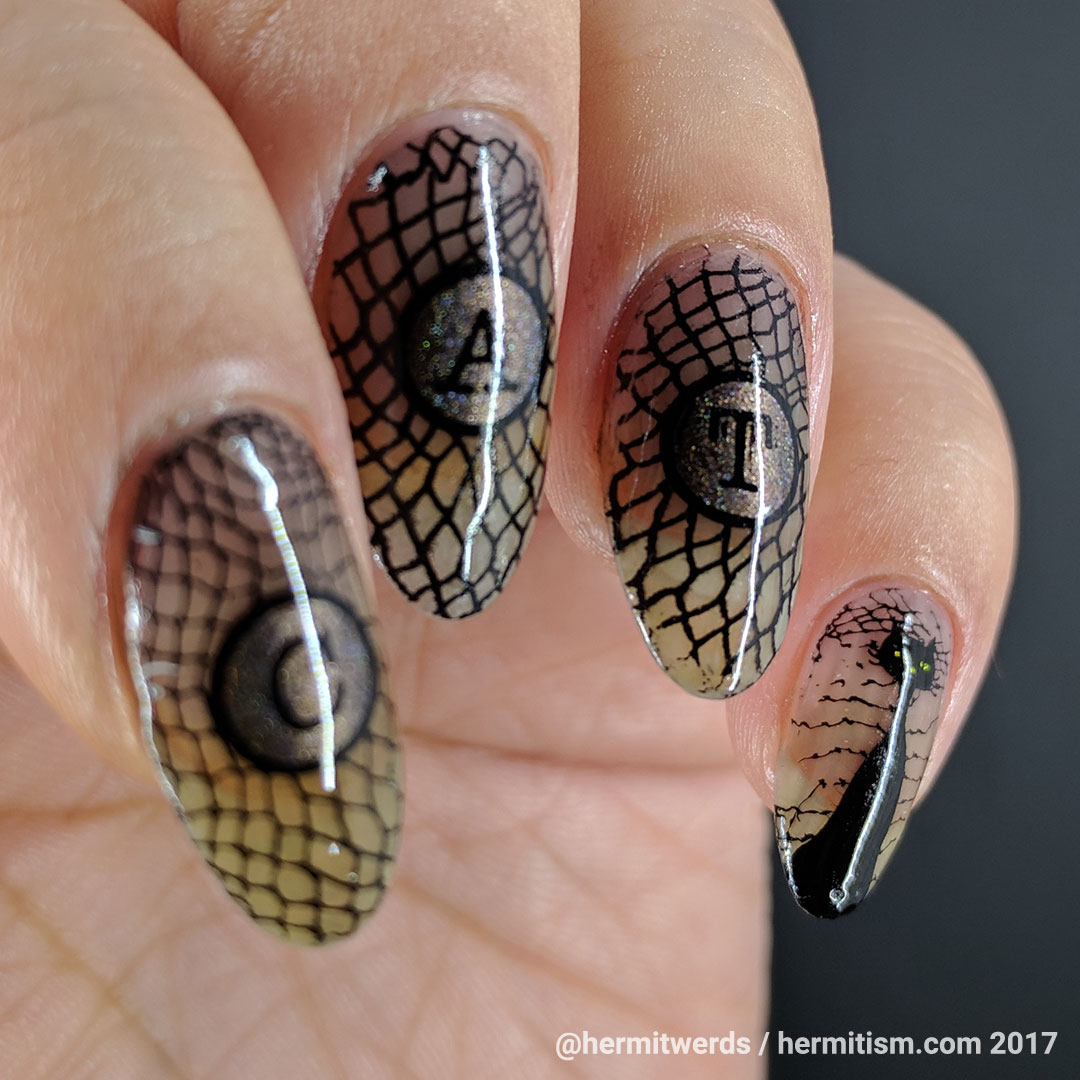 I was a little worried when I bought Moyou London's Typography Collection 01 plate because its appearance is very particular. The round circle around each letter can be removed easily but the type is only in caps which limits how many letters can fit across the nail a lot (even with shrink stamping). It sucks to buy a plate and only ever use it once for one thing because it's too limiting. Having used it now, I love it and I think it will be appearing in a lot of steampunk nail art in the future.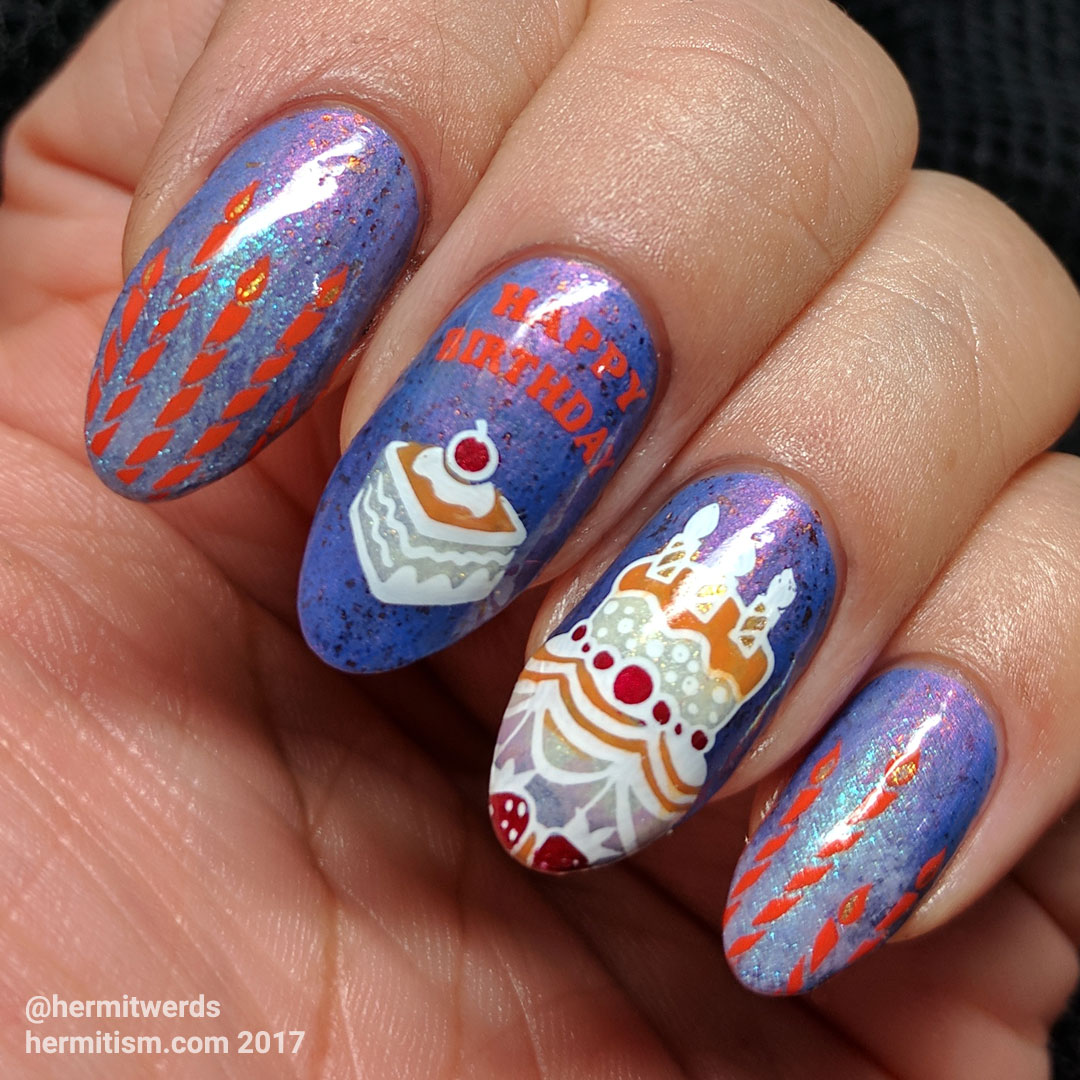 The last nail art is for #26GreatNailArtIdeas (under new management)'s prompt of Friday the 13th. Now I know that prompt invites images of gore and Jason Voorhees in his hockey mask. Thing is, I never watched those movies and it is my sister's birthday. So I painted Halloween-themed birthday nails. Happy Birthday, Snoopy! 😁
CF05 is a knock-off plate that uses a lot of the old Bundle Monster holiday circle plate images. I felt bad when I found out it was a knock-off, however, now it seems that Bundle Monster is quietly getting rid of their old plate sets. So if there was something you admired best get it now. I think over half the circle holiday plates can't be purchased from their site anymore. I've also noticed that Winstonia stopped selling their circle plate holder. I'm speculating, but I would not be surprised if their circle plates disappeared in the next year or so. Do you guys like getting more of a robust post instead of several small ones? Let me know in the comments!
And now, check out all the gorgeous (and probably more gruesome) Friday the 13th nail art from #26GreatNailArtIdeas:
Well, that was a long post. Do you guys enjoy getting fewer posts with more content or do you prefer shorter posts focusing on one manicure? Let me know in the comments.