It only started to look like I was getting into fall colors because today's look is neon, neon, neon. And finally using the ManixMe plates from ManixMe's December 2022 Fun Fair box. I am so behind on those boxes. 😭 Anyway, I am also a big fan of the condom balloon animal video where they are boinking in as squeaky of a manner as possible. Just thinking about that ridiculousness cheers me up. So of course I had to use the balloon animal stamping images and everything else fell out from there.
Also featured: my quiet obsession with adding clouds to create "atmosphere".
Nail art products used
Base Polishes:

Stamping Polishes:

Advanced Stamping Polishes:

Stamping Plates:
Items in italics are debuting on the blog for the first time.
You know how you might have an elaborate plan but then you also want to be really stinking lazy? Yeah. I was going to sponge a horizonal gradient across the nails, but that felt like too much work since a full rainbow requires lots of different pieces of sponge. So I thought to myself maybe I can do a smoosh marble that's mostly stripes of color and it will kinda work out…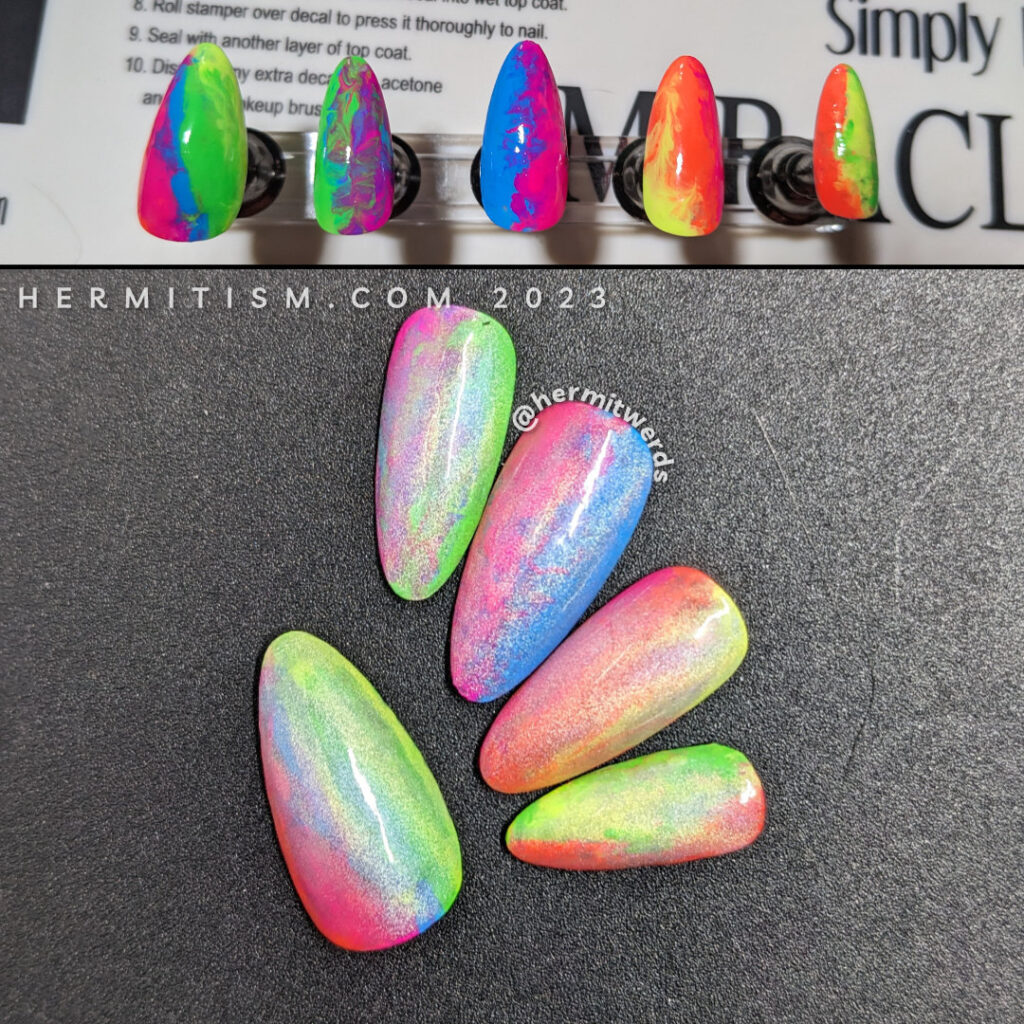 …yeah. I don't think it worked that great, but the magnetic holographic topper ended up covering a lot more than I thought it would and blurred everything out to a gentle transition. So I got away with it! I am a little frustrated with the magnetic, although I suspect it's partly my fault. I actually stuck the false nails to a magnet and let it dry that way. Top coated. More drying on the magnet. But still not enough time because the magnetized line diffused as I finished nail art-ing carnival images on top. I'd chalk it up as a lesson learned except I painted this specifically for a magnetic nail art challenge! 😅
@MagneticMagicalNails – Neon with Magnetic Topper
The magnetic challenge has had a number of prompts that I wanted to participate in this year because they were combining techniques with the prompts and that is a great excuse to learn new things. *sigh* I'm glad I made this one, even if the magnetic I used didn't work as well with the prompt as most of the other participants' gorgeous contributions. I tried! 😂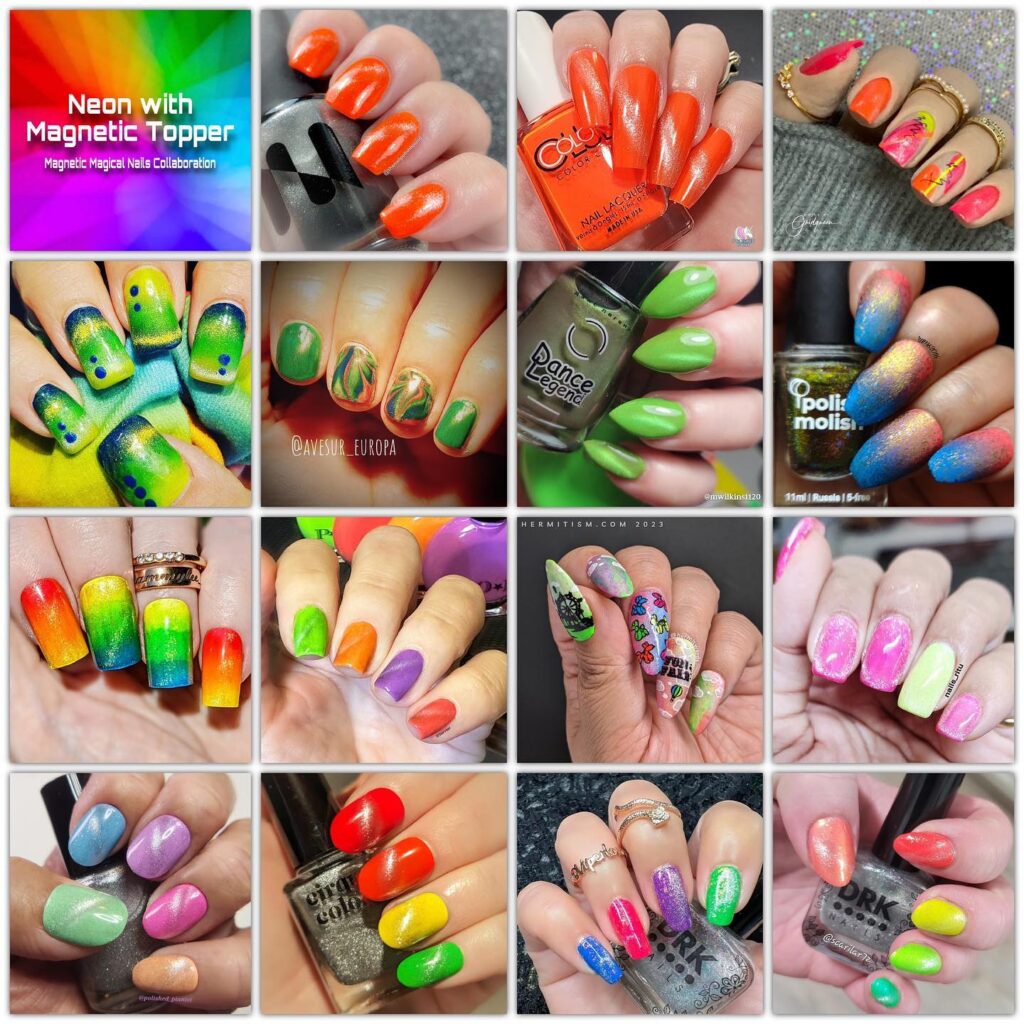 I don't know why I'm bothering listing the group tag since, of course, Instagram has finished ruining them. Ugh.
Threads warning
Side note: I played with the idea of getting a Threads account just to hold my name…I'm glad I didn't. FB has set it up so you can't delete the account once you realize that it sucks without also taking out your Instagram account too. This trick is keeping people from realizing that it sucks because all you hear about are the number of accounts being made since they aren't getting deleted. Disgusting.
Final carnival nail art photos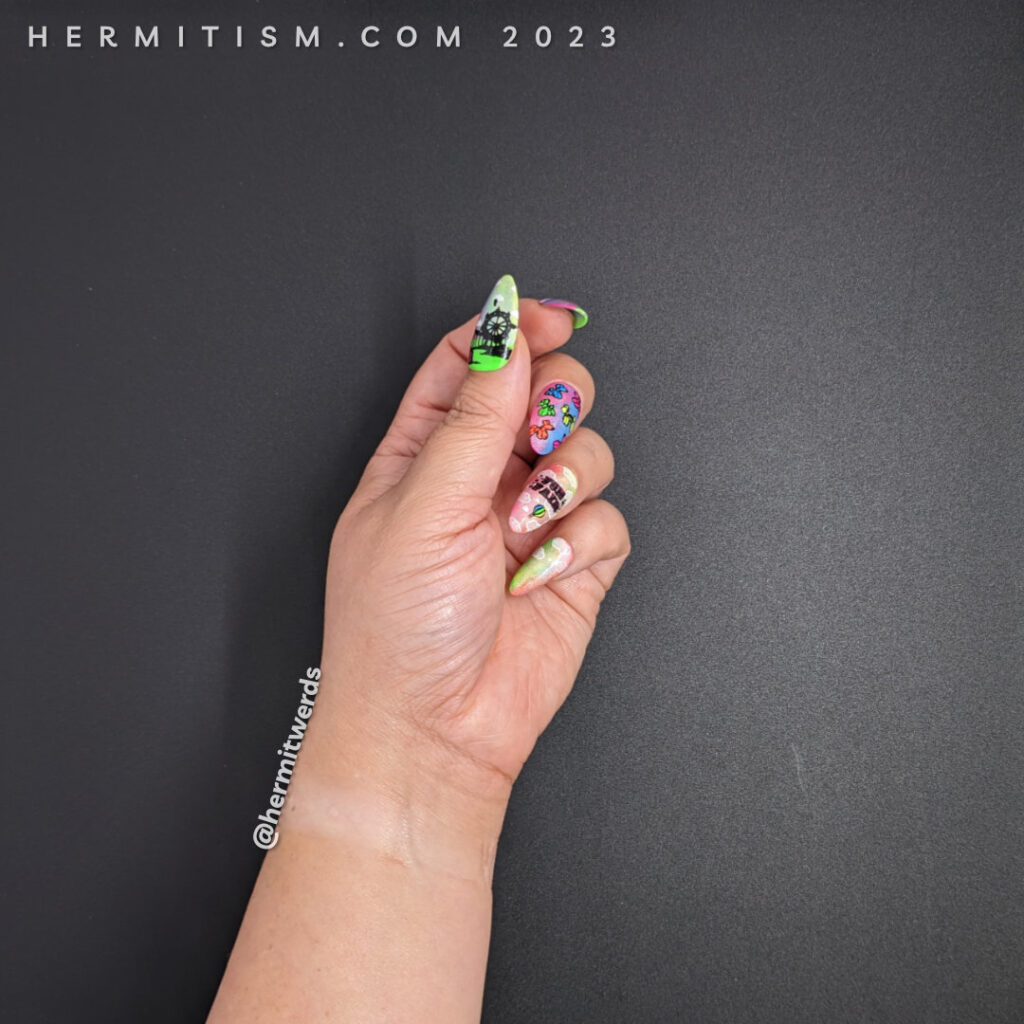 Until next time, friends! 🙋‍♀️