This as my first attempt at a base for my recreation of Becky (@nail.dazed)'s nail art for her birthday. The theme was dark blue/purple/red and recreating. The mani I was recreating had a light background so I thought I would do that and make my decals really dark and that would be enough. But once I had this on my nails and it was so, so light…I began to doubt that the decals I put on top would be enough to call the whole thing dark. So I dithered for a day trying to decide if I should start over and I concluded that I should. And since this was so girlishly purple and pink, I decided to stamp hearts on top and make it the nail art I'd post on Valentine's Day.
So here we are. Posting it. Proving that sometimes at least I am right.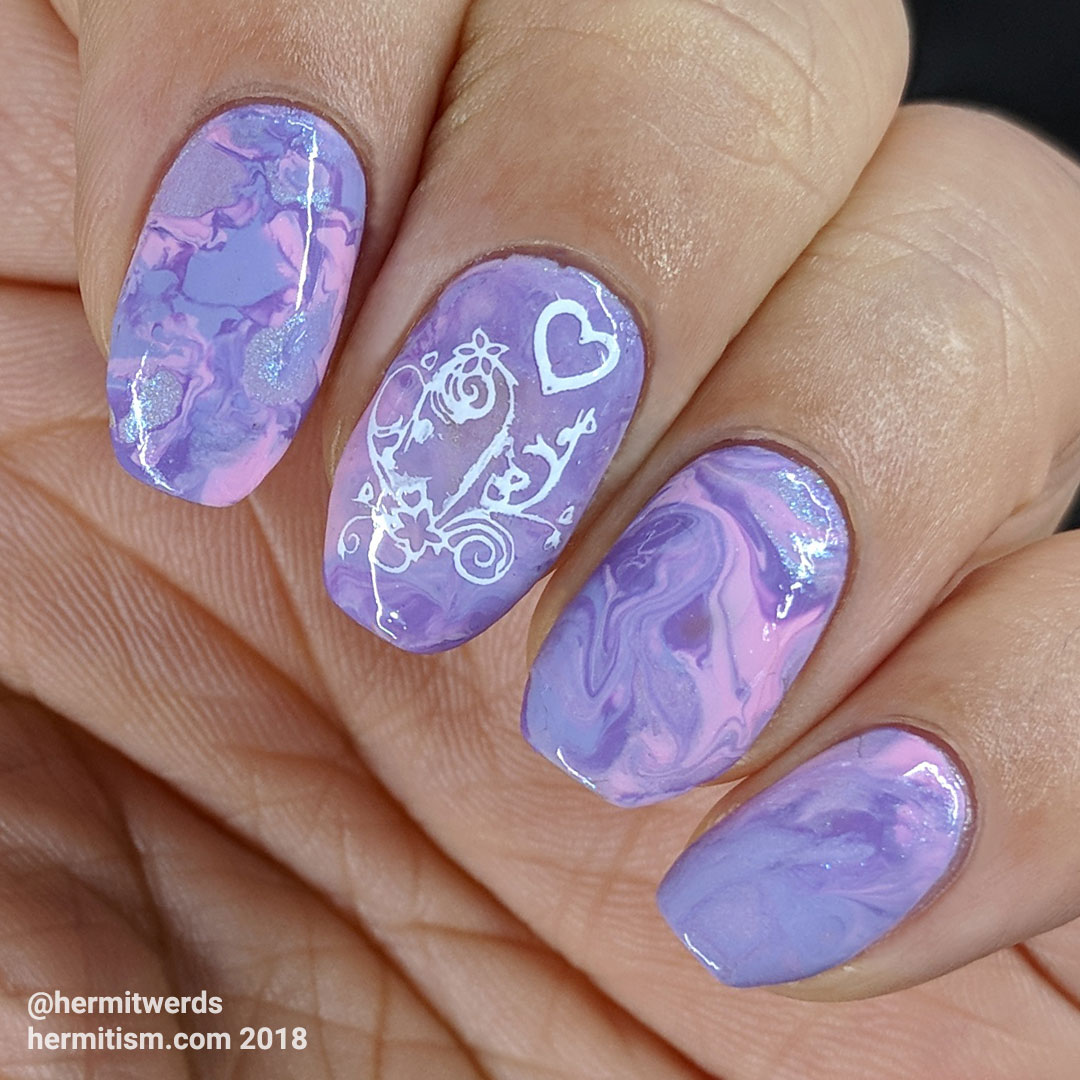 So right! Hah!
This is the first mani I'm posting this month that fits #NailChallengeCollaborative's monthly theme: love. I mean, I did do anti-Valentine heart nails, but the presence of hearts is kinda offset when the main one says "meh". And this is why I voted for a different theme. Oh, well. I do have at least two more designs that will definitely be about love that will post this month so 3 out of 4 isn't terrible. Anyway, I'm going to switch it up and post the group inlinkz right in the middle of my blog post. Whaaaat?
I did take some photos before I stamped the hearts and I'd like to direct your attention to my middle finger where the smoosh is a little bit thin. This is where being a nail artist is so great. Instead of fixing it, I could ignore the problem and just stamp over it. Not so noticable until after I pointed it out, right? This sort of thing is why I really respect those nail technicians who lay down an absolutely perfect one color creme mani. It really is not that easy, especially if you live in a drier climate.
Also, that blue shimmer in Zoya's "Leslie"…my heart! It is such a beautiful polish. If I only bought one Zoya polish, I think it would be this one. Don't believe me? Check out the macro.
Yum.
Happy Valentine's Day, everyone! I hope you have a lovely time with your loved ones, whether or not they are your romantic partner. If it helps, my husband and I plan on avoiding all restaurants and public things. There will be no flowers and no exchange of chocolates. Why? Because I prefer my chocolate on discount. 😉