My nail art has been much simpler lately due to both time and challenge prompt constraints, but this design is as extra as I get using 9 polishes, 5 stamping plates, and 11 advanced stamping decals (for just one hand). You'll understand why when you see the prompt image that Tena (@nailsit) picked for February's #NailsWithIgFriends. It's a gorgeous painting by an artist named Nils Gleyen. He posted it to FB (here) in February of 2018.
And here I go…
With such an ornate piece for inspiration, I knew I'd have to trim down the number of elements bopping around so I could fit it all on one hand. You'll notice the animal flying away from the bridge became a flying fish instead of a bird. I also chose two different florals and the Japanese red maple instead of trying to capture them all.
(I am a little sad that I didn't fit the corgi in somewhere.)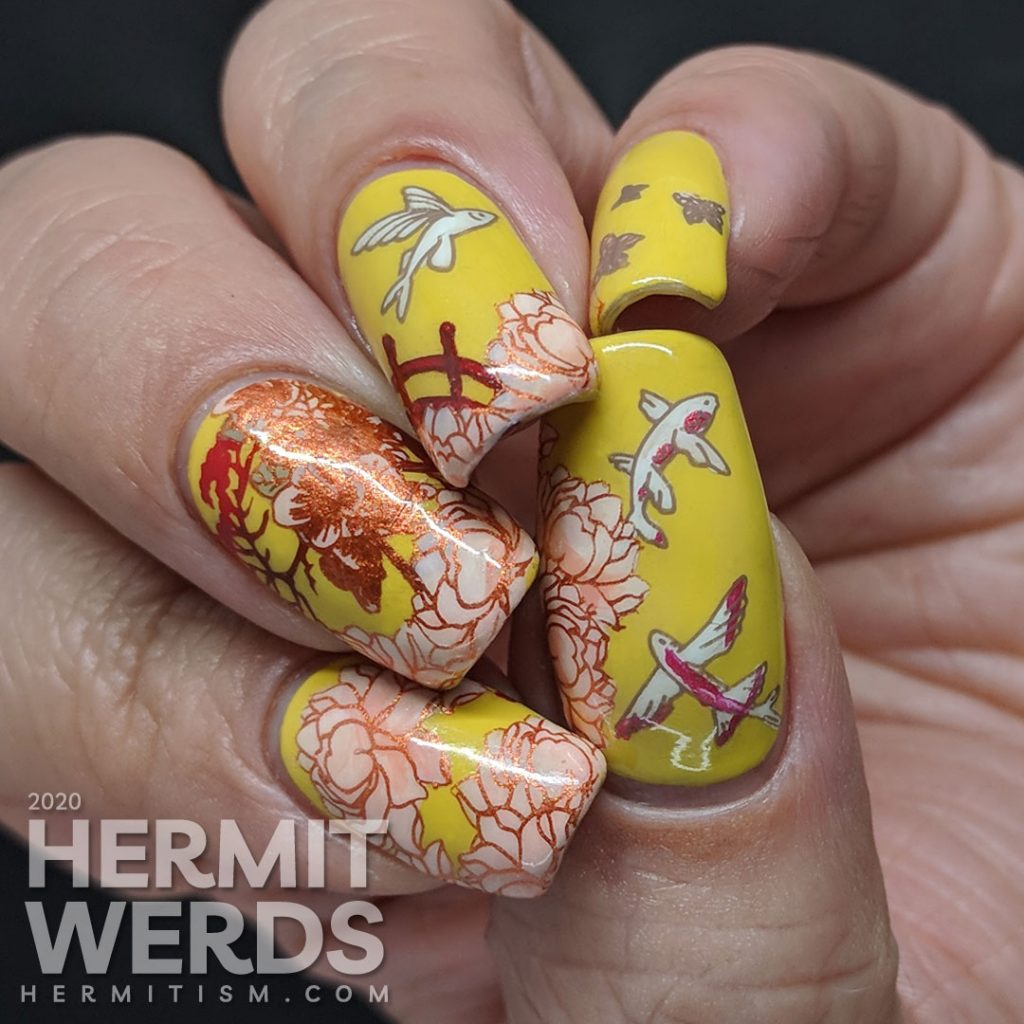 Products used
Base Polishes:

Night Owl Lacquer's "It Mustard Been Love"

Stamping Polishes:

Born Pretty's "Dim Light", "Deep Foggy", and "Orange Autumn" (press sample); Hit the Bottle's "A Vermillion to One"; and KADS "Pearly Reddish Orange"

Advanced Stamping Polishes:

Smacker's "Wickedly Stylish"; KADS "Pearly Reddish Orange"; and Zoya's "Ireland" and "Tulip"

Stamping Plates:

Born Pretty Sweet Dream-A001 (flying fish), Clear Jelly Stamper CjS-36 (gardenias), Harunouta L076 (Japanese maple), Maniology BM-S330 (bridge), and ZJoy-024 (floral stalk and butterflies
You may also have noticed that I used the same shades (including the stamping polish) for my gardenias that I used in Peach Pink Poppies. When you find a winning combo… 😂
I also very much adore the stunning shade of mustard I used for the first time: Night Owl Lacquer's "It Mustard Been Love". (Psst! It's still available for purchase). A lot of mustard shades are de-saturated but not really grungy. This one is a little bit dirty and I'm loving it.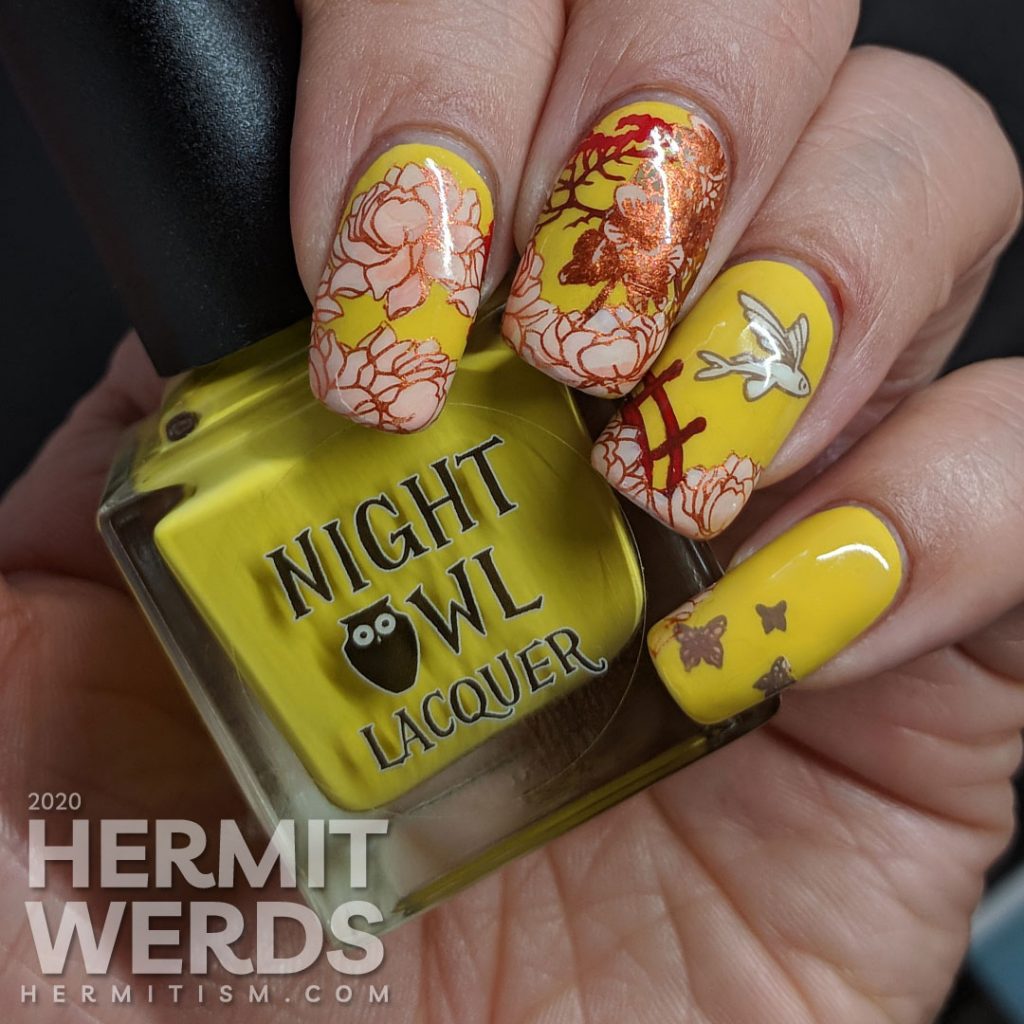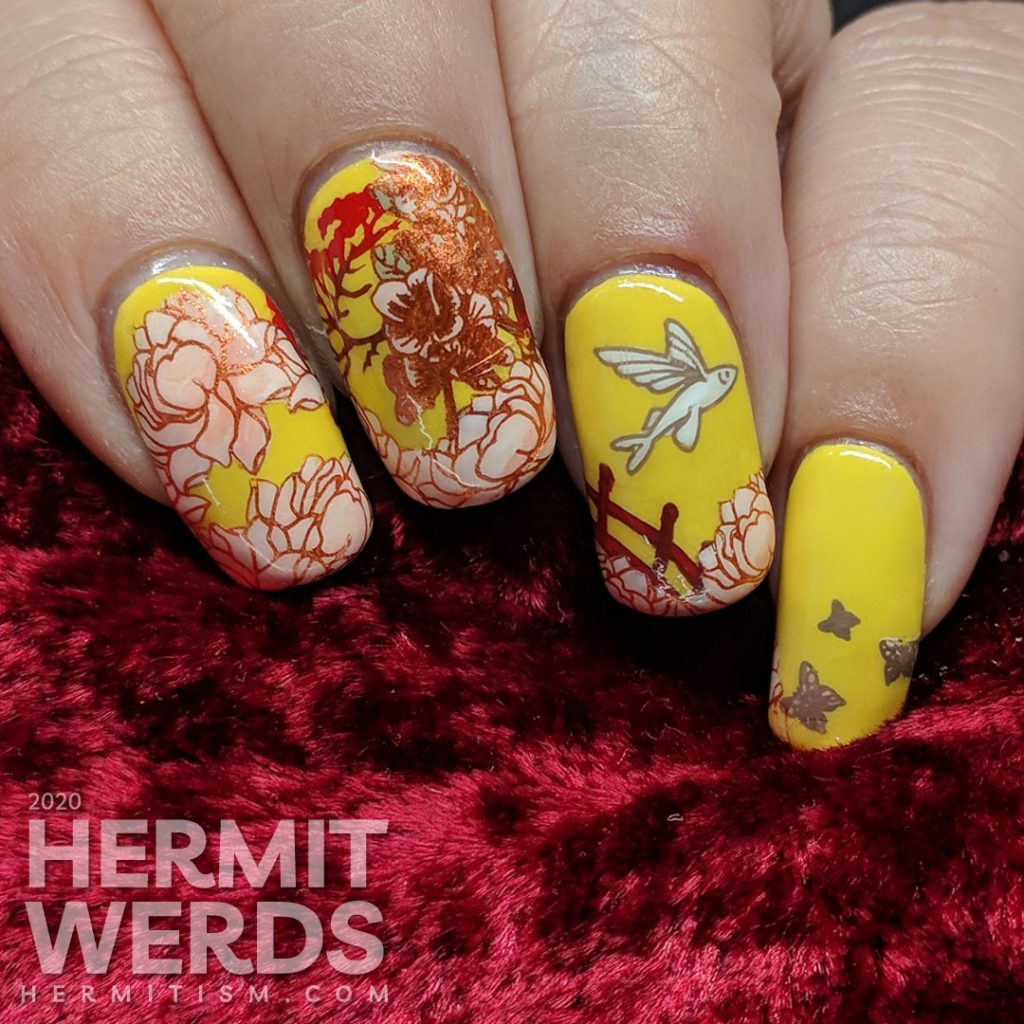 Still works from a bit of a distance, but much further and I'm sure it will all be a blur…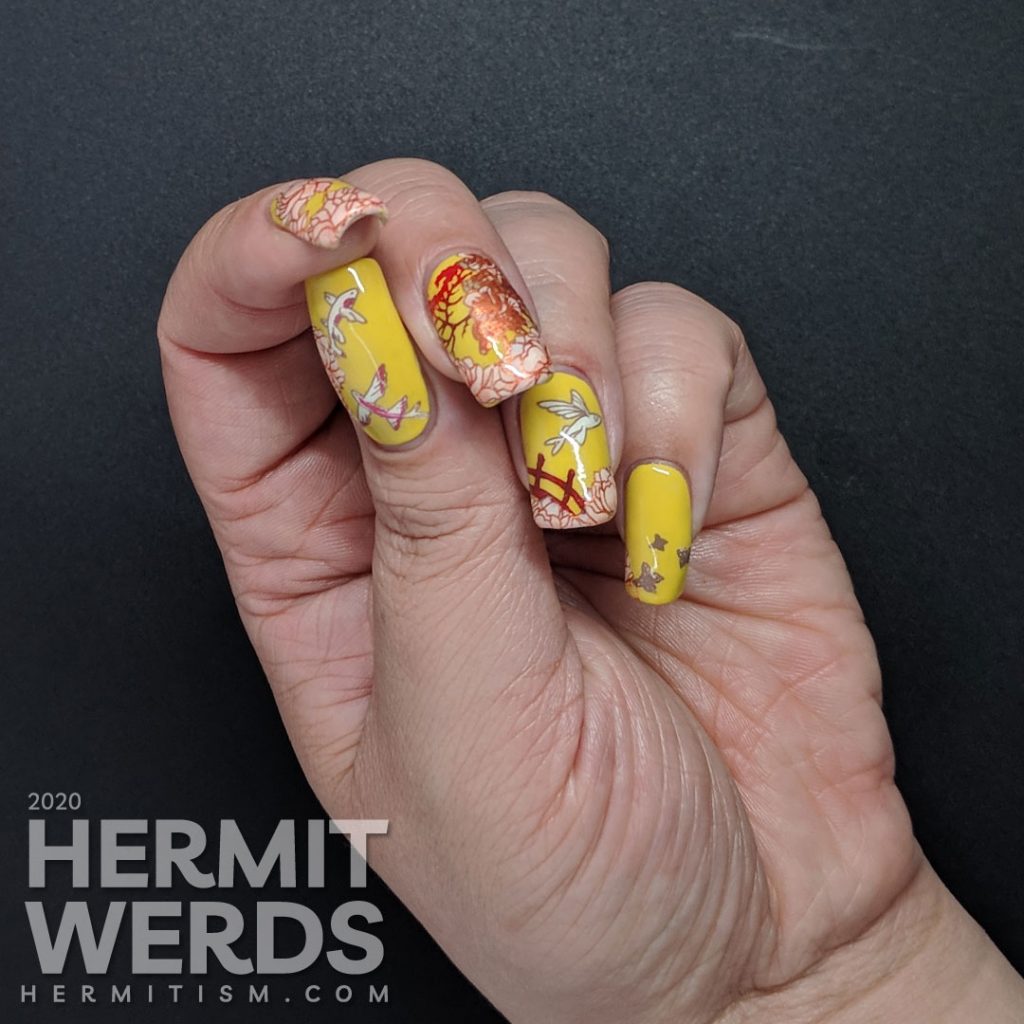 Matte-ify…
And I decided to try it matte. I think that, once again, I'm loving the glossy just a little bit more, but they're still quite pretty. I love the way the metallic stamping polish glows.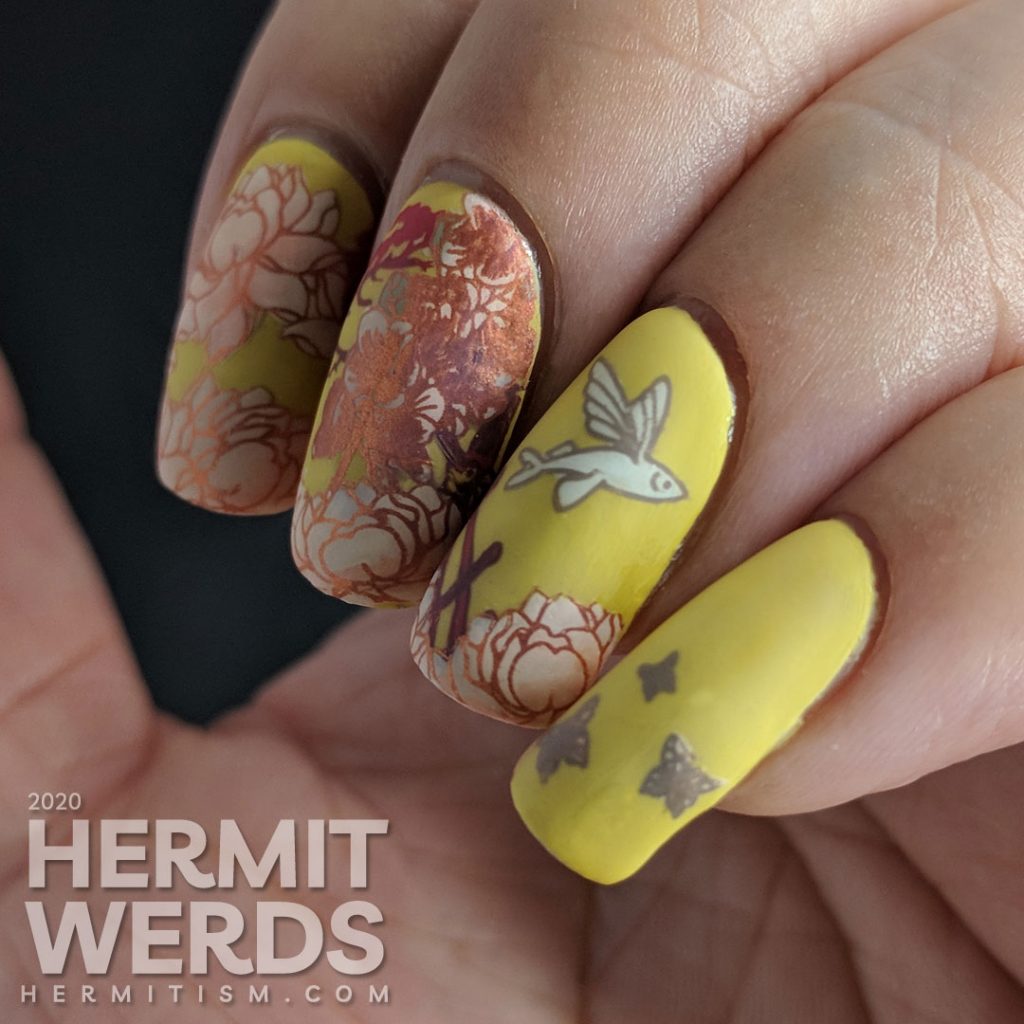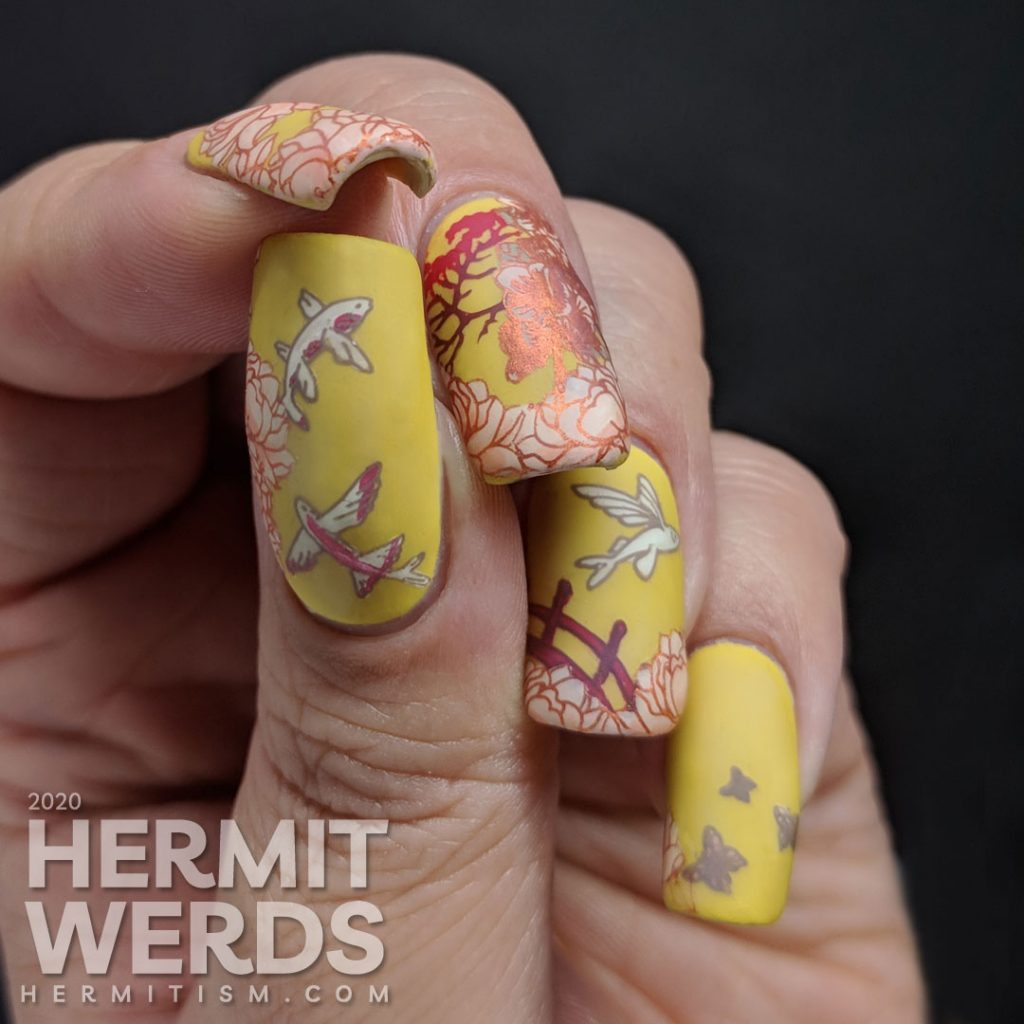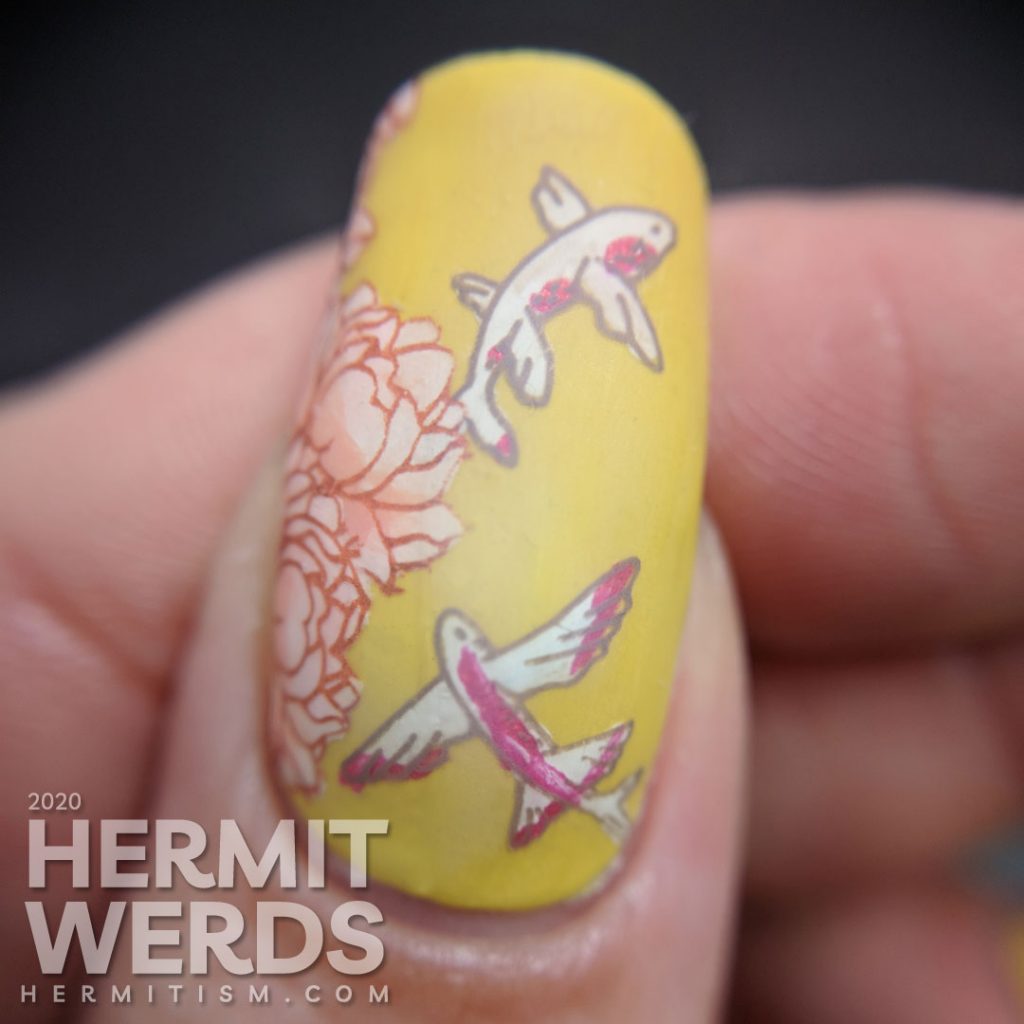 #NailsWithIgFriends collage
And now for the collage which is not going to be enough since such pretty art meant some really amazing designs. Go check out the group tag! (Though it has become diluted with non-challenge posts. *sigh*) The next host for the challenge is Caroline (@tinkerbell1970s), but she has not yet posted the prompt yet, so… Keep your eyes peeled?
That's it, my friends! I have more nail art to share (photos taken and all) so hopefully the next post will come soon. Until then, stay healthy and happy! 🙋‍♀️