Today's theme is cute and snowflake-y, but the prompt that inspired this design was #NailsWithIG Friend's Winter Animal. Now Maniology's BM-S156 is a stamping plate with nothing but winter animals, so I was definitely using it. And I knooow that Christmas is over, but I could not resist this cute little reindeer face anymore. (Plus his background matched the giant the snowflake patterns the best. *cough*)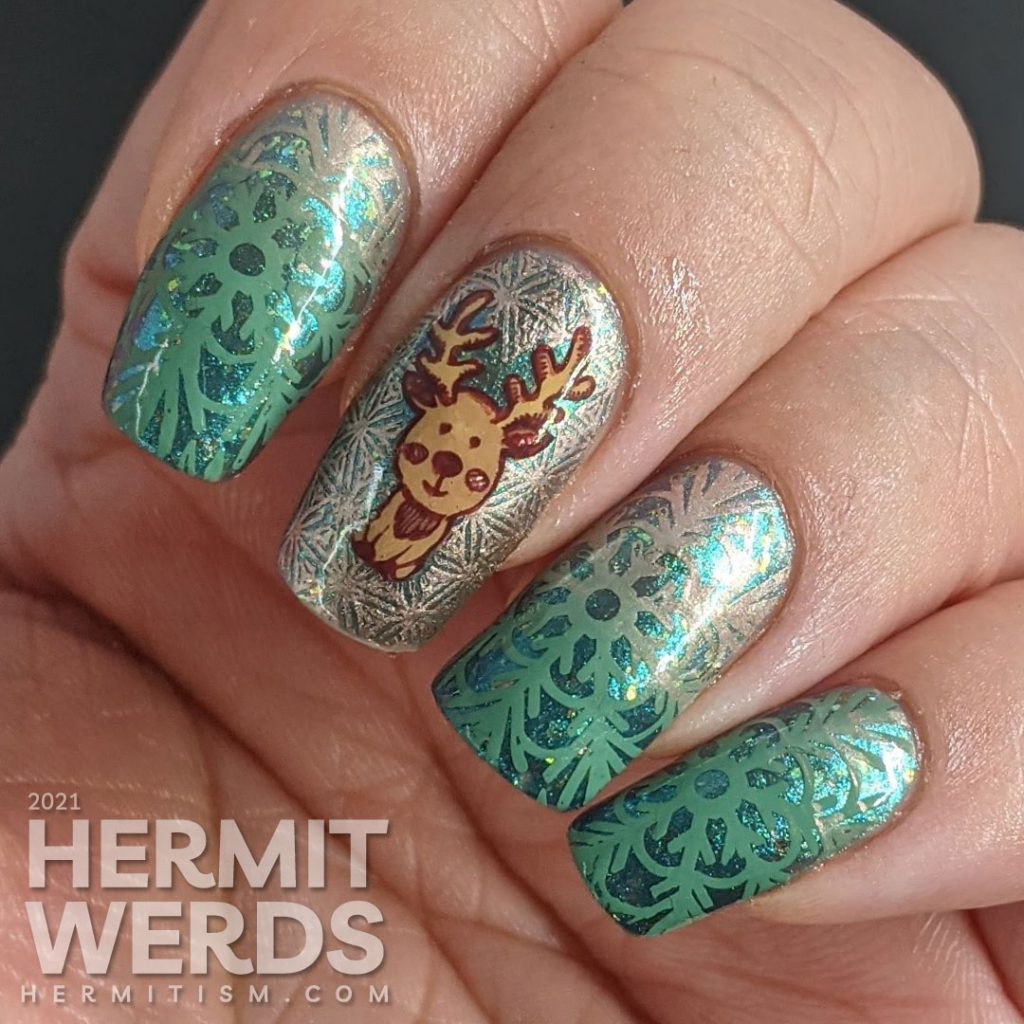 Here's where I got lazy and just let this nail have a pretty pattern. Some part of me still itches to put something on it. Another snowflake? Some sort of quote? Why were you so lazy, past me?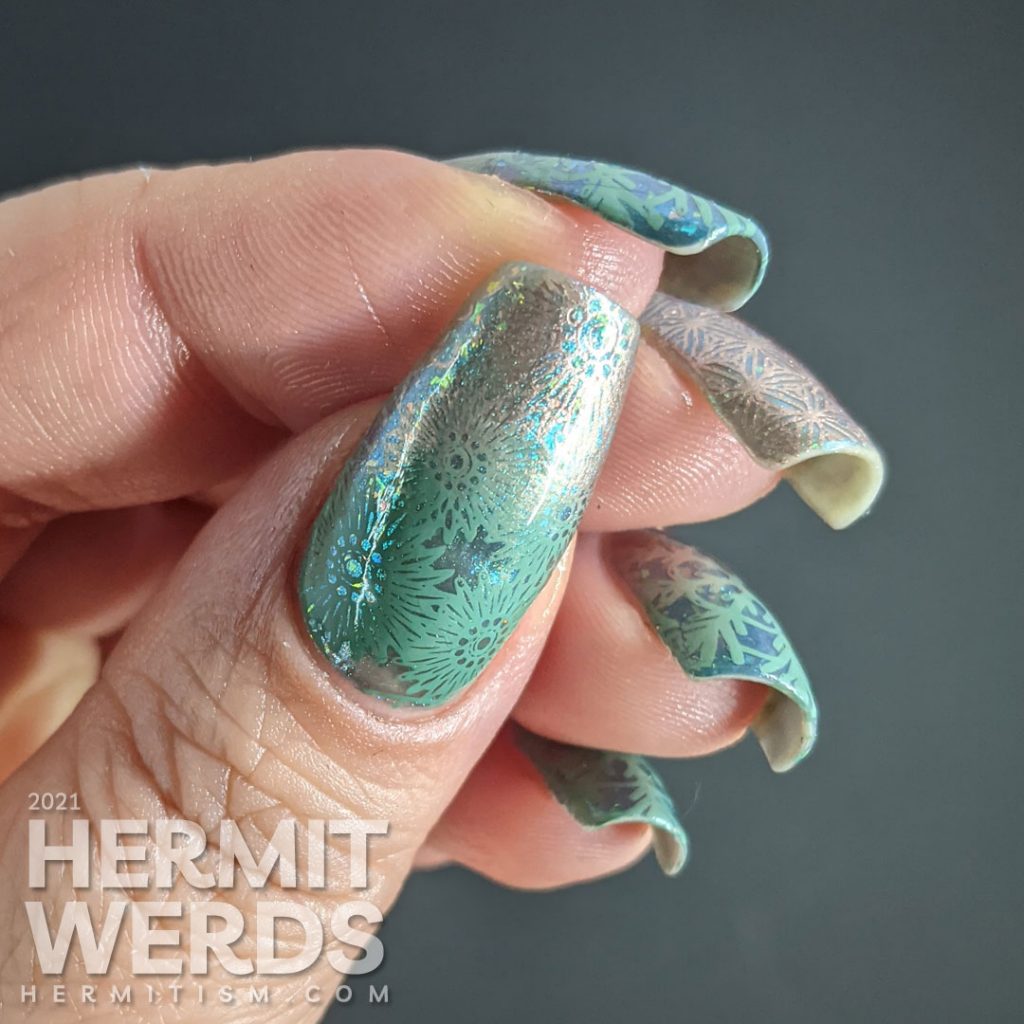 Nail art products used
Base Polishes:

DRK Nails' "Turquoise Attraction" and Nee Jolie's "NJ-010"

Stamping Polishes:

Hit the Bottle's "Roseglow Gold" + KADS' "13 Brown" and "35 Bean Green"

Advanced Stamping Polishes:

Hit the Bottle's "Roseglow Gold", Maniology's "Latte", and OPI's "Ice-bergers & Fries"

Stamping Plates:
This nail art had many layers and I really should have taken a photo before I added the snowflake stamping images, but I didn't. Suffice it to say I started with a dark teal baby boomer French tip so I wouldn't have to deal with any visible nail line and then painted the magnetic, shimmery, magical turquoise polish on top. It was a very pretty combo I hope to use again.
How (not) to separate and recombine a full nail stamp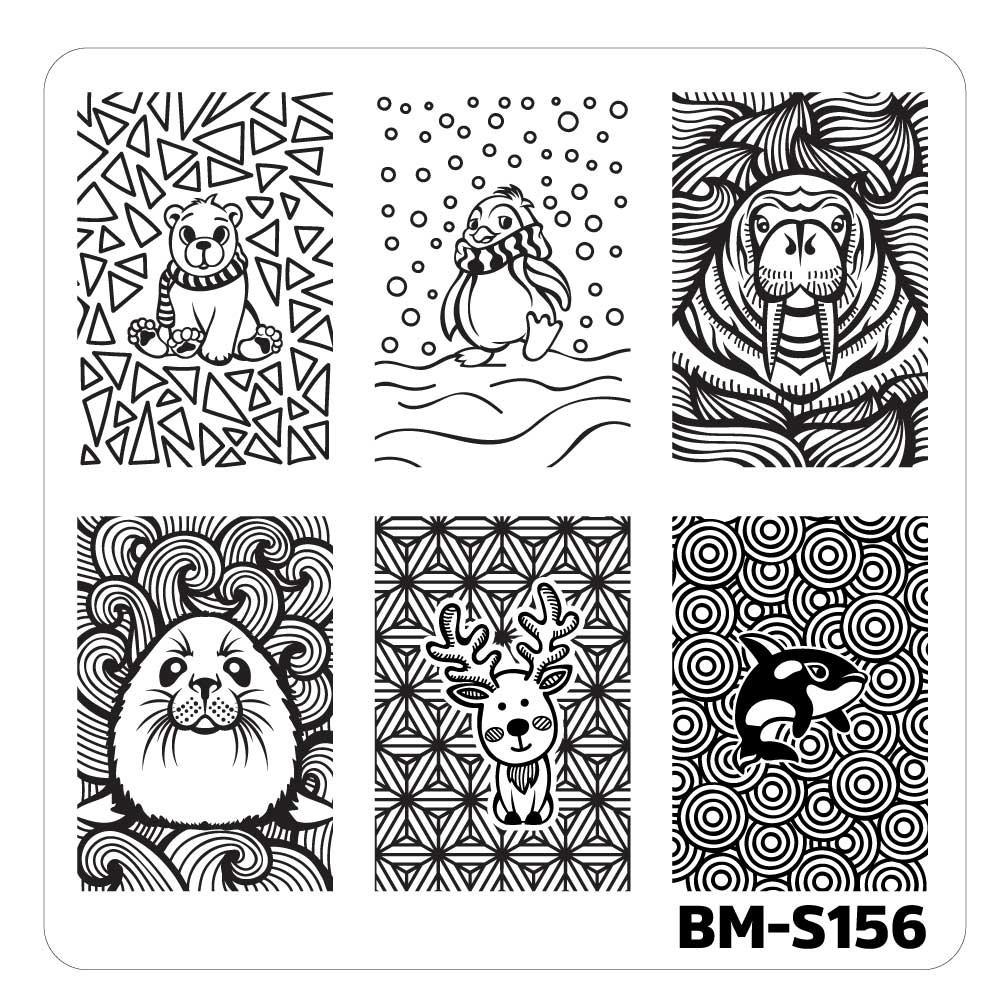 I wanted the background stamp to just be rose gold so I created two separate stamps and carefully removed the relevant parts of each. Well, no…actually I had to create more than two stamps because I messed up a few times and took out chunks I didn't mean to. Still. The end result was two successful and different-colored stamping images.
But learn from my next mistake: I should have combined the two stamps before I put them on my nail. Instead I put the background down first and then had to fit the reindeer on and he was fully stuck on by the time I realized he was grossly mis-centered. 😭
But I was too lazy to fix it. It's fine. Cute things can be crooked.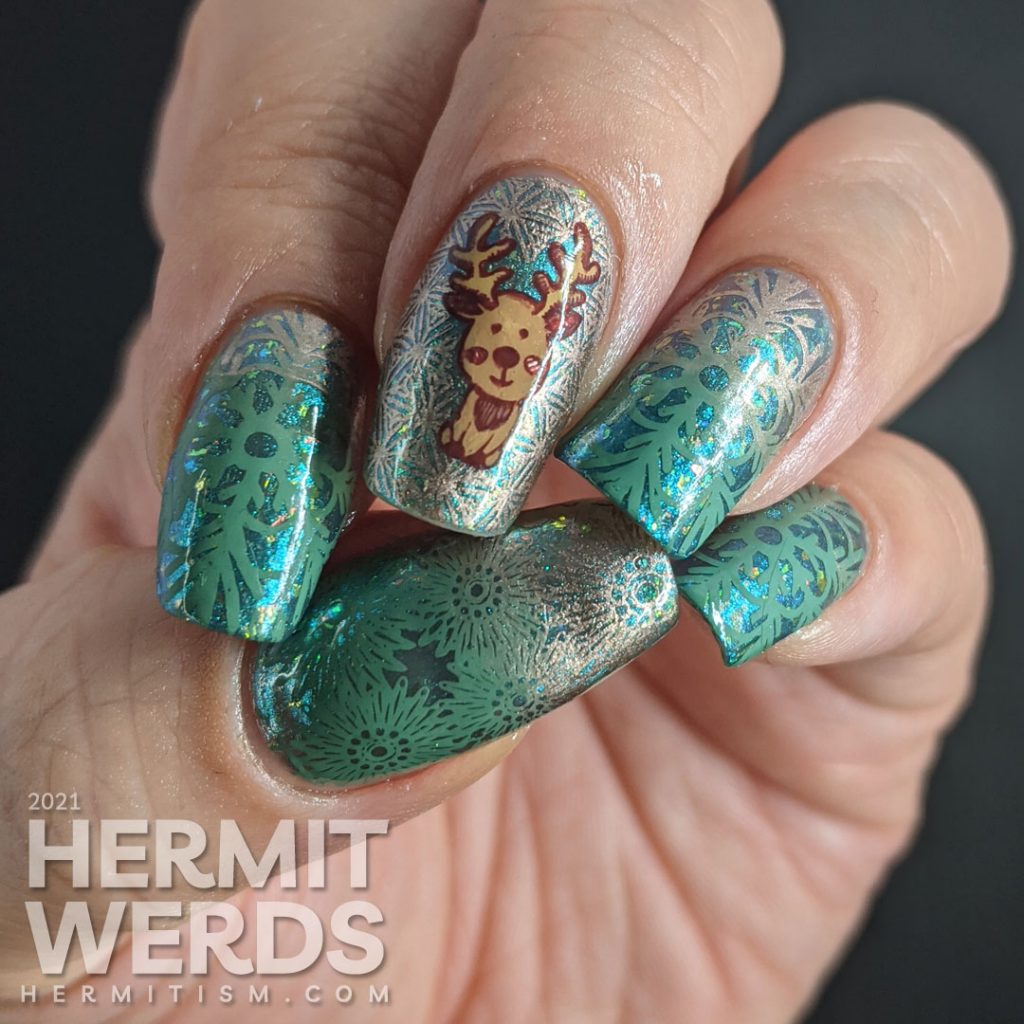 It's fiiiine. (😱😱😱)
Nails with [Instagram] Friends
I haven't painted for this challenge since February of last year. Another sign of how much 2020 sucked. Although, the one I painted in February is one of my favorites.
There were a lot of cute designs for Winter Animals, including some amazing freehands so check out the group tag and fill your eyes with the adorable. Meanwhile I haven't seen an announcement for who the next host is or what the prompt will be, so this collage is it!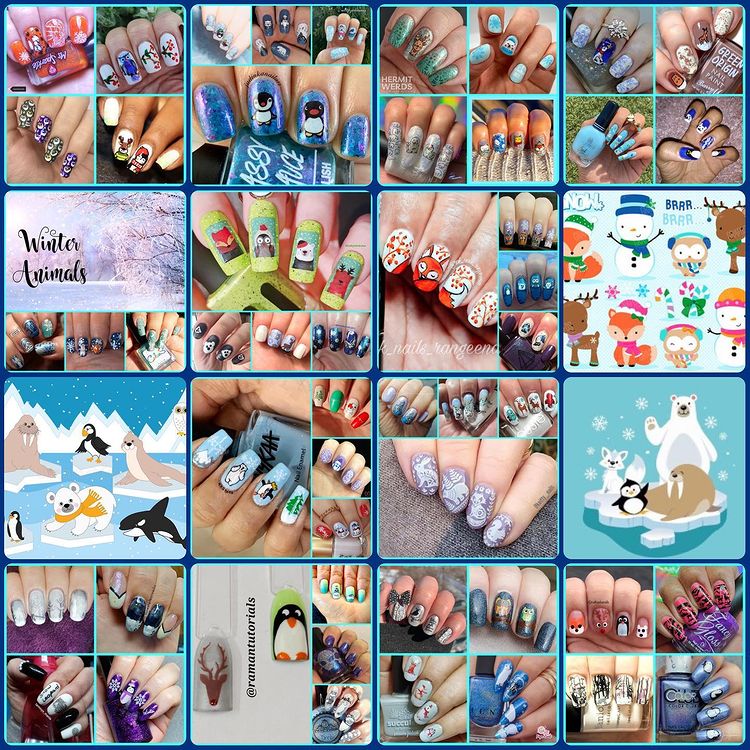 Some near, some far, and done…
Why, yes, I will angle my photos slightly to hide how truly bad my placement was…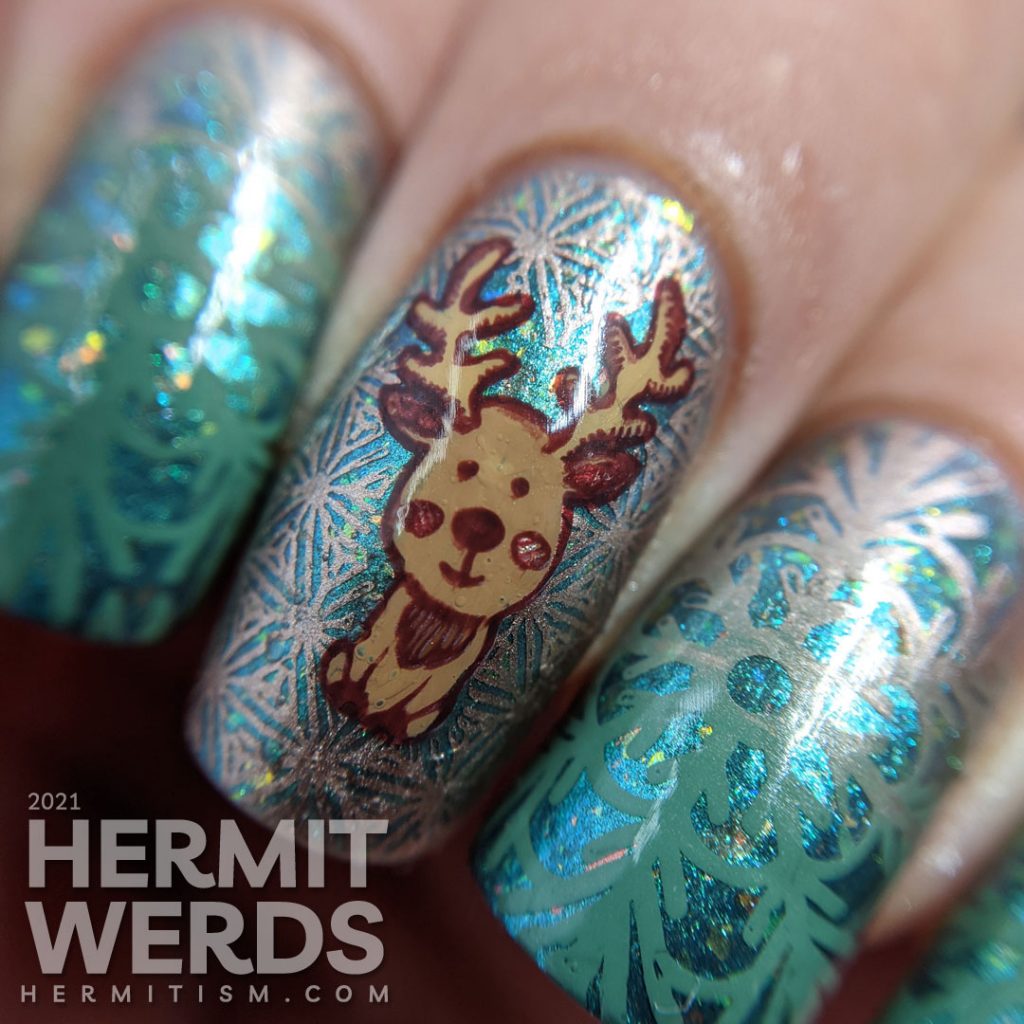 Layering a sheer but shimmery polish underneath some solid stamping is always so delicious to see in person. As unexciting as this nail is for me in a macro (still pretty, just not exciting) in motion with the light playing with all the shimmer…*chef kiss*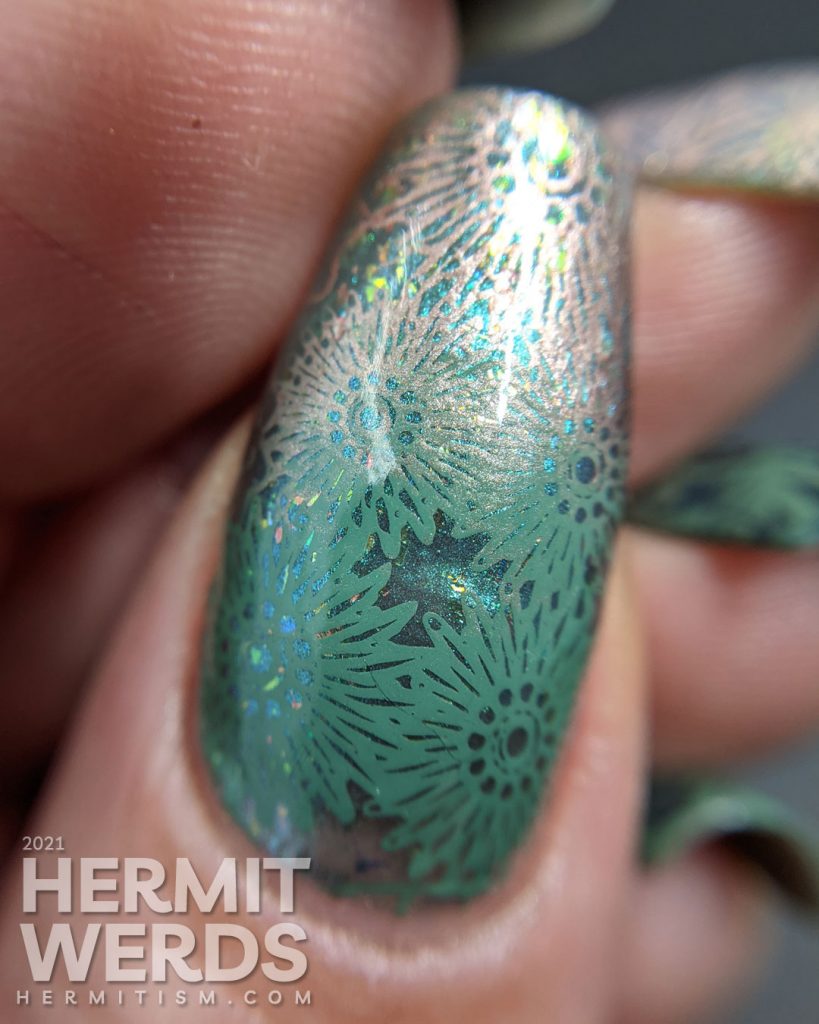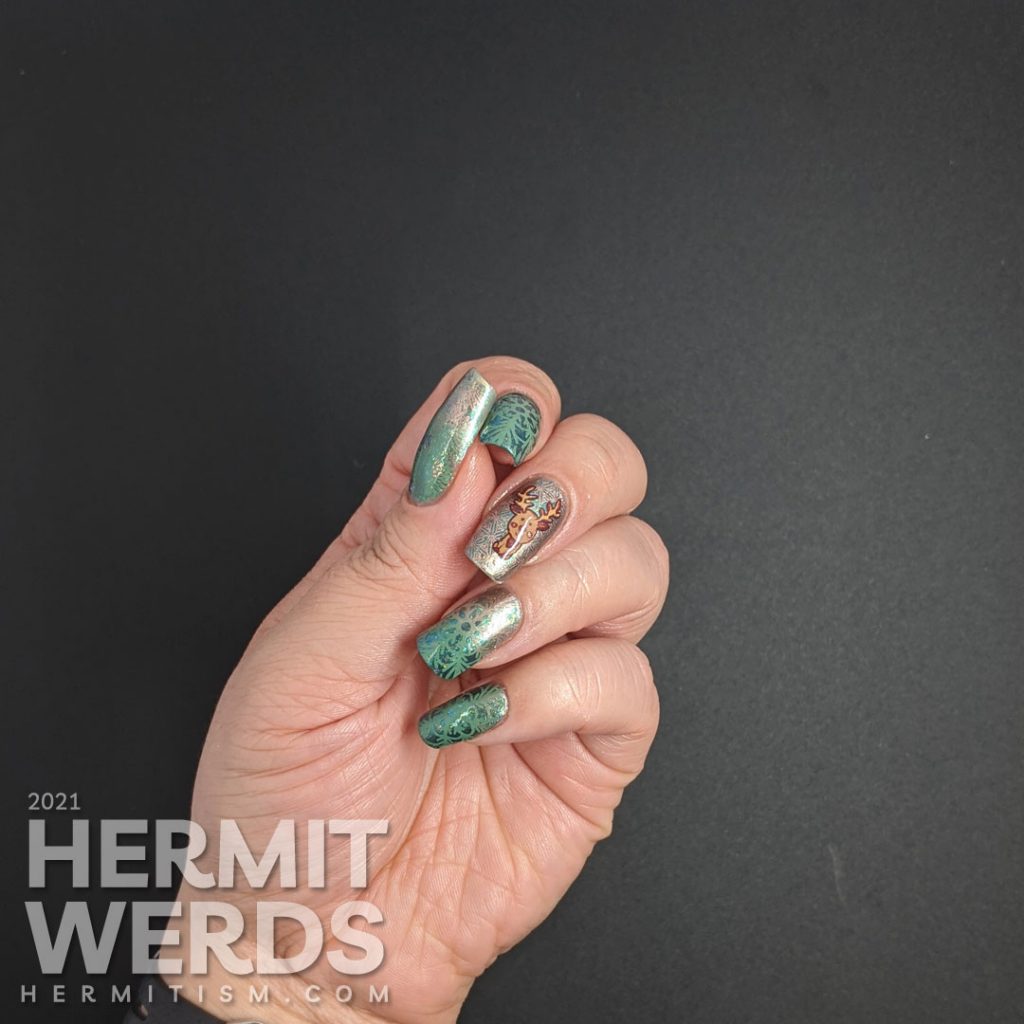 And that's all for today, my friend. I hope you learned from my mistakes today. 😂