Really, this is my third recreation this month, but I spaced adding the first one to the #NailChallengeCollaborative (since recreating is the month's prompt). I'd intended to do two more recreations this month, but the nail art gods have not been with me and my poor nails have spent far too much time unpainted. Not to mention all the breaks. I have one whole nail on the hand you're seeing today. One.
Yay for unwelcome practice patching nails!
I really struggled with today's recreation because the prompt for the original was Mixed Tapes and I had decided to theme it on the only music mix someone had made for me and it was a J-pop cd. Well, I didn't like how I'd painted the cds the first time, but I could only think of one way to really recreate the beautiful iridescence of a cd: cellophane. Uhhh…cutting cellophane into perfect circles with another perfect hole cut out of the center sounded like self-torture. So I kept trying to find polish combinations that would do it for me and nothing was working.
Finally I just had to step away from the whole cd nails thing. Instead, I decided to focus even more on the song that I remembered most from it: Smile.DK's "Butterfly" (note: Smile.DK is actually a Danish band whose members are from Sweden).
Mostly the lyrics bounce between these two choruses:
"Ai aii yai,
I'm your little butterfly
Green, black, and blue
Make the colors in the sky"
and…
"Aa ii aii yai,
Aa ii aii yai,
Aa ii aii yai,
Where's the samurai"
So I decided to add black and blue to the my green color scheme and include a samurai. I went full coward and tried a pale blue first, but it was so insipid I headed in the other direction with this super primary blue color. Yesss! It's amazing how quickly things can come together once you stop banging your head against a problem you don't need to have.
* Sally Hansen has recently released a line of K-design stickers based on Korean nail artist Park Eunkyung (@Unistella) without compensating her. This is stealing from the nail artist community and, while I'm not going to throw out polishes I own, I'm not buying Sally Hansen products for a good long while either. Read more about their reprehensible behavior here.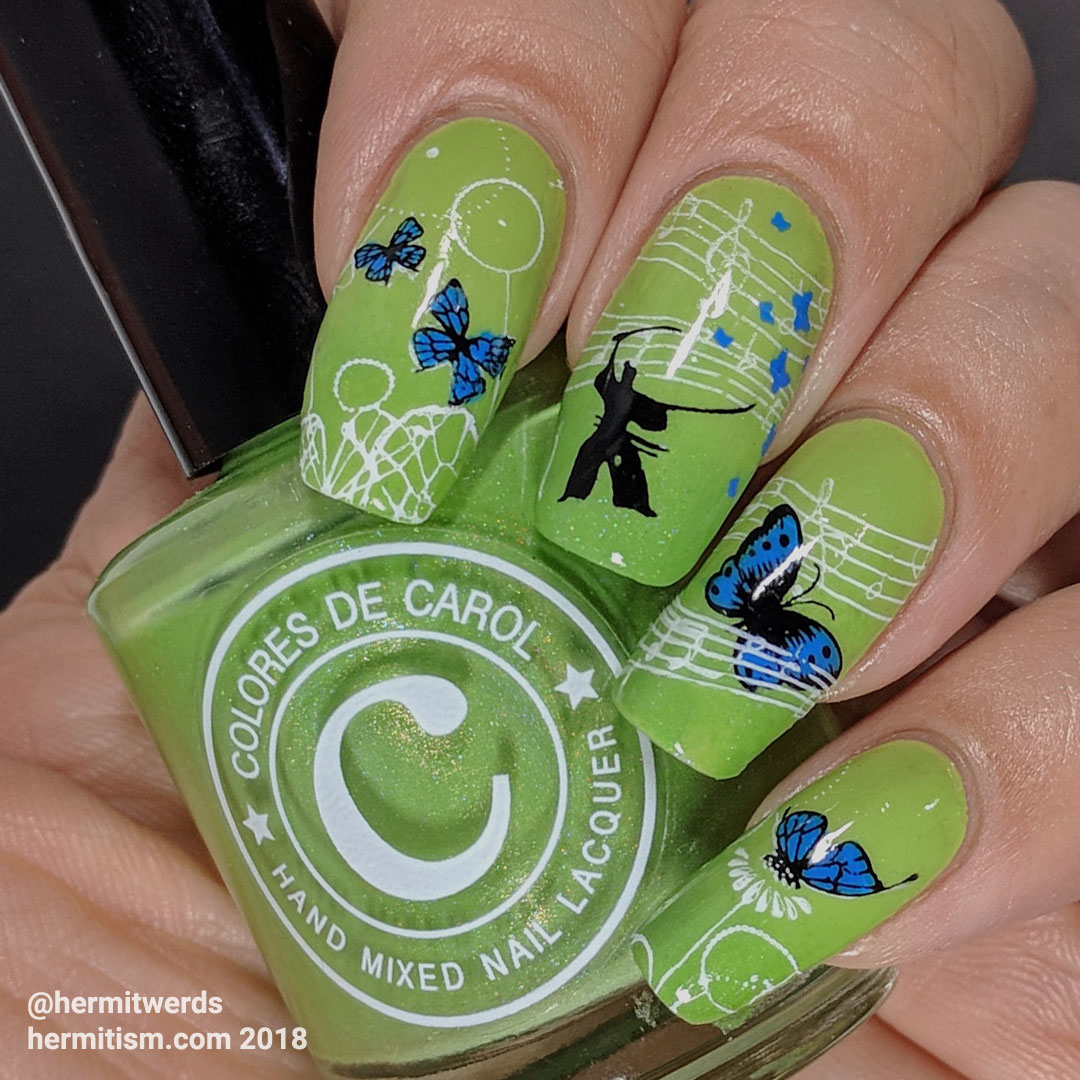 Participation from blog-owners has been really down this week so check out the inLinkz below, but know that there's actually more nail art posted to the group photo album.