Probably by smell alone most of us would think to pick the butterflies (even though some of them eat poop!), but this is nail art so maybe you'll like the pig look more. Then again…pigs are both delicious and make great pets, while butterflies can't really do either of those things for people. So less judgement and more nail art!
Pig Farm
Today's pig topic brought to you by the #liganailista challenge, which I probably don't have time for but am trying to commit to anyway… hah!
Products used
Base Polish:

Born Pretty's "Green Willow"

Stamping Polishes:

Born Pretty's "Cosmos Bouquet" (press sample) and KADS' "Sage Green"

Advanced Stamping Polish:

Zoya's "Jordan" with a little white mixed in for the nose

Stamping Plates:

HK-10 (ornamental leaves), Maniology's Furry and Ferocious 2BM-S158 (pig face), and UberChic mini Farm Fresh ("Family Farm" and pig silhouette)
Product rant alert! 🤣
Really not happy with Born Pretty's thermal polish. The formula is not great: 3-4 layers with poor self-leveling (although it did dry quickly). It's actually reasonably reactive (and I have bought thermals that you really only see changing when you wash your hands), but it's just not as much of a difference as their photos suggested. I purchased one of the blue ones for a friend and it had the same problem. We had to squint at it see if it was really working.
So…really do not recommend "Green Willow" or "Sand White". Maybe one of the other ones works better, but why risk it? You can see my photo below. I stuck my nails in ice water for the cold photo. It's not going to get colder unless you're prepared to lose a finger and the color does not compare to their product photos. If you want a nice thermal from Born Pretty, I recommend these (which I also bought with my own money) with some polish thinner because they are thiiick.
But I still got a cute nail art out of it, so I'm going to be happy there.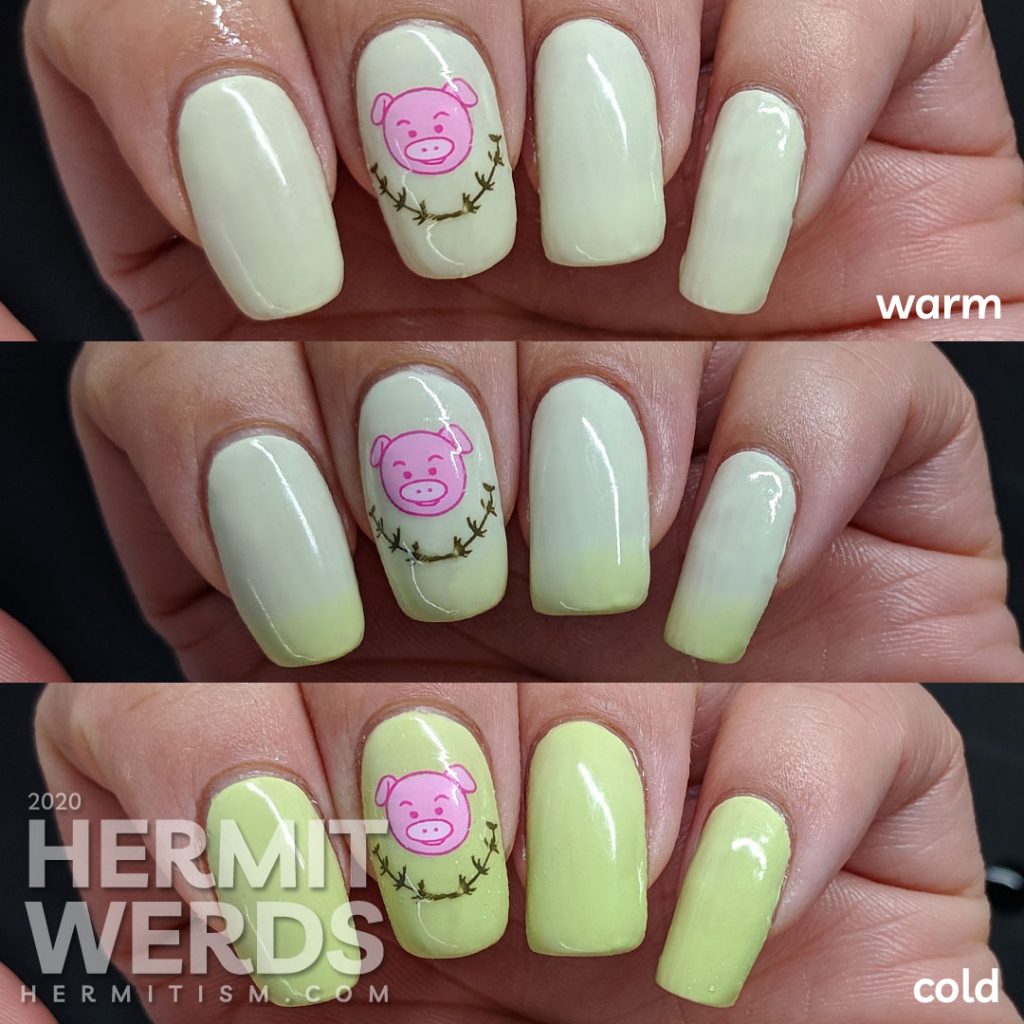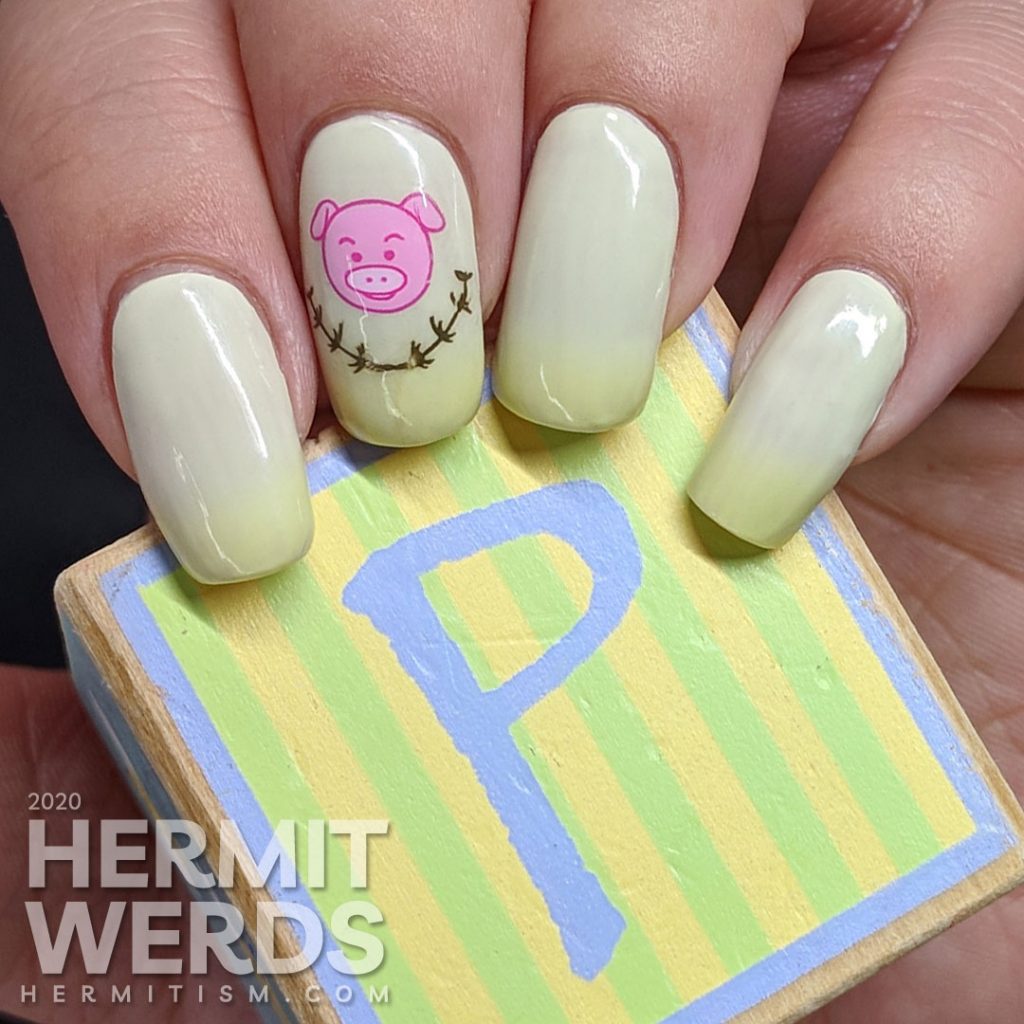 See the positioning of the pig on my thumb? Totally did that because of how I knew I'd be posting the photos. If I were going to share more photos of this nail art (or be seen in public?), I probably would have stamped two pigs in different shades and overlapped them. Lazy! 😂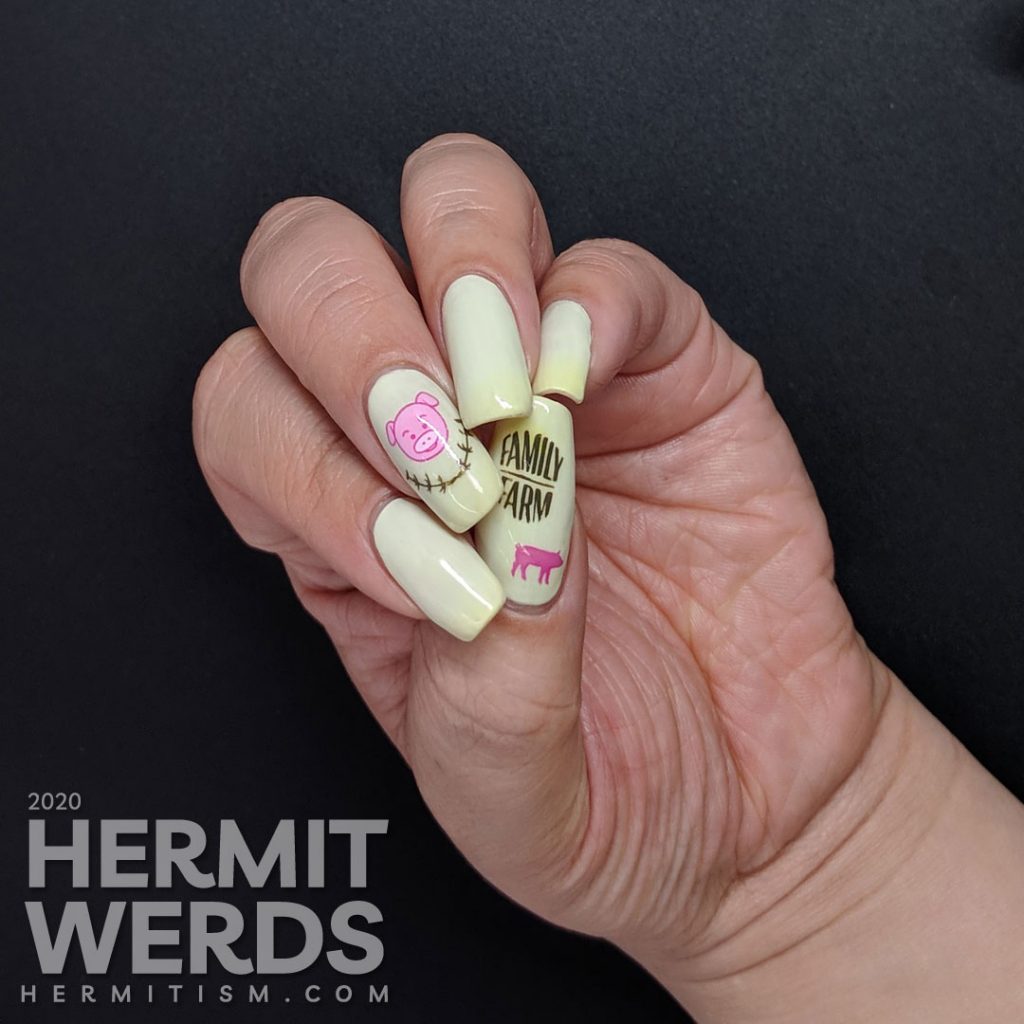 Butterflies of the Sun
So along with a disappointing thermal, I tried a sunlight sensitive polish from Just Add Sun. I was really disappointed when I used their "Hot Stuff" because the color difference was poor and the coverage was worse, but "Coming Up Roses" was gorgeous and easy to work with. Whenever I need a pearly white base, I'll just use this and never go out into the sun. LOL
Pantone's Brilliant White
Having white as the color you're painting for feels like a free ticket to do whatever you want since it's white and who will call you on the fact that what you painted was eggshell white instead of swan white or whatever? Maybe their monitor is just adjusted differently and you're spot on.
Except I hate painting my nails white because finding a good formula feels impossible and my heart objects to painting four layers just to get a perfect white. So I got really lucky with my pick for Ine's #pantone2020summerchallenge. 🤣
But it's also seeeecreatly pink. Keep in mind that the macro's pink turned out a little light as it started fading the minute I moved my nails away from the UV light.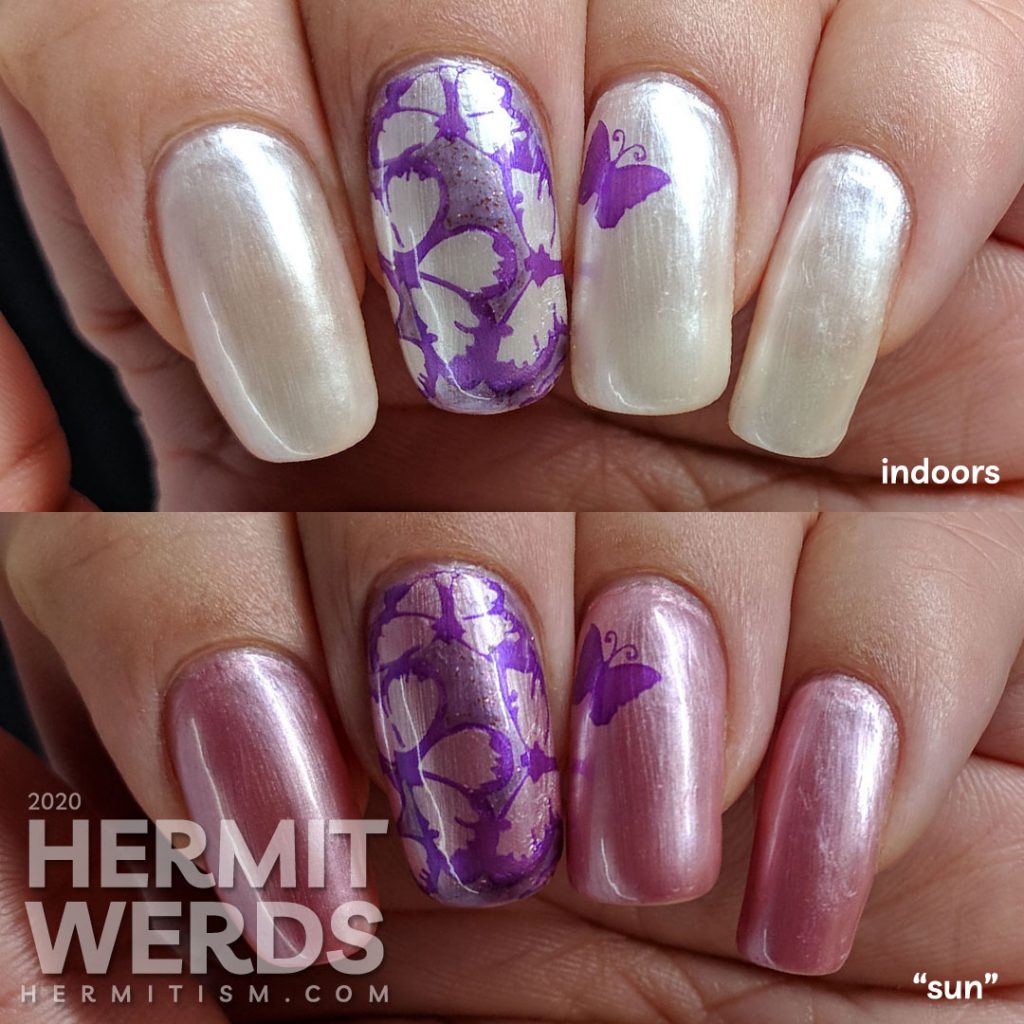 Products used
Base Polish:

Just Add Sun's "Coming Up Roses"

Stamping Polish:

KADS' "Pearly Dark Purple"

Advanced Stamping Polish:

Sinful Colors' "Daddy's Girl"

Stamping Plates:

Moyou London Kitty Collection 15 (kitty playing w/butterfly) and STZ-A06 (butterflies)
I wanted to have fun playing with the properties of the sun sensitive base polish so I decided to fill in my advanced stamping decal in an opposite way and left the butterfly wings to change color. I also used a non-opaque polish and filled things in thinly so the pink would shine through the background as well. Work it! 💪
However, this next photo is actually best for showing off the properties of the purple stamping polish. My thumb's stamping decal used a Moyou London stamping plate, which is more deeply etched, and you can see how the purple is darker than what came out from the super cheap stamping plates. My hunt for a dark purple stamping polish seems to have reached only a partial solution, but at least it's a very pretty one.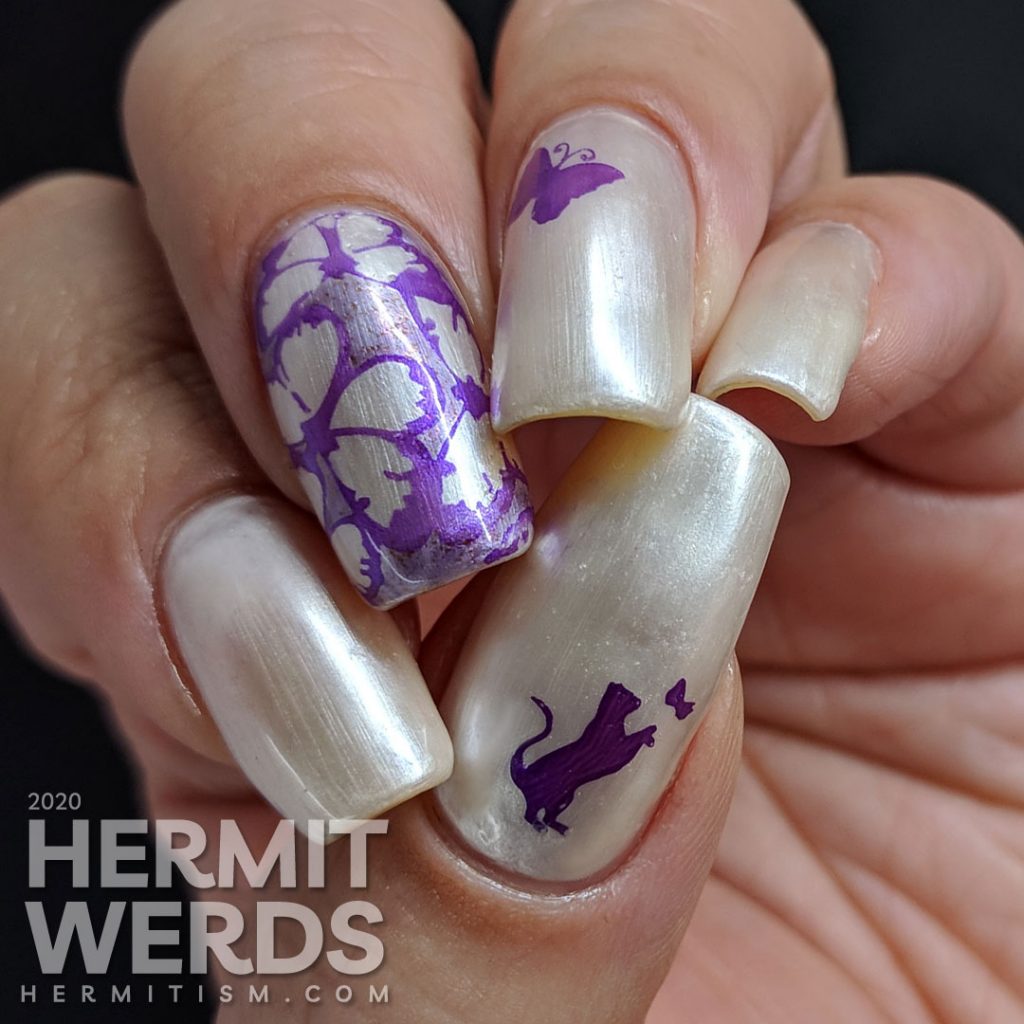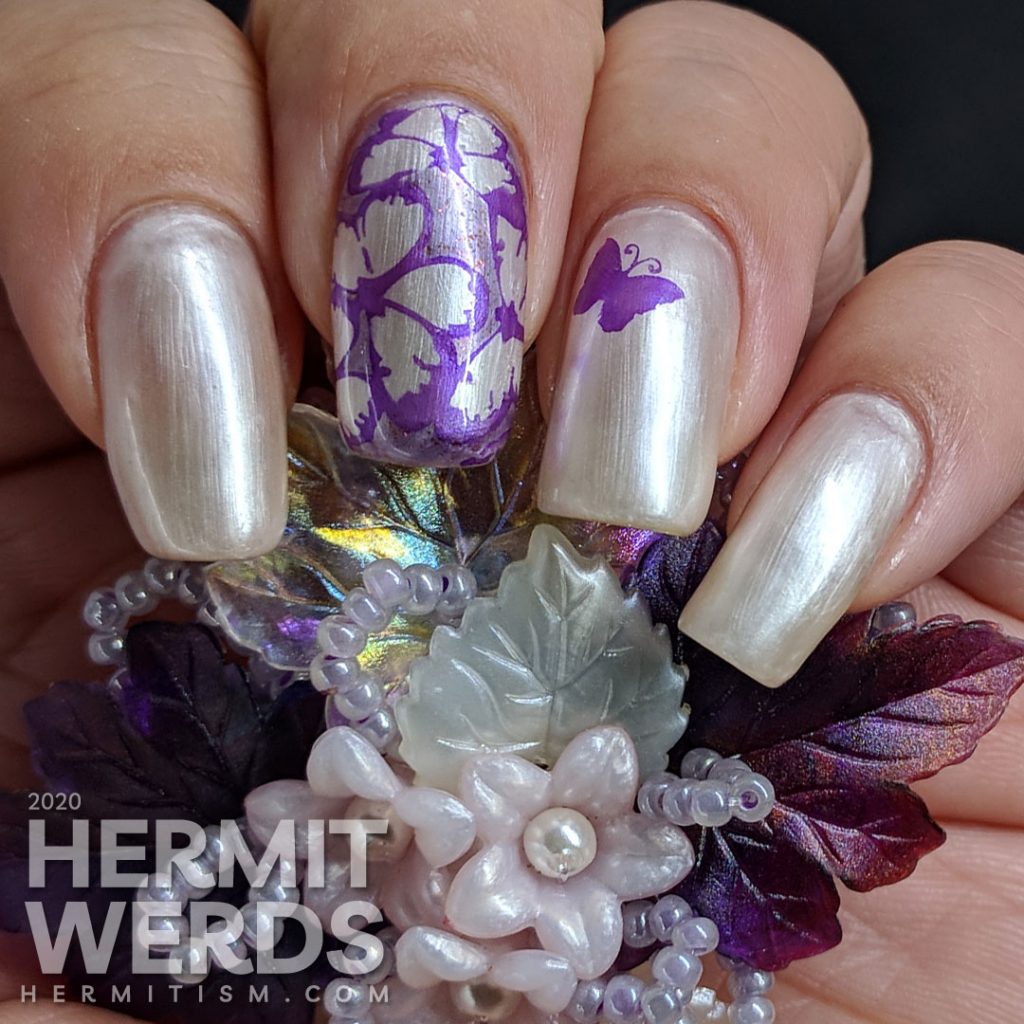 Bam! More pink! 😁
That is all I have for you today. I am super excited for the next lovely Pantone color: Rose Brown. My polish for it is all picked out everything! Until next time, friends! 🙋‍♀️