Today's look was a lesson in how difficult those layered landscape nail art designs are. Also, I am kicking myself because I forgot a few plates I had that would have offered a few better options. Oh, well. I learned a lot from painting this one and still love my results. Plus I finally got to use the stamping image of a finely dressed lady biking. I've had that in my goals for years although the idea of what I'd stamp in the background around her wandered from cities to meadows and finally the landscape I get to enjoy now.
No deserts, though. I am not a monster. This is supposed to be a pleasant bicycle ride.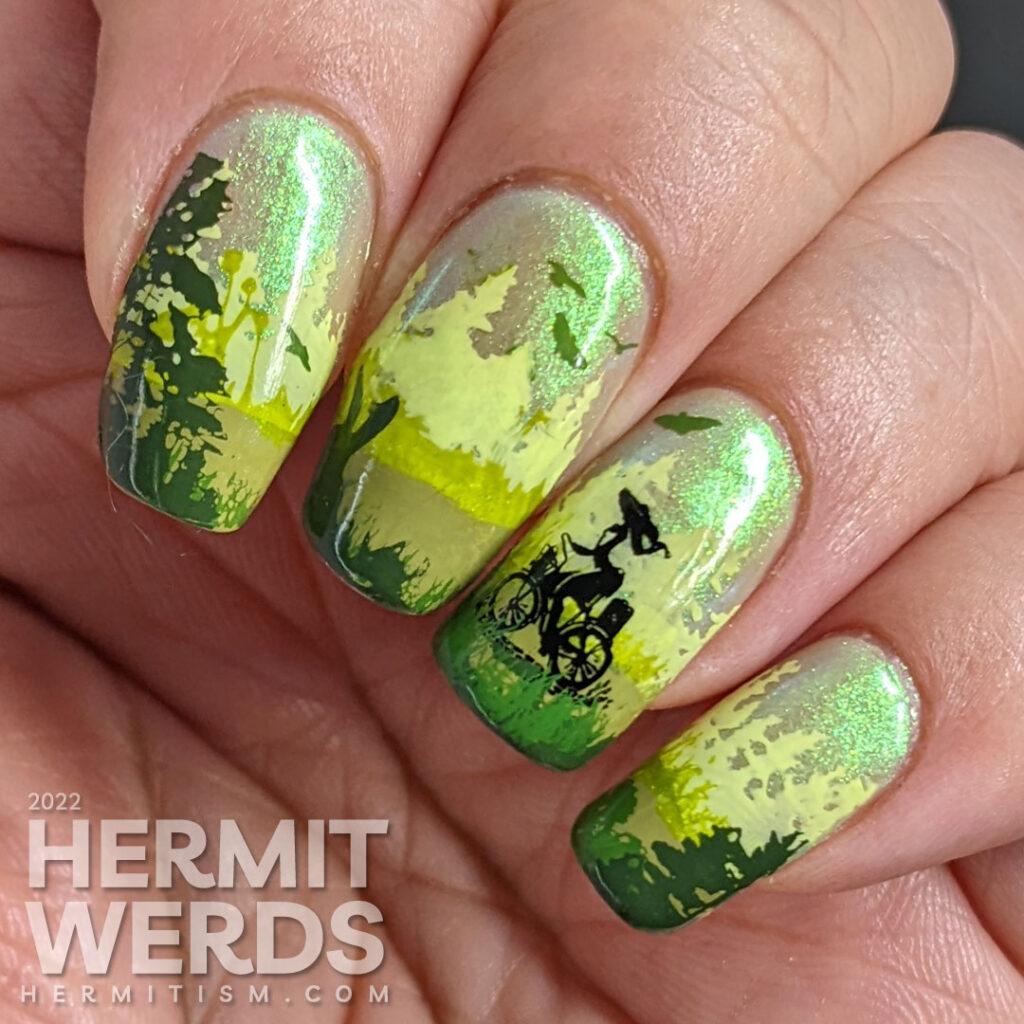 And the design on my thumb with a Bigfoot/Sasquatch is definitely a nod to my new state which has the most reported Bigfoot sightings.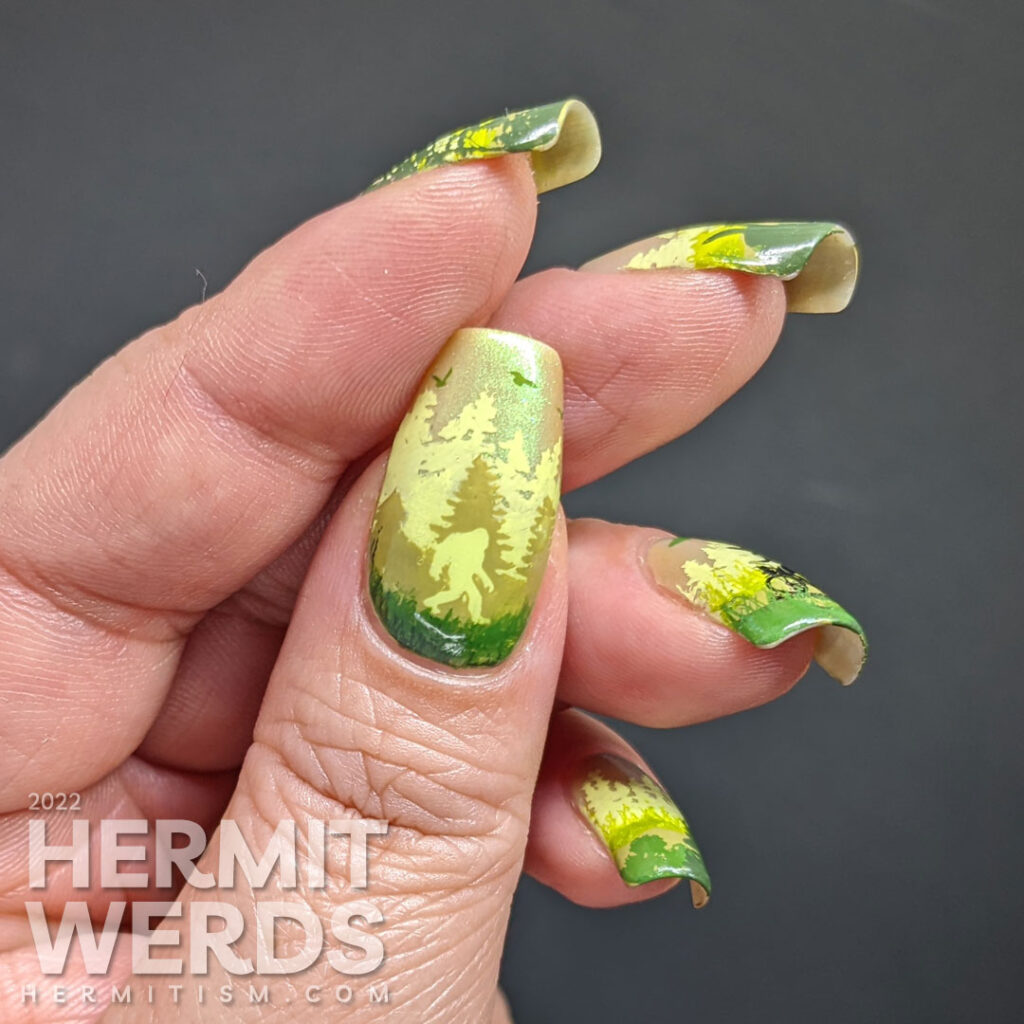 Nail art products used
Base Polishes:

Garden Path Lacquer's "$7.99 is Absolutely Fine"

Stamping Polishes:

Apipila's "Caipirinha"; Hit the Bottle's "Slitherin' Serpentine"; KADS' "12 Yellow Green", "38 Yellow Green", and "48 Light Matcha Green"

Advanced Stamping Polishes:

KADS' "12 Yellow Green"

Freehand Painting:

With basically all the green stamping polishes.

Stamping Plates:

"BC-05" (lady on bike); Maniology "BM-S187" (birds); Nicole Diary "153" (grass, trees) and "L10" (trees, birds, bunny, grass); and "Cryptids and Other Grimm Tales" (bigfoot)
Items in italics are debuting on the blog for the first time.
I actually swatched out a big patch of my base polish Garden Path Lacquer* and stamped on it with most of the green polishes I own before starting. And still I ended up having to re-do the first nail I did because the color balance didn't feel right. I'm going to tell myself it could have been worse. 😂 As you can see a lot of products were used and I still ended up freehanding a little as well. Really I should try painting a layered landscape mani from scratch sometime….
* Re-branded from Lollipop Posse Lacquer. However, this is the only one I own from that brand so I decided to just go with the name it is now rather than what is printed on the bottle.
Past layered landscape nail art
Obviously this isn't something I do often, but I have one previous mani from Halloween in 2018 that I really love. It was a little easier to figure out since I wasn't sticking with a monochrome palette save one black stamp.
Final biking mani photos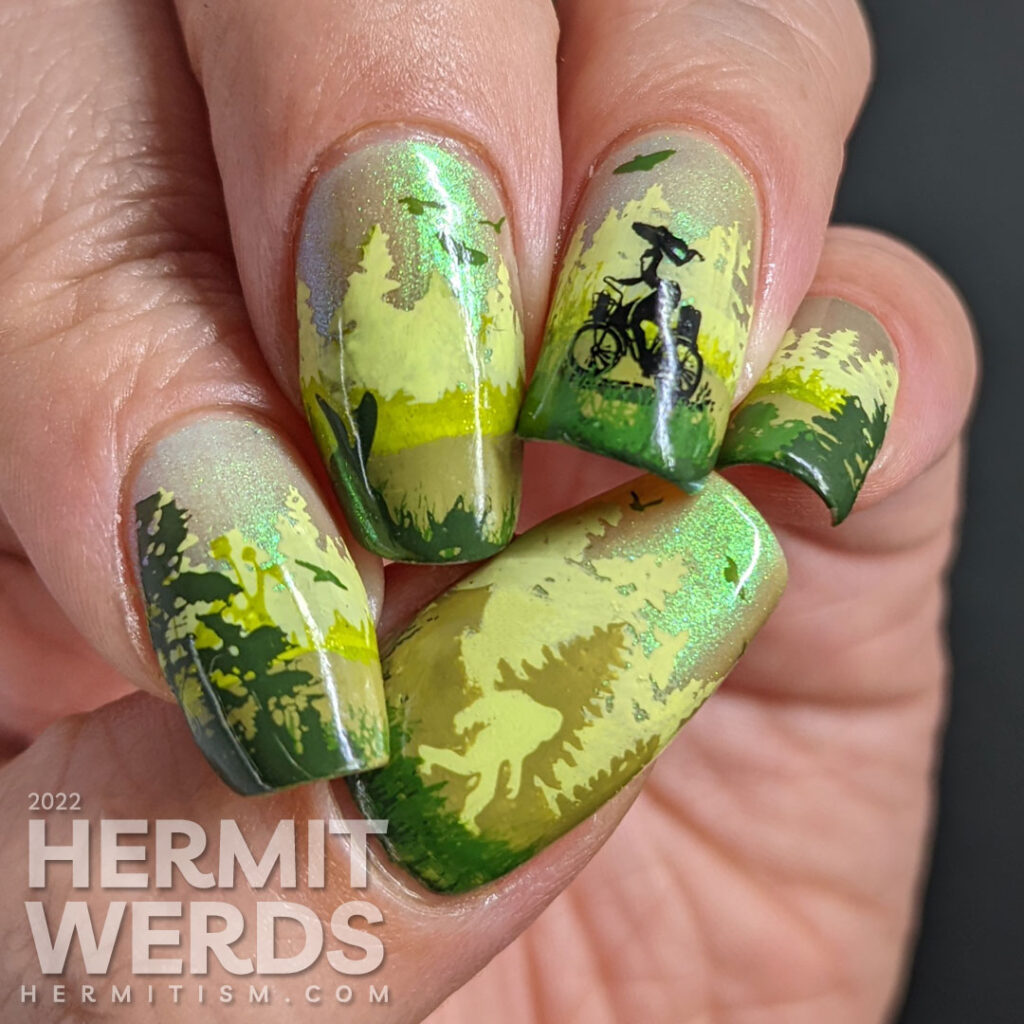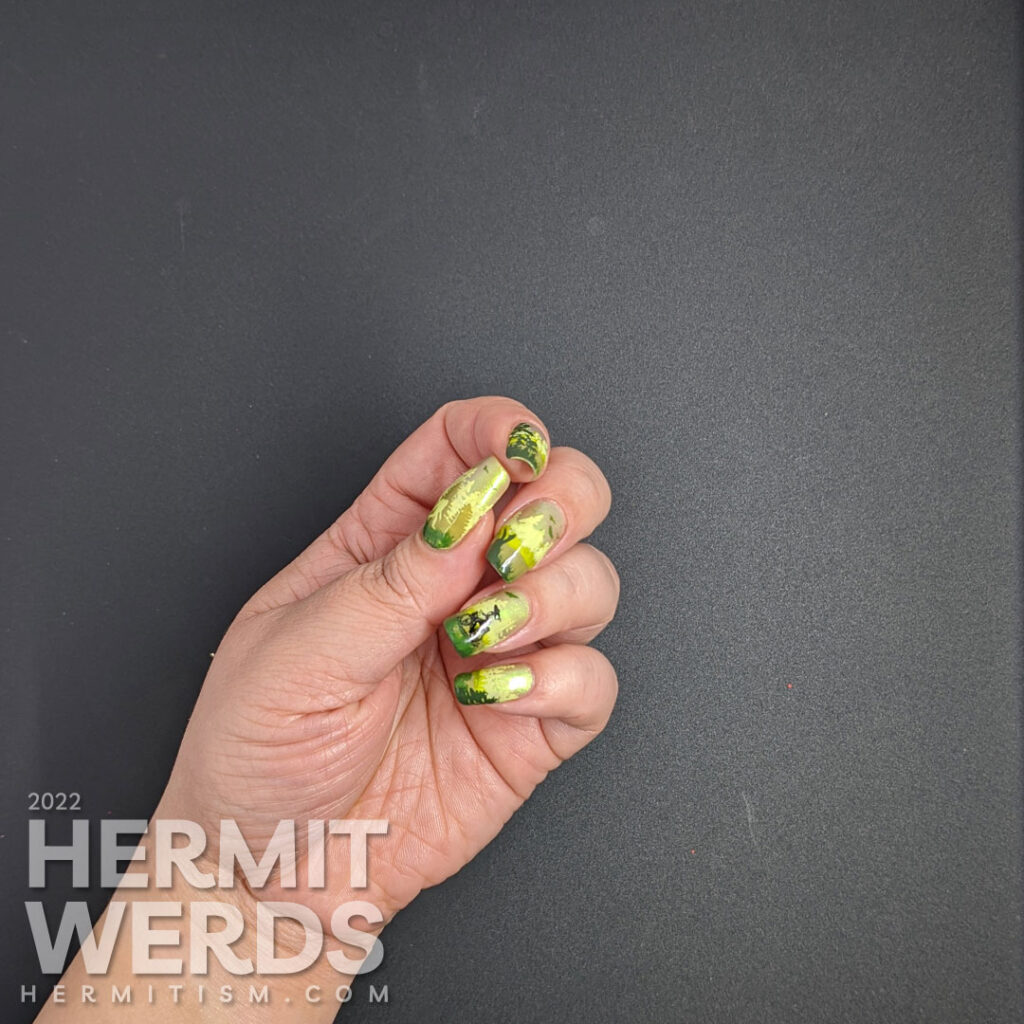 So fun. Especially when you have the nail length for it. Until next time, friends! 👋