So January's Polished Gamers Box was Mario-themed and they started back up the tradition of having a group collage due by the end of the next month (because by then most people have gotten their loot). No one has put the collage together yet. But I'm to the point where I need to post this so… 🤷‍♀️
I only bought two items in January's box so I decided to use them both for today's look. (Look at me sorta behaving well…not. 😛)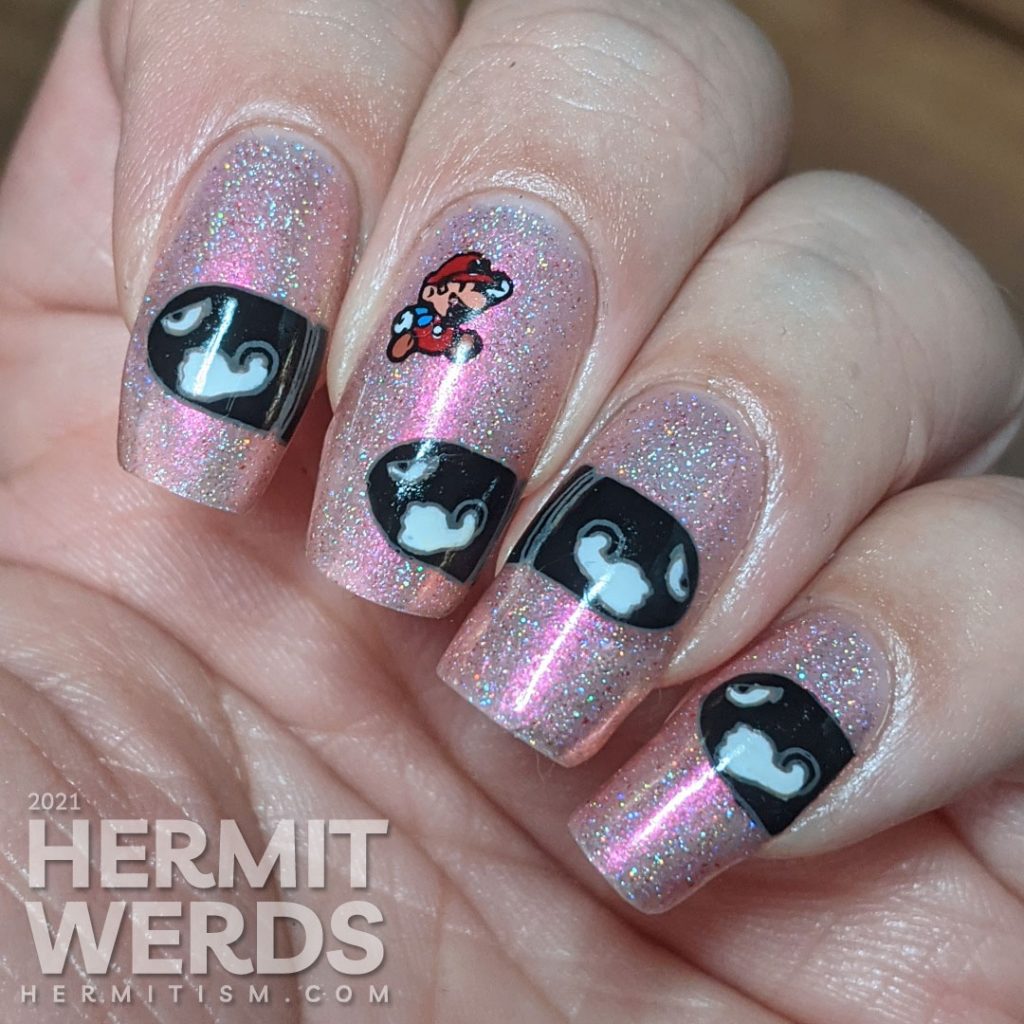 The polish I bought, Indie by Patty Lopes' "Mushroom Kingdom", is a rather complex little polish, but only if you tend to be in lots of different kinds of lighting. The photo above was taken under a natural light and you can see there's a lot of holo in there with some red shimmer. The photo below was taken in my lightbox, but I had to dim the light to get the gold multichrome part to show. Which really makes me sad because I'd hoped the gold would be more prominent. 😢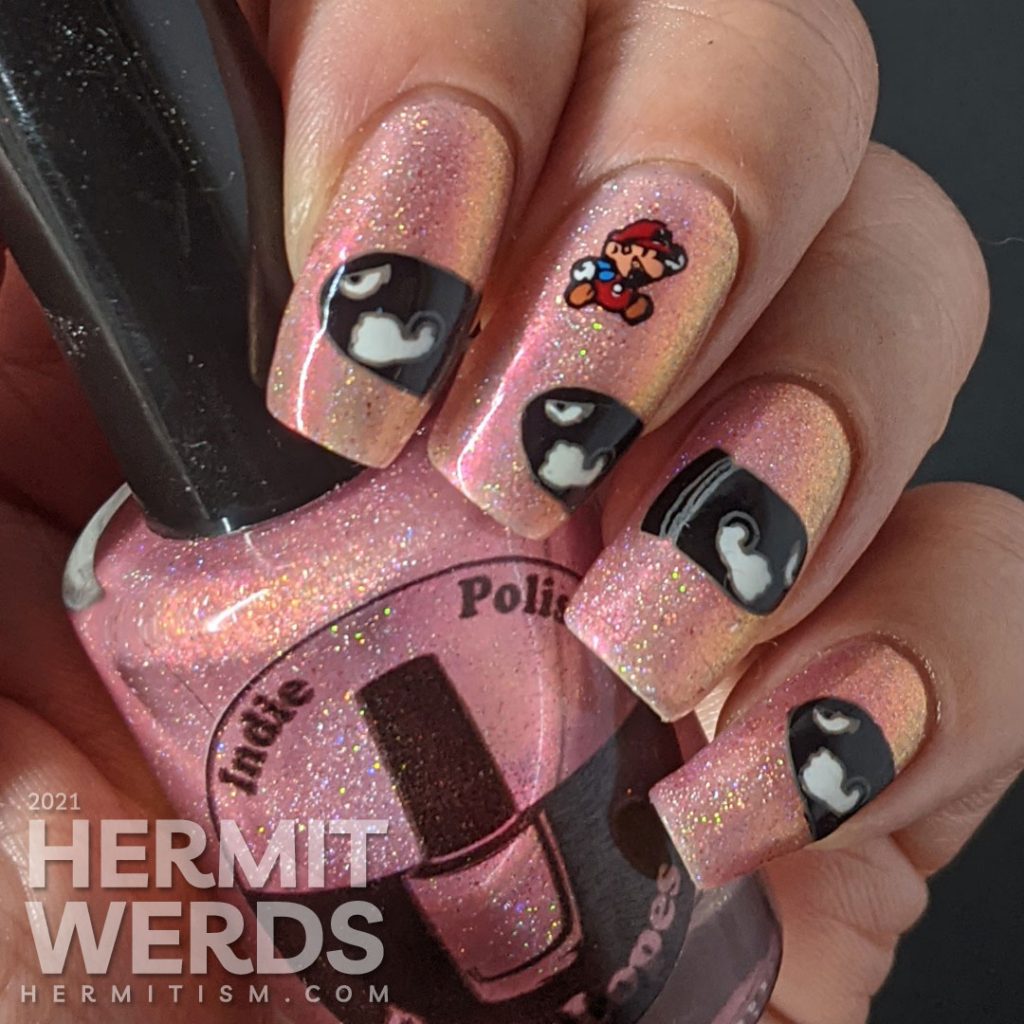 Instead the polish mostly looks like the photo below. Still pretty, but mostly pink with a cool red shimmer and some holo. I guess that's the price of my indoor office lifestyle.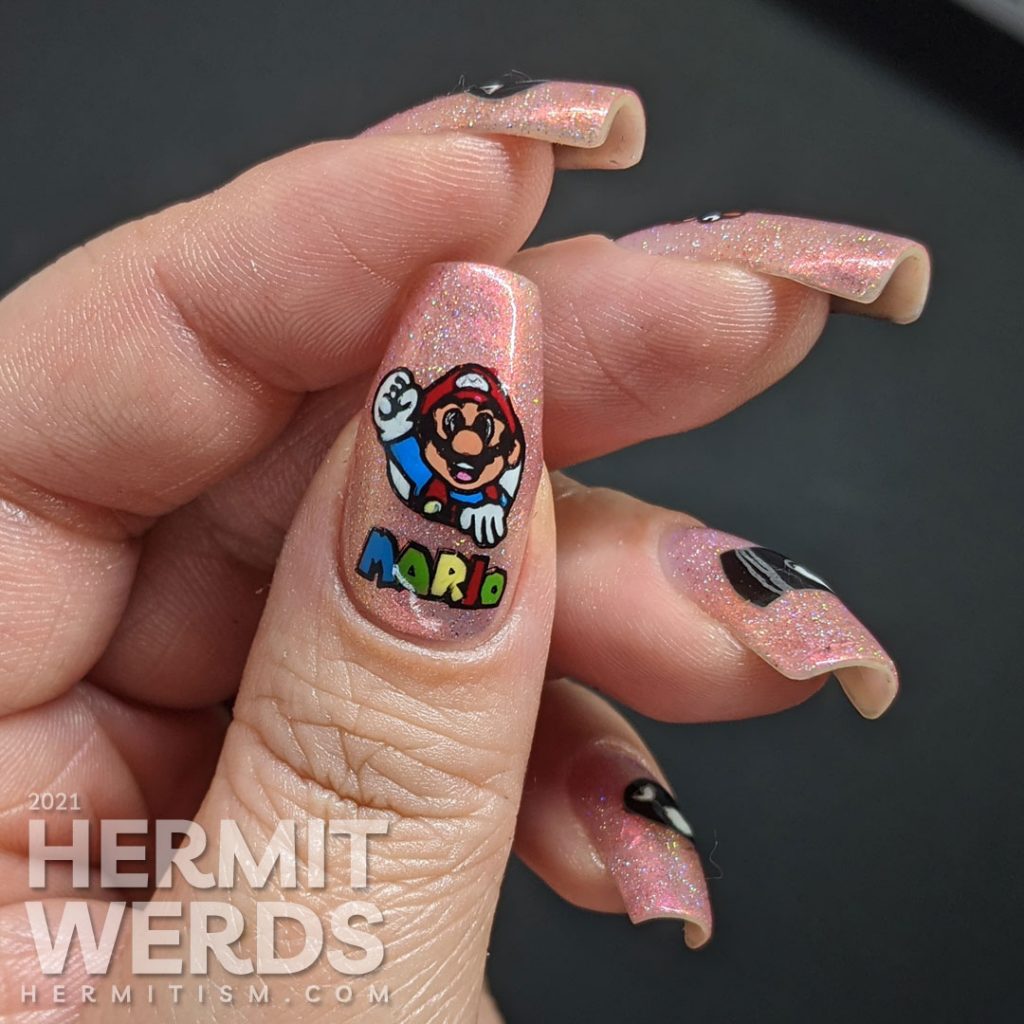 Nail art products used
Base Polish:

Indie by Patty Lopes' "Mushroom Kingdom"

Stamping Polishes:

Born Pretty's "Deepy Foggy" and UberChic's "Pure Black"

Advanced Stamping Polishes:

Essie's "Nama-Stay the Night", Jenna Hipp's "Jenna and the Giant Peach", Maniology's "Indio", Revlon's Parfumerie "Espresso", Sally Hansen's Triple Shine "Kelp Out", Sinful Colors' Demi-matte "V.I. Peach" + "Ruby Ruby", and Smackers' "Wickedly Stylish"

Stamping Plates:

Apipila "Super Mario" (Bullet Bill's and Marios) and "Stampholic 8" ("Mario")
It rather amuses me that with such a huge stamping plate full of Mario images, I only managed to use three of them and then still had to go back to the Stampholic plate, which has a lot of other video game stamping images on it. I also couldn't tell you why I decided to use Bullet Bills of all things. I think I mostly just wanted Mario to look so small and be struggling to live. Like we've all been doing…dodging Covid only with a lot less physical activity and a lot more staying at home.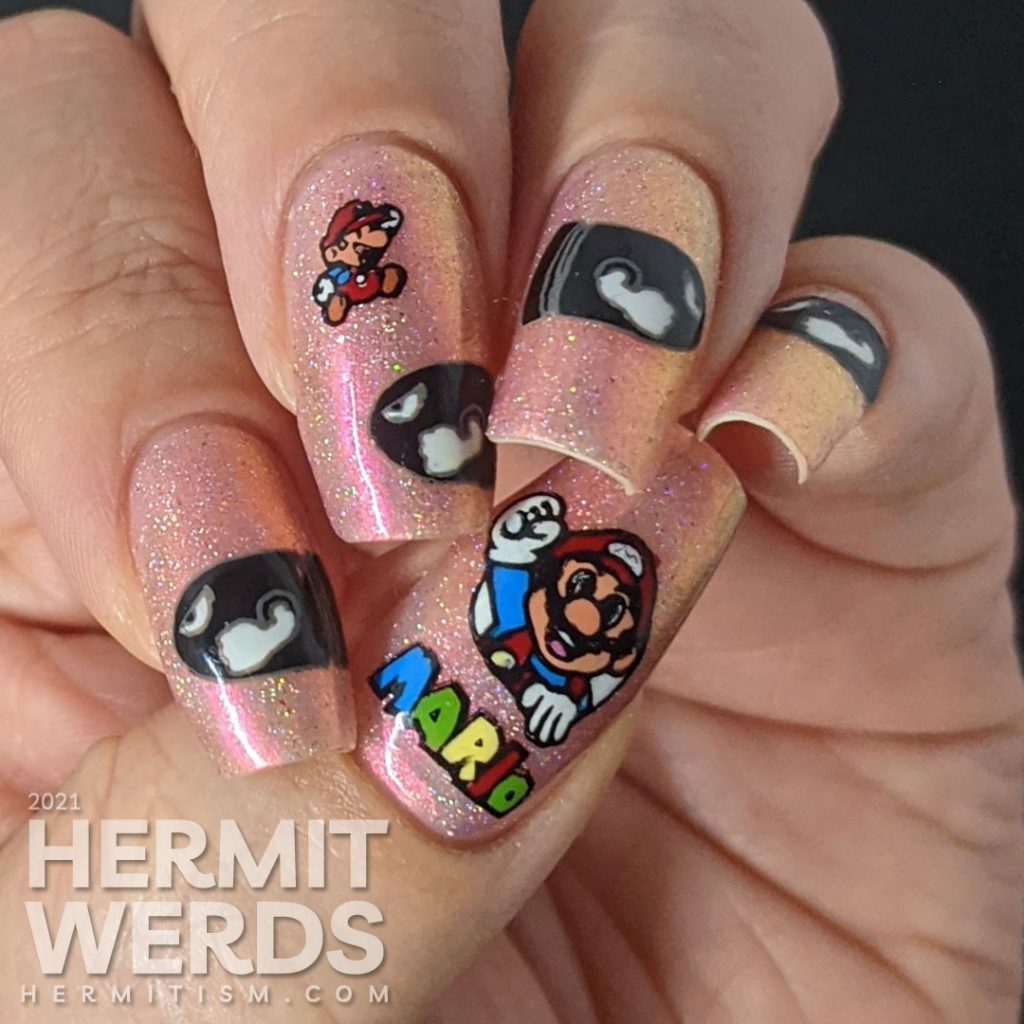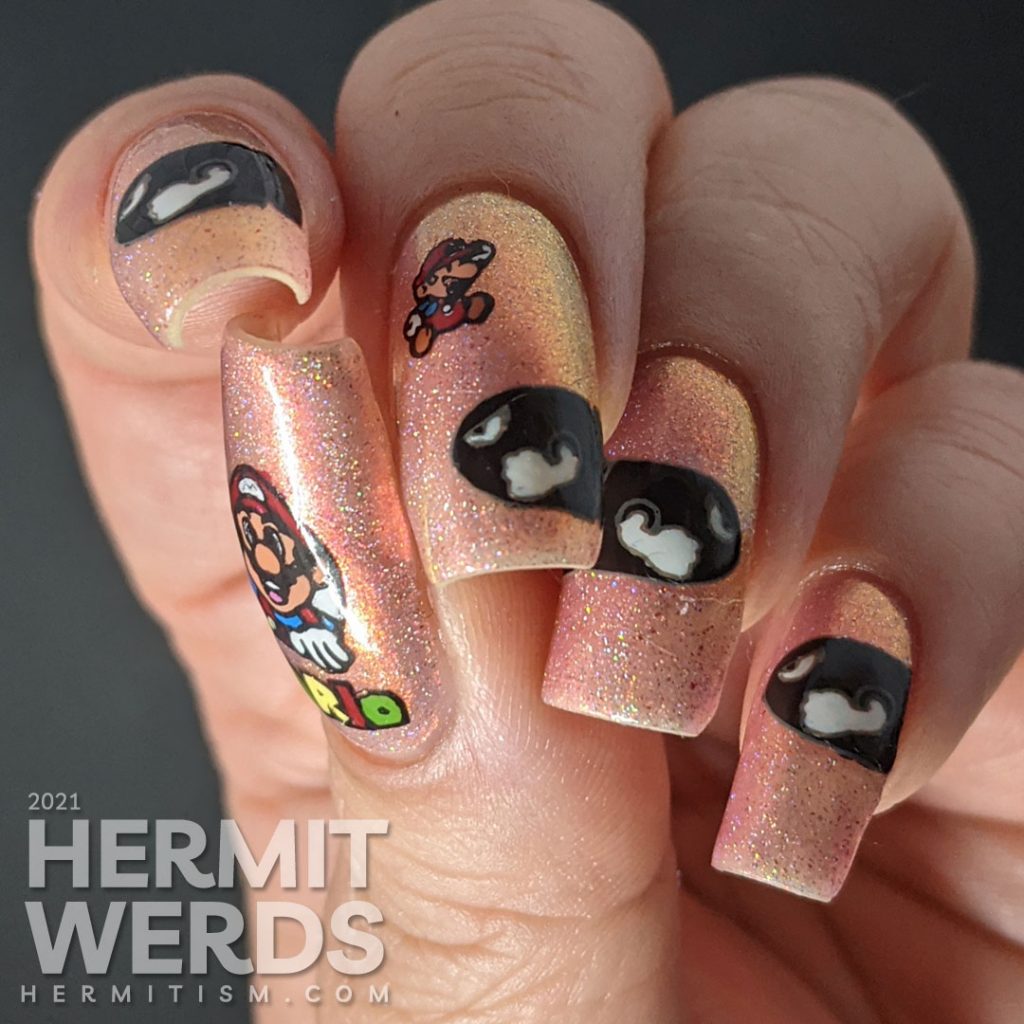 Yeah, okay. I took way too many of the photos with the dim lighting because I love the gold so much. It rather makes this all a bit deceptive, but you can't get the polish anymore anyway because…Box. Heck, I almost didn't get it. It sold out initially and I was lucky to be sulking on the group over missing it when the maker scrounged together a few more bottles. Uff those boxes are so much FOMO.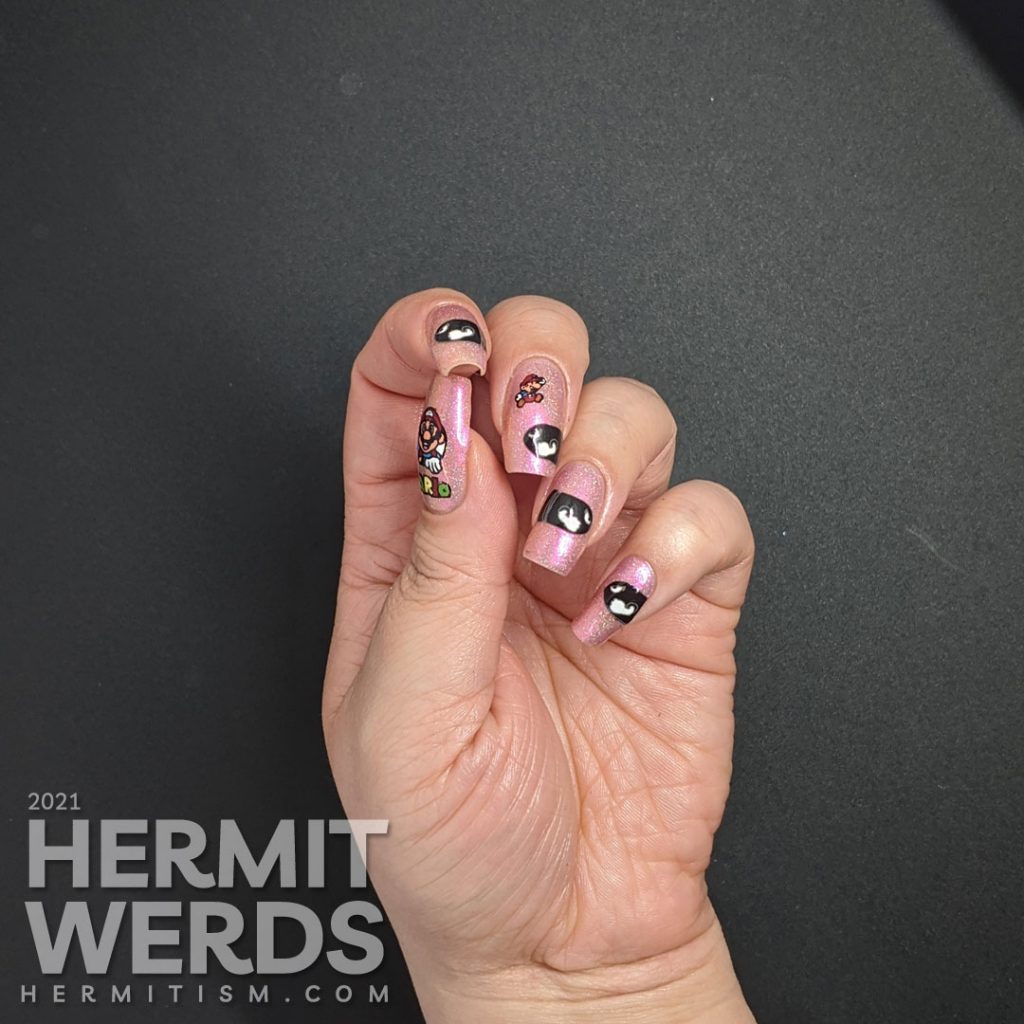 And here we are at the end. Farewell friends and Mario! It has been a while since I played one of your games but maybe someday I'll be crazy enough to get a Switch.