I usually stick to one nail art:one blog poast, but things are getting backed up so we're going to have a few two-fer posts in the next week. Today we're talking about my nail art for #GlamNailsChallenge's Paisley (The Fanciest Paisley) and #26GreatNailArtIdeas' Dry or Drag Marble (Welcome to Hell). I'm not going to feel too bad about combining these because I feel like the latter was a bit of a nail fail. 🙁
Luckily I'm in love with the first one. I started with a polish must-have for me: Turtle Tootsie's "Crazy Cranberry Concoction". It was love at first sight and a bit of a personal let down that it took me so long to use it. She released it as part of the Crazy 4 Crellies set last November. It's a purple-leaning cranberry crelly with metallic fall colored glitters. I love the way they subtly glimmer out at you from the crelly base. I didn't take a swatch photo, so I'm going to share a macro photo with you first: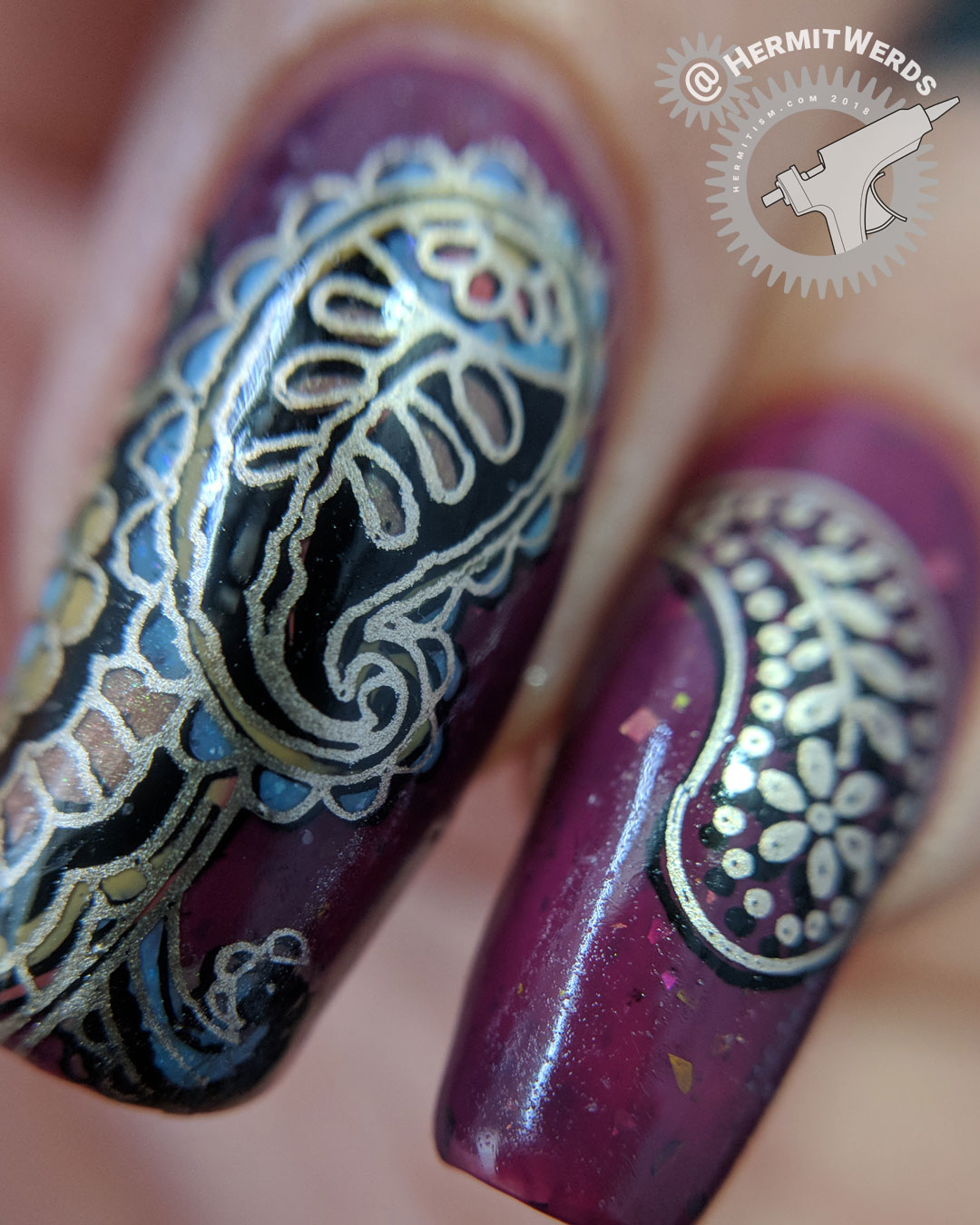 Delicious, right?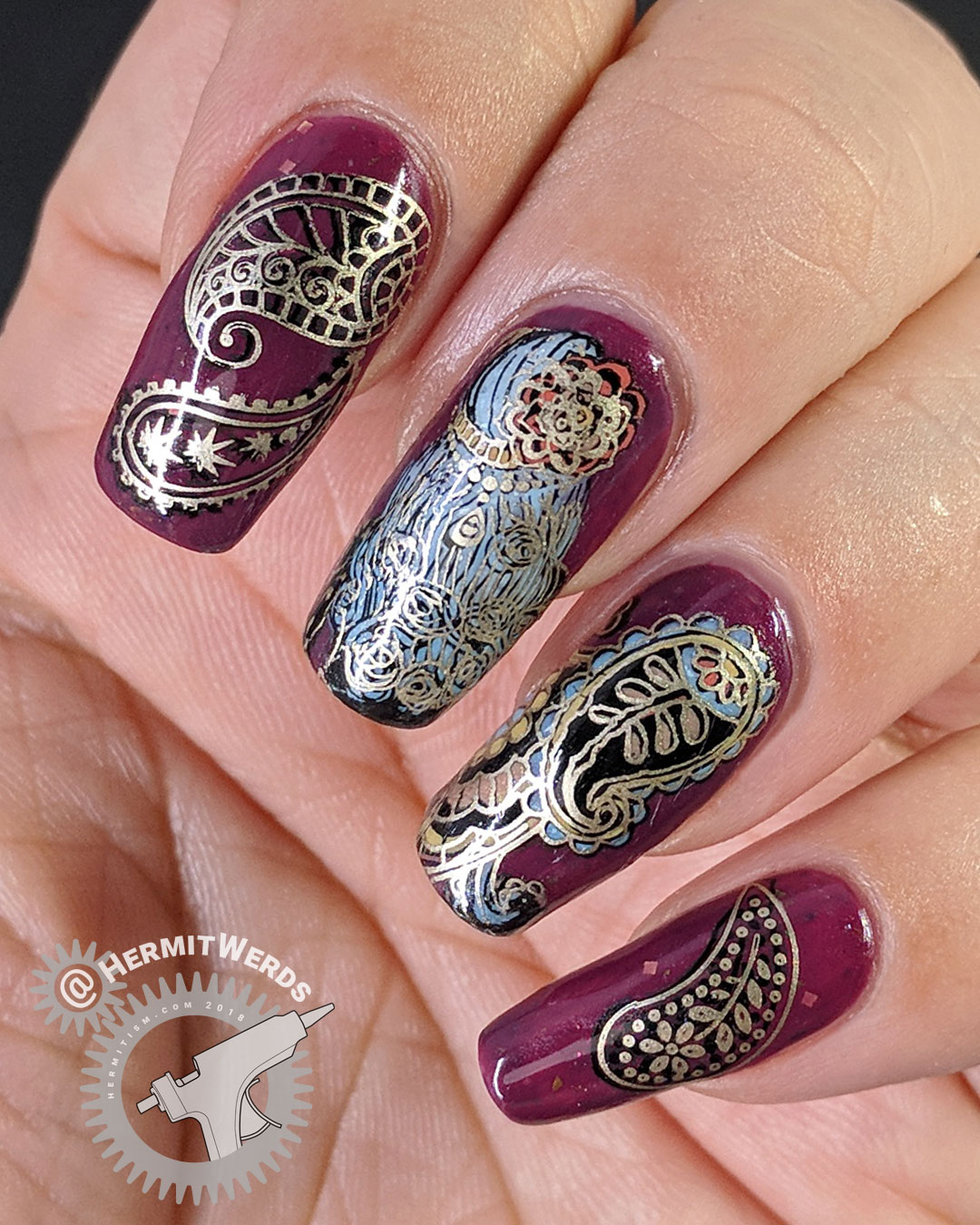 Paisley patterns tend to be dense and intricate so I wanted to fill up my nails but I didn't want to have to fill in every tiny detail of five decals. Too much work! I decided to throw gold double stamping into the mix and only fill in two decals. I really like how that turned out, but I used my shrink stamper on the woman and the size of the images didn't match enough on the double stamp. If I could do that over, I'd only keep the double stamping for the tattoos on her arm and the outline of the hair ornaments. Still lovin' it, though. 🙂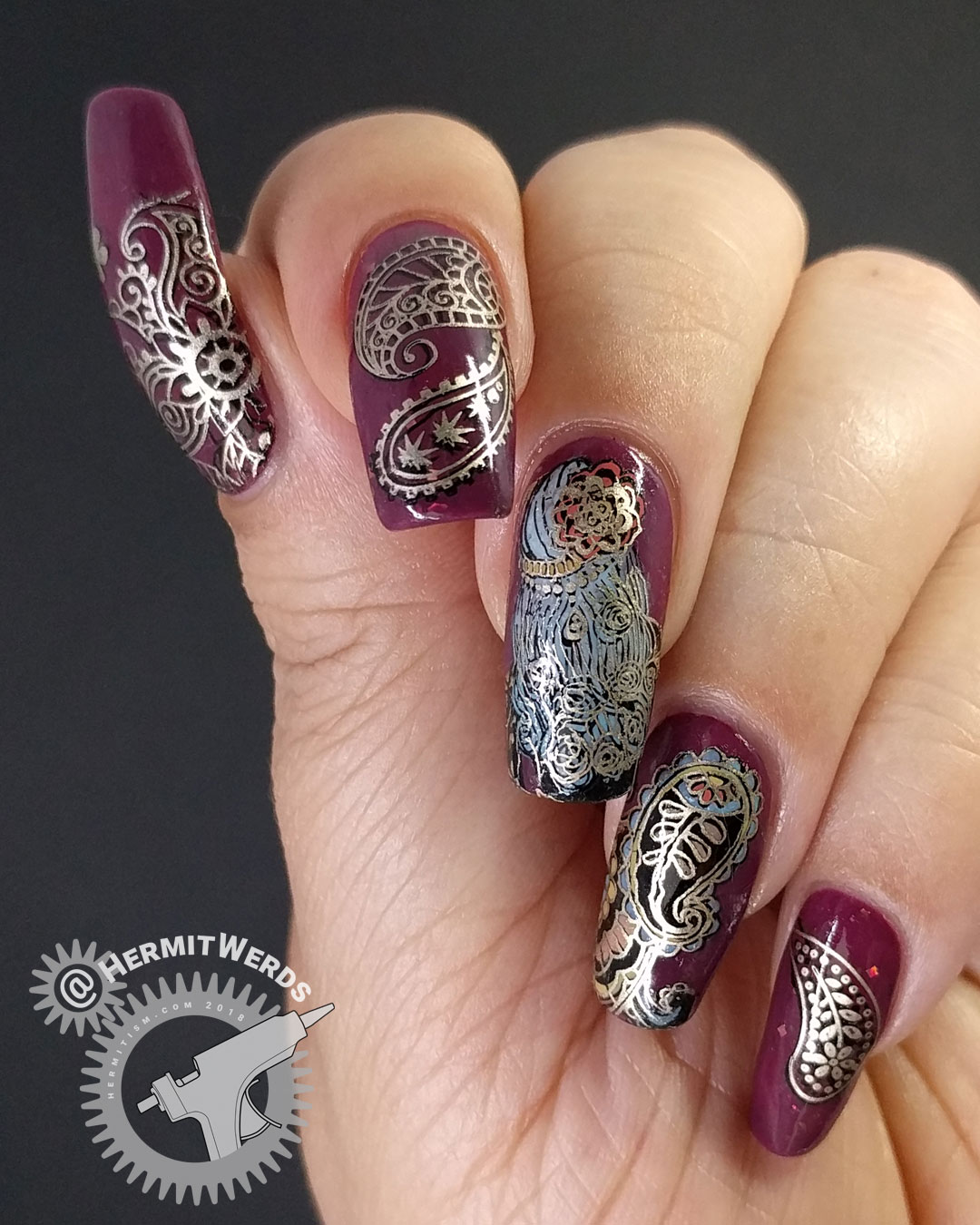 One last look at all the fanciness before I (maybe?) disappoint you. LOL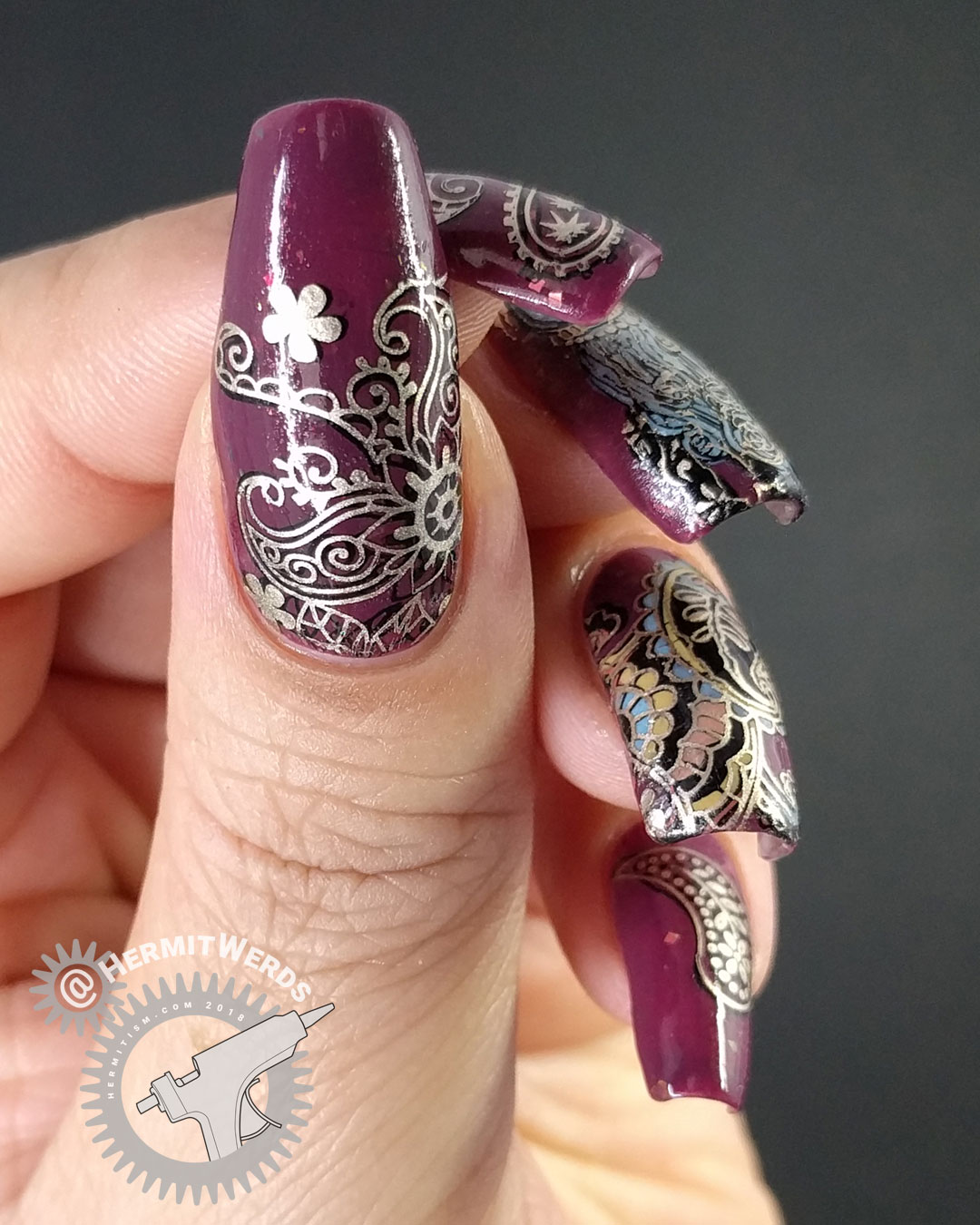 This is not a good time of year for me to do a needle drag, but things are what they are and this is what popped into my head. Flames seemed like a good idea and I had this image of stick figures that were really quite creepy. I'm amused, but I don't like how it came out. I probably would have been happier with stamped flames, but that would have been against the point of the prompt. I also should have filled in the heads of the people with black so their features would not become obscured. They look happy though. And maybe being able to see through them is symbolic of how empty they are inside.
Really this might be the creepiest nail art I have ever painted. And I've painted caged babies hanging from trees.
"Come hang out with us, friend!"
"Do things that you can never speak of with your mother."
"It'll be fun."
"It'll be fine."
hehehe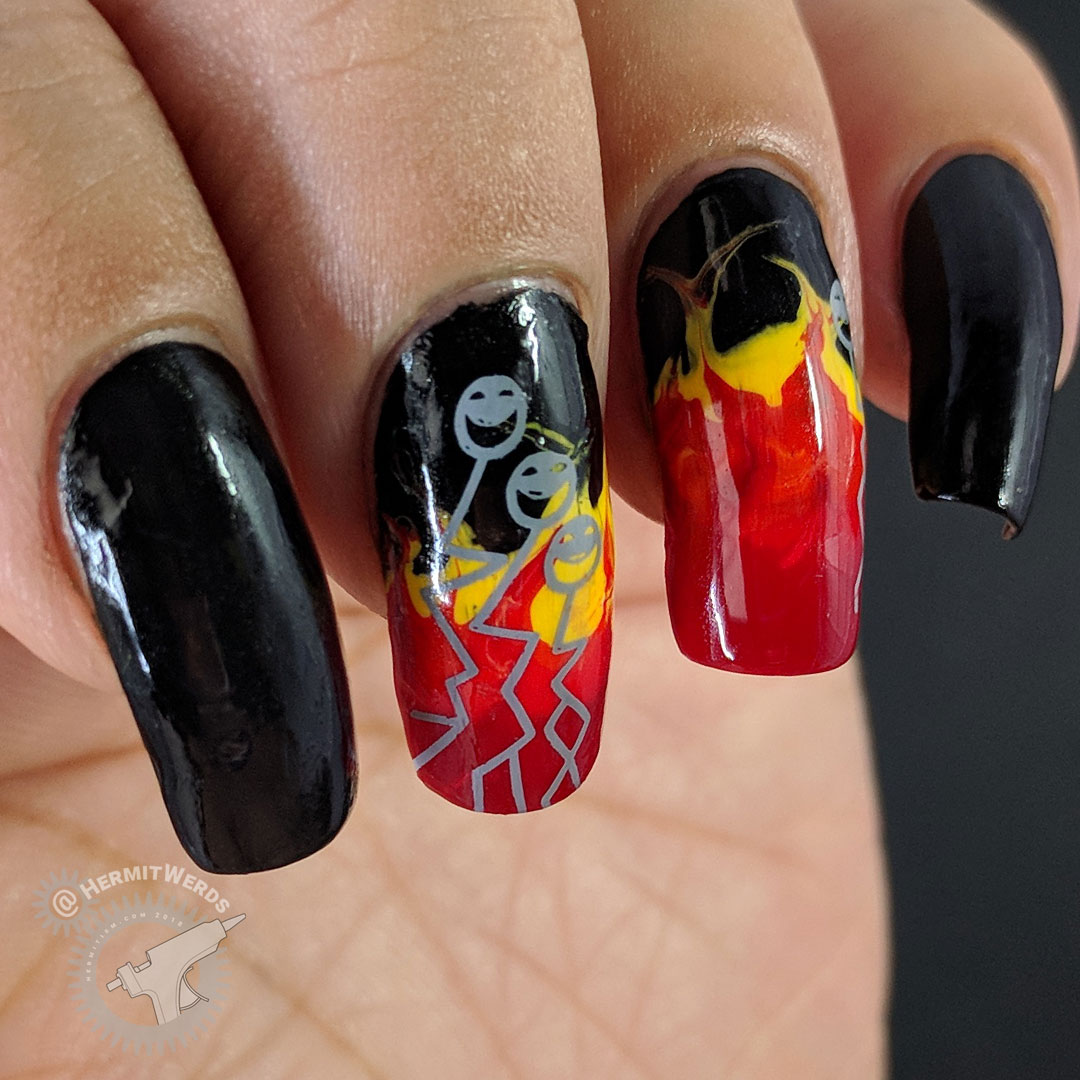 This was my fourth or fifth try to get the needle drag technique to work and I'm still pretty meh about the results. Missing winter and early spring already. /sigh
Check out all the beautiful dry marbles from the group: