I am interested in way too many challenges this month and yet there are a lot of real life things I need to get done. So…things might get messy(er) this month. I may be hitting it hard and then abruptly ghost. We'll just have to see. One compromise I'm making is that I'm going to try to lump the #glamnailschallenge prompts in posts of three manis each. So this first group of three covers: balloons, lollipops, and candy.
Love Balloons
I should stay this from the start: I no longer like balloons as a concept outside of art. They are terrible for pets and wildlife when released. They waste helium, which we cannot currently replace and need for a lot more important things than balloons like MRIs. And they lie about how compostable they are so that you'll buy them.
(Really, you shouldn't buy anything that says it's compostable unless you plan on composting it yourself. But that doesn't change the fact that feeling like something is compostable makes you feel better about throwing it out in the regular trash. Like…maybe it will at least break down a little faster…)
I think the only kind of real life balloon I like anymore are balloon animals. Because at least you can play with them for a while and they are an art form. Speaking of art…it's time to step off my soap box and share the nail art: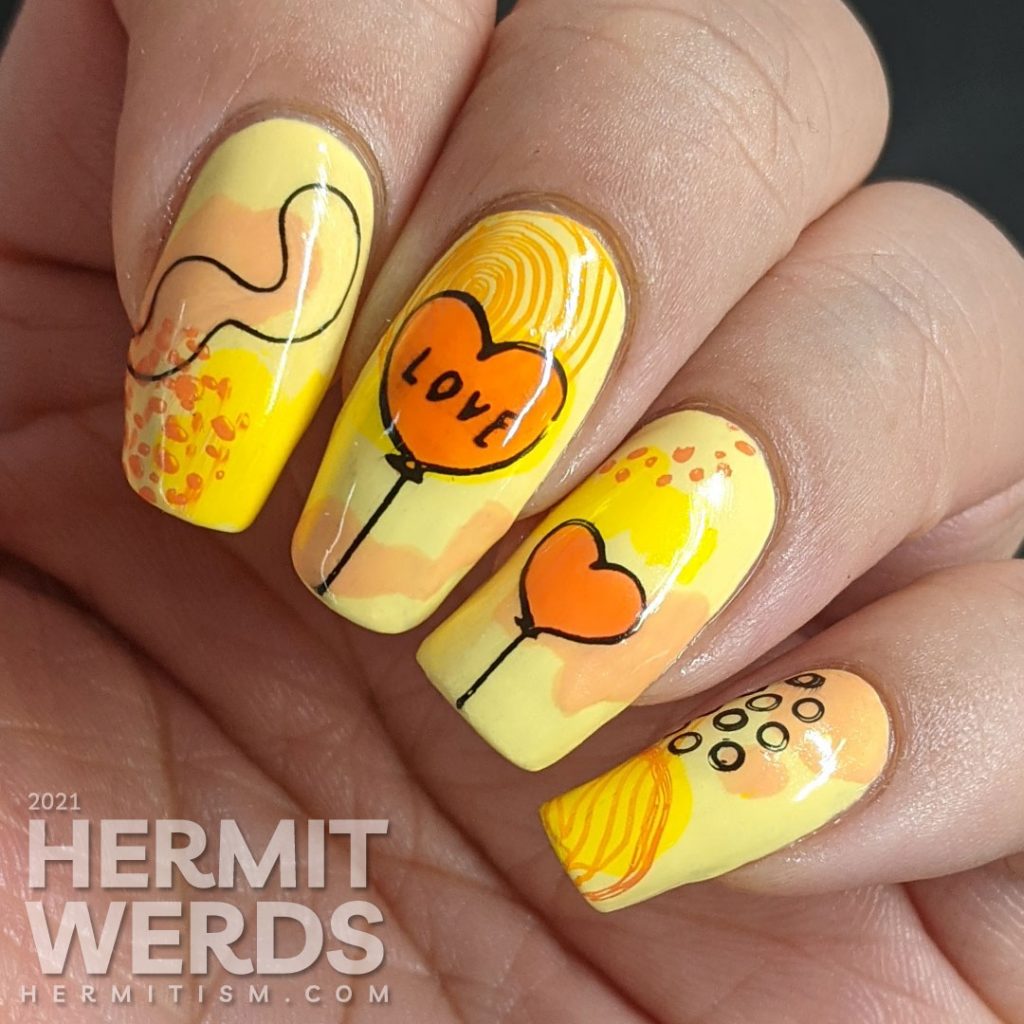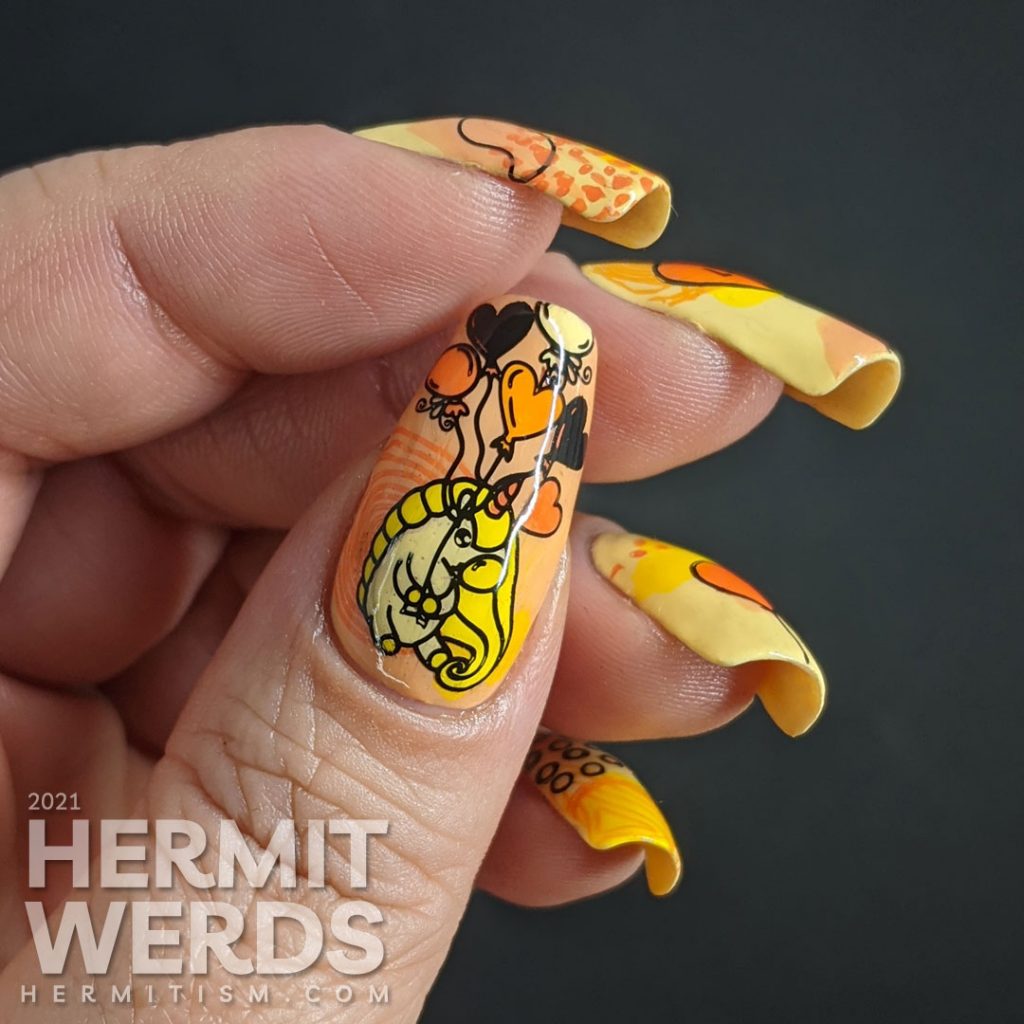 Nail art products used
Base Polishes:

Stamping Polishes:

Advanced Stamping Polishes:

Stamping Plates:
I am generally not great when it comes to abstract nail art because just can't resist adding one more element then it needs. I think I hit the balance okay here, but then I had problems with smearing. Ah, well. Every mani done is practice for next time. I'd always planned on the heart balloons, but then I noticed I had whole bunch of heart balloons held by a unicorn and that rather sealed the deal on what went on my thumb.
Turns out I love Zoya's "Bee". It paints really well, especially when you swap in their wider brush. I have a small amount that I got "free" by spending money when Zoya wanted me to and I've been hoarding them for the polishes that need them the most.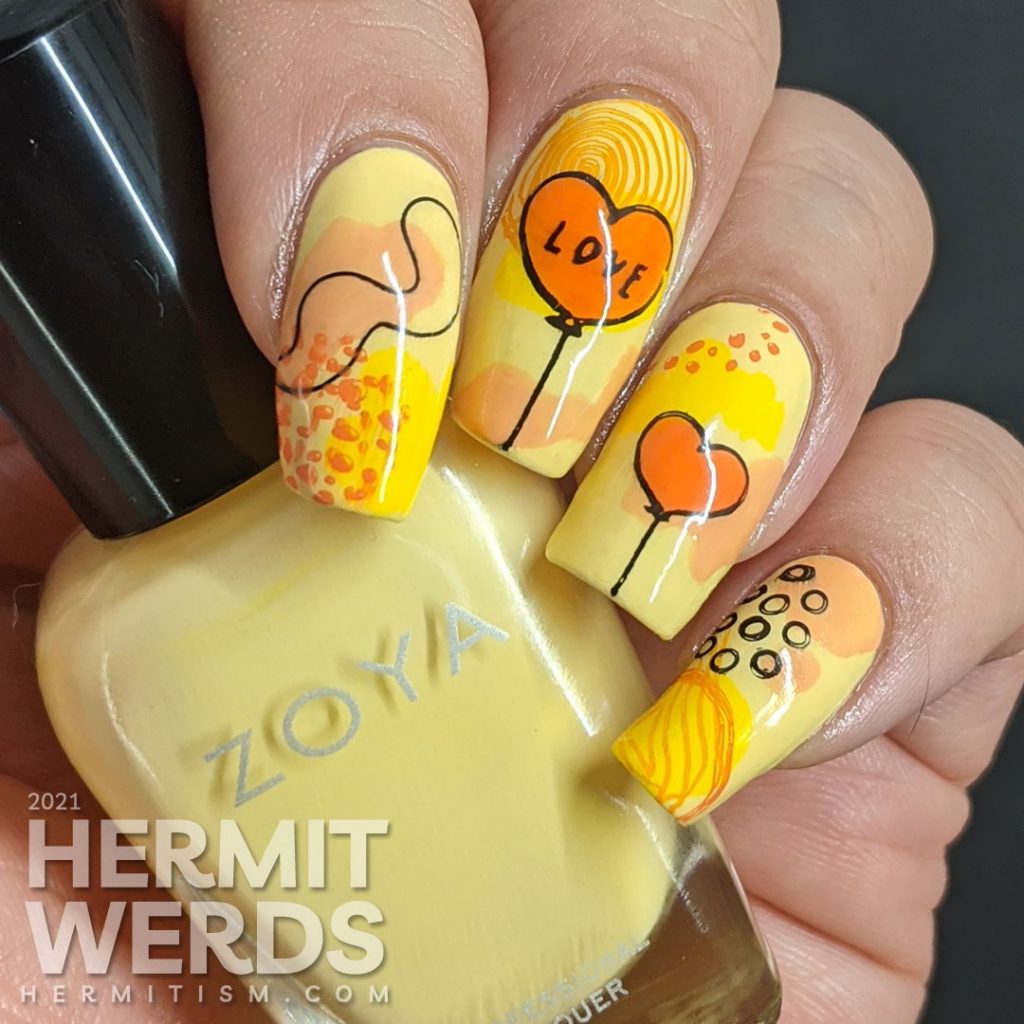 When Colours Collide
So I also painted this nail art for the color challenge on Facebook. And…I totally missed that they didn't want people using pastels. I am a little surprised I didn't get called on it, but I guess my overall design was bright enough that it fit and "Bee" is described as pale on Zoya's site, not pastel. Still. A reminder to read the next challenge more carefully since it's unfair to the admins to make them have to decide whether or not they should confront me. 😟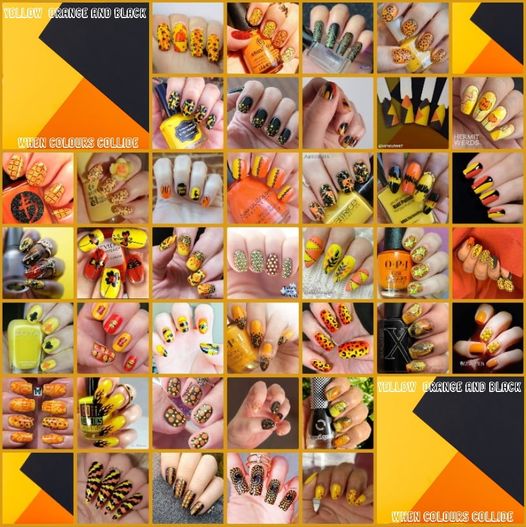 A few more photos before we move on to the next nail art.
Sweet Lollipop
And now we're getting into the real treats. This next design features a specific type of candy: the lollipop. I ate a lot of suckers when I was young because there was a group in my Elementary school that sold them. They tended to have more "gourmet" flavors too. I may have skipped lunch sometimes and used the money to buy them instead. (My mom made really good homemade meals, so school lunch sucked for me in comparison. #spoiled)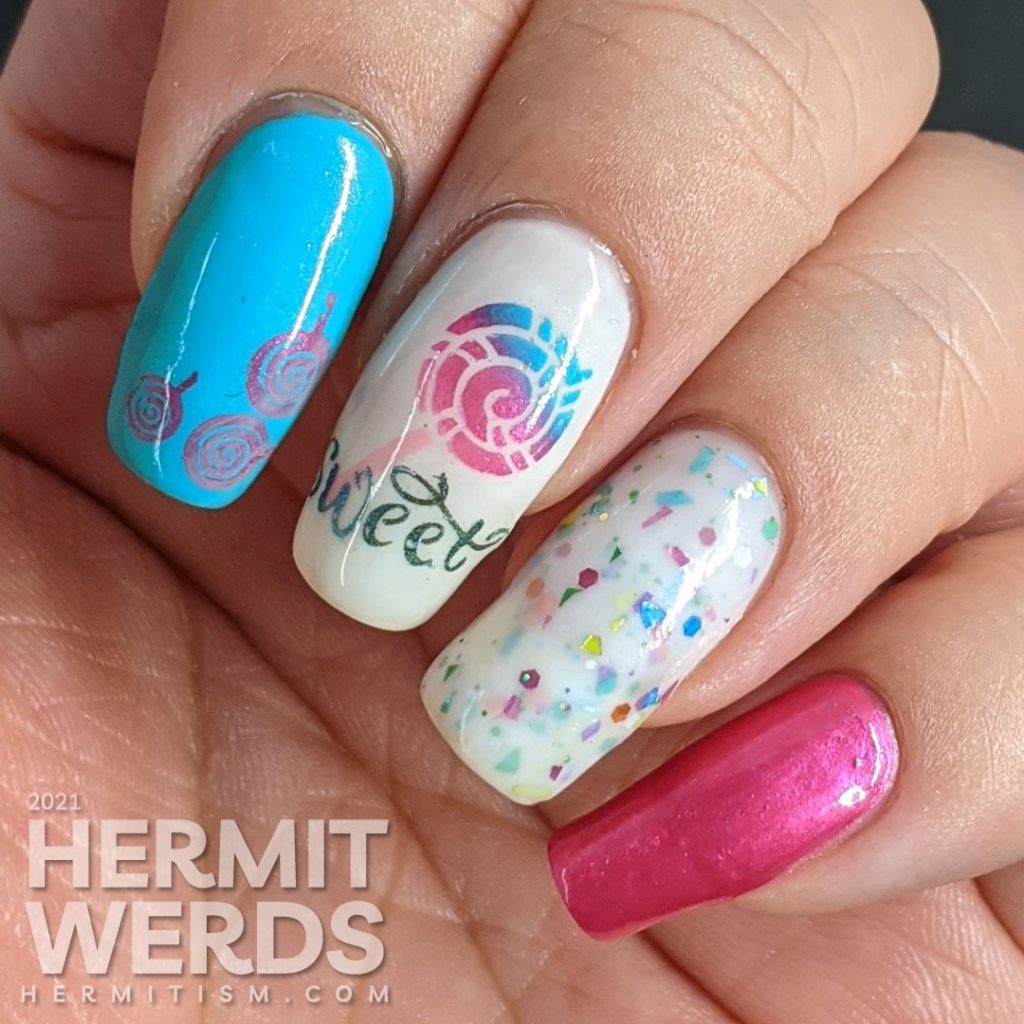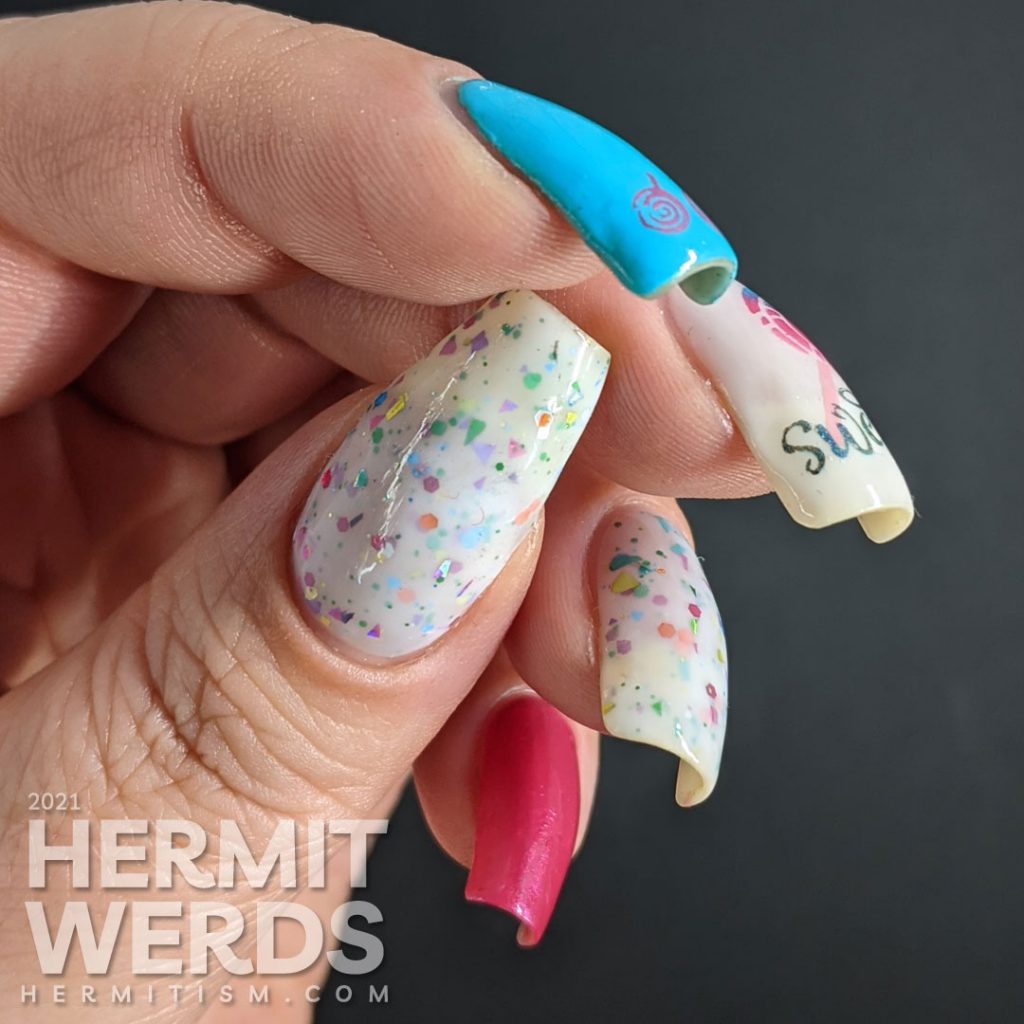 Nail art products used
Base Polishes:

All Mixed Up Lacquers' "Magic Candy Stick"; Hit the Bottle's "Electro Candypop" and "Psycho Pink"; and KADS' "Cloud Dancer"

Stamping Polishes:

Born Pretty's "Cherry Blossoms" + Hit the Bottle's "Electro Candypop", "La la la… I Can't Hear You" , and "Psycho Pink"

Stamping Plates:
I really love the rainbow-filled crelly, All Mixed Up Lacquer's "Magic Candy Stick". (You see how even its name fits this theme!?!) Colorful crellies are pretty common, but one that feels like well-balanced rainbow is harder to find. I really shouldn't have bought this one since I already have a rainbow crelly, but it felt so balanced I couldn't resist.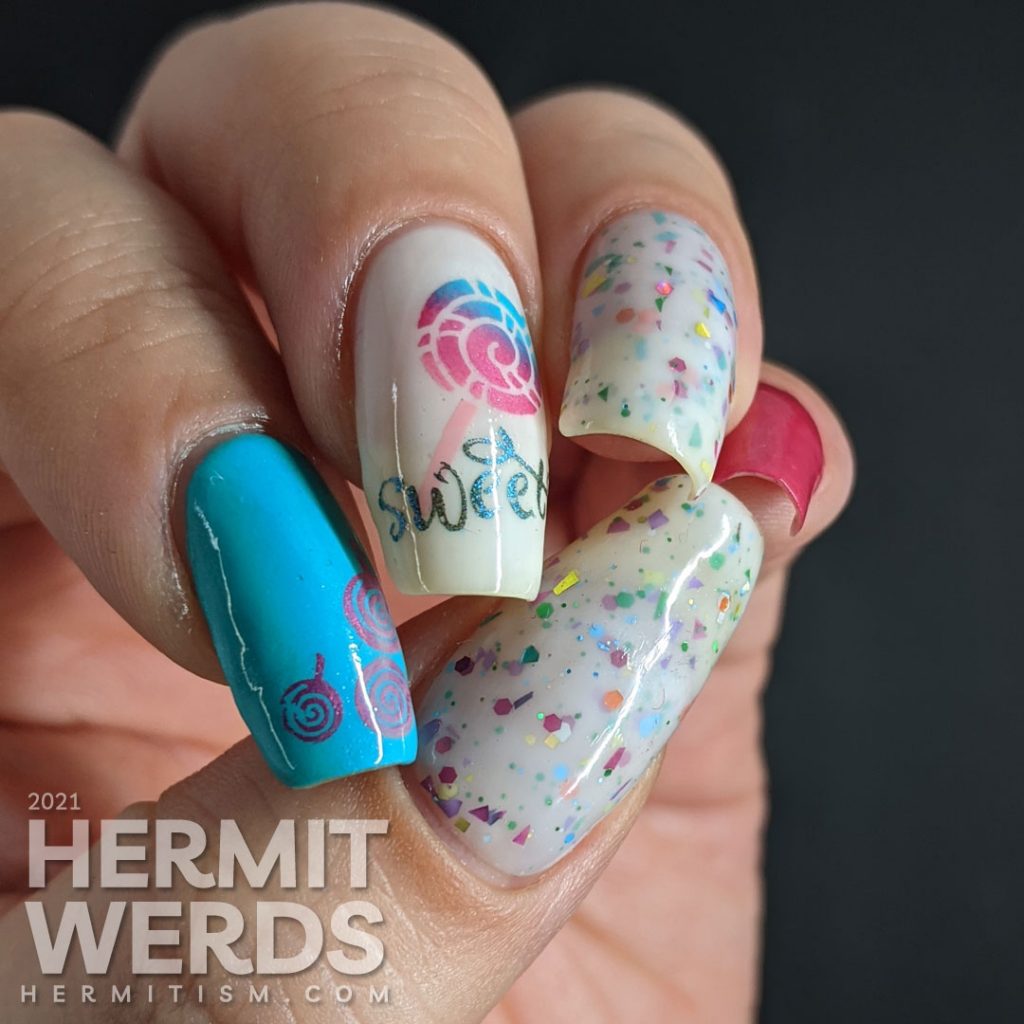 Such a happy rainbow. Meanwhile, while I really have a lot more KADS, Maniology, and Born Pretty stamping polishes, my collection of Hit the Bottle has also been slowly growing thanks to Polish Pickup. They work pretty well to cover a full nail too.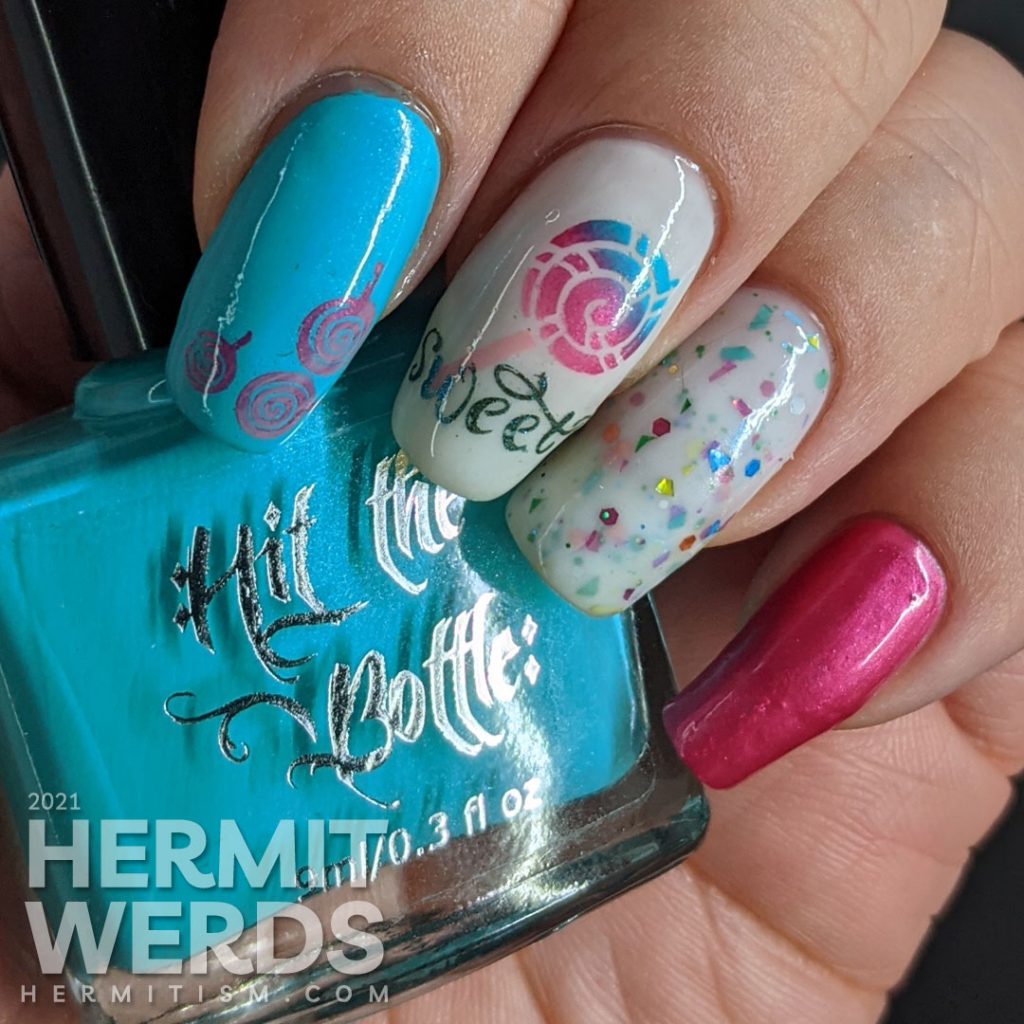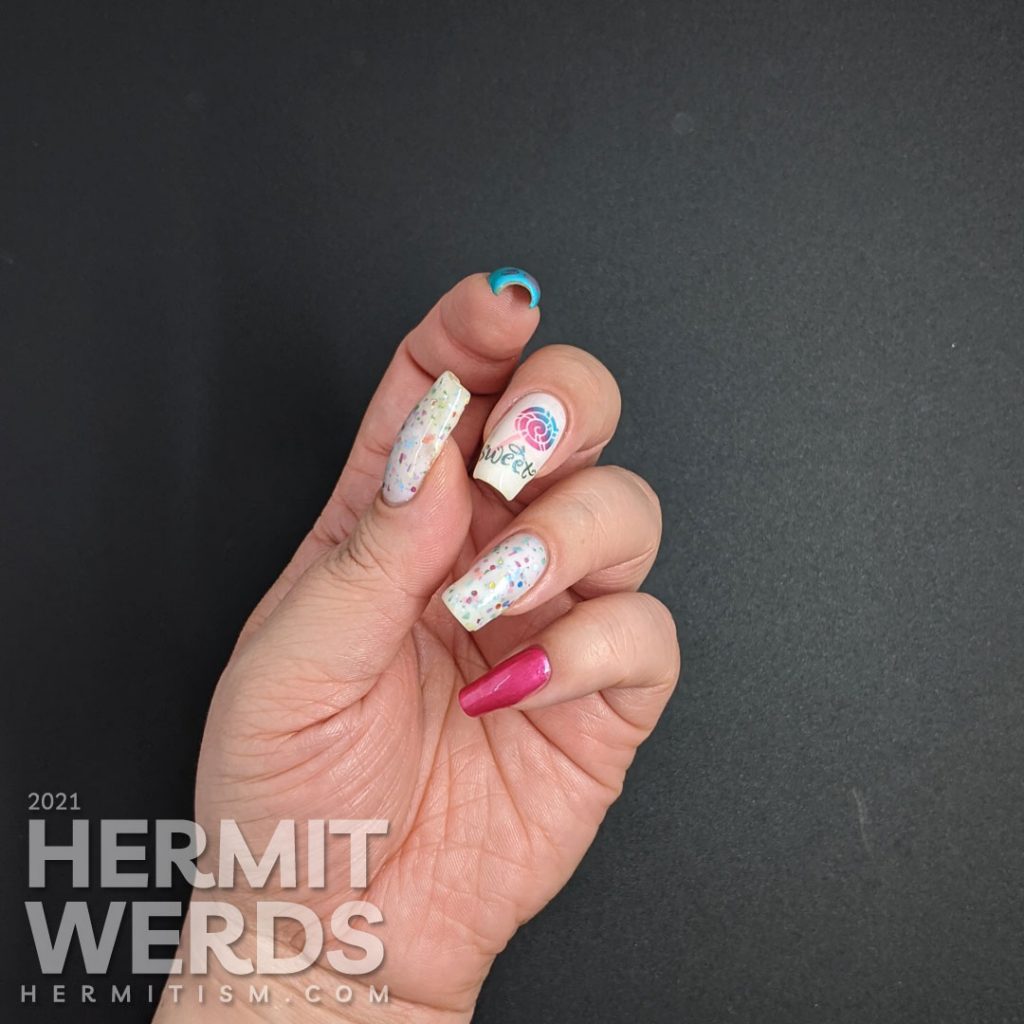 And the far away photo marks our transition to the third and final mani of this blog post: the candy candy candy one!
Clover Candies
Naturally Saint Patrick's Day is only a little over a week away and I like to paint one mani for it every year. So I decided to combine the candy prompt with a four-leaf clover since holiday themed candies are available for all major holidays. Really, I'm just waiting for the day when Talk Like a Pirate Day comes with its own candy line. (Gold coins don't count! I want a box of chocolates with citrus-y centers to "Prevent scurvy in the one you love. Arrr!")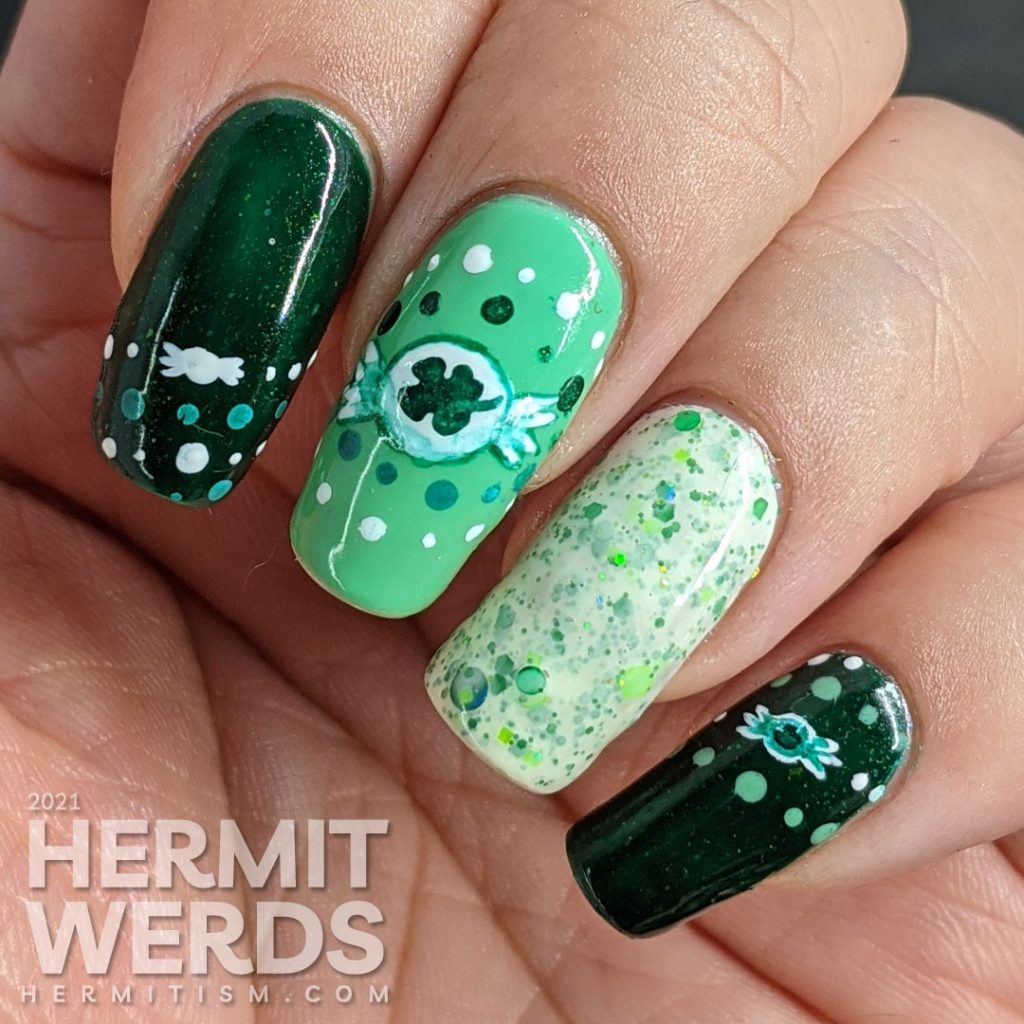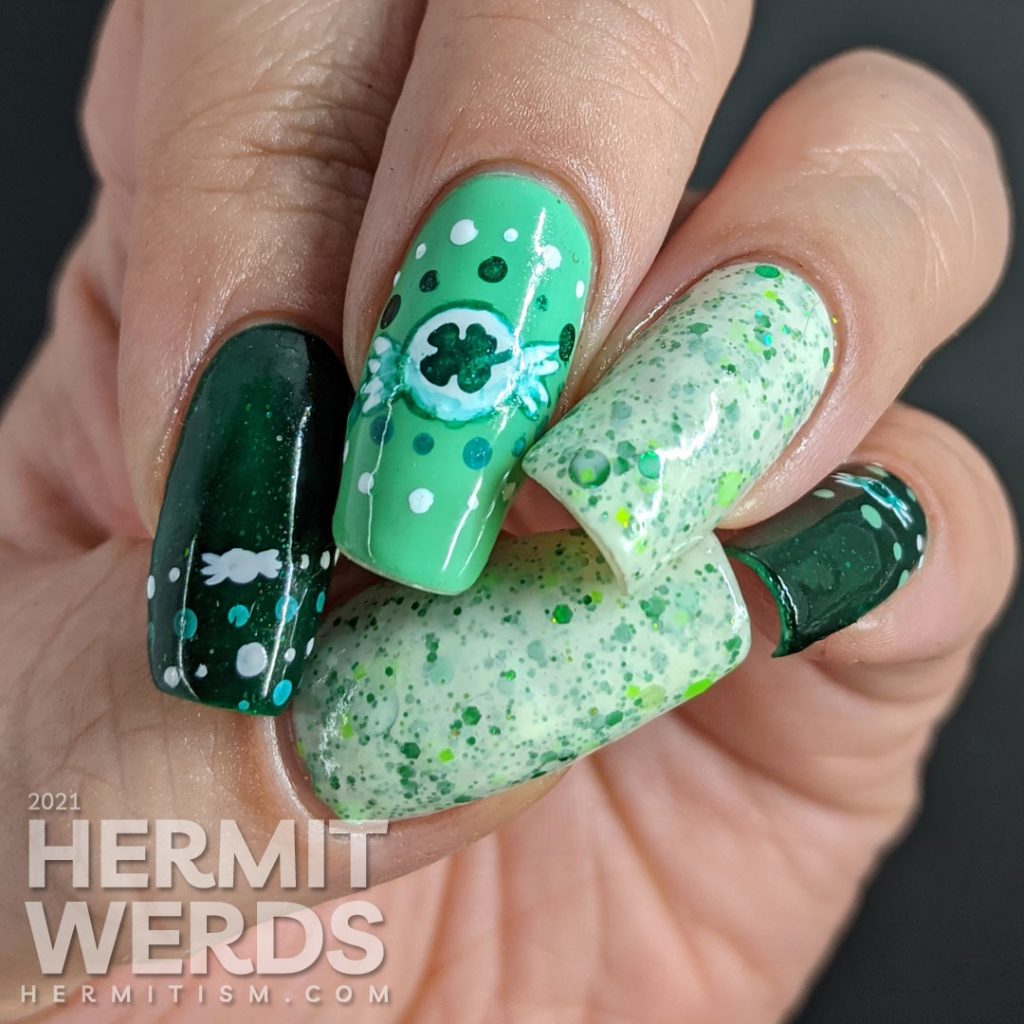 Nail art products used
Base Polishes:

Chilarity's "Charlie No-face", Ms Sparkle's "Good Luck Bear", and Sinful Colors' "Mint Tropics"
Acrylic paint in dark metallic green and white and some Sinful Colors' "Mint Tropics" used for the candy and dots.
I'm not very good at dotticures, but I thought I'd throw the technique into the list as well. I feel like I did better than last time, so that's a win. 😂 But the real star feels like the crelly again. I did have it in mind for Saint Patricks' Day when I bought it.
And because I freehanded all of this, I guess I thought it deserved a macro unlike the other two manis…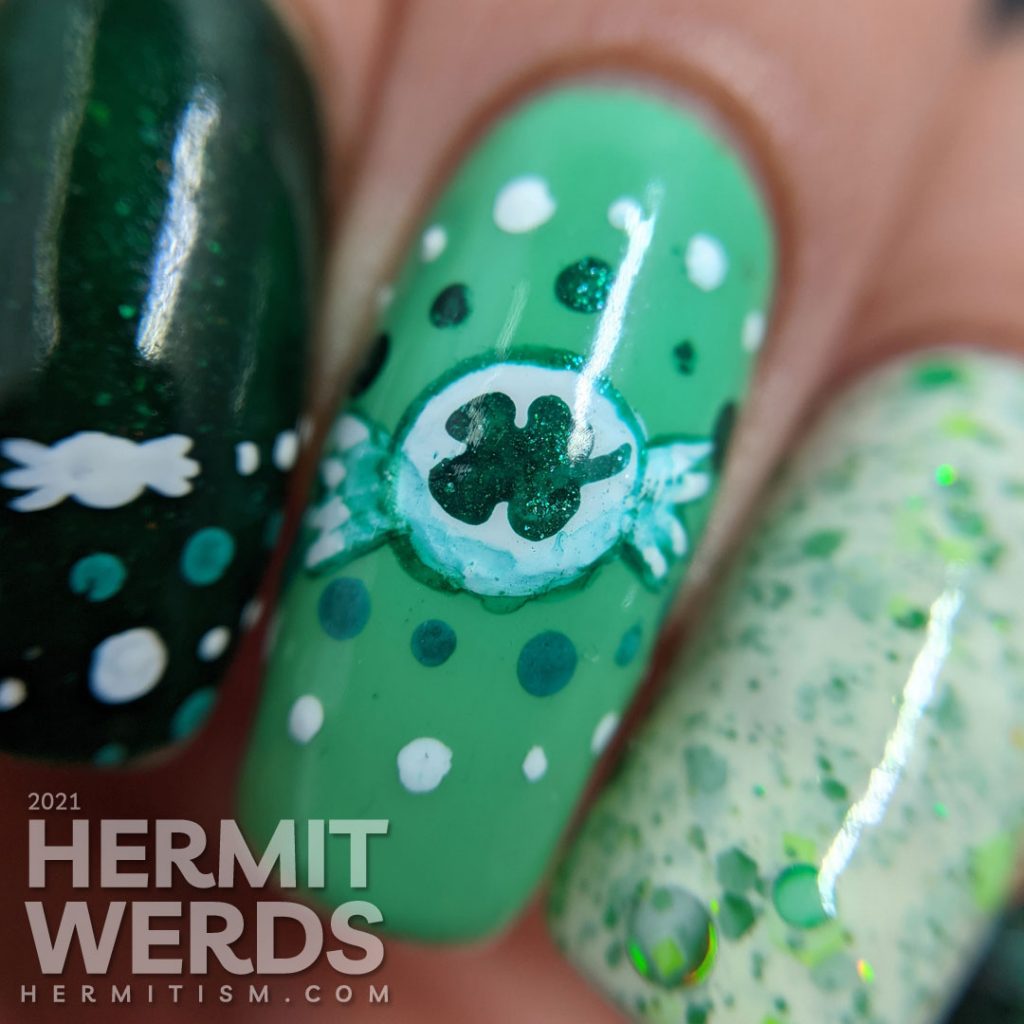 And far away. Naturally the large candy is mostly recognizable, but at least one of the smaller ones still feels identifiable as well. Maybe I should be trying to photograph from even farther away. 🤔
And that's it! Now I've passed when I was posting to Instagram again. Hopefully I'll be able to paint all of the next three manis before Sunday so that the blog stays ahead of Insta-posts.
Until next time, friends! 🙋‍♀️