Okay, the title to this mani isn't all that creative, but the main stamping images came from the Kindness is Magic stamping plate from The Stamping Shop Collab, so I just went with it. And since my theme was already going to be citrus, I decided to go with citrus-y colors in the background using a gorgeous thermal polish by DRK Nails, "Don't Lose Ur Head". The name is kind of ironic since these stamping images are all head with little limbs and no real body.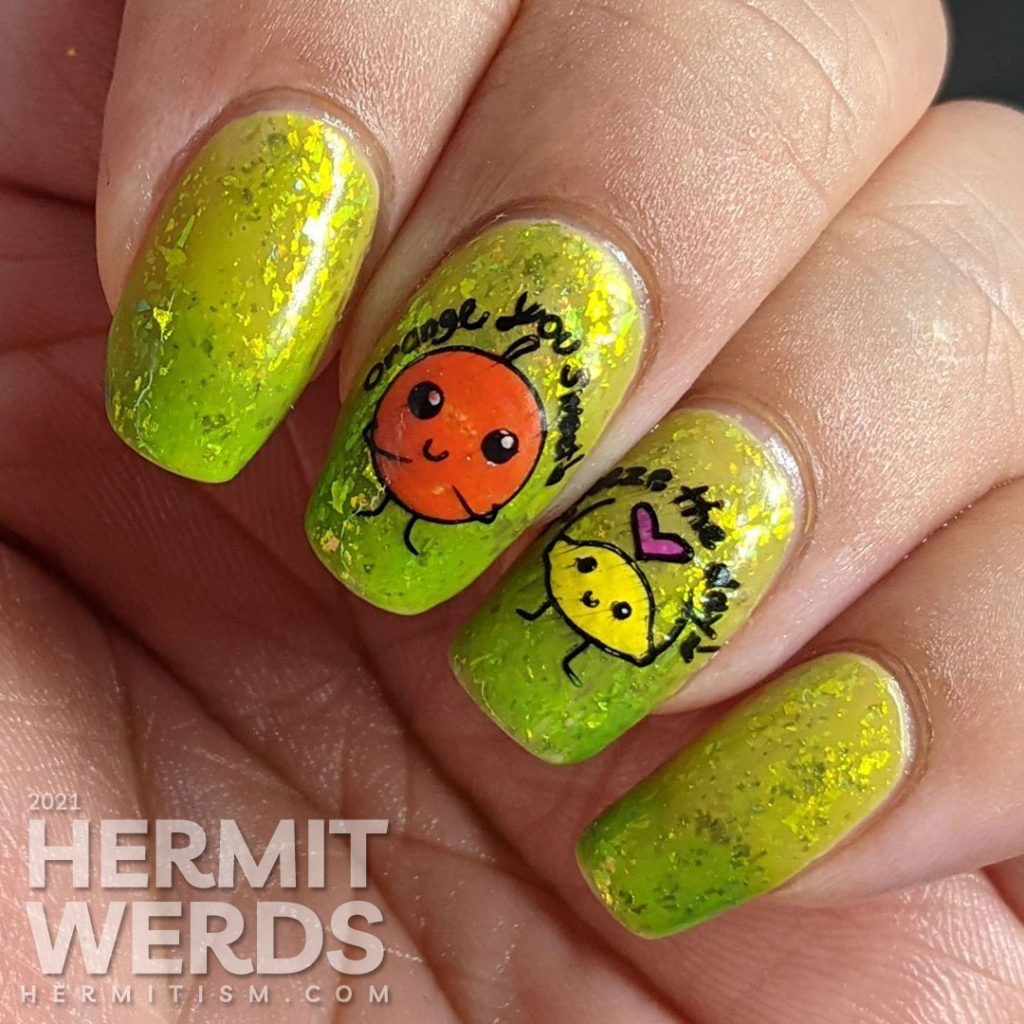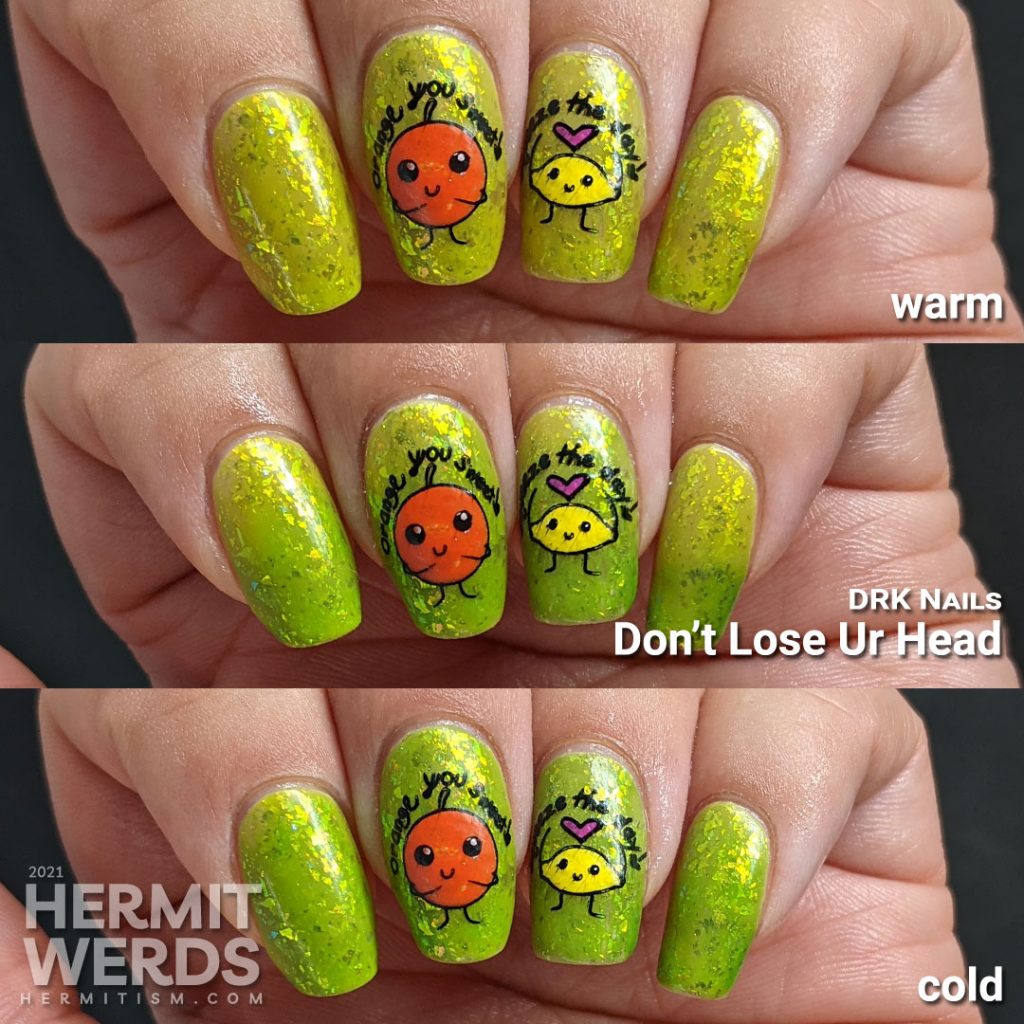 AZ Nail Art Challenge – 'C' is for Citrus Fruit
I don't think I've painted kawaii citrus nail art before, but citrus nail art has come up several times in the history of this blog. It's a wonderfully easy topic because even if you don't have food stamping plates, lemons and oranges are easy enough to freehand with dotting tools. Naturally the nail art is heavily focused on yellow, orange, and lime green colors because that is the nature of the beast, yet the range of designs is still pretty amazing. Check out the group tag.
Meanwhile the next prompt has already been posted: 'D' is for Dog. I can't wait. 😁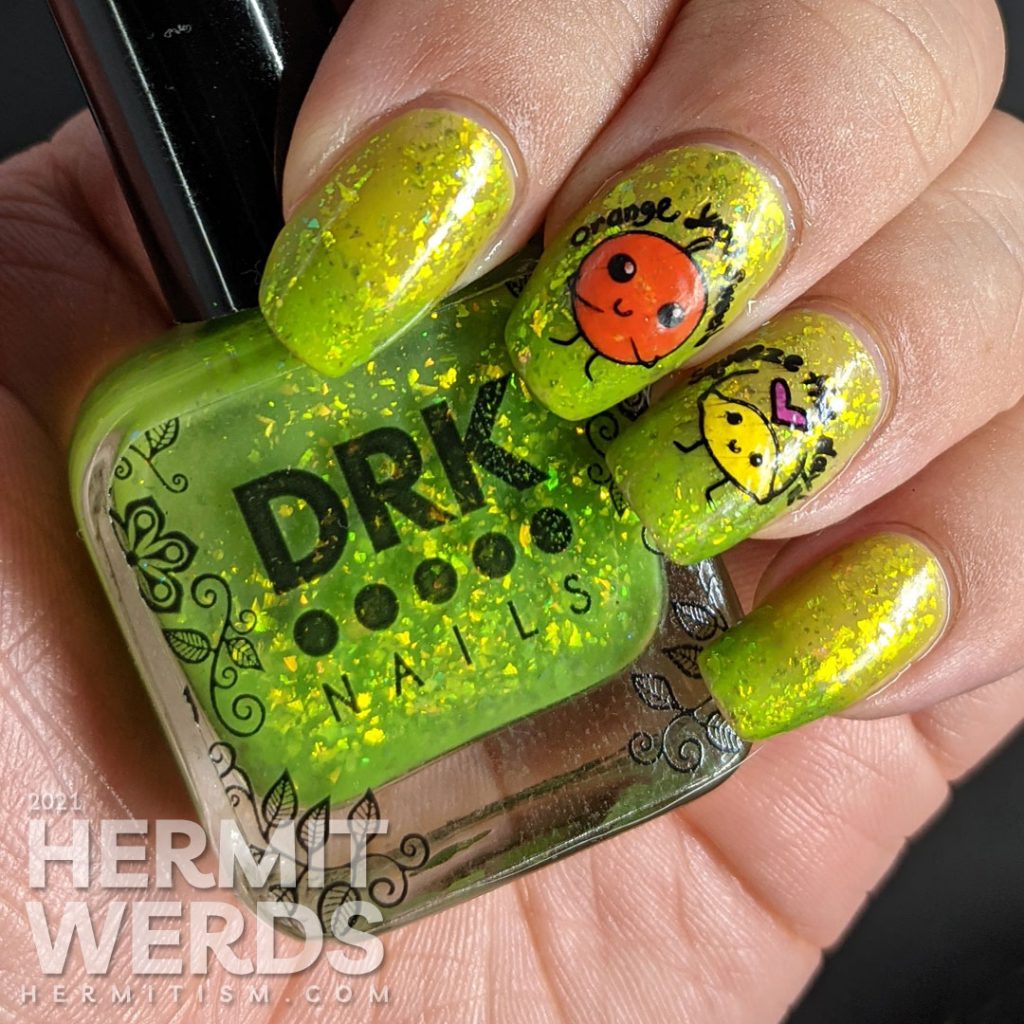 Nail art products used
Base Polish:

DRK Nails' "Don't Lose Ur Head"

Stamping Polish:

UberChic's "Pure Black"

Advanced Stamping Polishes:

Revlon's Parfumerie "African Tea Rose", "Lime Basil", "Orange Blossom", and "Sunlit Grass" + Smacker's "Wickedly Stylish"

Stamping Plates:

Maniology Kawaii Emoji "BM-XL322" (thumb fruit) and TSS-Collab "Kindness Is Magic" (lemon and orange)
I tried so hard not to smear my decals. I even stamped them the day before. Buuut then I got overconfident and didn't float my brush as I decaled them. So the smearing happened anyway. One day I'll learn…
It's summer and it was very hot until today so my nails were mostly in the yellow state. It rather amuses me to notice I didn't edit a single photo besides the comparison image that shows it like that. Hah! I guess I already saw it too much like that and wanted to see it in its other states. Seriously didn't use enough thermal polishes in the spring…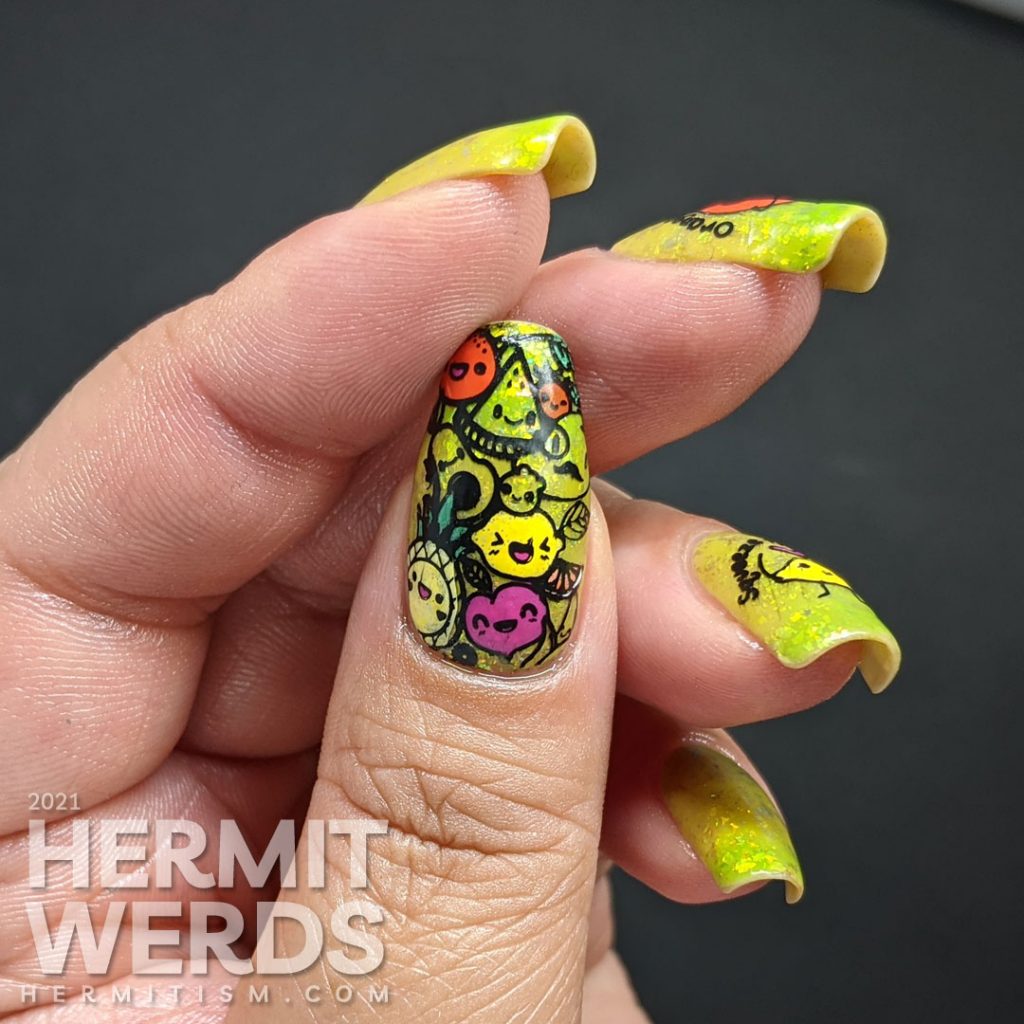 Since the prompt was for citrus fruit, I focused on coloring in the oranges and lemons with a few extra images on my thumb instead of filling in every adorable food on the kawaii full nail image. I tell myself it makes the image look less busy. 😏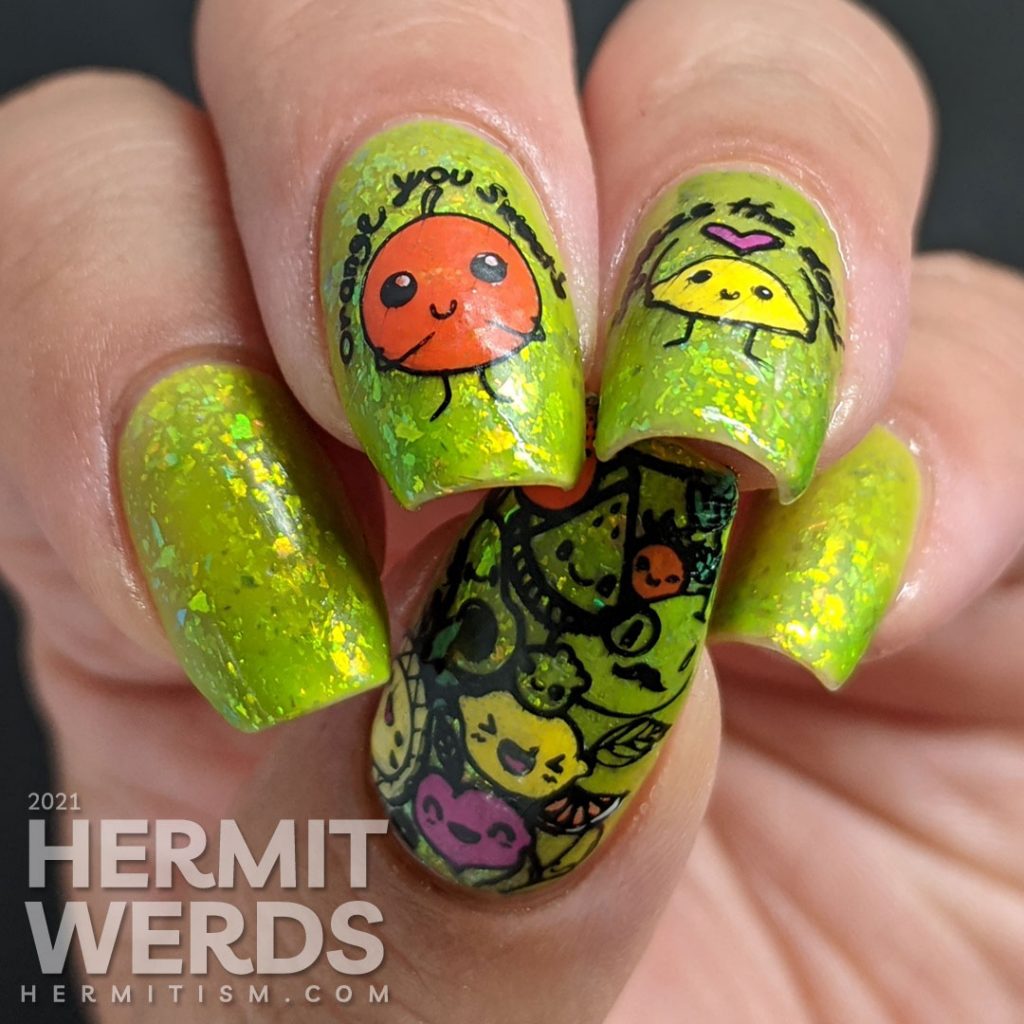 One last far away photo and we're done. Of course the words became very unreadable at this size, but the cute fruit shows through.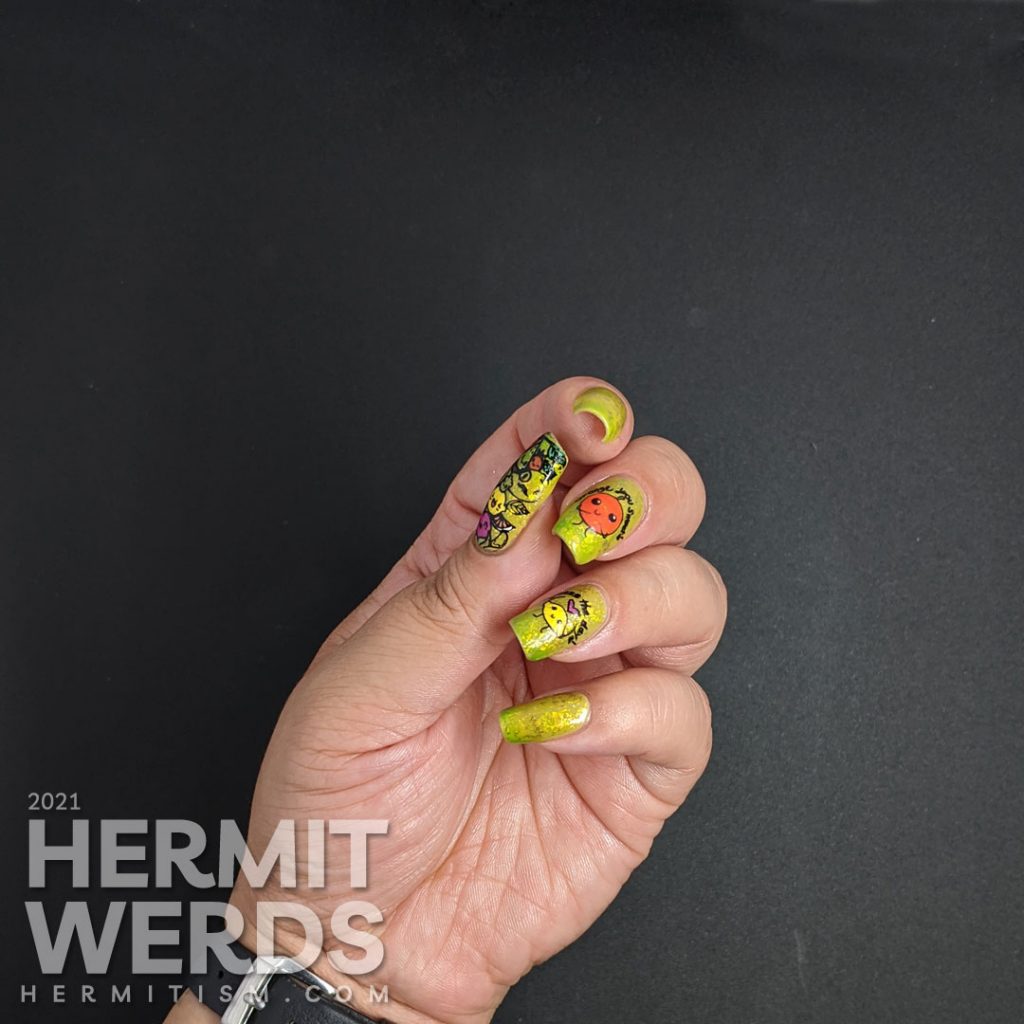 Until next time, friends! Squeeze the day! 😂