For all the coffee nail art I have painted over the years, I have to admit I've been drinking more tea than coffee lately. It started with a strong tea drinking culture at work and then I started trying to cut down on caffeine later in the day. Now I find myself drinking tea every day and only having coffee a few times a week.
Tea acquisition assistance…
And since I started drinking tea more often, I decided to restart my subscription to Dollar Tea Club. See, before I couldn't seem to find my way through the three samples each month so I finally cancelled and it still took over a year to finish them off. But now that it's my daily flavored drink of choice, I polish off the samples each month and suck down lots more.
Hydrated at last. How confusing for my body. 😅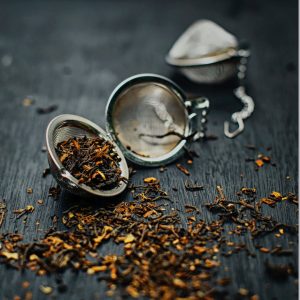 They aren't just throwing things like dried cucumber slices in with their teas either. They are infusing the flavors somehow. The jasmine tea (Uncle Iroh for all you Avatar fans out there 🙋‍♀️) is the most jasmine-y tea I've ever had. I immediately used up what was left of my old jasmine tea so I could switch to this one. And Greens and Roses is so strongly rose-flavored that my husband said it was like drinking potpourri. I love it, but I see where he's coming from.
Finally, I've been asking myself environmental questions about my tea consumption. I want as little packaging as possible, but a lot of loose-leaf teas also come in tins. Tins are environmentally worse than the packaging for tea bags so I try to avoid those. Dollar Tea Club uses zipped coated paper pouches and the outer package is just cardboard. So as long as you don't fall for their honey straws (plastic! *hiss*) and use a re-usable tea strainer for the rest of your life, it's better. Although, I can tell you nothing about how they produce the tea. 🤔
Anyway, if you also want to receive a sample of a black, green, and herbal tea each month and then get lured into buying more of this crack until you have 19 different teas in your cupboard (not all from them; I am not that loyal), visit Dollar Tea Club (which really costs you $5.50 a month because shipping). If you want a dollar off your first order, my referral code is REF50EJ22RDDL. (Disclosure: it also gets me a dollar, but I'm only sharing it because it gets you a discount, so…🤷‍♀️)
Back to the nail art…
I used a tri-thermal polish for my base, so be prepared for too many photos!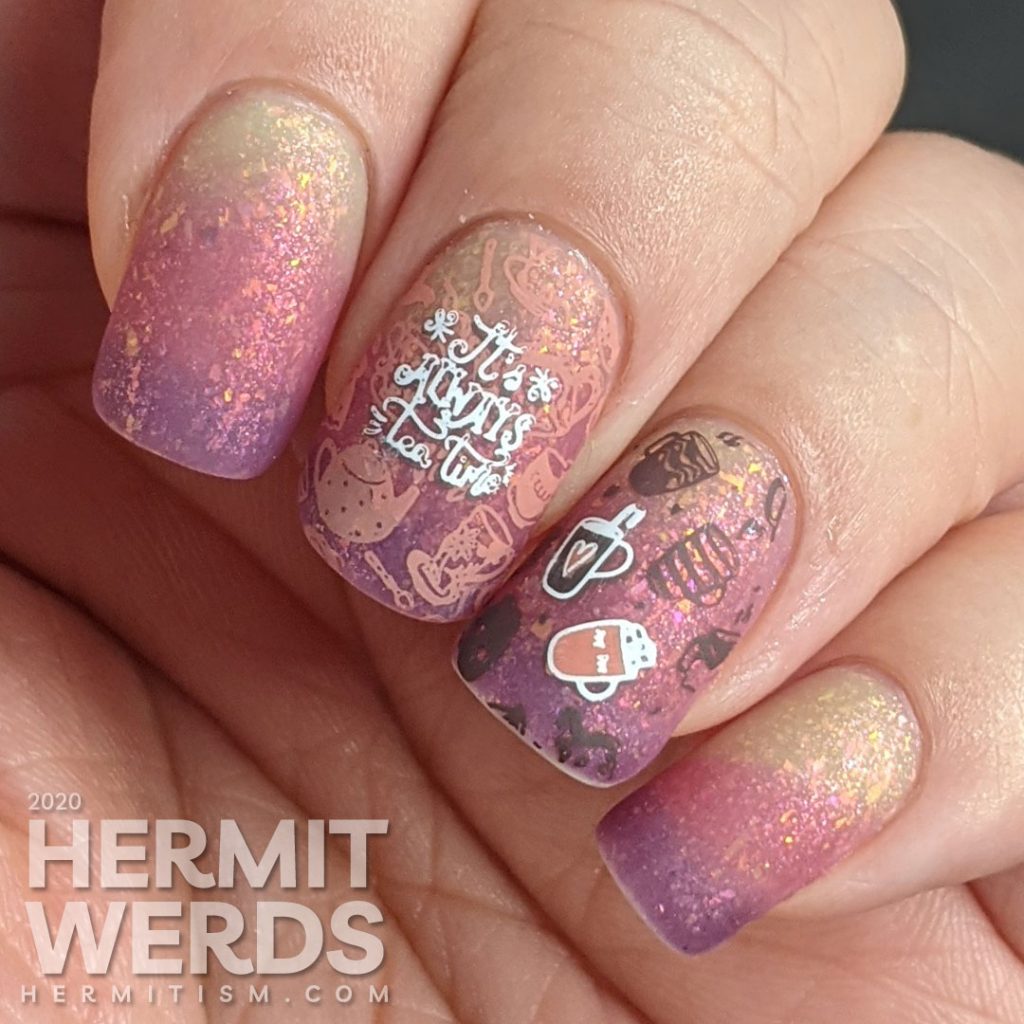 I've gotten better at taking photos that have all the pretty colors in them, but here they are separate: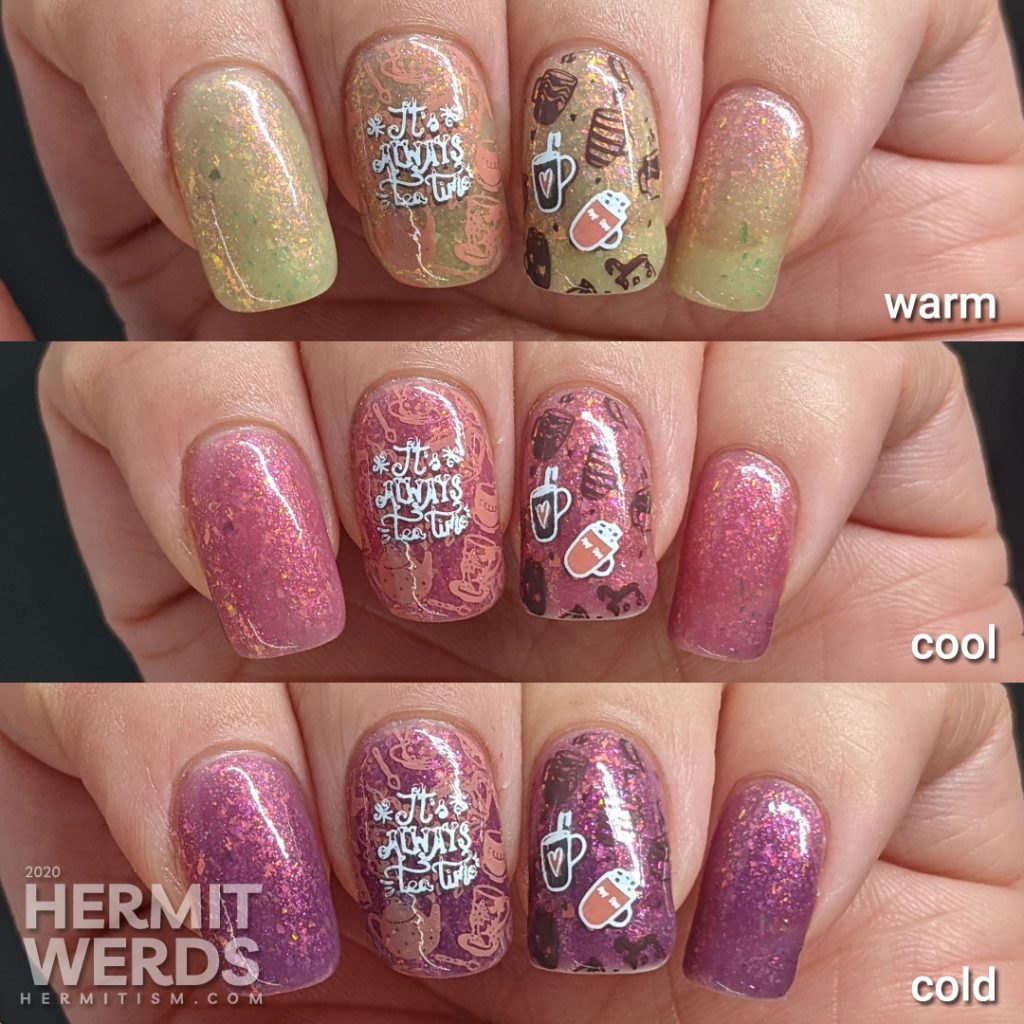 Nail art products used
Base Polishes:

MTK Design's "Phoenix Sunset"

Stamping Polishes:

Born Pretty's "Coral Grapefruit", Maniology's "Boba", and UberChic's "Essential White"

Advanced Stamping Polishes:

Born Pretty's "Coral Grapefruit" and Maniology's "Boba"

Stamping Plates:

Born Pretty Fairy Tale-L002 (Alice in Wonderland falling), Maniology MXM030 (tea imagery and "It's always tea time"), and Moyou London's Alice in Wonderland Collection-01 (large stacked tea cups)
The problem with thermal (or solar) polishes is that if you're putting stuff on top, which is What I Do, then you have to figure out a way to make it all show up. This time I decided to use a soft pink that would show up well when it was at its darkest and a brown that would disappear when it was dark. This way as the colors shifted around, I always had a fairly visible pattern on my nails.
Then I added a few white decals that were bright enough to rule them all! I actually just snagged the same mugs that were in the full nail design and made them into reverse/advanced stamping decals. It made for an easy double stamp too.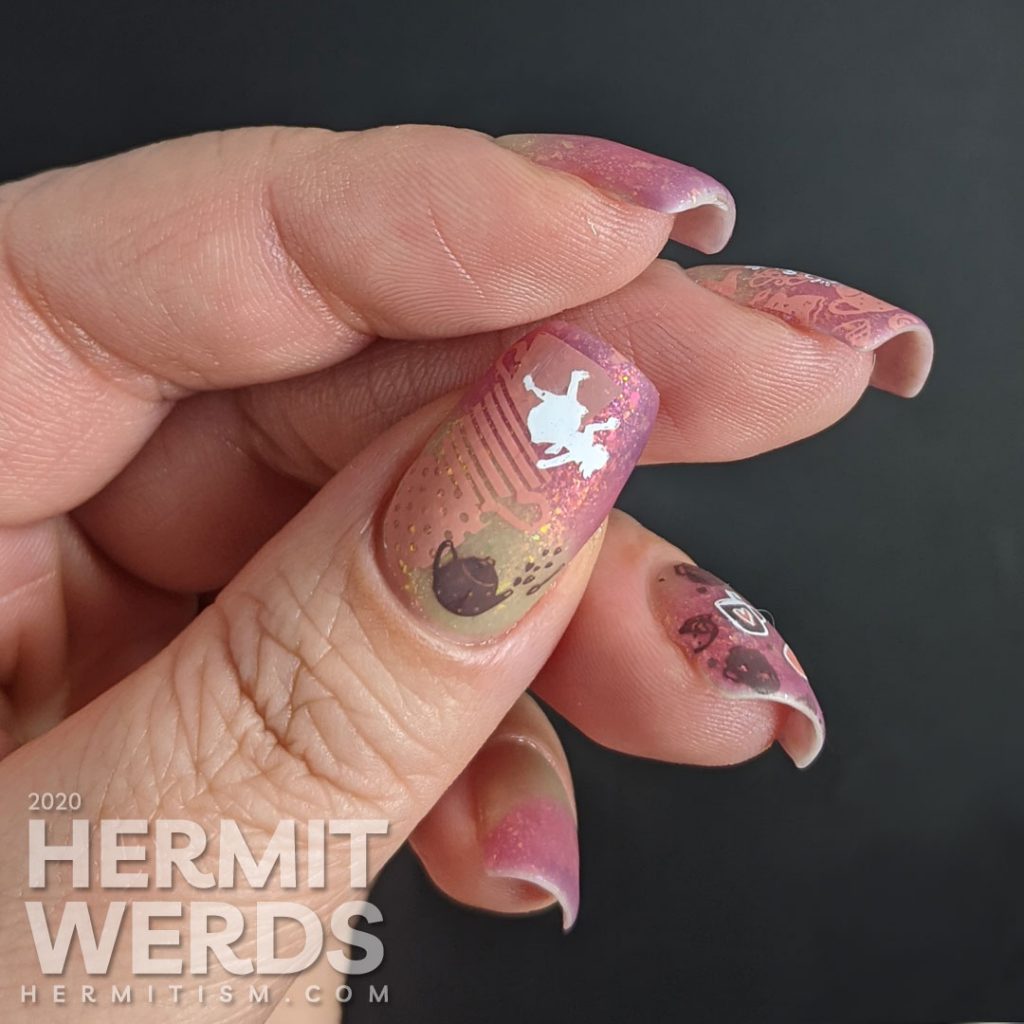 And who could resist an Alice in Wonderland reference when tea is up for discussion? I'm always missing National Mad Hatter Day so maybe this makes up for it this year.
Also I really hope you're familiar with the Alice in Wonderland story. Otherwise it just looks like I enjoy painting child tragedy nails. 😂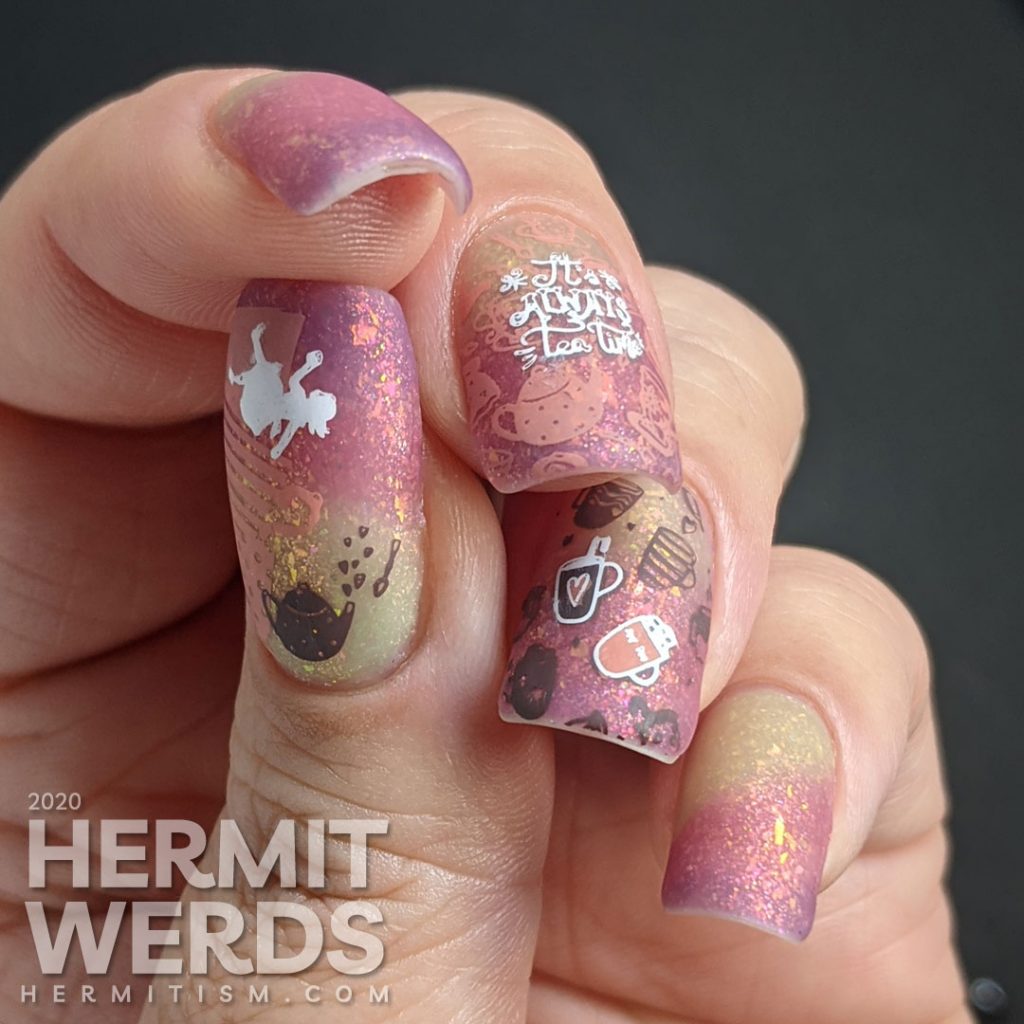 Macro time! Because flakies always deserve macros.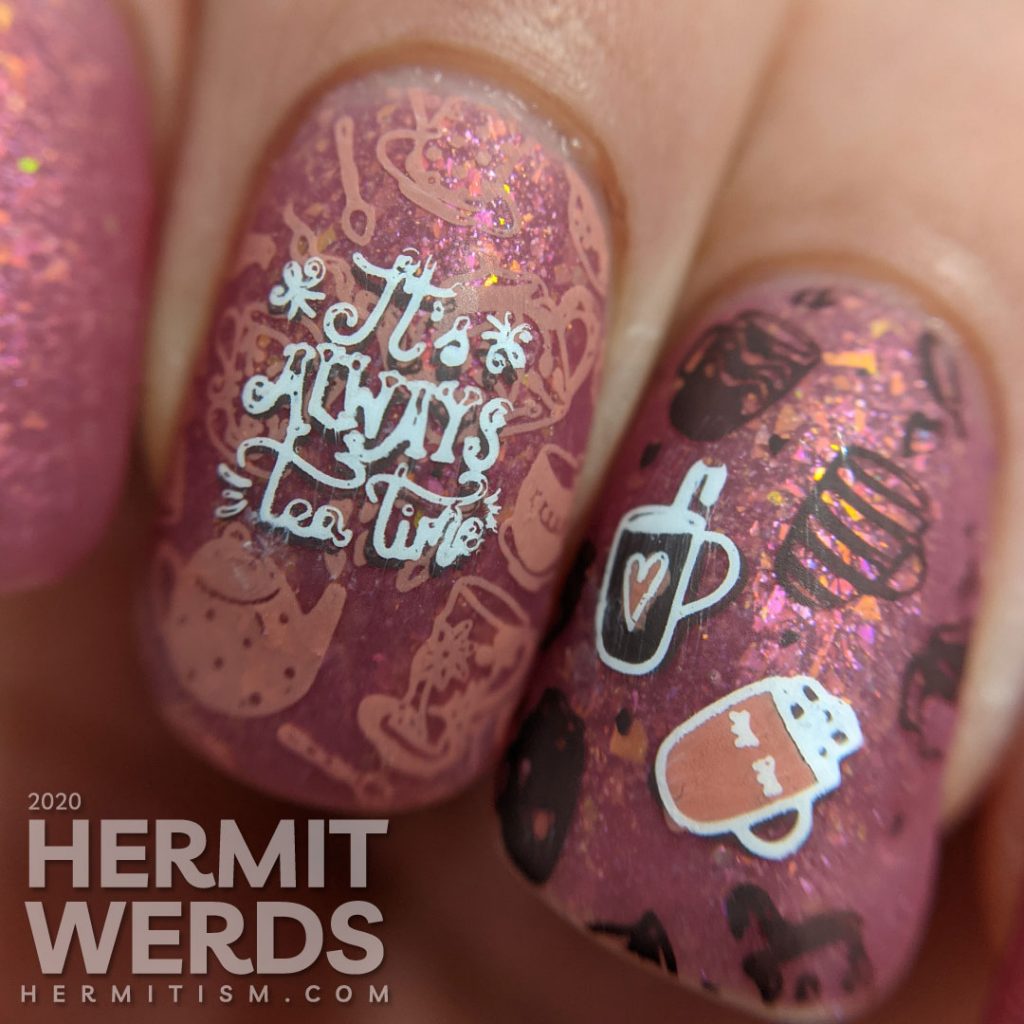 Yesss, shiny pretty things. Yessss!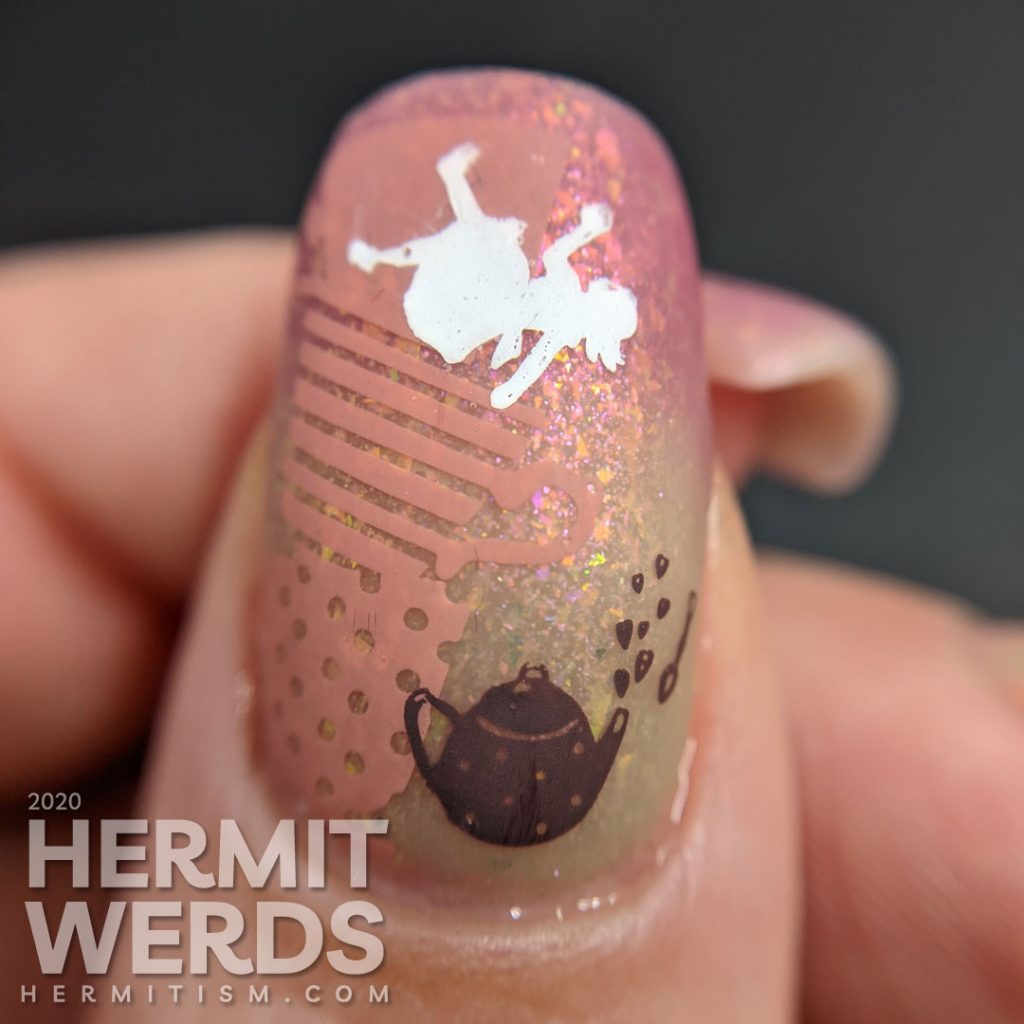 Seriously, MTK Design made a truly gorgeous polish. So glad I have no self control and bought it. It's even fun from farther away!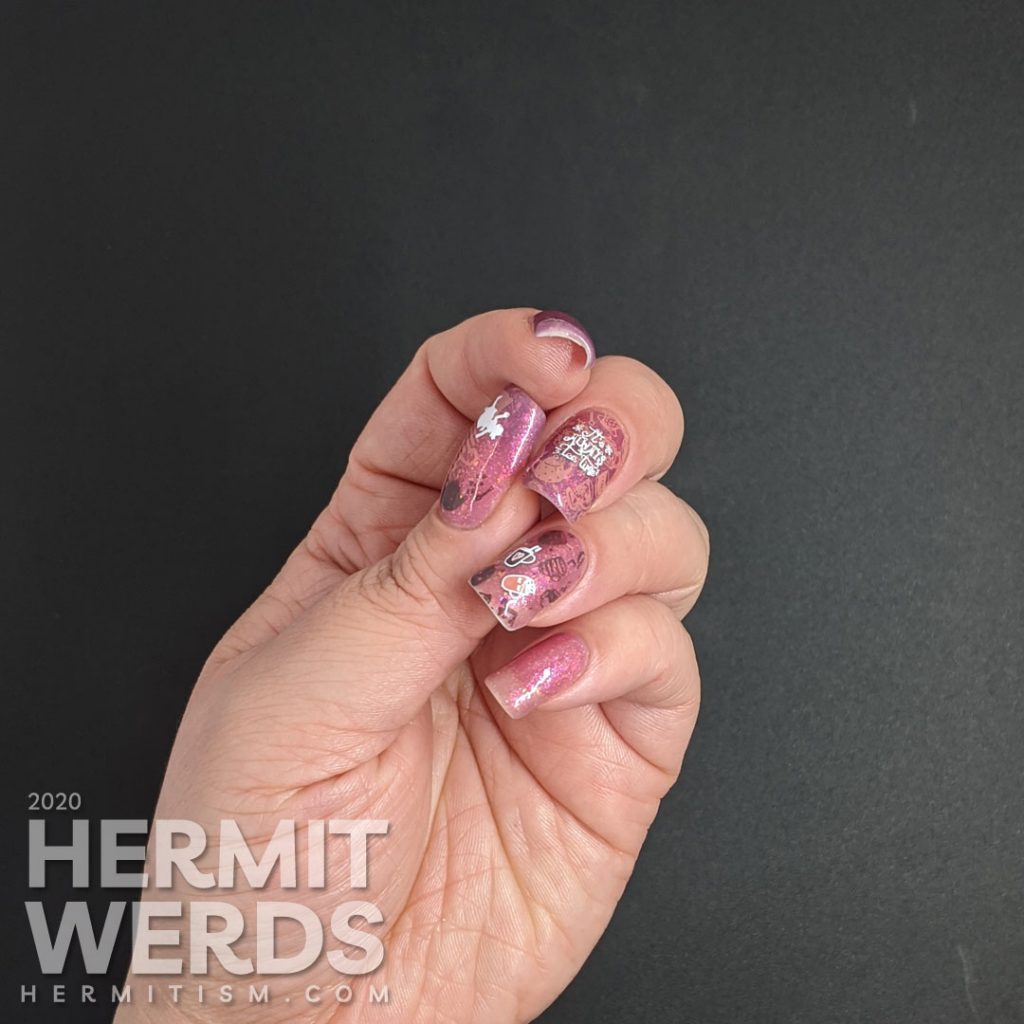 And, hey! I managed to rustle up a nail art example for my last brown stamping polish (Maniology's "Boba") after all. It's a win all the way around. Don't forget to enjoy your favorite cup of tea on International Tea Day, friends! Until next time! 👋