I'm back with another monochrome look, this time in red with delicate little reindeer in the woods. Tuesday's nail art was an easy dream to paint. Today's layered look was a lesson how much I have yet to master. This is why I have so much admiration for nail artists that are good at creating scenes with lots of depth…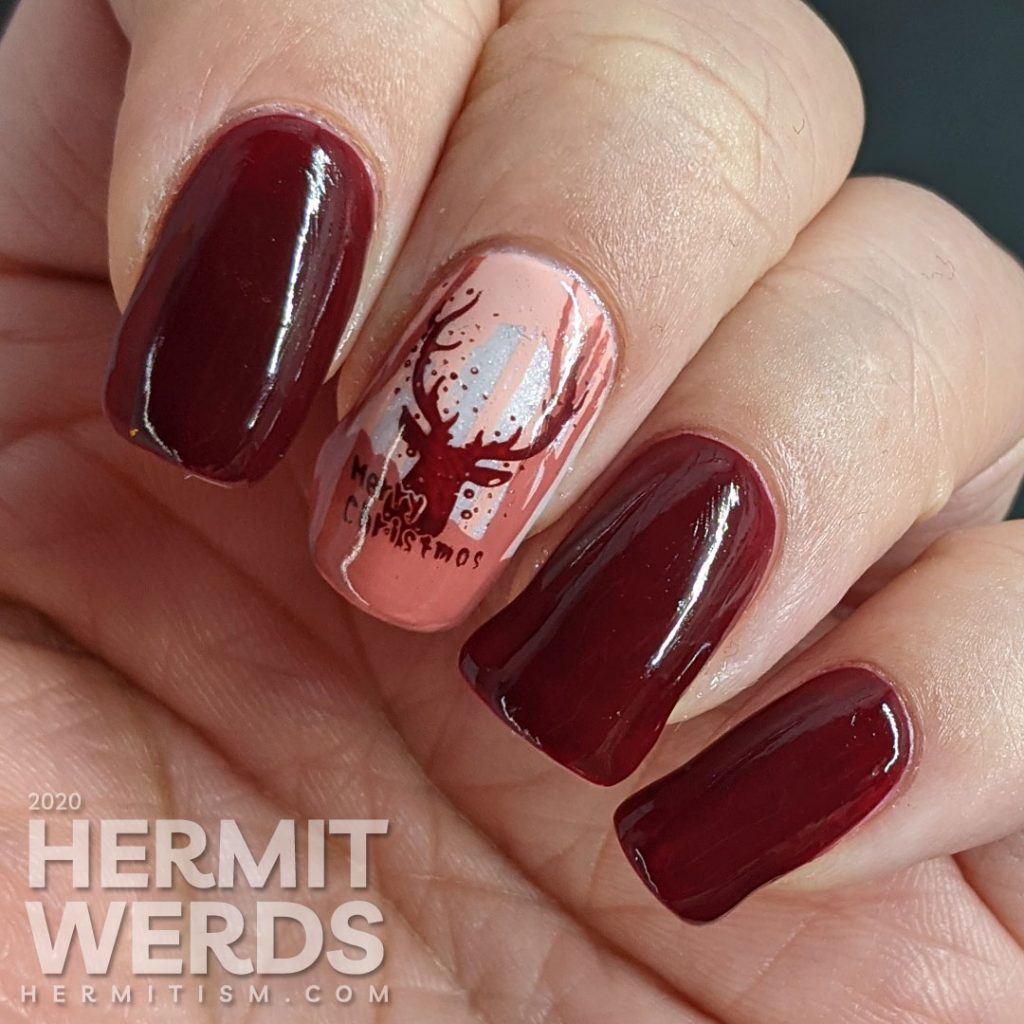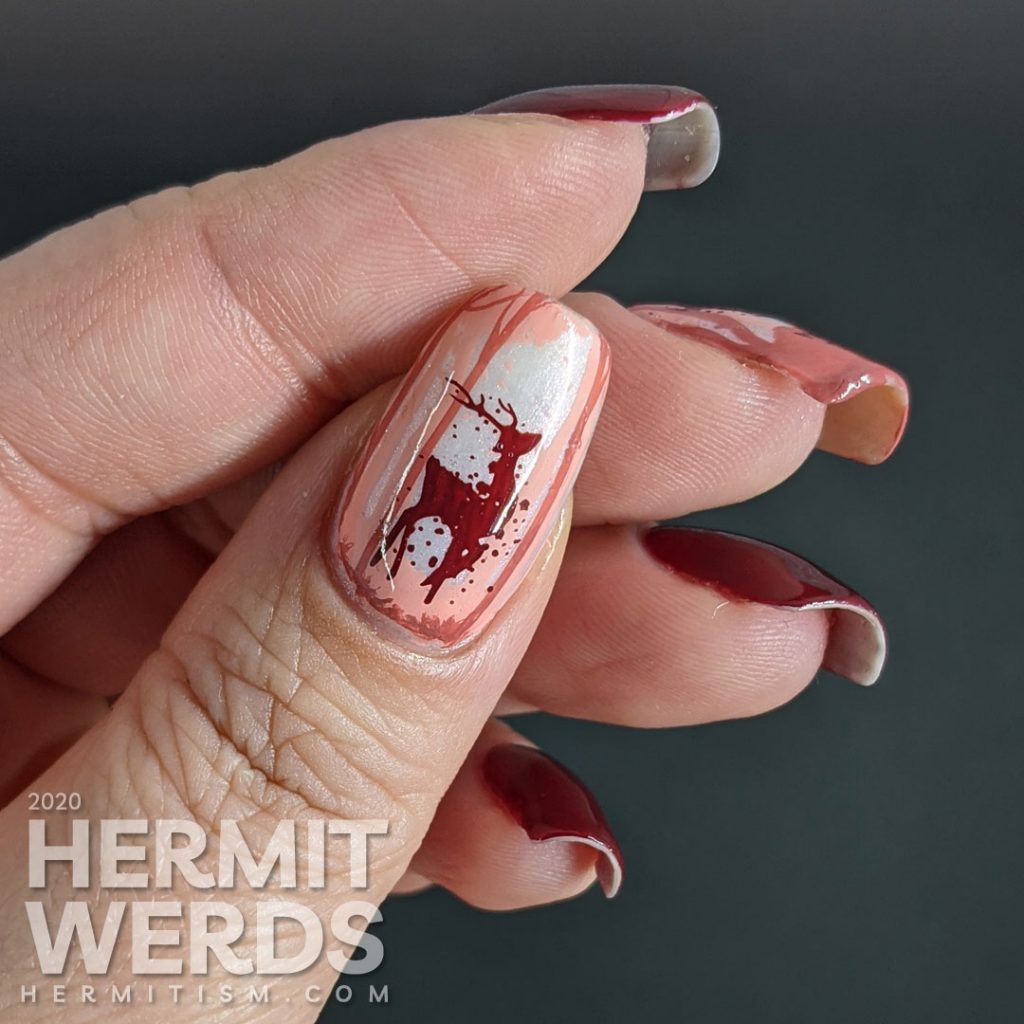 #pantone2020winterchallenge
Ine had the time/energy to make one of her mood boards for the main color! Isn't it gorgeous? You might say that the polish I picked is a little too dark to be a match for Pantone's Fired Brick, but all you have to do is throw on some matte and Zoya's "Dakota" looks like a good match to me.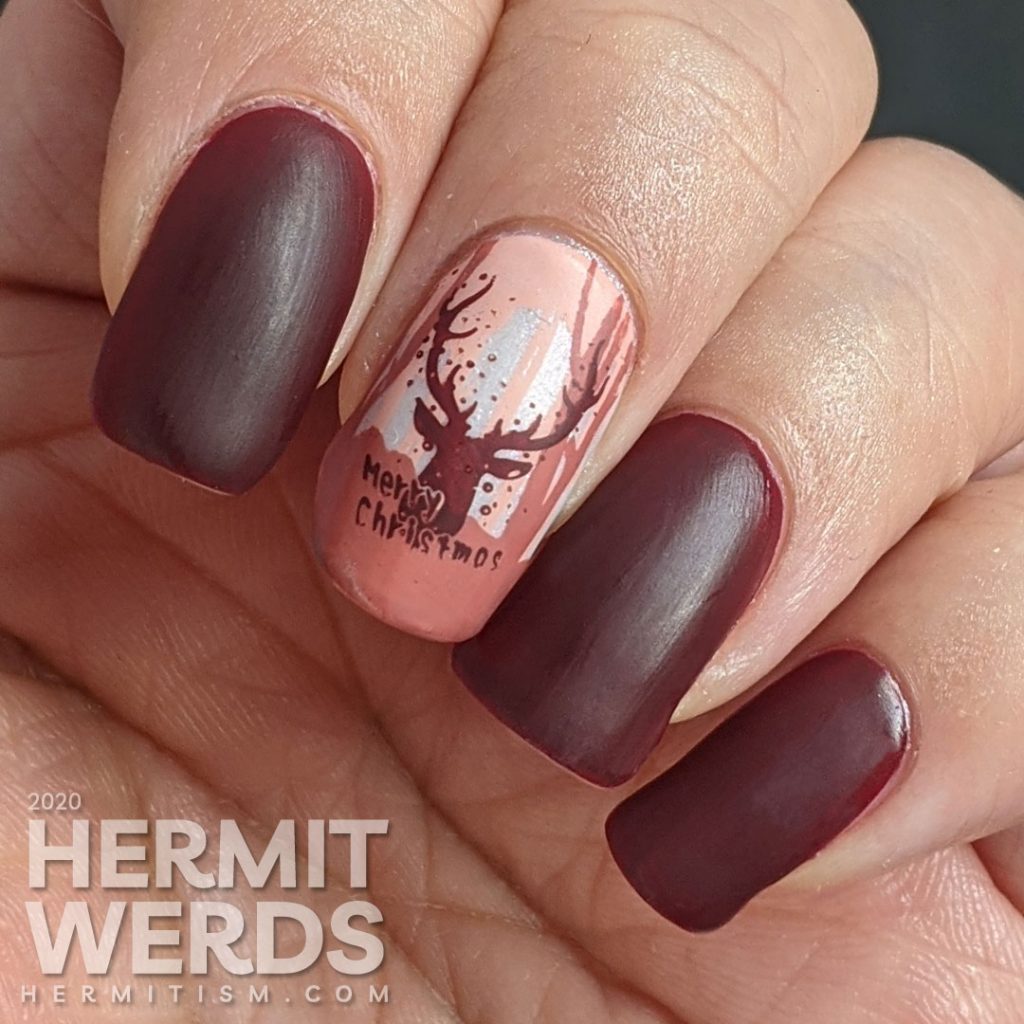 Unfortunately for accuracy, I love it too much with a glossy top coat so that's going to be the focus of my photos.
Nail art products used
Base Polishes:

Sinful Colors' "Social Ladder" and Zoya's "Dakota"

Stamping Polishes:

Maniology's "Red Sea", "Restless Dahlia", and "Terracotta Rose"
Extended the stamping images with the same color stamping polish

Stamping Plates:

KADS Christmas 013 (layered trees and reindeer) and Nicole Diary ND-L13 (final trees on thumb)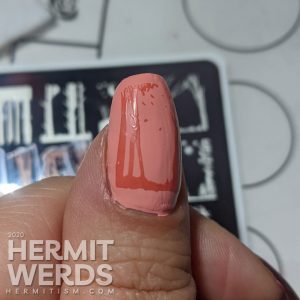 As for me, I've passed on a few full-nail image stamping plates from KADS that I really liked just because I knew it would be a struggle to get it to work (also I am drowning in unused stamping plates. *cough*). But there are ways to get it to work like freehand painting in more trees and ground when the stamp doesn't even begin to cover your nail. You can see how much space I had to fill in on my thumb.
But I made it work. 😉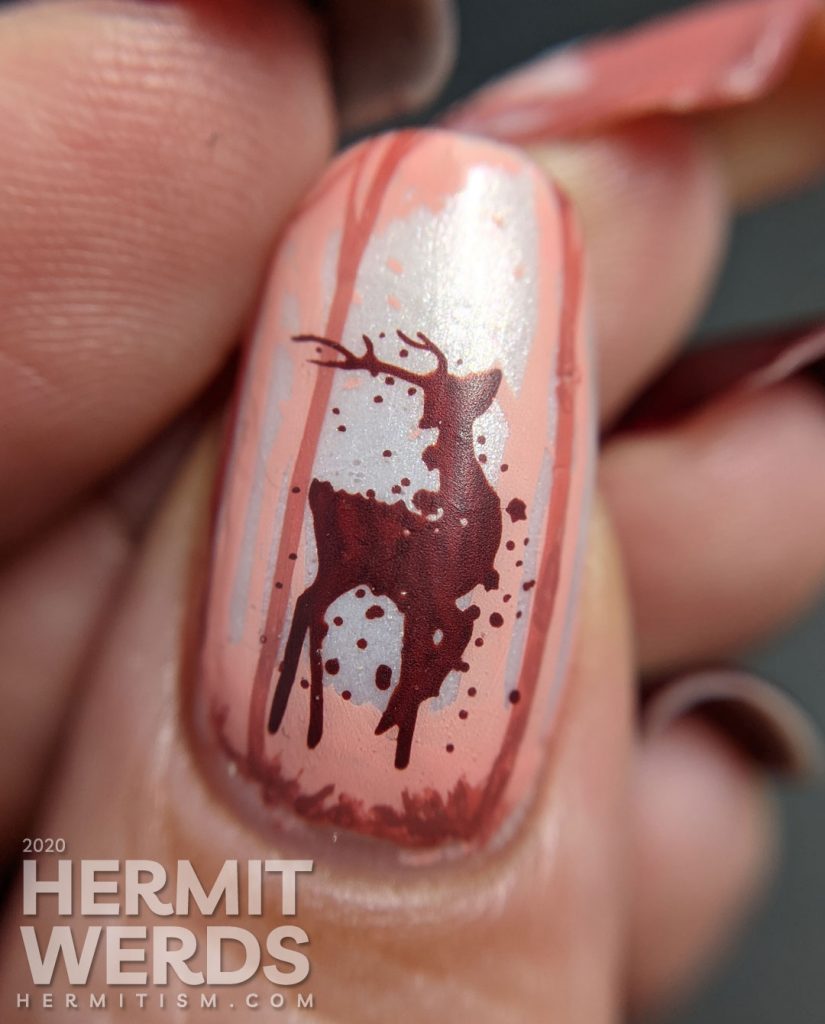 Gah! I love KADS stamping plates so much. I'm just not their target audience. So if you have narrow nails and struggle to find cool stamping plates with images that fit on your nails, this is an excellent brand for you.
Fail, repaint, fail, repaint…
I was clever with making things fit and still messed up so many times with this nail art. To start, I picked the wrong shades and it felt all wrong. I actually went and bought a medium red stamping polish so I could find a better contrast balance!
Then I had several plain ol' smearing things problems and realizing my stamping decal hadn't come out clean enough and deciding to start over. And then I got all done, took alllll my pictures, and realized that I'd picked the wrong order of layering and my accent nail looked more like a prison than a forest. Ugh!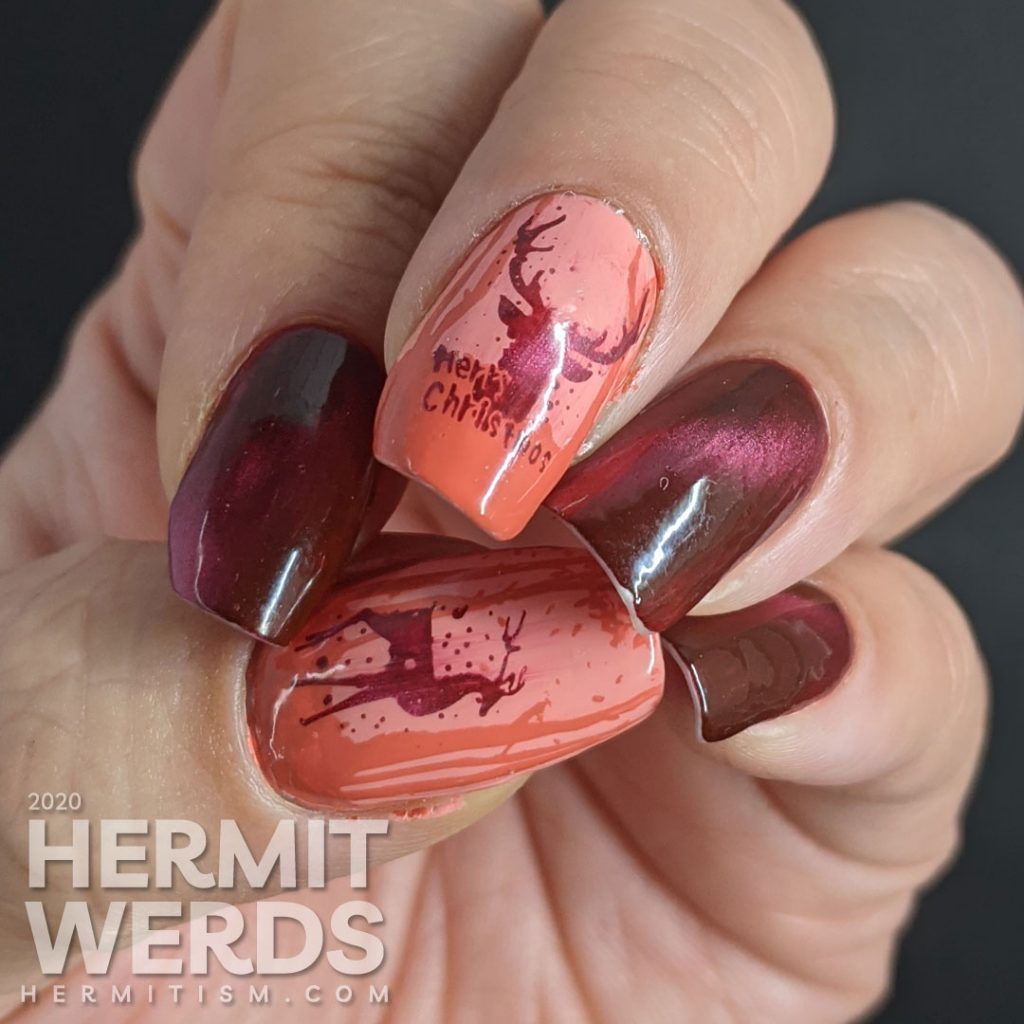 So I painted my accent nail One Last Time (checking that tricky deer stamp verrry carefully for a good pickup) and found true temporary happiness….
(Until the next nail art design that turns out to be difficult. 🤣)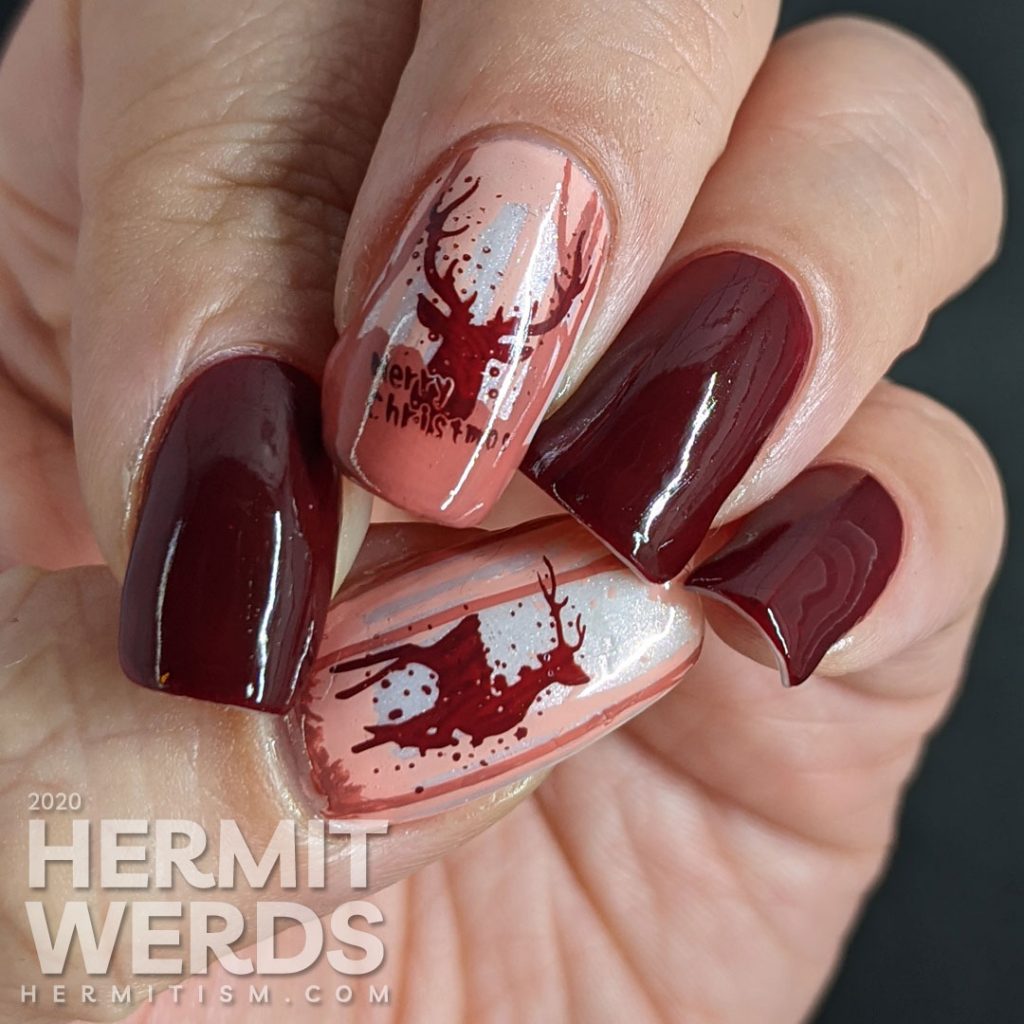 A pretty strong design even when seen from farther away. Although you definitely can't read the words.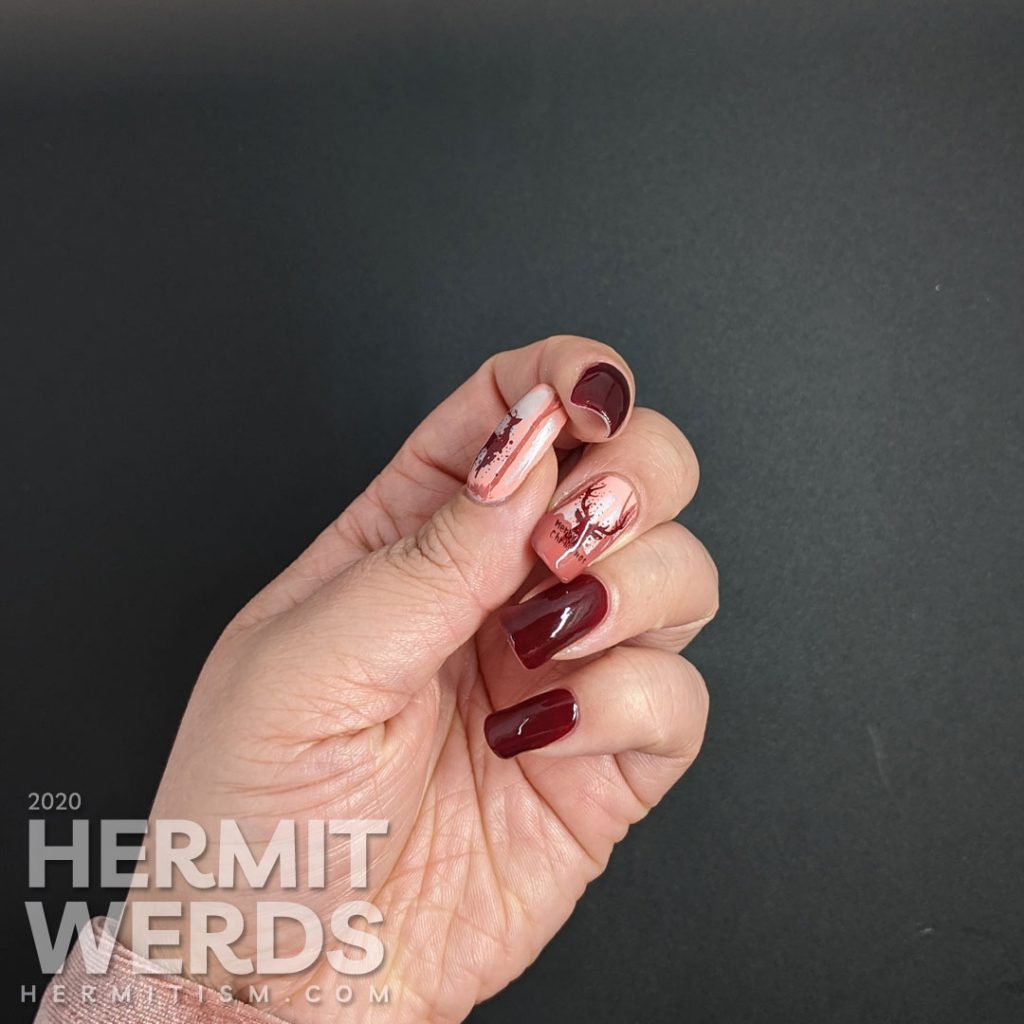 That's all I have for today, friends. I hope you liked today's design since it was such a pain in the butt to paint. 😆