March was supposed to come in like a lion (winter) and out like a lamb (spring). Instead it came in like a lamb and I gratefully hung my wool coat in the closet and swapped to lighter fare. I'm even shedding my cardigan by mid-day! Maybe that's why it's taken me so long to post this nail art, since it's been done for a while. 🤣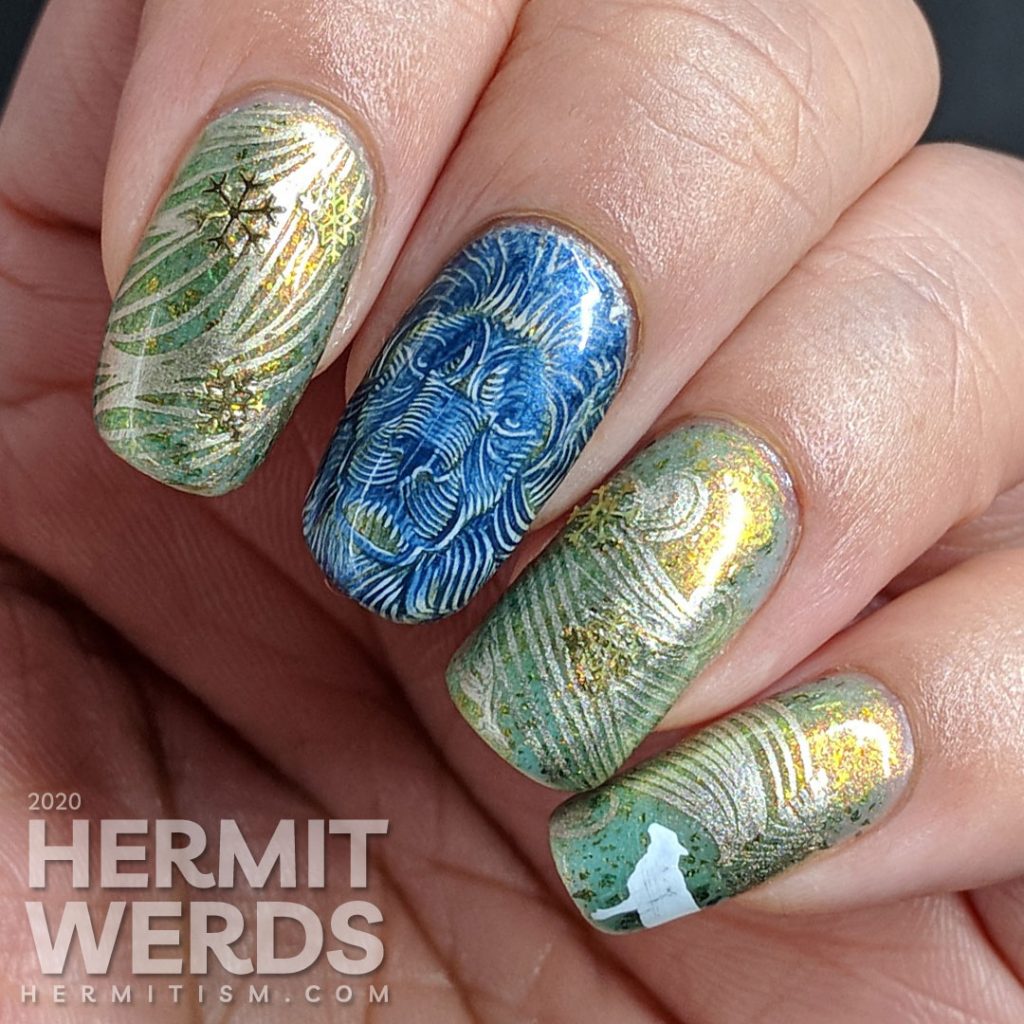 Polish Pickup and Hella Handmade continues to be my biggest source for indie polishes these days (outside of all the sales during November and December). I am trying to be very careful to not buy more than I can use. I wasn't really sure that I "needed" Bee's Knees Lacquer's "We're Wasps, Not Monsters", but I am so glad that I added it to my shopping cart. It is both so complex and yet light enough that I think I can do quite a lot of different-looking looks with it. I couldn't take it off my nails.
(And so fell behind a little in the nail art I meant to paint.)
Products used
Base Polish:

Bee's Knees Lacquer's "We're Wasps, Not Monsters"

Stamping Polishes:

Born Pretty's "Pentagram", Essie's "Good as Gold", and UberChic's "Essential White"
Gold metal snowflakes bought on Aliexpress

Stamping Plates:

heart-shaped 08 (wind across ring and pinkie finger), Major Dijit-38 (lion on thumb), Maniology BM-S154 (lion's head), Nicole Diary ND005 (index finger wind) Winstonia W401 (wind on thumb)
Because I was painting a low-contrast design I struggled a little to get my big lion stamp to show up. In fact, my first try didn't stick out enough (see the next photo). Then I tried throwing a gold double stamp over it, but it made it worse. I didn't even photograph that attempt. Finally, I forced myself to just repaint the darn thing.
With a white stamp beneath the blue, there was just enough contrast for the lion to stand out. And I didn't have to change my color scheme at all. 🙂
#nailfail 🙁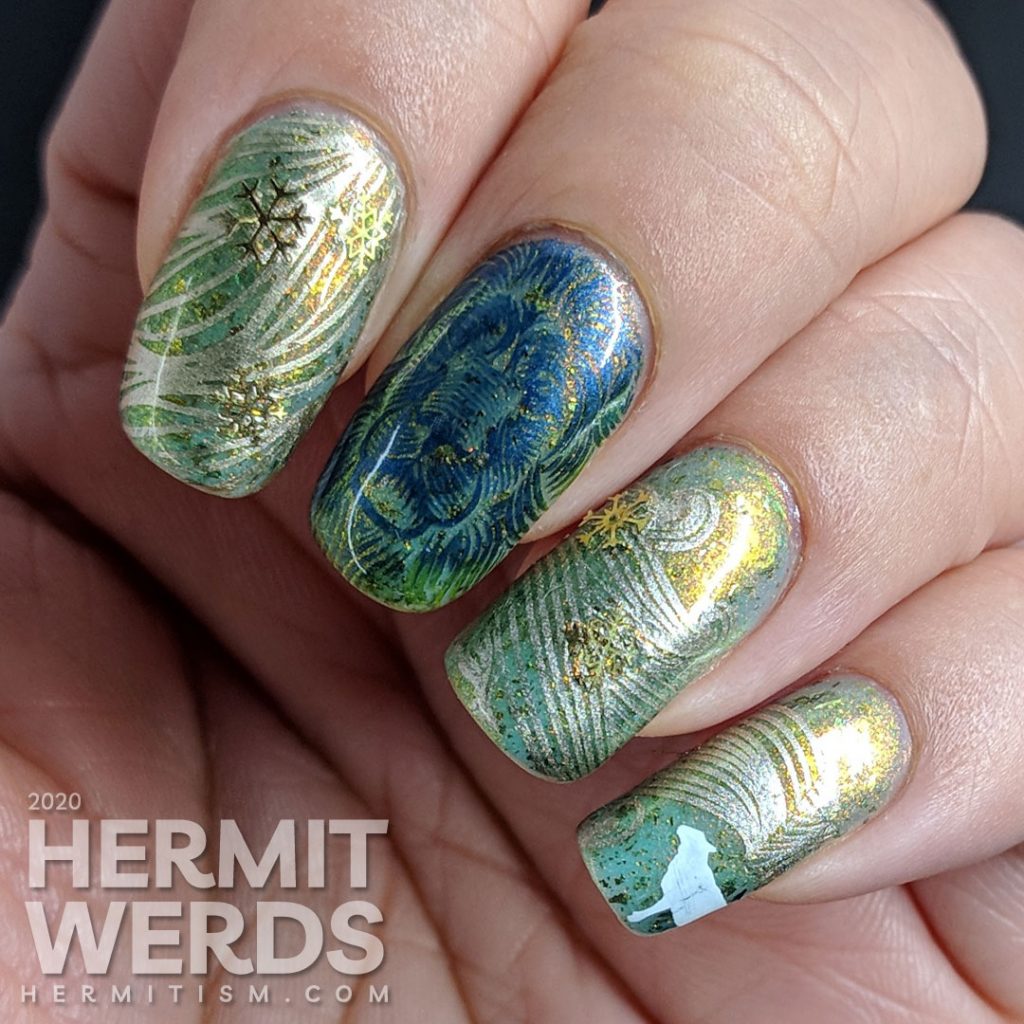 Don't worry, I took more photos of the successful design, which I will now bombard you with. 😉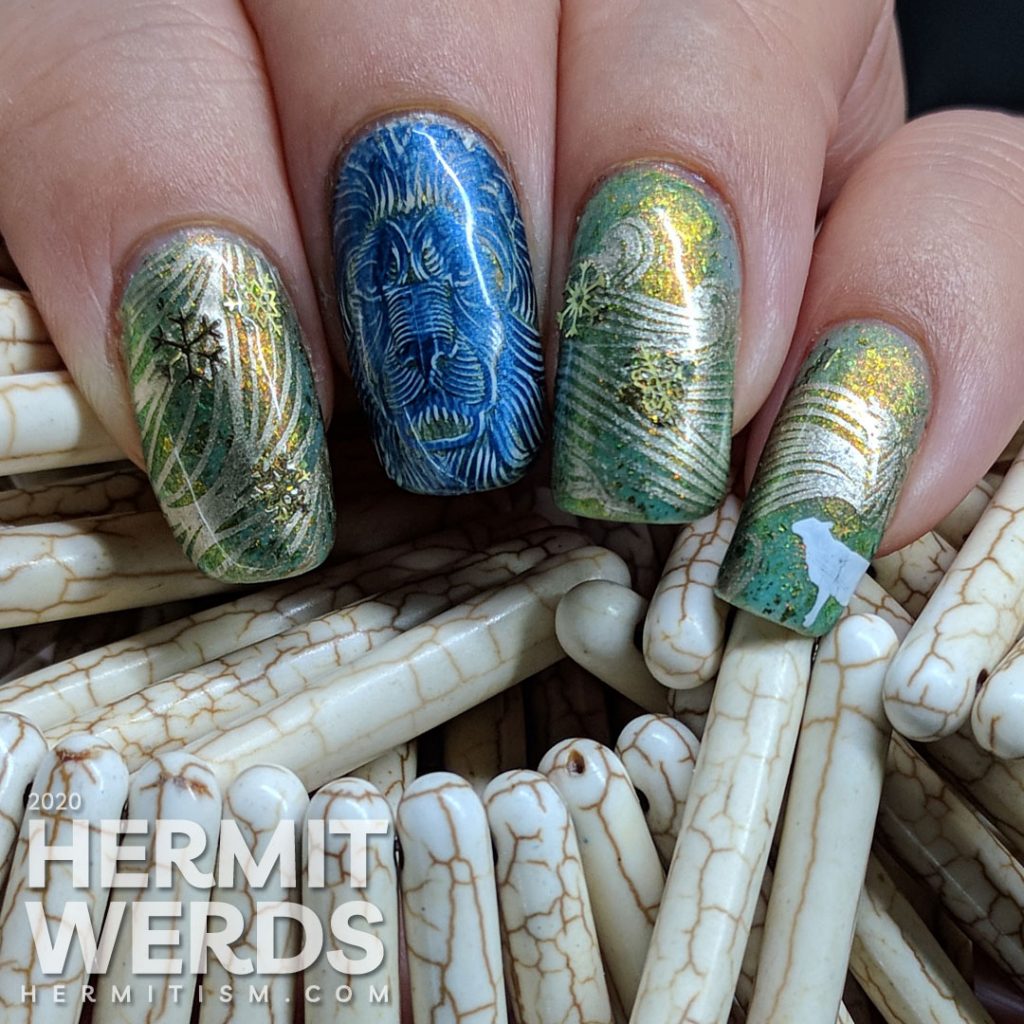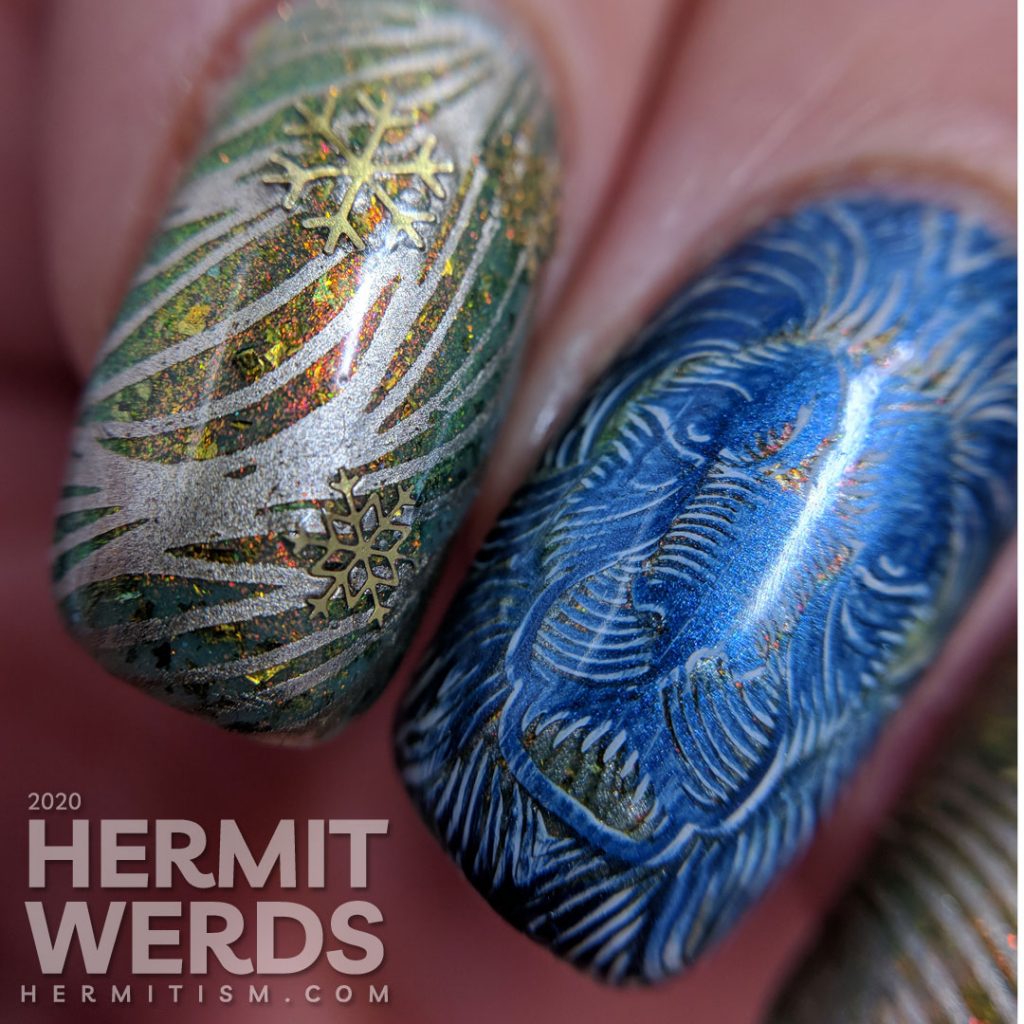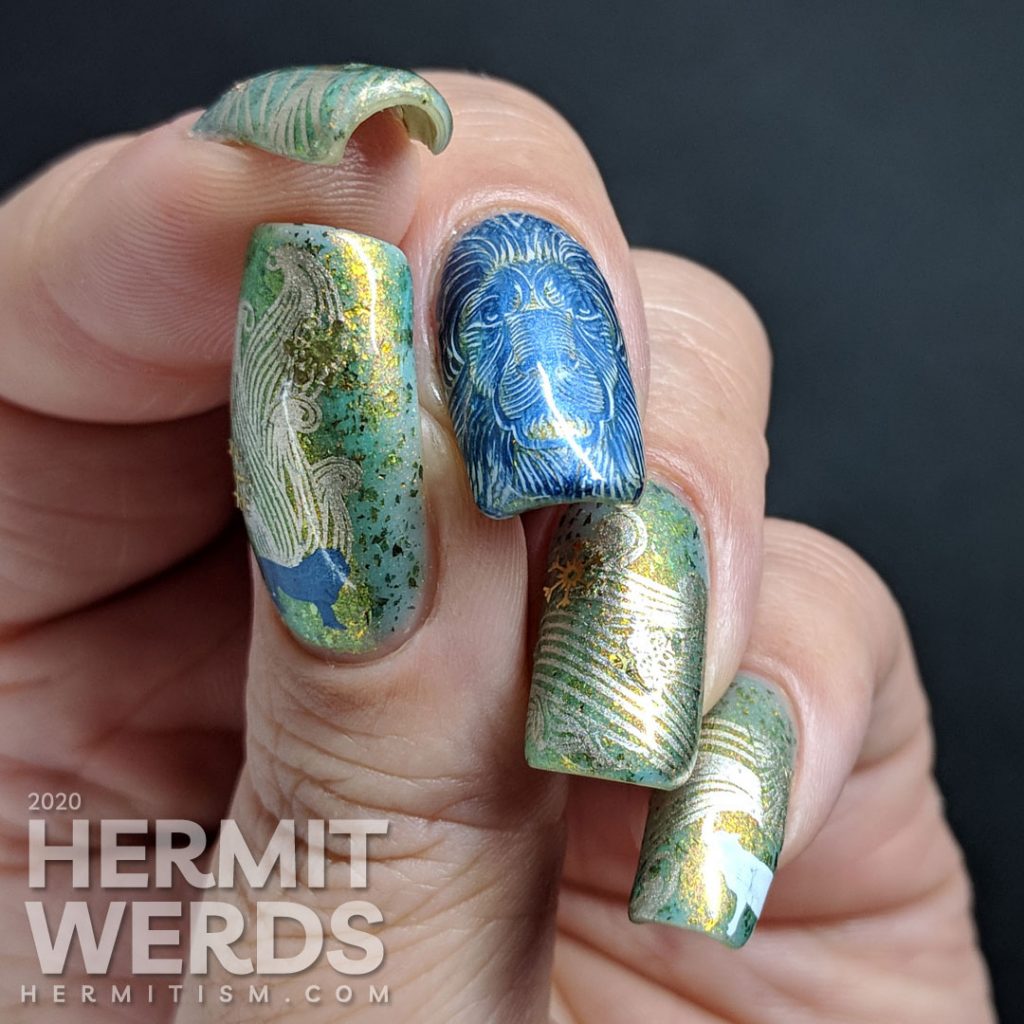 The favorite
My favorite nail was my thumb. The wind looks like it's just pouring upward from it. So winter-y!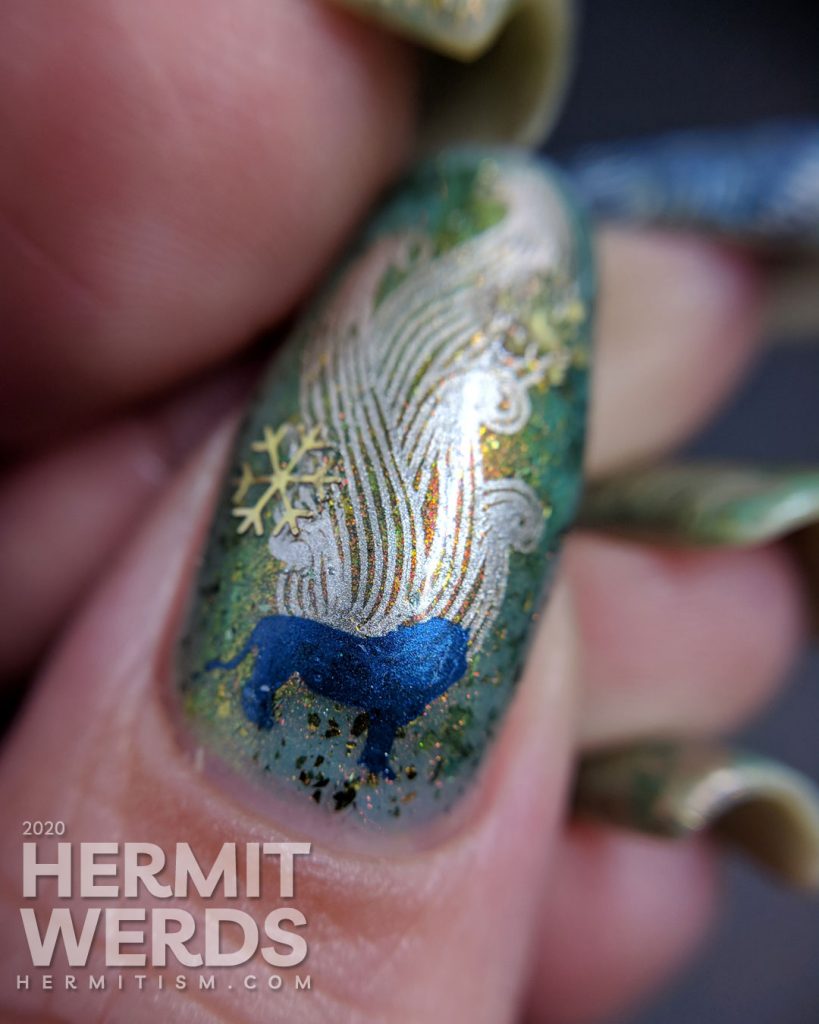 I love it when my nail art makes driving to work feel like a treat. I just have to remember to watch the road more than my thumbnail. LOL
I hope you're having a great day despite all the craziness going around. I guess the lion of March might have been something other than weather this year. Stay safe and healthy, friends! Until next time! 🙋‍♀️💛💚💙