I don't paint new nail art for Pi Day every year, but I do always try to eat some sort of pie. Today I even had leftover pizza (pie) for lunch and then I did manage to snag a frozen key lime pie from the store since the thing that everyone is trying to hoard is frozen vegetables. And canned. And ramen. I hope you didn't actually need to buy ramen this week. 😟
Oh, and that slice of pie in my photo is just a model and is now flopped back in the pie pan. I served myself (and my stepson) and was shoveling pie into my face before I remembered that I should take a photo with it. Woops!
Products used
Base Polish:

ILNP's "Spiced Eggnog"

Stamping Polishes:

Advanced Stamping Polishes:

Born Pretty's "Cherry Blossoms", L'oreal's "a la Meringue", Nicole Diary's "Rush Lyon", and Turtle Tootsie's "Pink Velvet"

Stamping Plates:
I even snuck in a little thermal polish by filling in the pie with an old favorite: Turtle Tootsie's "Pink Velvet". I was too lazy to take any pictures of it cold, but you can see it in its full glory here.
Dealing with too-small full nail images
I totally bought Born Pretty's BP-76 stamping plate for its full-nail π pattern. However, that pattern was way too small to fit across my whole nail. And I didn't feel like fading it out with a gradient, which is my go-to trick for using a too-small (for me) full nail pattern.
Instead, since I had decals going in the center of my nails, I decided to chop up the pattern a little and position them to make sure the outside edges would be covered.
Snip!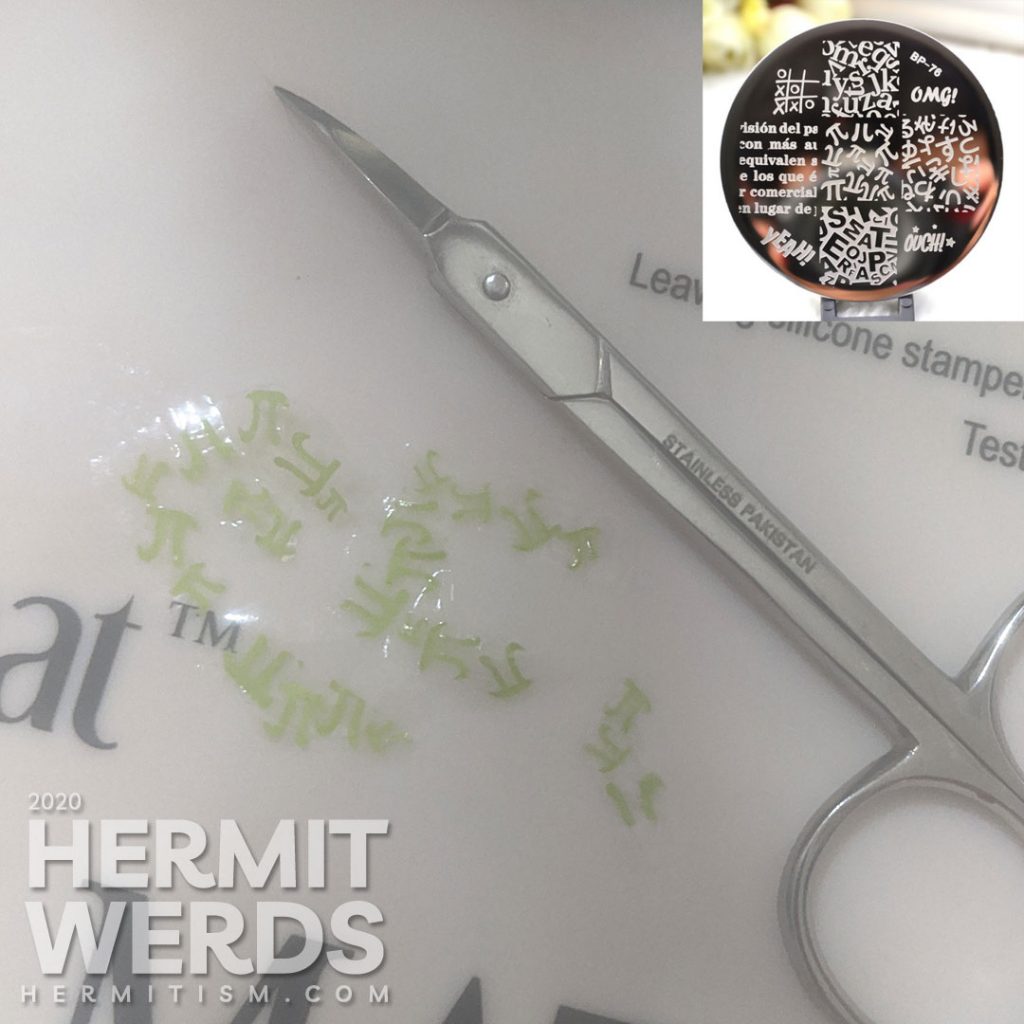 I apologize for not taking a photo of what it looked like before I added the advanced stamping decals. However, I can point you to my regular photos and you can't really tell what I did.
Now if you're not covering the center with other decals, you can just stamp a few extra full-nail patterns and cut them up to fill out your pattern, but this trick is maximal laziness while getting what you want if you don't need to fill in extra space. 💪
Here's to making it work, even if your tools aren't always ideal and I hope you had time for pie today. Until next time, friends. Take care and stay safe! 😘