[press sample]
Summer is not over yet (even though people are already starting to talk about fall). I'm happy to hang onto summer a little bit longer with my final review of the stamping plates that Beauty BigBang kindly sent to me: BeautyBigBang XL-002. It's a little bit tropical, a little bit food/drink, and a little bit mermaid. You can guess which theme sold me on this plate.
(food)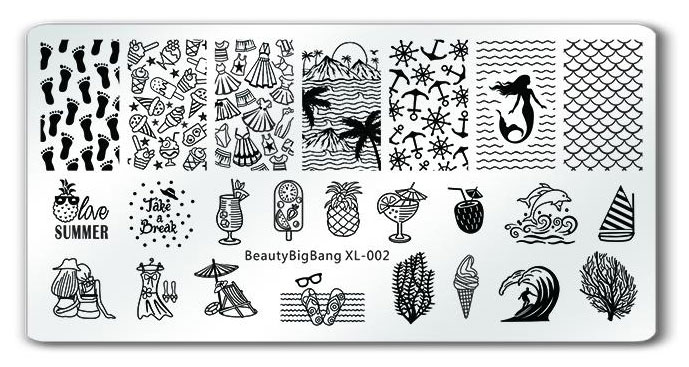 Quality and Test Samples
The etching quality is good as I've come to expect from Beauty BigBang. They aren't super deep or shallow so they will work well with both super thick stamping polishes like Mundo de Unas and lighter ones like Born Pretty's. Used with regular polish you will get ok results, but not great. Since I was painting on my natural nails today and they have become very short due to non-blog related activities I had no problems getting the stamping images to fit nicely on my nails. That is good news since more people have short nails than long. However, as I said in a previous review of a Beauty BigBang rectangular plate, the full nail images are a little less wide than their square plates'.
I'm still enjoying making test looks before I talk about the main nail art I finished so here we go. I loved the relaxed and yet dynamic image of the surfer and the flip flops are just cute so I had to use both. The stamping for the flip flops didn't work out as well since I used a plain Sinful Colors nail polish that is a little too thin for stamping. Still love it though. 🙂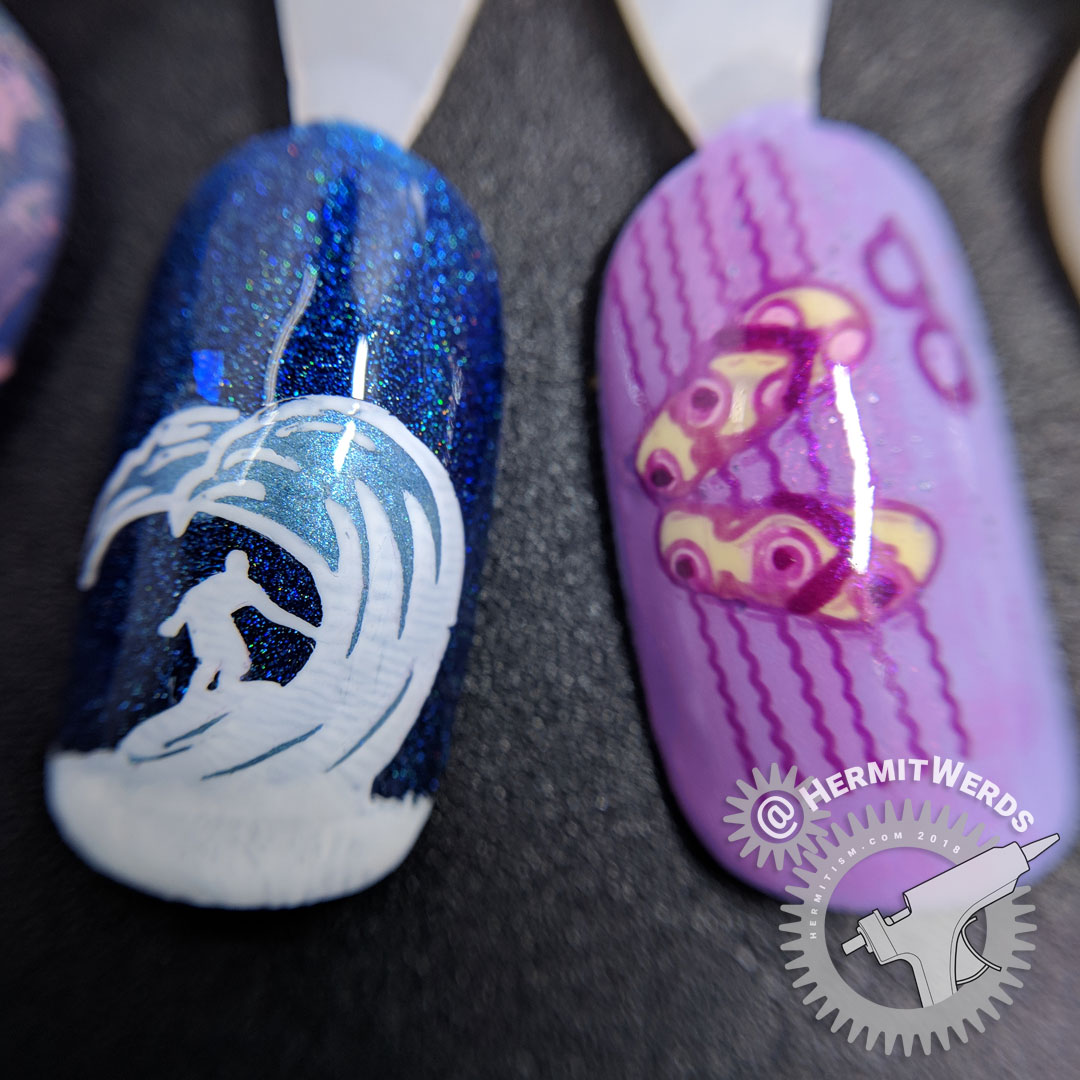 Surfing. Background is Colores de Carol's "Snow Boots". Stamping done with Mundo de Unas' "White" and filled in with Sally Hansen's "Pool Party". White polish freehand painted across to anchor the stamping image.
Flip Flops. Background is gradient of Sally Hansen's Insta-dri "Lively Lilac" and Sinful Colors' "Truth or LavenDare". Stamping done with Sinful Colors' "Fig" and filled in with Jenna Hipp's "Say Yellow to My Little Friend" and Sinful Colors' "Fig" and "Pink Smart".
I don't know why, but I've had pink pineapples on the brain for over a year now. Perhaps this nail art shall let the phrase rest at last. Hard to say. I didn't use a very pink polish, but it was called "Pink Pineapple" so I felt like I kinda had to use it. LOL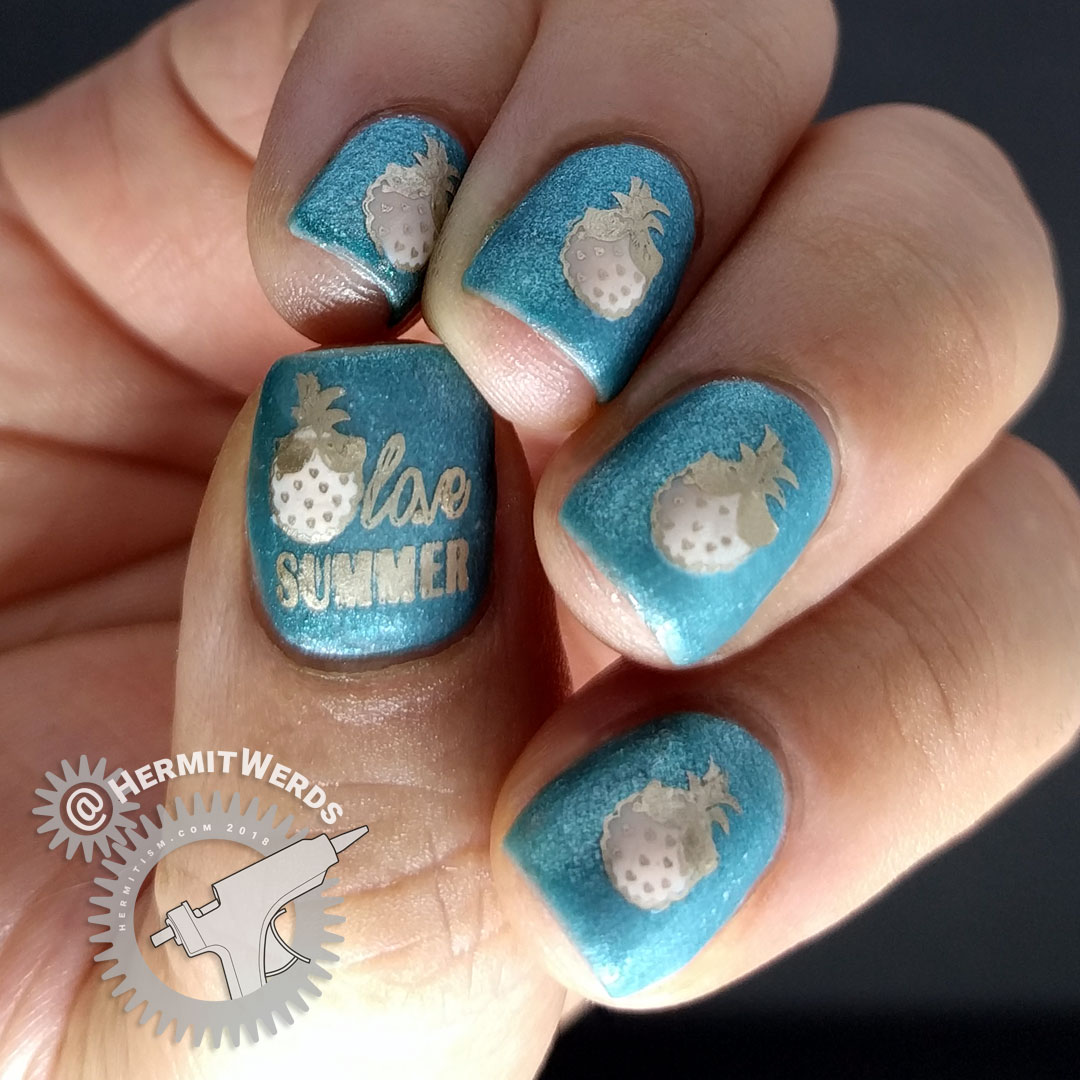 To combat how busy a super shimmery polish like "Palm Breezy" is when photographed, I decided to go with a matte look for this nail art. It really tones down the sparkle so you can see the details. I didn't have too many troubles with stamping, although I did have to turn off my fans to get a clean image since one corner of the pineapple really didn't want to pick up with all that air flow going on. Summer is too hot. Long live summer (kinda).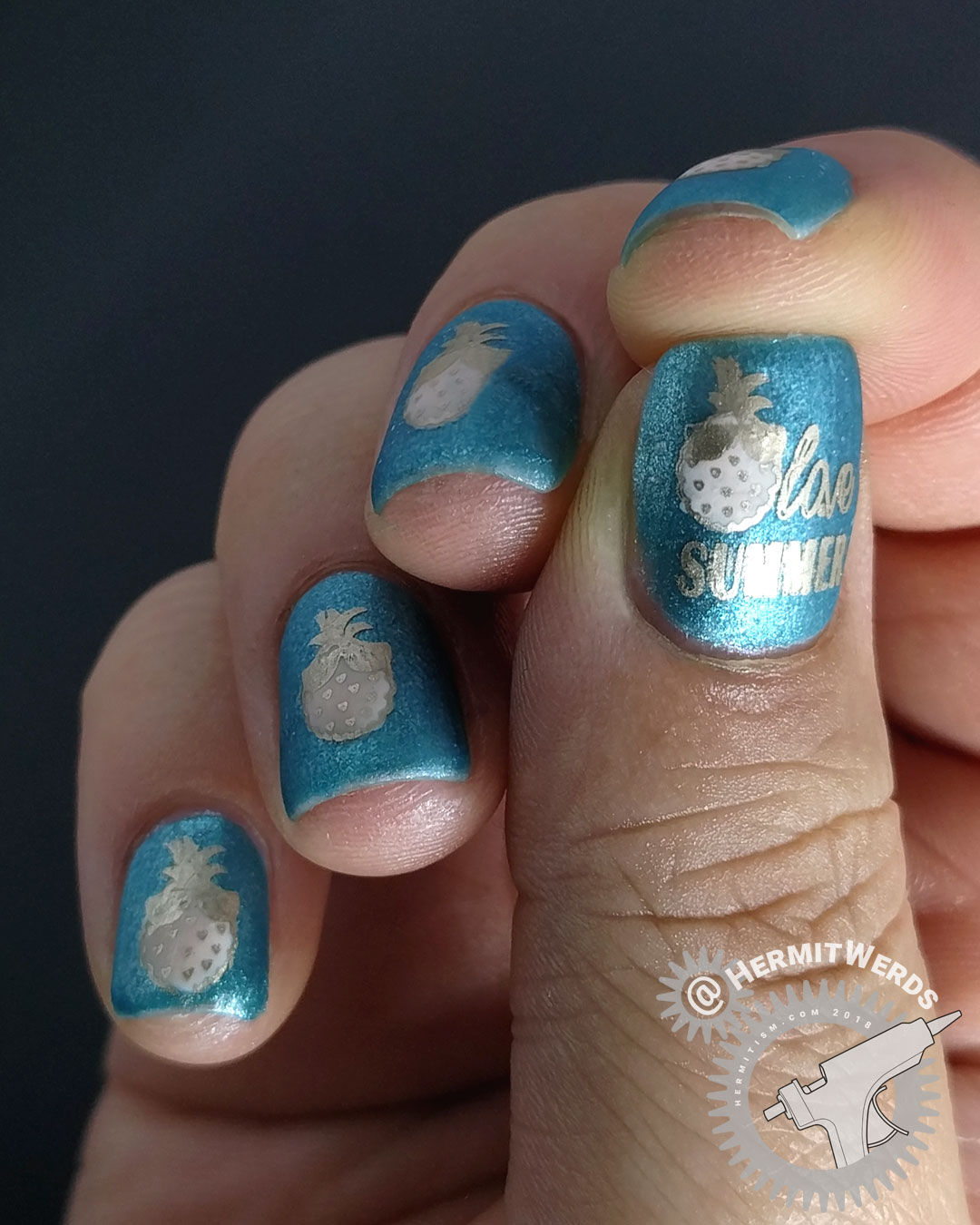 Final Thoughts
This is another great summer stamping plate that I'm happy to have in my collection. I already have more ideas of manis I can paint with this so it's just a matter of time before it pops up again. In fact, it already showed up in yesterday's nail art. 🙂
If you're interested in this stamping plate, it can be found at BeautyBigBang's site here. Use my discount code (hermi) for 10% off your order. (Non-affiliate code)
Nail Art Challenges
This month's theme for #NailAddictsCollab was Drab to Fab. You may not realize this but many nail artists that post frequently only paint their fancy designs on one hand. (And even then we always favor our non-dominant hands as our models.) So the challenge was to paint our dominant hand, often called the cindy hand in nail art communities, and let them be the star for once. Unfortunately, something must have happened in the lives of the ladies in charge of this challenge because the collage was supposed to post on the 19th and it is now the end of the 24th. No news in the public channels and my query if something was going on and if I could help hasn't been responded to. I waited as long as I could to post this, but the review must go on. 🙁
Edit: Really happy. I didn't post my photo on Instagram last night and the collage went live today. Since most people probably visit my blog from Instagram and not the other way around I wasn't too big of a jerk. Sorta.
Finally, I picked pink and blue colors for this nail art to fit #NailChallengeCollaborative's month long color theme. Check out all the pink/blue nail art from the group: