I've had a semi-idea for this nail art on my to-do list for a while ever since I realized I had one stamping plate with a bunny that looks like a flying superhero and another with a bunny-ish monster that looks like a supervillain. My chance to use these two together came with a cloud prompt and I was off making a superhero city in the sky. Which of course has its counterpart below in a gritty skyscraper city of crime below.
Not very effective of you, superhero bunnies. 😅
Nail art products used
Base Polish:

MTK Design's "Golden Polish Autumn"

Stamping Polishes:

Advanced Stamping Polishes:

KADS' "Cloud Dancer" and "Raspberry Wine"; Nicole Diary's "NS13"; Revlon's Parfumerie "Sunlit Grass"; and Smackers' "Wickedly Stylish"

Stamping Plates:

Born Pretty "BP-163" (bunny villain), "Outer Space-L002" (half-nail clouds), and "Sweet Dream-A001" (large castle); Harunouta "L054" (superhero bunny and small castle); KADS "Fashion 002" (skyscraper); and Pueen "100" (full-nail clouds)
With all of the stamping decals on top, it's rather hard to tell that my base polish is also a thermal. It goes from a lighter orange to a darker one, so more subtle than I generally go for. But it's stinking pretty with just a touch of magenta shimmer to make it yummier. I would have had to take photos with just the base polish to make the transition easy to see, but it's a Polish Pickup item from 2020 so it's not like anyone needs the photos to make a purchasing decision.
It's also a UV reactive polish! Sadly, not a true glow in the dark like I thought it was when I purchased, but still fun to look at in the right light. 😜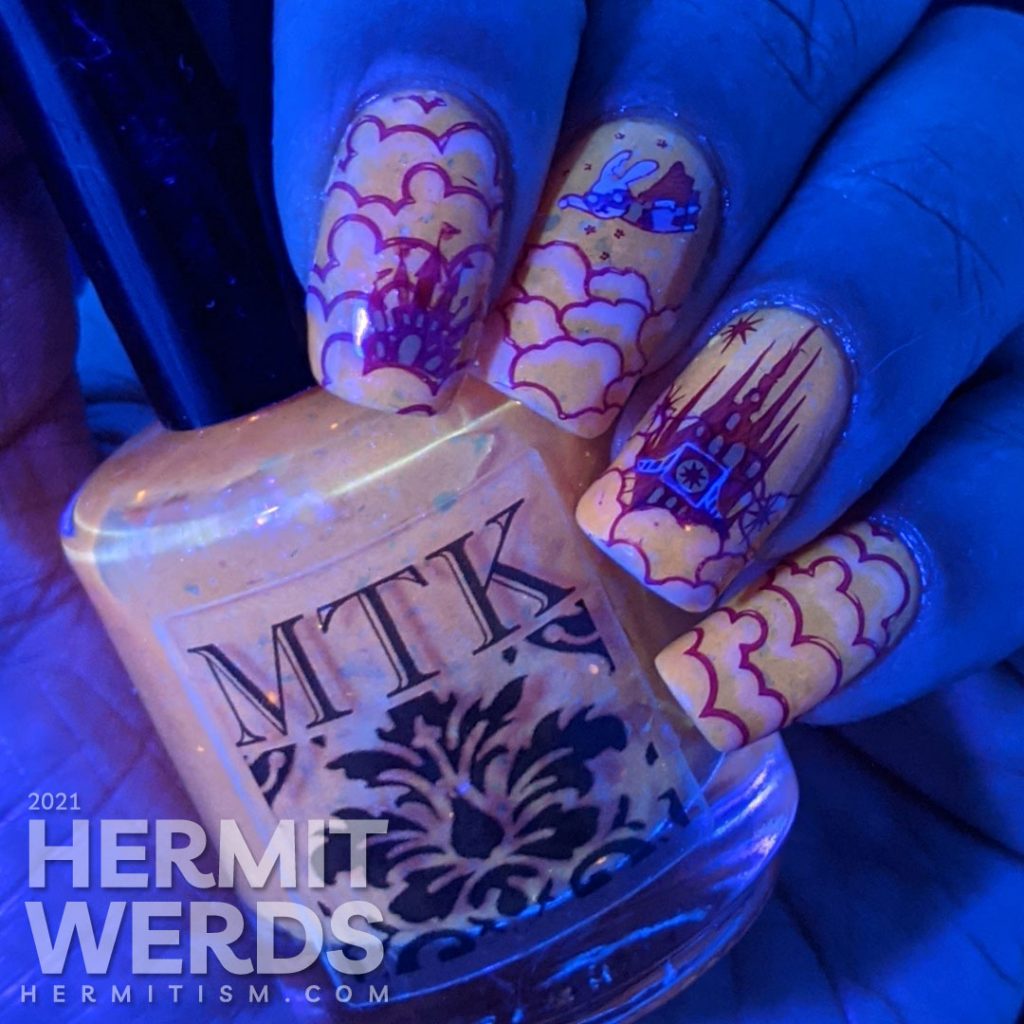 Night or day, the superhero bunnies patrol the skies….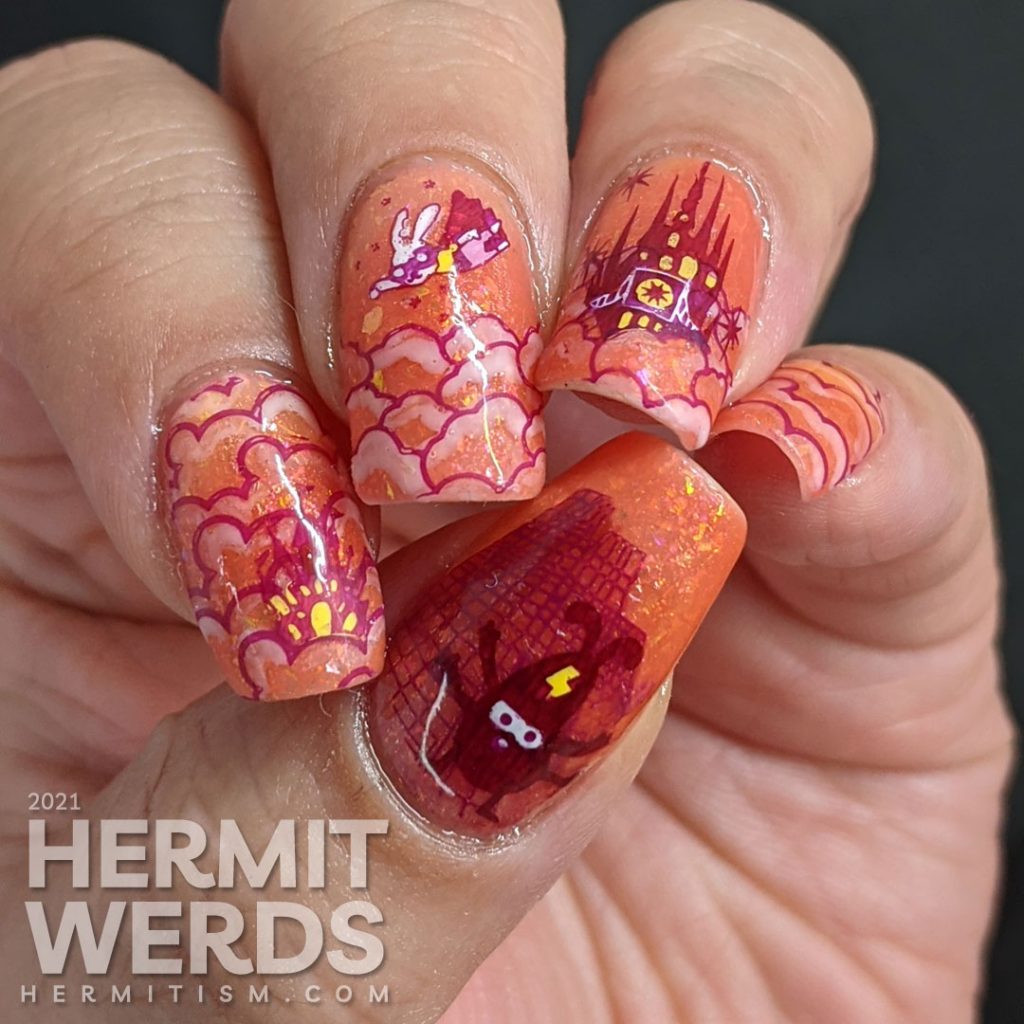 Seems to be holding up fairly well at a distance. I probably should have chosen a lighter color to fill in the skyscraper stamping decal though…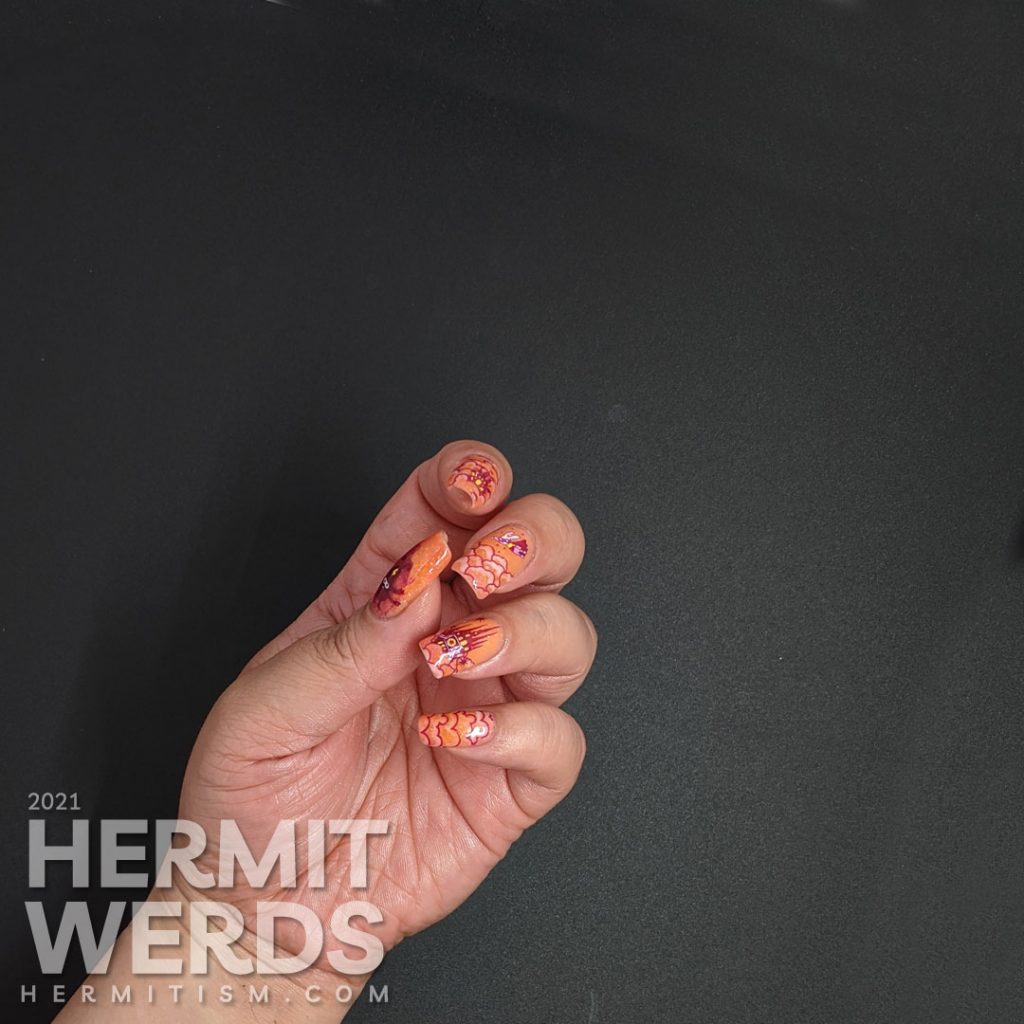 Until next time, friends! I hope you're ready for summer because it's almost here! 🙋‍♀️