[Press Sample]
I've wanted to paint this design for over three months now and I just neeever got around to it until recently. It was my first time using glow in the dark powder and trying to photograph glow in the dark things and, well, I learned a lot. It started with a stamping plate image of a cat looking at a little fish dangling down from a line. I knew that the cat's distraction was the perfect pairing for having something sneak up on it. Now I know that cats and angler fish don't live in the same environments, but you'll have to forgive me for pairing two things that I love so much. The whole Lisa loves cats thing is pretty obvious, but angler fish?
Have you met my sense of humor? I think I'd want to be besties with any creature that reduced the male of the species to a pair of gonads stuck to the side of the female. Too funny! 😀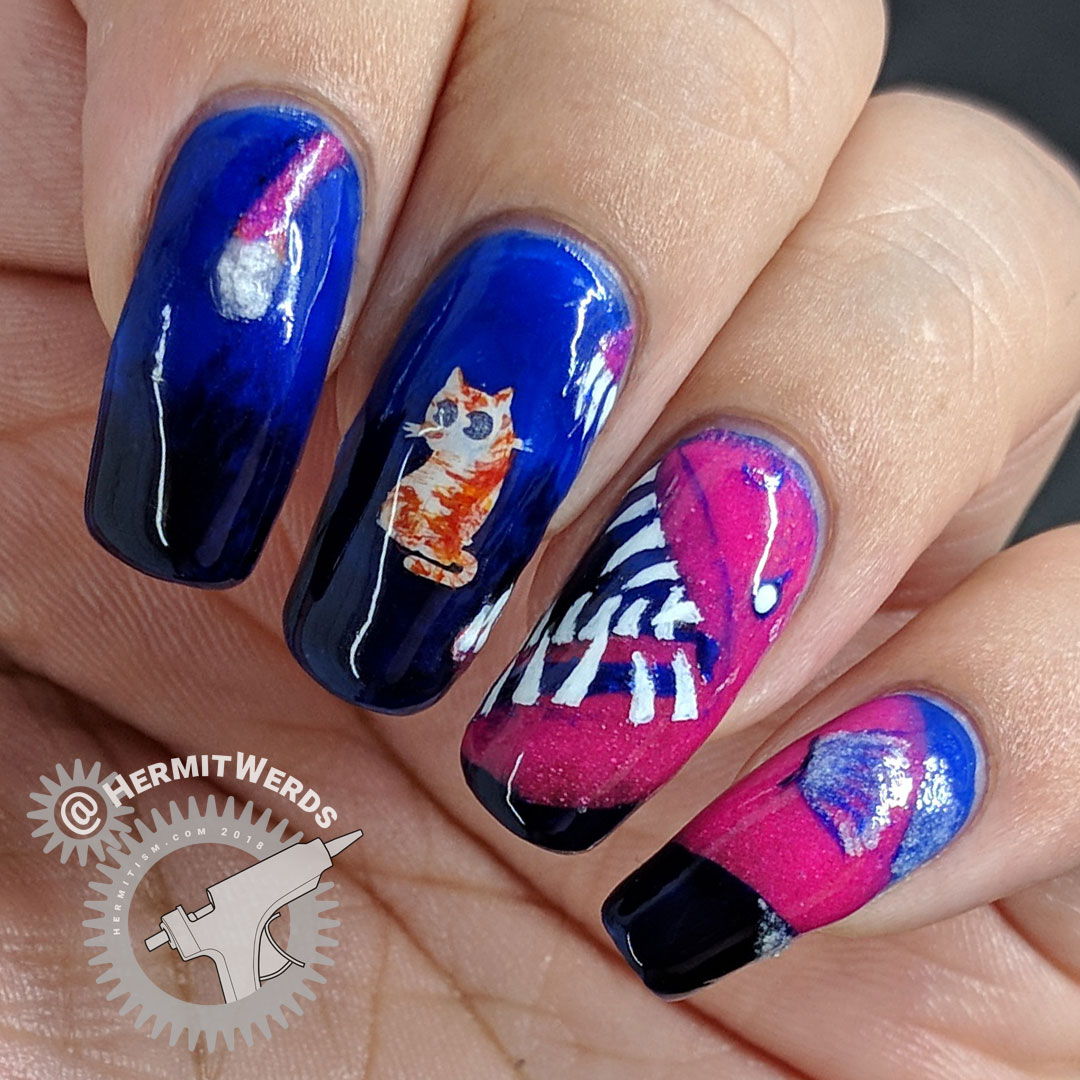 When you're dealing with a creature that lives as far down in the depths as an angler fish, bioluminescence is just par for the course. Female angler fish have bioluminescent bacteria in their esca (fishing lure). This clearly meant I needed some glow in the dark action and that's where Beauty BigBang comes in because all I had are Sinful Colors' glow in the dark polishes and they suck so much. I love Sinful Colors' but do not get their glow-y Halloween polishes. They barely glow even when you're looking at the whole bottle.
Enter glow in the dark powders: I picked out two different shades (dark blue J2103-3A and pink J2103-11A) and added some white sand (40569-WH) as well since that looked fun. Seriously, look at all the colors the powder comes in. I want them all!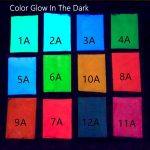 Now I could have just dumped the whole packet of powder into a bottle of clear polish, but I like to keep my options open so I just scooped out a little and mixed it with clear polish. This ended up being kind of gritty and dried up very quickly so I had to paint fast. Next time I will probably add a drop or two of polish thinner to give myself more time to work. Another thing about glow in the dark stuff is you have to pile on enough to get a good glow so this left me with a bit of a raised surface, but lots of glow-y goodness. Top coat smoothed out what little grittiness was left after the clear polish dried completely.
I painted the fish's body first, then added details with acrylic paint, and finally added the blue for the fins and sand for the fishing lure. You can see that the edges weren't painted as thickly and so the glow fades out which actually gives it a cool 3D feel. I want to emphasize that the teeth are acrylic paint. The way I was mixing the powders meant they were too thick and dried too quickly for me to paint fine detail like teeth, but that could easily be the fault of the ratios I used when mixing things up. I will have to experiment with this delightful toy more to find out.
And then it was time to take photos and I happily realized that I could use my 36W LED lamp for curing gel polish to supercharge the glow in the dark stuff for photo taking! Woot!
But to be more realistic, I left my hand out in normal light for ten minutes and took a photo. Not quite as bright, sadly.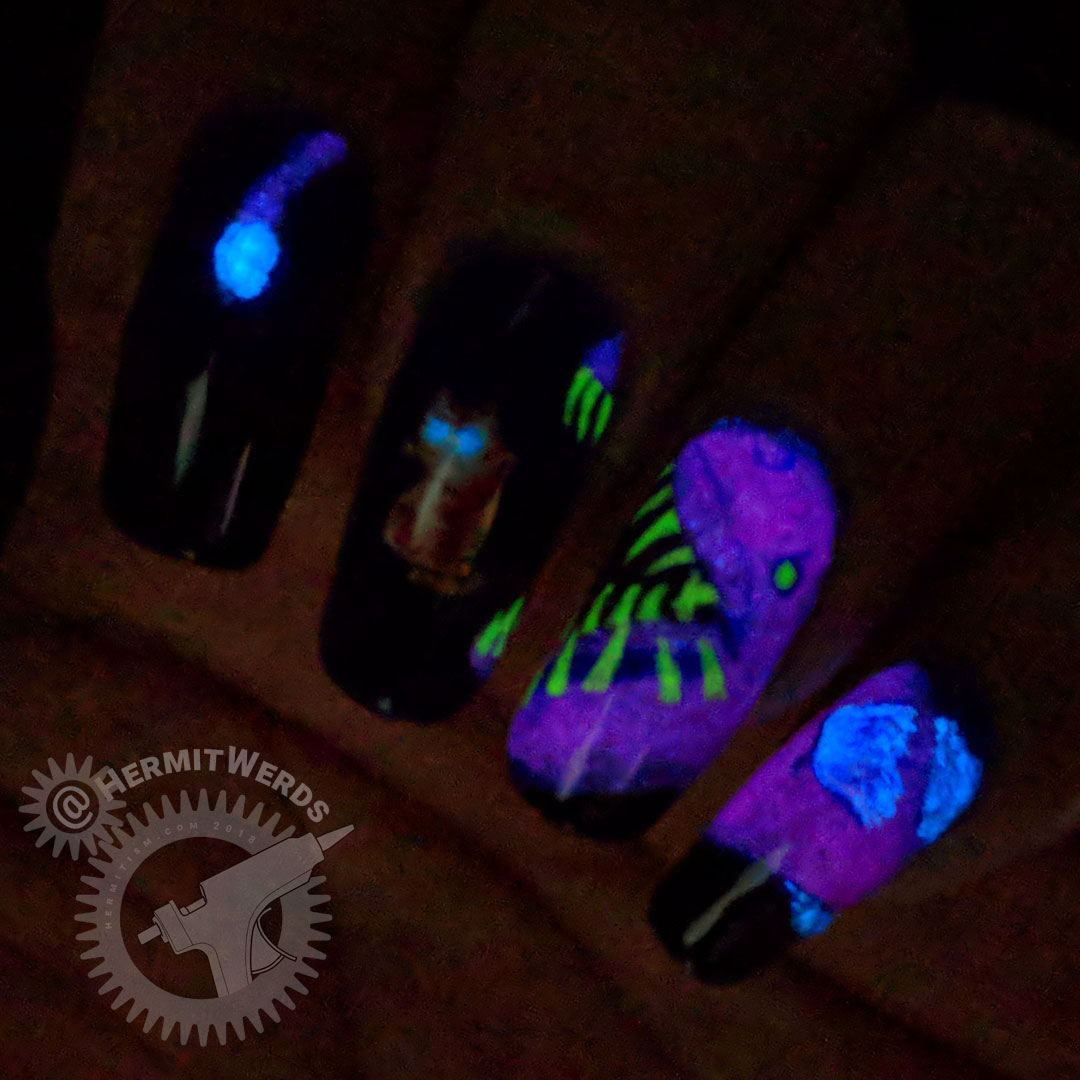 So…do I think this is good value? Well, the glow does fade pretty fast, but I'd say given the price that's to be expected. For the hobbyist, I think these are perfect. The price is great for the amount of product and quality. You can afford pretty easily to get several colors which amplifies your fun. They are cool and showy and I plan on using these a lot more (already have another design drawn up). Plus I can use them in crafts. Since I can only find green glow in the dark acrylic paint outside of specialty stores, more color options is nice. I was really happy to see how clear the color differences were in the dark. Yes!
But. If I were painting nails professionally, I'd probably try to find a significantly more expensive but longer lasting glow in the dark product so my clients could enjoy the glow-y effect longer. It's a miracle when nail art lasts on me for more than a day, but for someone who may have your design on their nails for a month, well…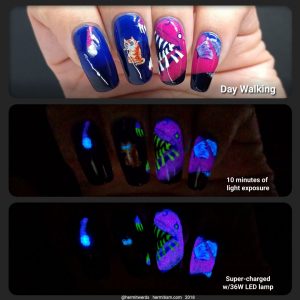 In case you want to order these fun little toys, you can use my discount code (hermi) for a 10% discount on your order at Beauty BigBang.
Powders: J2103-3A (dark blue) and J2103-11A (pink)
Sand: 40569-WH (white)
(Thanks again for sending these to me, Maggie!)