Through lots and lots of swatches, stamping, and trimming, we have achieved a dragon quilt which covers both the #AZNailArtChallenge (quilt), the last prompt from #FireDazedChallengeSept (dragon), and #26GreatNailArtIdeas (Your Signature Style). What do I consider to be my signature style? Too much of too much. LOL I painted these the same day I finished KARA's Step and my one stroke floral nail art. I went to bed at 6 AM in the morning. I apparently did not learn my lesson from the last time I collaged nail swatches because I so did not have the time to do two elaborate manicures in one day and then another one. Eh, who needs sleep anyway?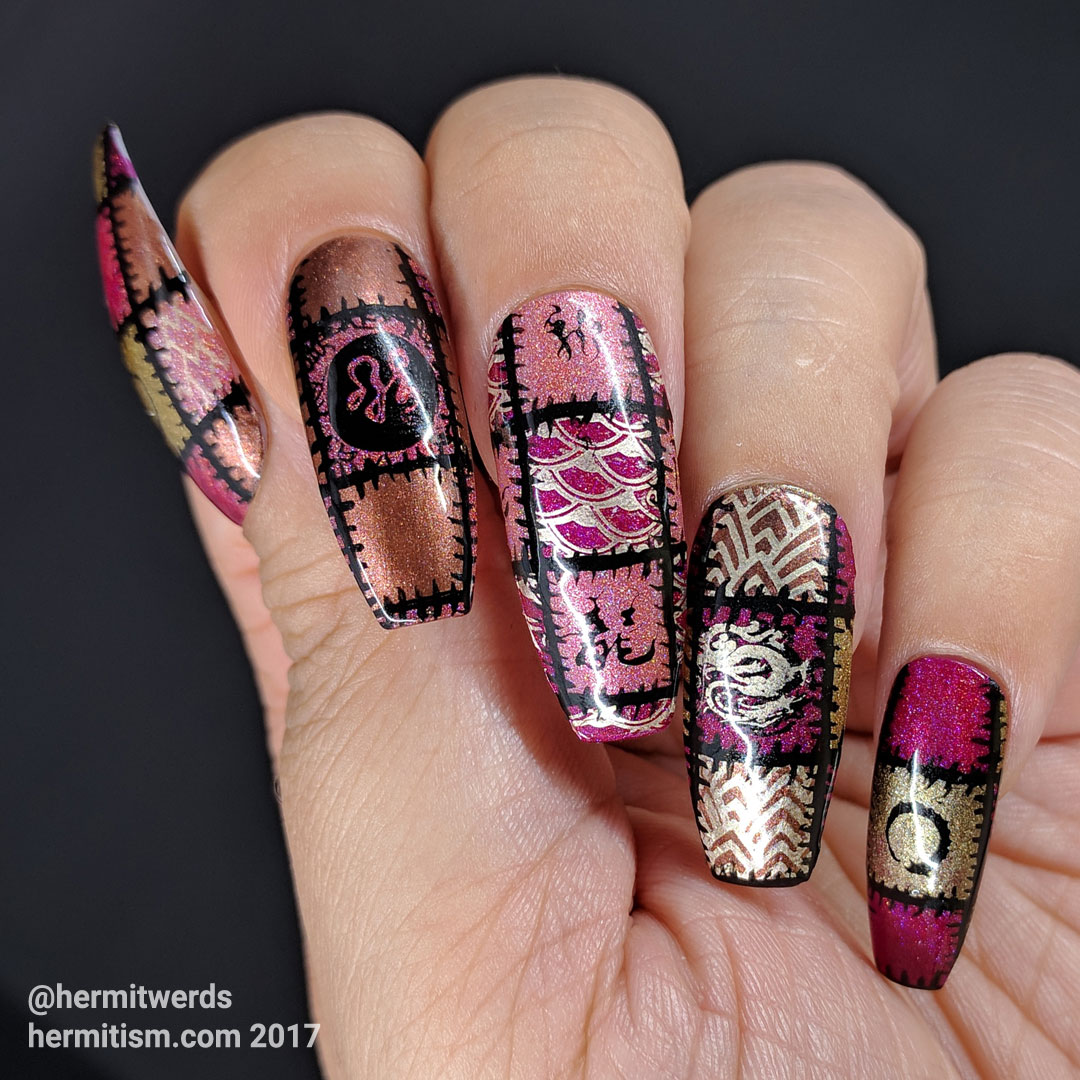 For this, I painted squares of the same size on my silicone mat and stamped on some of them. Then I tried to center the first square on each already painted nail and base the other squares off of that. Whenever I could, I painted the squares instead of using clippings. By the time I was done, I had enough spares so I kinda did one for my thumb too. Then I went back with acrylic paint and outlined and added stitches to each square. I cannot express how much I love this manicure. I am so glad I did it on falsies so I can wear it again sometime. I also kinda want to do the other hand. The question is…will it be a copy or should I do something different but similar in theme? Ah, my heart! 😀
I very much want to take some macro shots, but I need to go to bed at a better time tonight, so…next month. Sorry. 🙁 But here is the collage from the #AZNailArtChallenge! Look at all those lovely quilts!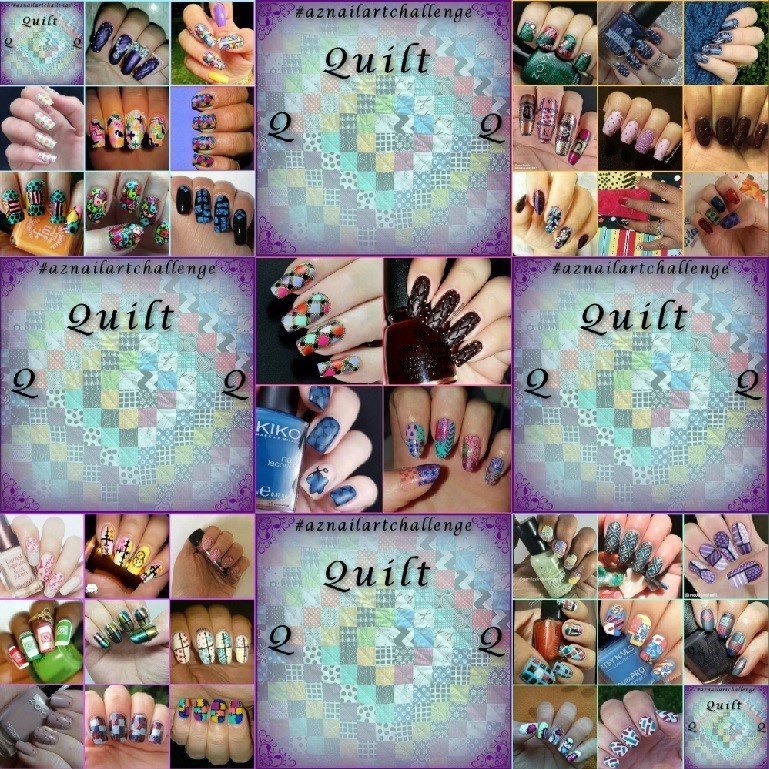 Looks like the inlinkz was set to the wrong time and closed? I don't know what's going on with the group. This is the last prompt and people have asked several times on the FB group when the next prompt graphic will be published. I think it's a case of the admins (through no fault of their own) moving on in life and not selecting successors. Hopefully they will check back in sometime.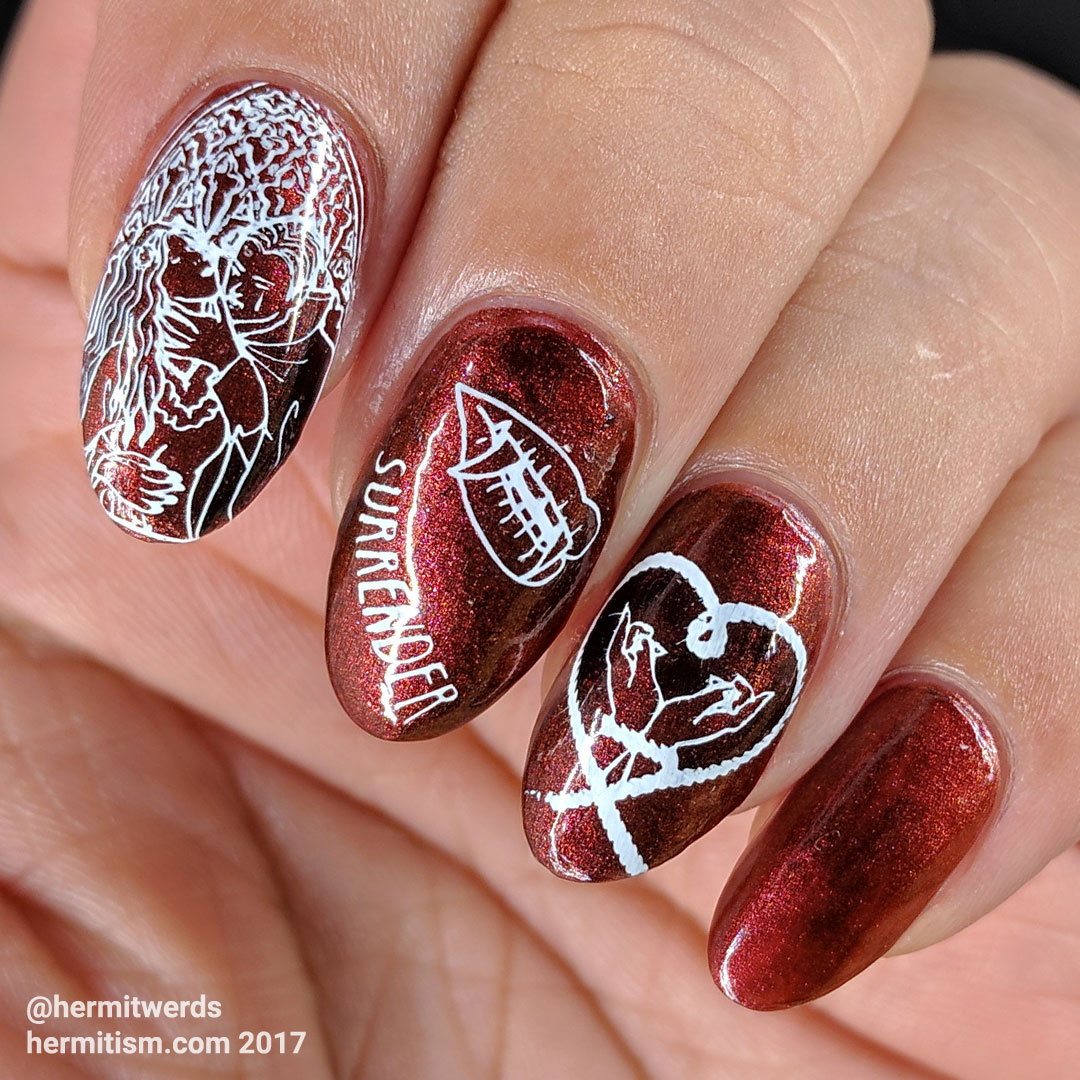 I had plans for a different manicure that would have split the challenges two for two, but I just did not have it in me to paint it. I'm sorry. I'm just very tired right now and I have 2-3 more manicures to do before the end of the month and I don't want to be painting my nails on Saturday when my stepkids will be here. (Although I will probably be painting my stepdaughter's nails…)
Anyway, for #31DC2017's Supernatural prompt I decided that I really wanted to see if Celestial's "The Blood is the Life" really does look like blood like the maker claimed and…it does. Right now in my lighting it looks like old blood, but I'll bet it looks more fresh in the daylight! Oh, this polish is going to be abused so much. I'm sorry to say it's discontinued, though. That's the sad part about buying indie polishes. :/
So yeah. It's given me other ideas on a manicure I want to do this next month and I am very excited for it. It's going to be so awful! ^.^ Anyway, yes, this nail art. I just wanted to do some simple vampire stuff since the base polish was from a collection about Dracula. I kept it as simple as I could bring myself to so it was just shrink stamping two things and coloring in a few key spots with black jelly polish. Yep, really simple… ha ha ha…