I admired @p_inklilynails' lava tutorial from the moment I saw it and told her I wanted to try it sometime. So what better time than for #31DC2017's Tutorial prompt? I had a lot of fun and I tried to emulate the steps of her tutorial in my final graphic. Also, I got to use Essie's "Belugaria" for the final texture on top. I am firmly in the camp of it's an awesome polish.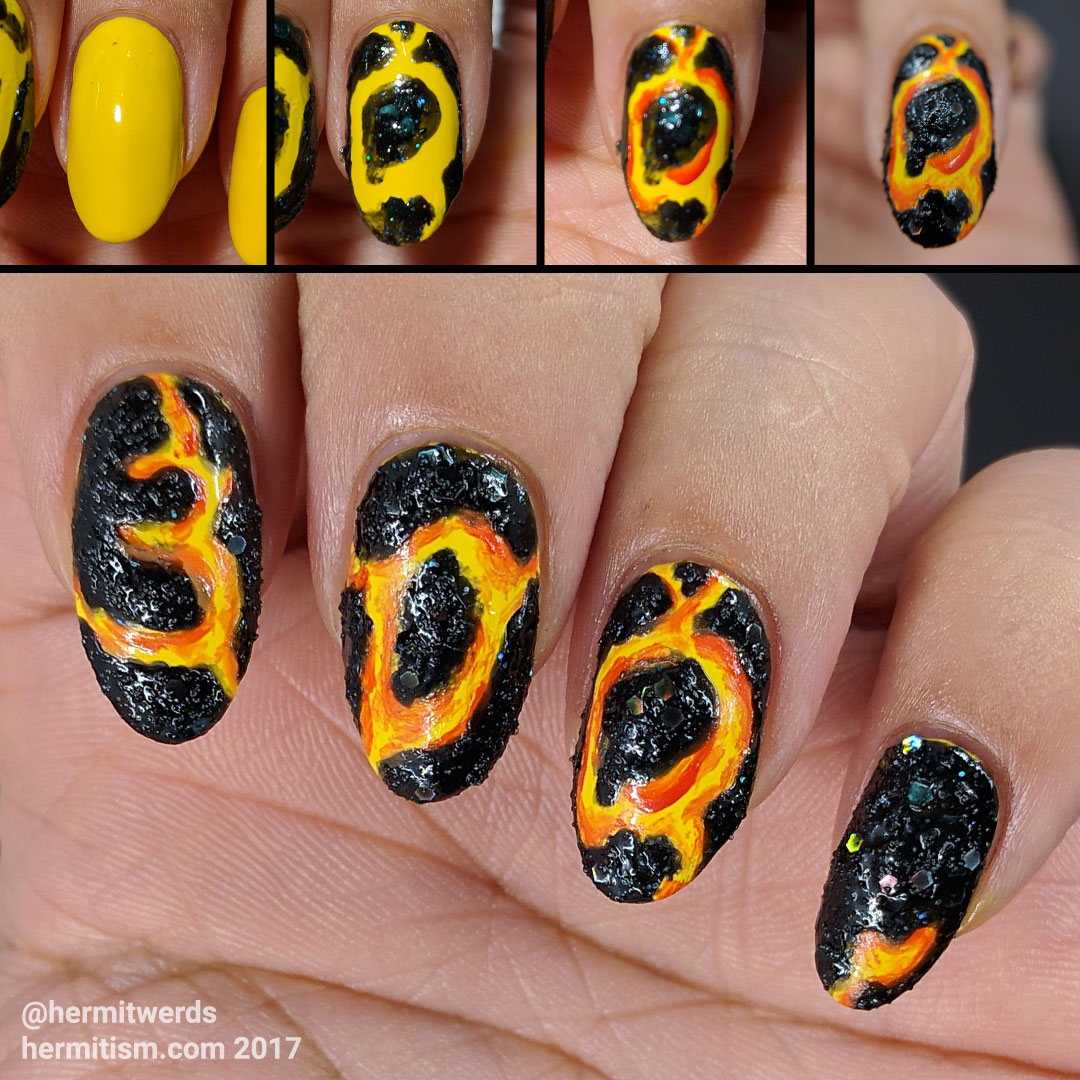 The 300 is because I have over 300 followers on Instagram now! Also, I am terrible at noticing moments like this. Here are some examples:
I have no idea when I started posting nail art on Instagram. I know I started my account to post sketches for a Christmas advent calendar challenge…
I missed the 100 follower benchmark on Instagram completely.
My 100th blog post passed ages ago with nothing said.
I also missed the anniversary of when I started my blog.
My husband and I have been married for two years now? Pretty sure it's two. My parents know the date we were married. I have to look it up on our marriage certificate. (He's just as bad.)
I have no idea when we started dating, date-wise.
If it weren't for the fact that she was given to me at around midnight of the beginning of my birthday, I couldn't tell you what day I was adopted by my cat. Totally clueless on year. We've been together foreverrrr. *cough*
So what I'm saying is: I'm not ungrateful; I just suck. Now I'm not going to sit here and say "I don't know why anyone follows me. I'm not that good." Humble does not live in this home so that would be lying. If I thought I wasn't any good, I wouldn't post anything ever. And while I certainly don't think I'm the best, I do believe I'm good and getting better. And still. The world does not owe me followers. No one ever has to hit like. No one has to comment. No one has to follow the link in my bio back to this blog. I've definitely seen artists who are way better than me with fewer followers. It blows my mind, but that's life. So thank you. Because you didn't have to follow me and you did. It means a lot.
Too many emotions. Let's get back to the supply list:
More nail art using a tutorial: